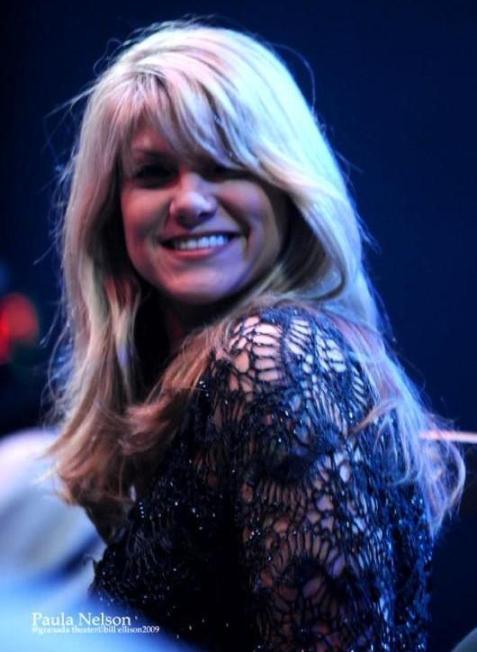 As Paula Nelson stepped from her tour bus, she stuck out her hand, and the petite blonde haired country music singer / songwriter warmly shook mine, as she flashed a smile reminiscent of her father Willie, and then introduced me to the members of her band. While walking across the street to the Biltmore Cabaret, where she would perform late that evening, she appeared genuinely interested in making sure I felt welcomed and relaxed, and later as we sat and talked about her career, the charm which the citizens of Austin, Texas are famous for, was evident in abundance.
Whether Paula Nelson is singing, "Fire Below," a rockin' tune about re-entering the dating scene, her tender love song, "Overboard," a three-part harmony, such as, "Day To Day Love," with her father Willie Nelson and her brother Lukas, or a song of perseverance such as, "Standing Tall," all of Paula Nelson's songs draw the listener in, because her vocals are intimately bound to the strings of her heart, and each phrase evokes strong emotions from her fans. Nelson is one of those genuine people, authentic in every way, down to earth, and she allows those emotions to flow through her lyrics, while each bar of music, somehow seems to find the right tones and colors to reflect her moods.
Nelson talks about her songs, "They are extremely honest, and are straight from my heart. They chronicle my life, and if it weren't for relationships, I would have no songs at all (she laughs). Usually what I will do is write the melody on the piano or on the guitar, and then whatever I am feeling at the moment, but the melody always comes first. It is hard to categorize the music that I play, and I know that happened with my father as well in the early days. It is not country, but it is a little bit of everything. Growing up, listening to all that great music, it just comes from my heart."
Lucky 13, Nelson's current CD, which she co-produced with Matt Hubbard, may be her best album yet, and she penned ten of the thirteen tracks, the exceptions being, the Billy Ed Wheeler Jeff Leiber tune, "Jackson," made famous by June Carter and Johnny Cash, John Prine's, "Angel From Montgomery," and Rickie Jones', "Easy Money."
Although Nelson admits that, her music definitely reflects the traditional country, influences which surrounded her during her childhood and adolescent years, elements of blues and R&B vibes are evident in her songs as well. She lists Aretha Franklin, Ray Charles, Etta James, Bonnie Raitt and Rita Coolidge as artists, whose music first began to shape her own approach to singing and songwriting.
"Rita (Coolidge) was married to Kris Kristofferson at the time, and of course he and my dad are really good friends, so all of their kids and us, just ran amuck. Rita was, and still is, our dear friend, and we consider her to be family. Her singing is so cool, and she is still cool. I used to imitate her on stage, the way that she would hold her hands. She was a great influence, and I would sing her songs all of the time. As I was growing up, I started listening to other music, like the Judds, a lot. Wynonna Judd influenced me a lot. She has that girl toughness. She has that chick Elvis thing, and she still has it. She is also a very good friend of ours. She is just a cool lady. I think that growing up around people like her helped me to become strong and cool. For years, I wanted to be like them, because they were all so cool. I think after listening to them, I have kind of absorbed some of their stuff," says Nelson.
Another individual who played an important role in shaping Nelson's approach to music was the late Clifford Antone, with whom she shared the same birthday, October 27th. "When I first started playing with a band in Austin, Texas, Clifford Antone, who owned Antone's (a legendary music club in Austin), a major blue guru, would let me get up and sing one song, every night, to whomever was there, Gatemouth Brown, James Cotton, Adele White, and all kinds of great, great (musicians and singers). Clifford would mix copies of these really, really old, old songs, and he taught me how to play the guitar. He was a big blues influence in my life, and (she laughs) it seemed to fit my mood," Nelson recalls.
As Nelson had forewarned me, all of her songs come with a bit of personal history attached to them, and "Fire Below," is no exception. She says, "It is another relationship song. I had gone through a really bad divorce and had started dating again. I think that was the intention (in writing), "There's fire below, burning out of control / Low and behold, there's fire below." (She further explains) it's about having that fire in me again, to go out there again. It's hard, it's terrible. It's still terrible (she laughs). It is really a hard thing to do, especially when you are on the road, and you are gone all of the time. I have really gotten insights into my dad's life, by being out on the road like this, as much as we are."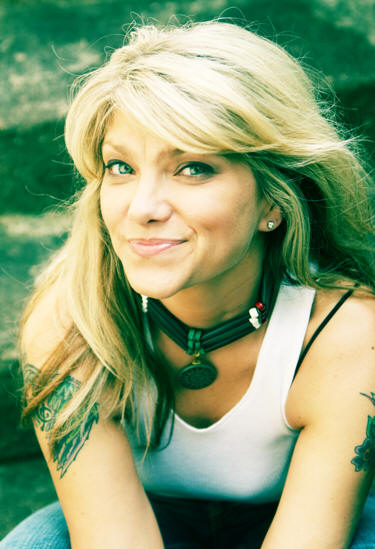 The song, "Day To Day Love," was written two years ago and the experience of recording it proved to be a very poignant time in Nelson's life. "Of course it is a relationship song, as usual. The best part of the song is my dad and my little brother Lukas, who is not so little, sang harmony. That was a really cool time in the studio, hearing back all of the harmony just made me cry. We recorded it at Bismeaux Studio in Austin, and then we took it over to my dad's studio and we did the harmonies there. It is a wonderful three-part harmony. The inspiration for the song is about loving somebody and knowing that it is just not supposed to be," Nelson says.
Austin's Tosca Strings Quartet provides a beautiful accompaniment on, "Day To Day Love," and Nelson credits them for creating what she describes as an amazing and angelic sound.
Watching Paula Nelson perform, she is seldom gritty and in your face, and nobody can accuse her, or her songs of being mournful, but she does pack plenty of sass, and it comes to the fore in her cover of, "Jackson," a duet which she sings with guitarist George Devore, whose deep, sandpaper like vocals, compliment her own voice quite well.
Nelson explains how the duet came to be, "It started, because George and I were always laughing about the Johnny (Cash) and June (Carter) thing, as we were going down the road, singing songs together. We had dated years ago, for a few months, before we got sick of each other (she laughs). One night after we played in El Campo, Texas we decided to sing to (my recording of it). We sing it a lot better now (she laughs), as we were pretty intoxicated and George didn't know the words. We thought it would be a great ending track (for Lucky 13) and we did it at the studio with all of us sitting in a room together, in a circle. We recorded it on the fly."
When asked whether or not the sassy demeanor which surfaces in, "Jackson," and some of the other songs on Lucky 13 are a reflection of her personality, Nelson replies, "Most definitely, the guys call me a pistol."
Nelson received accolades for her recording of, "Jackson," from an unexpected source. "A friend of one of the writers, Billy Wheeler (the other being Jeff Leiber), heard us on South Padre Island on Halloween last year. He called up Billy Wheeler and he said, 'You've got to hear Paula sing, "Jackson," so they sent him a copy of the CD. Billy Wheeler sent us a really nice letter, and I was honored to have the writer give us such high compliments, about me doing the song," she says of the songwriter who also penned, "Coward Of The County," and songs for Hank Snow, Judy Collins and Ritchie Havens.
Paula Nelson's career in the entertainment industry extends beyond the borders of music, as she has appeared as a stunt double on the television series Friday Night Lights, and portrayed characters in films, including a key role in the soon to be released Conflict Of Interest, in which she plays Britney, the mistress of a senator played by actor Michael Madsen.
When told that she would be playing Michael Madsen's mistress her response was, "What! Oh my Lord. I couldn't believe it, because I had been such a big fan of his for years, and I am blushing, just thinking about it. (She adds jokingly) It was tough; it was tough kissing that man. Actually, I didn't have to act one bit. It was a great experience (being in the movie). Lee Majors was phenomenal; Joe Estevez, Francesco Quinn and my mom (Connie Nelson) are in the movie."
Conflict Of Interest is still in the post-production stage, so you will have to wait a bit longer to see Paula Nelson on the big screen, but you can purchase, through your favorite online store, a copy of her blockbuster performance on the album Lucky 13.
Please visit the Paula Nelson Band website
This interview by Joe Montague published February 8, 2009 is protected by copyright and is the property of Riveting Riffs Magazine © All Rights Reserved. All photos the exclusive property of Paula Nelson and are protected
by copyright ©, All Rights Reserved
This inteview may not be reproduced in print or on the internet or through any other means without the written permission of Riveting Riffs Magazine, All Rights Reserved, protected by copyright ©