Reviewed by Joe Montague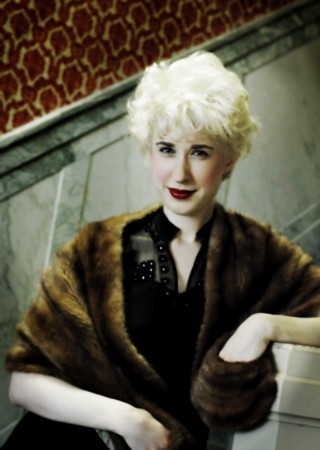 Brilliant is one word which might be used to describe actress Laura Harris' performance in the one-woman play Pitch Blond, which she also wrote and produced. Other words that one might ascribe to Harris' portrayal of 1940's thru 1960's Academy Award winning actress, Judy Holliday is believable and genuine. Harris' play opened on February 22nd at the Wosk Cabaret in conjunction with Vancouver, Canada's Chutzpah! Festival and for those who either remember Judy Holliday or have watched her films, Laura Harris's transformation from being a young Canadian actress to the Manhattan born Holliday was like watching history repeat itself.
Laura Harris invested an enormous amount of time in researching Judy Holliday's life, to the point where she has made several trips to New York City, and even visited The Village Vanguard a noted music venue, where Holliday first performed as part of a vaudeville act. Harris also worked closely with a dialect coach, and combined with her own ability to easily pick up accents, she not only nailed the New York accent, but the high pitch and intonation of Holliday's speech. In donning a blond wig, the transformation is complete, for a woman who somewhat physically resembles Holliday.
Speech and physical appearances, alone however, do not contribute to an actress turning in a good, or in Harris' case a great performance. Harris has difficult scene changes, as she segues between Holliday's appearance before Senator Joseph McCarthy's 1952 witch-hunt, otherwise known as the Internal Security Sub Committee, and Holliday's childhood or early adult years. Harris pulls off the scene changes seamlessly, and her body language transposes her from a persecuted Holliday, to a young child at a dance recital. Despite the scene changes and the need to depict various periods of time in Judy Holliday's life, Harris always remains 'in the moment,' totally focused. Harris utilizes a combination of offstage voices provided by Bill Miller and Jason Stevens, as well as vintage audio clips to create the environments of the inquisition, an appearance on the game show, What's My Line? and a telephone conversation with Tallulah Bankhead, Bob Hope and Ethel Barrymore. During each of these scenes, Harris creates for the audience a very real sense that they are in the room with Judy Holliday, as the events are unfolding for the first time. Even though Harris is the only person on stage, she remains so engaged with the off stage voices, that the audience soon forgets, that they are in fact, watching a solitary performance.
Bravo to Laura Harris for not only staging a great play, but for telling the story of an actress who is often overlooked when today's generation of film buffs delves into the movie archives. Judy Holliday had an IQ of 172, but spent much of her life portraying 'dumb blonds,' a role she recreated during the senate hearings. Holliday, despite being blacklisted, continued to appear in stage productions and films until 1960, when she performed opposite Dean Martin in Bells Are Ringing. Judy Holliday passed away in 1965, shortly before her forty-fourth birthday, when she succumbed to cancer. In many ways, Judy Holliday was a tragic figure, and in more ways, her life should serve as an encouragement to all of us, because of her will to keep pursuing her dreams.
Laura Harris has done all of us, including those in the film industry a great service by recreating Judy Holliday's life and in doing so, reminded us of the dangers of allowing government too much control and influence over our personal lives. Pitch Blond is approximately sixty minutes in length and the play would be a great fit for theater festivals which are looking to book productions. Harris will be presenting Pitch Blond in several Canadian cities and in Orlando, Florida during 2009. This play would also make for a great short film or documentary and I cannot think of anyone else better to cast in the role of Judy Holiday, than Laura Harris.
This review by Joe Montague published in 2007 is protected by copyright and is the property of Riveting Riffs Magazine © All Rights Reserved.
This review may not be reproduced in print or on the internet or through any other means without the written permission of Riveting Riffs Magazine, All Rights Reserved