Reviewed by Squeaky Moore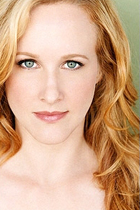 When it comes to keeping promises, novice director and one of Broadway's leading choreographers Rob Ashford doesn't disappoint. In Broadway's first-ever revival of Promises Promises, Rob Ashford succeeds in casting an all-star musical, starring, (Will & Grace's) Sean Hayes and (Tony nominated) Kristin Chenoweth, as well as, Promises' best kept secret, Katie Finneran, whose known for her exceptionally brilliant featured roles and alas, Tony Goldwyn.
Adapted from Neil Simon's book, The apartment, with music from Burt Bacharach and lyrics from Hal David, Promises Promises, is set in Manhattan, in the 1960's. A hardworking Chuck Baxter (Hayes) works at the Consolidated Life Insurance Company in what appears to be a position offering no prospects for progress.
Hopeful and determined to move up in his position and in an attempt to move up the corporate ladder, he makes a deal to lend out his apartment to various executives, whose infidelities are seemingly out of control. Overriding his moral judgment, he agrees to accommodate the needs of one of the top executives, JD Sheldrake, (Goldwyn), who is the only executive who actually follows through with moving Baxter up the ladder, provided that Baxter keeps his infidelity "their little secret." It is when Baxter learns that JD Sheldrake is having an affair with the love of his dreams, Kristin Chenoweth's character Fran Kubelik that everything becomes riled.
Rob Ashford, intelligently creates stage pictures with brilliant symmetry during dance routines such as the opening, when the actors danced with their chairs, while upside down and using only coat hangers to leverage themselves, as they did the splits and the stage rotated. If the opening routine was not enough to woo you and convince you of Ashford skill as a choreographer, then you were probably sold on him by the end of the dance number for "She Likes Basketball," which featured a company of men doing barrel jumps over an expressive Sean Hayes.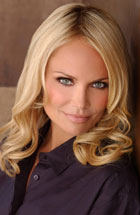 Under the direction of Rob Ashford, Sean Hayes shone in his role as Chuck Baxter and he gracefully carried the show. Hayes charmed the audience with his freeze-framed asides, as he daydreamed that his love interest, (Fran Kubelik), was reciprocating the same affection he had for her. Hayes also proved to be a comedic genius during his shtick, while waiting to meet with his boss JD Sheldrake.
Kristen Chenoweth makes more of an impression with her melodic voice than she does with her acting. While she delivers sweet melodious vocals in a dramatic fashion, there are moments when her character choices were not as believable as they were when she sings, and seldom misses an "acting beat." Chenoweth's most impressive performance came during her rendition of the Burt Bacharach / Hal David song "A House is Not a Home," when she authentically expresses her pain.
Tony Goldwyn puts in a solid performance throughout and he is a man's man while playing JD Sheldrake.
One of the most exciting scenes during Promises, Promises takes place in a bar when Katie Finneran, who portrays a wannabe and hard-to-get, Marge MacDougall, steals the show with her rendition of the song "A Fact Can Be A Beautiful Thing." You will laugh and you will remember this scene.
You can visit the Promises Promises website to purchase tickets and for information concerning this outstanding musical.
http://promisespromisesbroadway.com/tickets.php
Riveting Riffs Magazine would like to thank Producer Pat Addis for making it possible for us to review Promises Promises
Squeaky Moore is an actress and acting coach whose website The Coaching Corner with Squeaky Moore provides advice and tips for young actors. She also wrote, produced and directed the improve-based variety show Act Like You Know and Guud Timez, a hilarious send up of the 70s sitcom Good Times. Squeaky appears in the film Gang Girls. Please visit the Squeaky Moore website
To follow up on her latest film, blogs or classes and workshops please click on links below:
Website:
http://www.squeakymoore.com/home.html

Blogs:
http://squeakymoore.blogspot.com/