Interview by Joe Montague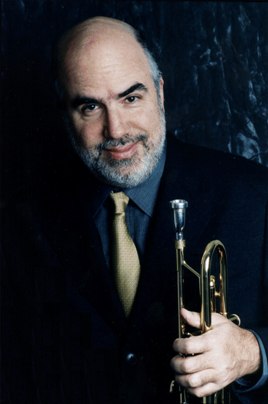 I walked into the green room at the Triple Door in Seattle, Washington last November, and there he was, with his trademark hat on his head, his Sean Connery like beard, dressed in blue jeans, and sitting on a chair in the center of the room. In some ways it was a little like being ushered into a room with royalty. Grammy Award winner Randy Brecker seemed a little bit wary of the journalist who was about to pepper him with questions, that he probably presumed he had heard hundreds or perhaps thousands of times before, and could answer in his sleep. Brecker is a jazz icon, and for the first time in a long time, I was feeling just a bit intimidated about doing an interview. I took a little bit of comfort knowing that if he was mean to me, I was also here to review his performance, as one of the musicians in Brian Bromberg's Downright Upright All Star Band. The comfort didn't last long, and the nervousness soon returned. What was I going to do, be the only person on the planet to ever diss the legendary trumpeter Randy Brecker?
Brecker, who also plays the flugelhorn, has over the years recorded and performed with some of the music industry's greatest artists, including his late brother Michael Brecker, a saxophonist whose influence helped shape the modern day jazz scene. In 2006, the Brecker brothers teamed up one last time to record the live album Some Skunk Funk Over the years, Randy Brecker has also appeared on projects such as Blood Sweat & Tears' first album, Child Is Father to the Man, as well as well as working with industry greats, Bruce Springsteen, Chaka Khan, George Benson, Horace Silver, James Taylor, Art Blakey and numerous others.
"I will be sixty-two next week, and when you get to this age, you have more of a tendency to look back than forward, because looking too far forward, things don't look too good," he says, as we share an uneasy laugh, and although ten years his junior, I momentarily consider applying his comment to my own life.
He continues, "You try to make the best of it, and when you get to sixty, it is a hump (that you) have to get over. You realize that you have a large history to look back on. I enjoy doing that, trying to dredge up old memories, and think of old names. It depends where I am. (For instance), Seattle has a special place in my heart, and I have been trying to think of as many names as possible, because in 1964, I spent a summer out here, chasing after one of my first girlfriends from Indiana University. She was living in Olympia Washington, and I spent the summer going to the University of Washington, taking some English courses. I was on the scene here, before anybody knew who I was. It was a really vibrant music scene here in Seattle, and I had one of the best musical summers of my life. I haven't seen too many of my old friends this time around, because I just haven't had time, but just being here, a lot of names and places have come back to me."
In January of 2007, the world lost a dear friend when Michael Brecker passed away after a lengthy struggle with cancer that progressed into leukemia, but not before the thirteen-time Grammy Award winner had recorded Pilgrimage. Not knowing how sensitive the wounds still might be, I sought and received Randy's permission to ask some questions about his relationship with Michael.
"It is hard for me to relate to Mike as an iconic figure in jazz, because to me he is still just my brother. It is hard for me to focus on how influential he was, even though I obviously know that he was. Foremost, I think of him as my brother. If I could get past that and look from afar like anyone else, I would say that he has to be one of the most influential jazz musicians, other than John Coltrane, because he had a real vision in mind, and he stuck to his artistic vision. He was one of the few guys, and I think partly because he had a big following, that was able to do musically pretty much whatever he wanted, and people didn't try to channel him into doing something else. He will occupy a unique position in jazz history, and he certainly was one of the most popular saxophonists ever, but he could back it up, because the music had so much emotional depth," says Brecker.
Brecker refers to his relationship with Michael as being unique and, "I think that the only thing that I have, that is as strong as the love I have for my brother, is the love of music Whenever I hear a saxophone player, the first thing that I think of is my brother. We played together, for gee, from 1969, until, it was a good thirty-five years off and on, and a lot of those years, we were constantly playing together. He was directly involved in my development, as I was with his development, and I think that people always think of me in terms of him, and (to a lesser degree), of him in terms of me."
Brecker recalls, "We always looked forward to playing together, and the other thing unique about the relationship was, that although we would spur each other on creatively, there was no unhealthy competition. We were always pulling for each other, and he was my biggest fan. That is something else that I miss, is just having him around, so I can play something for him, because really he was the reason that I wrote a lot of music, just so I could let him hear it. I have to re-channel all those energies now."
Randy Brecker has championed the flugelhorn since his college days, when he first picked up the instrument. "(I play the flugelhorn) under certain circumstances, ballads and in places where you want to express a broader palette. It lends itself more to lyrical playing, rather than a lot of technical playing, because the range is somewhat limited and you can only really play up to a high C, as the sound gets a little thinner. You can't really use the high register on a flugelhorn; you have to think a little more melodically. It is usually used in softer situations, where there is more communication. It has a very sensual sound."