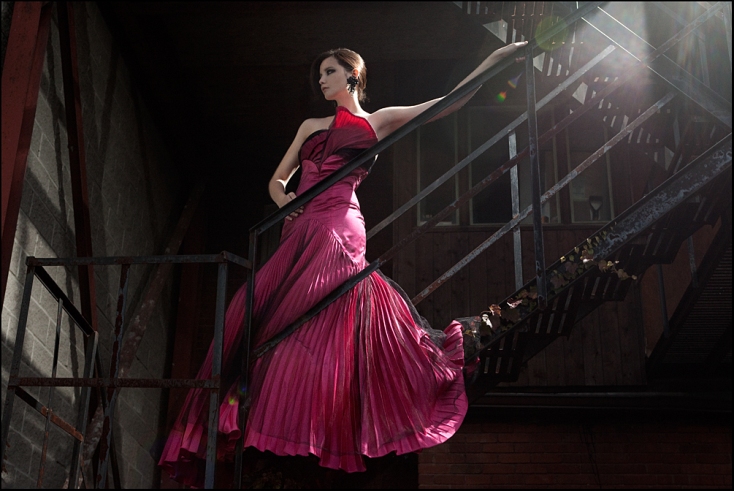 Interview by Joe Montague
Toronto fashion designer Rosemarie Umetsu whose new studio is located at 198 A Davenport Road, has made a name for herself as someone who dresses the stars and her line known simply as Atelier Rosemarie Umetsu features breathtaking couture gowns and scrumptious ready to wear designs. Although her client list is comprised predominately of a who's who of the Canadian entertainment community, those outside of Canada will no doubt recognize performers such as; Alannah Myles (singer-songwriter), Sarah Slean (singer-songwriter), Sophie Millman (Jazz vocalist), Colin Ainsworth (Classical tenor), Joyce DiDonato (mezzo-soprano), Wendy Crewson (actress), Vivica A. Fox (actress), Veronica Tennant (dance performance filmmaker and director) and Karen Kain (artistic director National Ballet of Canada). Ms. Umetsu's black and white studio features a wall of gowns, classical music playing in the background and photographic artwork of some of Canada's top established and emerging artists in the performing arts.
One immediately notices the European sensibility which affects Rosemarie Umetsu's designs and she agrees, "I think that the European flavor comes from the fact that I am very detail oriented and I am really into the old fashioned couture way of doing things and whether it is the fit or the design of the pieces themselves. Here (North America) it is almost like a pasteurization of fashion. They want it very clean and very little on that end of it. People are very used to just going out and picking up (their clothes) and they are not paying attention to style details and what goes into making a garment. If you look at European fashion the old fashion detail has continued and it is part of the garment. It is a heritage and it is the culture that comes with the piece. I think that is probably where we fall into.
Just as she pays careful attention to detail with her designs, Rosemarie Umetsu, just as carefully tracks what her clients wear and to what events they wear her pieces.
"When I first got into fashion I was working for Holt Renfrew and then I was working for Club Monaco and that gave me a very interesting sensibility when it came to figuring out my niche and I think that finding (one's) niche is really important, because there is no shortage of fashion designers. I think that providing something to your clientele that is unique is what is important. That has served us really well, with people knowing that what they are getting from us is a dress that is really special and it is one of four pieces that have been made. There isn't a mass production on it. If it is a gown, they are getting a one-off. There might be another one in a different color, or maybe in the same color, but there will be style differences. No two things are identical when it comes to the gown," says Ms. Umetsu.
Rosemarie Umetsu appears to have discovered her niche as the designer of choice for many performing artists. "It was only about four years ago, in 2007 that I looked through my client base and I realized much to my surprise, because I hadn't really been paying attention, that fifty percent of my clients are in the performing arts. It could be, because I have been a classical pianist since I was three and classical music is still my first love. Maybe there is some attraction there and there is something in the clothes that attracts them (she laughs). I think one of the big selling features, particularly with musicians is, that not only does the garment look stunning, but it has to be functional. It is one thing to go and buy something off of the rack, but then you have to take into consideration what a pianist needs versus what a violinist needs, what a cellist would need, what a conductor would need or what a singer would need. You can have the same garment if you wish, but they would have to be cut very differently when you take into consideration the functionality of it."
Atelier Rosemarie Umetsu is starting to gain a foothold, albeit still small on the international scene as her clients spread the word throughout America, Australia and Europe. Her visibility on the international scene was further heightened in 2010 when she was asked by Tourism Toronto to be a spokesperson for the arts and her couture gowns were on display in New York City. At the time of our conversation in December, Ms. Umetsu was anticipating trips to other major cultural centers in different countries.
As far as deciding on what designs are best suited for her clients, Ms. Umetsu says, "It is really a symbiotic thing. Sometimes I have done it and I have not met them until the day before a performance or something like that and then it becomes very challenging. By and large I decide what is going to look good on them, based on their shape and that is one thing, but then you look at personal preferences. It can be anything from color or the neckline or whether they like sleeves or not. With all of these things in mind, I give them a bit of an interview first then I do a bunch of sketches and I send it to them. What they like from the sketches, they are going to love and then we build it from there."
Although the performer's own personal body type and preference are keys to determining a style, there are other important elements that also factor in, such as, "what their repertoire is. What type of venue they are performing in and whether it is the Mod Club, Carnegie Hall or The Blue Note. They are very different venues. I just had a mezzo- soprano a few days ago and she is doing a World Aids Day concert and she wanted red and black. We have a whole (bunch) of red and black dresses that she could choose from, but I directed her to something that wasn't going to take up the entire stage or room. The venue sat 300 people versus 1,200 people and she was on the stage with a small orchestra. All of that needed to be taken into consideration with what we chose as well," she explains.
Some of Rosemarie Umetsu's designs are featured on the Riveting Riffs Magazine front page and you can enjoy more of Atelier Rosemarie Umetsu by visiting the website