Sarah Hethcoat's Pillow Talk Rocks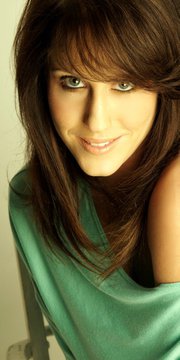 Sarah Hethcoat is a singer – songwriter who inspires you when you are in conversation with her, because she focuses on the positive aspects of the music scene and she speaks passionately about what she loves to do, to create good songs. The Los Angeles based artist, who grew up in San Francisco, turned down the opportunity to sign with a major record label early in her career, so she could retain creative control over her music and so she could present the type of public image that reflects who she is as an artist and as a person. She had a musical theater career that included being cast as Maureen in Rent when it played London, England's West End.
Songs that she has written alone and the songs that she has co-written have appeared in film and on television and her new five songs EP Pillow Talk opens with "Scream," a hard hitting Rock duet recorded with Ryan Hanifl. The song is introduced by cymbals, slashing guitar riffs and a kick drum. This is probably not the song you want your young children listening to as the themes are strong, but a tip of the hat to the artist that the song is devoid of any ill advised language. The listener finds themselves thrust into the midst of a love that was, a love that could be again and a love that says I have had enough.
"The song "Scream," was written in minutes. People got excited about it and it was a strong collaboration that made sense. Ryan Hanifl is more of a composer and he writes a little more epic and when I say epic I mean big. I am much more of a storyteller, so I write more in structure. It was a good collaboration and it made sense, so we wrote the rest of the songs, four others, literally in the same month. We are both really busy with our own careers, but we decided that we should release this and to get the EP out there for placements (in film and television). It is a unique project in the sense that I have never done duets. It is mainly him and I. These are stories that are really poignant at this time in my life. We all have strong stories to tell," says Sarah Hethcoat.
To say that the song "Jungle," has a sexual theme would be an understatement and although the language is tame the images are anything but. Another Rocking duet, the song is introduced by Sarah Hethcoat's gritty and passionate vocals and then the singers trade lines. The song is more like a conversation between two lovers than a song and it has a mid-tempo, hypnotic beat.
"At the end of the day I am a storyteller, so the stories are there and the songs are there, but a lot of it changes, based on who you work with and depending on the producer that I am working with and what they hear. With Ryan, he kind of lets me just do what I do and I think that I felt really free to rock out without a cage around me. I felt free to just go there and he was supportive of that. He helped bring out that sound instead of him being frightened by it. He was 'This is great. Keep going, keep doing this.' I had a lot to get out and it was a lot of fun. I look forward to performing some of the songs too. I think that is why I am so proud of this particular project, because it was really us. We did it with the help of our friends. I feel that it is some of my best work to date, because I was really passionate about it," she says.
"It was raw. We didn't have a lot of time to spend and with every song we just got in there and we did it (there are not any overdubs). All of the songs were written from jam sessions. He picked up his guitar and he just started playing. The songs came right away. I record every jam session that I have and this was a really easy writing experience and the way that I think it should be. It was a lot of fun and I am excited about it," says Hethcoat.

"I always write (in the moment). I always start from the moment. For the most part I let the music tell me what I am supposed to say. My subconscious always tells the story and then when I go back, I understand, I cross my "t's" and I dot my "I's". For the most part, the story is always there, whether I see it or I don't want to see it. That's what music does. It brings it out of me. That is my gift. I process sometimes out loud; better than I even can inside. When I listen back, it makes sense and I tell my story," she says.
Continuing on, Sarah Hethcoat shares more insights into her songwriting, "I normally like to write by myself and I won't be thinking of lyrics or melody at all. I am actually just letting go and letting myself play. I will play and I will record for hours. I will hear stuff that I like and I will go okay there it is. Then the words and the music just come, but not usually at the same time for me. It is weird. I also like to sit down with great guitar players who have totally different influences and experiences than I do. It is the way they feel their guitar, the way they play it. It is their cadence and it completely affects everything that I do. It is very organic and it is as if we are building a house. It is like we are starting from the bottom up."
"I really love this EP and specifically I love the song "Time," which is the second song on the record, but I also love "Scream," the first track, because it is just so honest. It is so real and it is so true to the process. Also (I like) "Liar." It is a waltz that is very circus like. It is a bit creepy and I feel that Ryan and I were able to tell the story," she says.
Sarah Hethcoat is also very cognizant that this is a business as well. "I am living in a city where I am hardly unique. I know that I am good at what I do and I believe in what I do, but there are so many amazingly talented people here. I think that people get excited when others show interest and some of these companies (music labels and other collaborations) are really great at making the situation sound like it is really going to be something that it just really isn't going to be. Some of them have the best intentions, but the reality is the business changes and things are way out of the artist's control. I am very careful to protect my rights and to get writer's agreements signed off on. I make sure that when we create material that we do it in a way that we are not going to get caught up in a bunch of logistical crap, because it takes away from the whole reason we did this to begin with. I feel like a lot of artists, just don't understand. It is hard. It is not like there is a book that you can read. You have to go through it sometimes or to be exposed to it. You just have to be aware that it is a business. As much as that may sound creepy to us highly creative people, it is a business. That is just the way it is. You can choose to play the game or you can choose not to play the game. I believe that you can play the game and you can keep your artistic integrity."
As for the recording contract that she turned down, "I ended up getting offered a Warner Brothers record deal when I was twenty-one. It was my dad who said to me, 'Sarah you have this contract in front of you and you can continue to do theatre or you can continue to go on your own.' We sat with the attorneys and my dad. They said to me this is what you are signing and this is what you are signing, but I was wait, am I going to get to write my songs? (The answer was) no. My dad said, 'You have nothing to be afraid of, just trust yourself.' What I ended up doing was saying, thank you, but no thank you to the record deal. At that time I was super skinny and I had long blonde hair and they basically wanted to make me into this Pop little princess," she recalls.
"Look just because I was born with a gift, doesn't make me better than anybody else. We all have gifts. Just because I can sing and write a story doesn't mean people are going to listen to me or buy my record. I am not entitled to that life. Life gives you all sorts of situations and all that we can do is the best that we can and it is finding that balance. My passion really is producing, telling stories and working with exceptional musicians. I am very inspired by the people that I work with. People ask me if I am an artist, because I don't play out all of the time. I am one hundred percent an artist and I work with artists every single day. I am an artist, because I paint different types of paintings, just because I don't paint everything the same, doesn't mean I am not an artist. I think that it is a wonderful time for people to be creative and to do so many different things. There is power in knowing what you are good at and I think that I know what I am good at. I am just able to share it in different arenas. I am still fairly young and I look forward to watching it grow. You never know where you will end up. I can't plan for anything. I can, but it is not usually going to happen that way. I have to be reminded to be open and to stay the course. I am grateful, because I have great parents who are my biggest supporters. If they thought I was crazy or wasting my life, they would be the first ones to tell me. They are very honest with me and they know what I am doing. They have supported me when I needed to be supported at times and to me that is what it is about. I think that all we have is what we give. I think as people it is important to know what that is. We get what we give and I find that to be really true as well," she says.
The intention is that the songs from Pillow Talk will be actively marketed for placement in film and in television. "It is amazing what the right song in the right scene can do. If you watch a TV program on mute, you realize how important and how vital amazing music is and how important it is to making something really awesome. I know a lot of artists are struggling (right now), but I also think that it is a wonderful time. We have to keep things evolving. We just have to ride it out and our place will exist. It will change, but it will exist," she says.
You can listen to some of Sarah Hethcoat's music including her new EP by clicking here.
Top Photo by: Mira Zaki
Interviewed by Joe Montague
This interview is protected by copyright © and may not be reproduced in print or on the internet or through any other means without the written permission of Riveting Riffs Magazine, All Rights Reserved