Interview by Joe Montague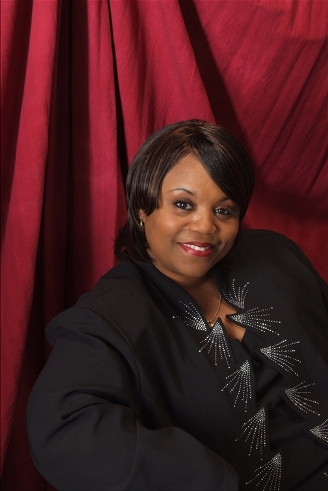 Soul singer and songwriter Stephanie Pickett's time has arrived and that is obvious by the attention the Montgomery, Alabama goddess of song is drawing from radio stations and music journalists throughout America. During the past two years, she has been riding a wave created by her stunning vocal performance on her 2009 album Finally Made It, released on CDS Records.
Signing to CDS Records is one of those rare record deals these days that seems to be working in the artist's favor. Stephanie Pickett had heard from several other labels that all seemed to have similar stories to tell her, "I had been trying to get a record deal for a long time and everybody that I tried would say, 'You have a great voice, but we aren't signing on any new artists at this time,' and (CDS Records) were the only ones that really let me in the door and things started blossoming from there," she recalls.
"In 2009, I was nominated for Best New Artist (by the 5th Annual Southern Soul Blues Critic Awards) and I won. A couple of times songs like "Run'n," made the top twenty-five. Another song "Family Man," which was written by Carl Marshall made # 1 and "Still Want You Baby," was at # 5 or # 6, so for me to be a newcomer and getting a little attention, that's good," she says.
Actually, Ms. Pickett is being quite modest about her accomplishments, as "Run'n," was voted # 1 on several charts, including The Southern Soul Top 20 Countdown and Top 25 Southern Soul / R & B Tracks. She also received three other music award nominations, Best Performance Vocal (Female) and Best Southern Soul R&B Album, for the 5th Annual Southern Soul Blues Critic Awards and the 2010 Jus' Blues Music Awards nominated "Run'n," as the Southern Soul Song of the Year.
"It is very, very, very exciting, because you have so many great artists out there and anytime that you are a newcomer and you can get even a little bit of attention, it is always a wonderful thing," says Ms. Pickett gratefully.
The song "Run'n," opens with a beautiful vocal presentation that will remind listeners of Anita Baker, and yes Stephanie Pickett is really that good. As is so often the case during the album Finally Made It, musicians Roosevelt Bradley (guitar), bassist Melvin Spencer, Richard Spencer (guitar) and drummer Terrence Baldwin serve up a splendidly arranged instrumental accompaniment that creates a magnificent, full sound that supports Stephanie Pickett's big vocals. The musicians play elegantly, which again compliments a singer who never has to stretch or reach for her notes, as she delivers a powerful vocal performance. Like so many artists who got their start singing in churches in the south, Ms. Pickett brings to her music a soulfulness that cannot be taught easily and more often than naught is a reflection of the artist's passionate approach to the music and her craft, as through song she questions why a former lover presumes that he can just run back to her, after hurting her so much.
"Run'n,' is a song that was written by me and all the musical arrangements were by me. Richard Spencer played the lead guitar, Melvin Spencer played bass, Perry Spencer was on drums and Charles Harmon and Issac McGhee did the keys and Issac did the horns. "Run'n," was a song that I wrote (while sitting) on my living room floor and when I first (wrote) the song I just had it with bass on a cassette tape and once again it was something that I was feeling at the time. I just wrote "Run'n," because I was in a relationship with a guy, who I had gone to, talked to and tried to convince him to help me to salvage the relationship, but he didn't want to do it. Finally, I got the courage and the strength to let go and I got on with my life. After, he went on with his life and he was seeing somebody else, and it didn't work out he wanted to come back to me. I was telling him in the song and I was relating to other people out there who have been dumped. All of a sudden the person who dumped them realized they made a mistake, because they lost a good thing and I was just telling him, "Why are you run'n back to me? / I can't even see you with tears in my eyes / You didn't have time to talk to me / Because our love had already died / You said you found a new love… / And I can understand that baby/ But why are you still messing with me?"
Stephanie Pickett chuckles, as I raise the subject of a song that we talked about earlier in the week, "Money Talks," which also features some dialogue by Terrence Baldwin.
"Money Talks," is about the guys out there who just want to shuck and jive the women, without ever doing anything for them, but they want some kind of a relationship. In the song, I am saying, money talks and you know what else walks. Money pays the bills, so money talks. If you are going to be with me, money talks. Terrence comes in with the little skit dialogue and he is making promises about how he is going to do different things for me and how he is going to take me out to a five star restaurant and he is going to buy me this and buy me that. I am like okay, that is fine for a period of time, but I need somebody who is going to be there all of the time," she says.
"The song "Money Talks," came about, because of a man named Roosevelt Bradley. He was the writer on that particular song and he also did most of the producing on that song, and some other guys sat in (such as) Terrence who was on the keys and he did the horns. Roosevelt Bradley created the song, he came up with all of the ideas and he did all of the lyrics," Ms. Pickett explains.
"The song "Only Time I Get Lonely," was produced by producer / artist Carl Marshall. I had been to Carl's house to do some studio work and he called me and he said the next time that you come up here, I have a great song for you to do and it is titled "Only Time I Get Lonely (Is When It Is Time To Pay The Bills)," and I said wow that is really going to get some ears to really stand up, because it is a bold statement. In the song I am talking about, "the only time that I get lonely is when it is time to pay the bills," and I say something in the song about, you can't be with me unless you are willing to pay some bills, and I have to pay my car loan and I have to pay my house loan. I have to do all of these things, so if you want to be with me, you have to pay some bills, because the only time that I get lonely is when it is time to pay the bills, so if you can't help me, don't stop me. Get out of my way and don't try to block me, just keep moving," she says with as much conviction, as she sings the song.
The deep connection between the lyrics and the singer, strikes the listener as amazing, because one would assume that Stephanie Pickett wrote the song, if you did not already know that it has been written by Carl Marshall. Ms. Pickett really owns "Only Time I Get Lonely."
"You caught me. I have to admit that I have been there. I have been in relationships at some points in my life, years ago, where I might have dated a guy and he didn't really do anything for me. He said he loved me, but when all the bills are due to be paid (he would say), 'I don't have any money,' or 'Catch me next week,' and being a female, I have experienced it, so I knew exactly where he (Carl Marshall) was going with the idea of this song. That is why I relate to it so well, because I have actually lived it," she says.
"Only Time I Get Lonely," is one of those songs that just refuses to let you stay sitting down and if you cannot find a dance partner you will be up dancing anyway, whether you are in a club or in your living room. The melody flows easily, the groove is deep, but not overdone, and Stephanie Pickett tracked her own background vocals, in a call and response style. The rhythm section, once again takes the song to another level.
"I have another single coming out, off of my second album, A Woman's Soul, which will be out soon and that is the album that "Only Time I Get Lonely," came off of. We are hoping that no later than June (the album) will be out. Next week we are releasing the single "I'm Taking My Man Back." It is almost like I am contradicting myself, because I am asking the man why he is run'n back to me and saying the only time I get lonely is when it is time to pay the bills and now in spite of all of that I am going to take him back. I don't care what anybody says," she finishes laughing softly.
"On May 7th, I am going to be in Macon, Mississippi and I will be on a Blues show with Jay Blackfoot, Maurice Williams and another young man J.T.Taylor. It will be at the Farmers Market and it will be an outdoor event
."
Stephanie Pickett has posted some of her live performances on Youtube and you purchase her music through Amazon and iTunes.
Interview by Joe Montague, all rights reserved, protected by copyright ©