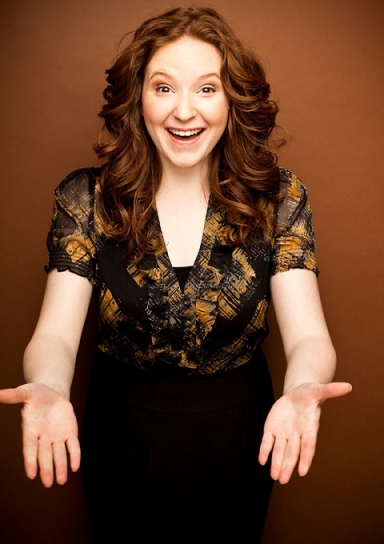 Tammy Frederick as Mllie Dillmont and Neil Galinas in the role of Jimmy Smith, put in a world class performance at the Meadowvale Theatre, in the Clarkson Music Theatre's spectacular production of Thoroughly Modern Millie, under the direction of Rob Gorican, the musical direction of Jennifer Peace and with the guidance of choreographer Bob Riddell. With all due respect to the wonderful three hundred seats Meadowvale Theatre, this is a cast that is so deserving of a much larger stage, as there are simply no weak links, and we might add that the sixteen piece orchestra is outstanding as well. The singing is flawless, the dance numbers are spell binding, and the acting is superb.
As good as Heather Taws (as Miss Dorothy Brown), Christine McMahon (as Mrs. Meers), Philip Tetro (Ching Ho) Martin van Helden (Bun Foo), Dar Bart (Trevor Graydon), Maria Moore (Muzzy van Hussmere) and Amanda Dwyer-Scarlett (Miss Flannery), are in their supporting roles, there is no mistaking who the stars of this show are, clearly those accolades fall to Tammy Frederick and Neil Galinas, who deliver their lines with authenticity, always staying "in the moment," and allowing theatergoers to forget that these are actors on a stage, and instead they draw you into the lives of Millie Dillmont, Jimmy Smith and their friends. We fall in love with Millie Dillmont, from the time that the curtain rises and as we encounter her on the streets of New York City, dressed in a red plaid coat, and rose colored skirt, brown shoes, straw hat and carrying one suitcase in each hand. The year is 1922, it is the roaring twenties, and Millie has left her home in Salina, Kansas, in search of both a career and a husband, for as the plucky lady reminds people that she meets in New York City, she is a modern woman, and she intends to marry her boss, whomever that may end up being.
Millie is soon joined on the streets of New York City, by a company of good looking men dressed in black bowler hats and matching black shirts, with black trousers and suspenders, as well as pretty and colorfully attired flapper girls, doing the Charleston. As your ears are treated to the beauty and the power of Tammy Frederick's vocals and our eyes take in the captivating dance scene unfolding before us, we are transported to the magical life of Millie Dillmont and a time and a place when life seemed so much simpler. Suddenly however, we are jolted into reality as a man (Jimmy Smith) dressed nattily in a suit walks down the street and promptly trips, blaming our darling Millie for his mishap. Neil Galinas possesses just as captivating a stage presence as Tammy Frederick, and he wonderfully portrays the smug Jimmy Smith, who is dismissive of Millie, as he encourages her to quickly return to her home in Kansas.
New York City is not all that Millie Dillmont hoped that it would be, and the naïve small town girl, spends her first night in New York City, renting a room in a boarding house that seems more appropriate for wayward women than it does for people of Millie's ilk. It is here that she encounters the dastardly Mrs. Meers played by Christine McMahon, who is both humorous and evil in her portrayal of the lady who operates the Hotel Priscilla. From the time we meet Mrs. Meers and the bumbling oriental laundry workers / room service gentlemen Ching Ho and Bun Foo, we know something is amiss. It is however, at the Hotel Priscilla that Millie meets and becomes close friends with Miss Dorothy Brown and Heather Laws provides a sensational performance as the sweetheart with whom Trevor Graydon becomes love struck, but then to explain anymore, would just spoil the plot, based on the book by Richard Morris and Dick Scanlon (with music by Jeanine Tesori and new lyrics by Dick Scanlan).
There are so many wonderful performances turned in by the supporting cast, the dancers and singers that it is a shame that we cannot mention them all by name, but we would like to acknowledge the acting and singing of Maria Moor in her role as singer and socialite Muzzy van Hussmere. Moore's vocal performance rival that of Tammy Frederick and Neil Galinas, and her portrayal of the celebrated Muzzy has us laughing one moment and at other times, she has our hearts melting during more tender scenes. As for Philip Tetro's portrayal of Ching Ho, this third year drama student at York University, needs to be discovered by directors and producers who are mounting bigger productions, on stages in Toronto's King Street West Theatre District, in New York City theatre productions, and somewhere down the road I am sure that Chicago is calling his name. Tetro possesses equally good talents as a physical comedian or in just using subtle facial expressions and body language to evoke uproarious laughter from the audience. He also has some more serious scenes in which he is able to covey dramatic tension and tenderness. Watch for Philip Tetro and casting directors commit his name to memory.
To the actors and dancers of the Clarkson Music Theatre thank you for providing us with a performance that so deservedly needs to have someone step up and underwrite the cost of a touring production. Thank you to director Rob Gorican, Jennifer Peace and choreographer Bob Riddell for bringing out the best in your performers, and to producers Christine McMahon, Rita Ferguson and Nick Forrow, thank you for having the creative genius to revive the musical that first was staged at San Diego's La Jolla Playhouse and later won six Tony Awards as a Broadway production, before touring the United States and later London's West End. Even though Thoroughly Modern Millie was a critically acclaimed movie starring Julie Andrews and Carol Channing, before it was adapted to stage, you cannot replace the experience of the live performance.
Photo: Pulblicity Photo of Heather Taws who is in the role of Miss Dorothy Brown