Trampled Under Foot Is Living The Better Life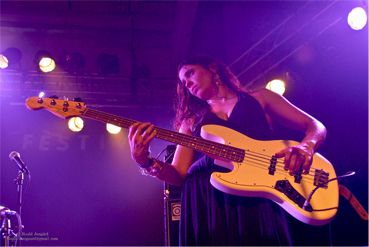 The song "Wrong Side Of The Blues," showcases Danielle Schnebelen's soulful vocals on the album by the same name released by Trampled Under Foot, as brother Nick serves up a scrumptious electric guitar solo and Danielle's other brother Kris wields the sticks on drums. The Kansas City based trio has been turning heads with their current album, produced by Tony Braunagel and featuring keyboardist Mike Finnigan and guitarist Johnny Lee Schell, who also acted as the sound engineer for the project. Schell played a cigar box guitar on the song "Evil Train," which was originally written by the siblings' father Bob Schnebelen. The recording of all original songs that for the most part were written by Danielle and Nick Schnebelen also highlights the group's diversity, as Nick takes the lead on vocals for the upbeat and lighter Blues – Pop crossover song "The Better Life."
"Nick wrote that song and he didn't have a very complete idea of where he wanted to go with it, but he had a solid melody and that is one of the songs that Tony (Braunagel) and I fine-tuned. I flew into LA a couple of days before the guys did, to do some vocals. Tony said the song had a lot of potential, so we should consider working on it. I went over to his house and we spent a couple of hours trying to get the words right on it. It was really fun and it was a fun song to play. We don't have a lot of songs that are Pop Bluesy like that. It was neat writing with Tony as well, because I am not used to sitting down and doing it as a team. We have been pushing it at a lot of festivals and we have received a lot of requests for it. That is always cool with something that you write and you put your heart into it," says Danielle.
Danielle talks about the crossover potential for the song, "We wanted to make sure that we had one song on there that could break into the other realm. It may not quite groove like the Blues, but it will entice them into it and it will reach a different audience (who might say) I didn't know I liked the Blues until I heard your band. Some of the younger kids are like, the Blues that is old people's music and then they will hear (the song) and they will say wow that's really cool. We wanted to make sure that we got a song on there that reached the younger crowds as well. We thought "The Better Life," would be a better opportunity for that."
As for the title track, "Wrong Side Of The Blues," Danielle says, "It has more of a traditional Blues sound to it. I wrote that song a number of years ago and I really didn't know if it was going to end up being a song on this album. After we laid it down, it gave me a little more hope for it. It is a pretty clear story about a woman being attracted to a man, but it disrupts other people's lives and you don't want to end up (her voice trails off). The Blues is good and the Blues is bad, but you don't want to end up on the wrong end of it."
Danielle, Kris and Nick grew up in a musical environment as their parent's had the band Little Eva and the Works for which their mother Lisa Swedlund was the lead vocalist.
Danielle who was raised in the small town of Rich Hill, Missouri, not far from Kansas City, says of their upbringing, "I knew this was definitely different, because most of my friends were not going to eat at restaurants and they were not going to see other bands at restaurants and getting up to play. I knew from the beginning that it was really something special to be able to go and listen to the shows and none of my other friends had parents who were musicians. My mom and dad had day jobs as well, but at night was when they would go out and play. I knew it was something special from the beginning. "
Nick, who is the oldest of the three, at thirty-three years of age, first played the clarinet when he was in middle school, before switching to guitar in his teen years. He took home the Albert King award for the most promising guitarist at the Blues Challenge in Memphis, Tennessee four years ago. Danielle's performance journey started with studying dance and playing the saxophone in school, before she began focusing on singing and Kris concentrated on the drums from the beginning.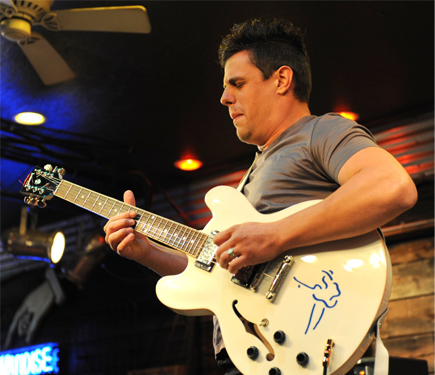 Both Nick and Danielle were in several bands before forming Trampled Under Foot with brother Kris in 2002. While Kris had a steady diet of gigs at home in Kansas, Nick was touring as a member of K-Floor, which opened for artists such as, Robin Trower, Robert Cray, Steve Miller and James Brown. He was also for a time, a member of the Pop band Buddahead opening for Everlast during their national tour and the group also recorded with Jon Popper from Blues Traveler. As for Danielle, she began performing with Little Eva and the Works, when her mother stepped away from the band for a period of time. She also was the lead vocalist for Kansas City based bands Fresh Brew and The Nortons.
Danielle says of her time with Fresh Brew, "We were doing a lot of Blues standards like Bonnie Raitt and I was cutting my teeth getting used to singing. I was a front person, without being able to look over to my dad for help. I was really fortunate that none of them got funky with me. I was a sixteen year old girl and they were all great to me."
For about a year the trio moved to Philadelphia and their life and musical experiences gave birth to the song "Have A Real Good Time," a tune that features stunning organ and electric keys by Mike Finnigan. The song is a Blues Rock song that does just that, as it has a very fast tempo and it rocks out the house.
Danielle says of the song, "It is a chronicle of the band. Our producer said we need a really good song or a dive in tune to get the fans going and as an appreciation for the fans that have been there throughout the years. Nick came up with that song. We used a Led Zeppelin Rock and Roll intro on it and he wrote a really rockin' tune. Our producer Tony Braunagel and I tightened up the lyrics a little bit and in the studio Mike Finnigan helped out a lot."
The Led Zeppelin connection runs even deeper, "We have always loved Zeppelin. The song "Trampled Underfoot," is two words with Zeppelin and we thought it was a really neat name. We put it into three words, so that we could go by TUF and we could shorten it up. There are three of us and we thought it was a unique and a different name," explains Danielle.
"Trampled Underfoot," may have been a Rock song for Led Zeppelin, but Trampled Under Foot, the band, is about to become a Blues hit.
Interviewed by Joe Montague
This interview is protected by copyright © and may not be reproduced in print or on the internet or through any other means without the written permission of Riveting Riffs Magazine, All Rights Reserved