Interview with Joe Montague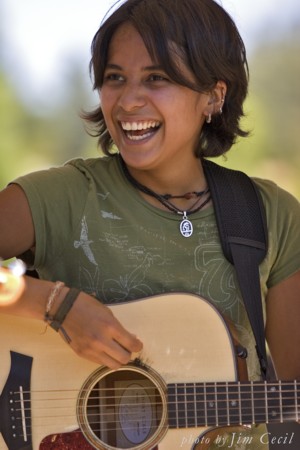 "At this point I have made a commitment to this career and my music. I want it to be the best that it can be. I don't want to get into the mindset where I am just going to be the suffering artist who never gets done, what I want to have done, plays the same thing, and then a year later never want to play that song again. There is a business in this, and I think I am realizing that I am in the business of making good music, not to be a poet, and get what I feel out there. What I want to have out there is a positive message for people," says rock musician and songwriter Vicci Martinez, in her typical laid-back fashion.
The petite Martinez, dressed in blue jeans, was curled up in a big chair, backstage at Seattle's The Triple Door, about an hour before she would play the first of two sets, on this Saturday evening. The free spirited Tacoma, Washington native has been performing professionally since she was sixteen years old, and has opened for or shared the stage with artists such as Brandi Carlile, Jonny Lang, BB King, Avril Lavigne, Annie Lennox, Sting, The Doobie Brothers and Christopher Cross.
Naomi Judd says of Martinez, "She is living proof that the world needs more artists like Vicci Martinez."
Now, only twenty-three years old, Martinez appears ready to take her music career to the next level. She is like that carefree child who has finally grown up, but still retains enough of an unconventional approach to life, to ensure that her music is artistic, and flows from her heart, rather than being comprised of mere beats, and hooks tightly packaged for commercial appeal. Her combination of girlish charm, and incredible talent, distinguishes her in much the same way as fellow artists John Mayer and Coldplay. Before you cry heresy in comparing Martinez to such rock icons, we remind you of this, there was a time, when nobody knew who Mayer and Coldplay were either.
While considering the transition that has taken place in her music during the past few years, a little furrow appears in Martinez's forehead, just above her big brown eyes, as she thoughtfully answers, "In the very beginning I was very much in the hippie, dippie, love, peace everything (mode). I was just trying to shove it down people's throats, not in a 'you have to do it this way,' fashion, but because it was my passion. In the last couple of years, I guess I have been saddened by having done that and nothing came out of it. Now I have been sitting back and (asking) what do I like? What do I enjoy about music? What makes me feel good? Why did I get into this? I wanted to go see great musicians, who knew what they were doing, who gave their soul to the music, (and didn't just treat it) as a hobby. They gave their life to the music so that you would enjoy it; whether you enjoy it when you are sad, or whether you enjoy it when you are happy and want to get a buzz, or not even having a drink, but to just have a good time."
Martinez has indeed grown up a lot from the sixteen year old, who used to strap on her guitar, and with unbridled energy would take to a stage to play her tunes. She recalls the perceptions others had of her, "I had heard from others, 'Okay she's sixteen, she plays, and writes this music, and has the whole teenager thing going on."
How did she handle the critics, and the label that 'she can't miss,' label that she has worn from such an early age? "I knew what I had to say, just wasn't serious enough yet, and I didn't want to go out and misrepresent myself. My dad used to always say to me, 'Don't say anything that you don't believe in, you need time to grow up."
Continuing to discuss her early days as a performer, Martinez says, "I came from a religious family, and everything that you did was a big deal kind of thing. Whatever you leave on this planet, is what people are going to remember you by, so I tried to allow myself to grow up a little bit more. I found myself, and a band that I really, really felt was like a family."
With a new CD recorded, but still being shopped to the major labels, Martinez is brimming with confidence, but not cocky or arrogant. For the first time in her career, she completely believes in the team that she has put in place. That team includes a band that went through a myriad of musicians, before settling on the current configuration of electric guitarist Rod Cook, bass guitarist Jeff Leonard, drummer Darin Watkins, and keyboardist Ryan Smith. She signed an agreement with Bill Leopold of W.F. Leopold Management, from Burbank, California, the same firm that manages the career of Melissa Etheridge and helped launch the career of Maroon 5. Through the Leopold connection, Martinez hooked up with Adam Cohen (Leonard Cohen' son), to write the popular tune "Matchbox," and met Davitt Sigerson with whom she collaborated to write several new songs, including, "Love Or Whatever," "Don't Trust Me," "Let's Pretend You're Sleeping," and "Beekeeper." Sigerson is a heavy hitter in the music industry, having served as the president for Island Records, EMI and Polygram. The Bangles and Tori Amos are just a few of the artists that Sigerson has produced. He came out of retirement to produce Martinez's recent project. Completing her team is trusted friend, personal manager and booking agent Reed Riley.
"Tonight I want you to hear my lyrics," says Martinez jumping out of the chair, and pumping the air with her fist as her voice fills with enthusiasm. "A lot of times I let the music carry the energy, and create the energy. My words and lyrics get lost in that, and they have done great as far as giving people a show, but tonight I want to play songs, and I want it to make sense. There won't be too many extended solos."
In the past couple of years, Martinez's music has matured, but it has sometimes been at a great cost, as her father, whom she affectionately refers to as 'my Pops,' passed away, and she has experienced both the joys and heartbreak of love. Soon she will be the stage, performing for the first time, her incredibly emotive song, "Don't Trust Me," a tune that flows directly from her heart and a relationship which recently ended.
"It's so hard being in a relationship, when you are in this business, and you love the person so much, especially if they are older. It is really hard to find that common ground, especially when they don't do what you do (referring to her music career). It's hard," says Martinez.
She recites the chorus for "Don't Trust Me," "Don't ask me to tell you how I feel / because you don't want to know / don't trust me to love you / because I'll break your heart and I'll break my own." Providing insight to her lyrics she describes her collaborative writing session with Sigerson as being somewhat of a therapy session and says about her recently ended relationship with her girlfriend, "I'm happy right now in this moment with you, and it is great, but if we are going to talk about the future, I don't even know about myself right now. I know that I am toxic for you…. (her voice trails off)…I don't know. That's the thing too, (I ask myself), am I looking for something that I am never going to find, and am I (ending it) with someone whom I absolutely love and adore."
Although confused about things of the heart, something that many twice her age can easily confess to, for Martinez things are becoming more clear on the artistic front. "Right now, I am having a lot of fun writing, and I am so stoked that I am taking criticism so well right now. I really thought that I was going to be the one who said, "Don't change my lyrics or else I won't play it. I have to feel it." They (her band, producer and engineer), were the ones who were saying, 'We don't want to change what you are trying to say. Let's figure out what you are trying to say, and those will be the key elements.' The product that is coming out of that is amazing, and I always thought that I was going to be the 'could have, should have, would have,' and I still might be the 'could have, would have, should have.' out of Seattle, but there is stuff happening now that I didn't think that we as a band were capable of."
While acknowledging that she is still young, Vicci Martinez says, "My goals have changed. I want to be respected by musicians, which means, I want to have a good band, that other musicians watch, and respect." Vicci, they already do, and so do your fans.