Late For Breakfast - An Interview with Michael Oliphant
Michael Oliphant is the very gifted co-songwriter, lead singer and keyboardist for the eclectic band Late For Breakfast, which is comprised of Oliphant, saxophonist Greg Clarkson, bass guitarist Roger McLachlan and drummer Gerry Pantazis. The breathtaking music of Late For Breakfast mixes elements of Rock, Jazz and Funk with a musical vibe that seduces the listener and with lyrics that are intelligent and that often weave a story, as does the delicious song "Michelle." The Melbourne, Australia based band boasts some of the country's top musicians. McLachlan was one of the founding members of the Little River Band, while the Mike Oliphant Band toured in support of artists such as Tina Turner and worked with Tina Arena and The Seekers. Clarkson's highlight reel includes working with, Shirley Bassey, John Farnham, Louis Bellson and he was featured in the stage production of Jersey Boys. Drummer Pantazis has been featured on numerous high profile televised events and he was part of The Seekers Farewell tour, as well as touring with iconic Australian musician Tommy Emmanuel.
One only needs to listen to songs such as "Michelle," and "Teller of Things To Come," from the current album The Art of Falling to get a feel for both the excellence and diversity of Late For Breakfast.
"The song, "Teller of Things to Come," is a prophetic song. It is a song that talks about things that could be, but only in your own mind. It talks about the idea that everybody can be their own leader and dictate their own future and that you are the teller in so many words. It is really about you taking control of things," says Oliphant.
"Teller of Things to Come," opens with funky keyboards, backed by Greg Clarkson's soulful saxophone, before Michael Oliphant's smooth vocals tease the listener's palette. The synergy between Gerry Pantazis' drumming and percussion and Roger McLachlan's bass is magical, as they establish a strong foundation for a spellbinding song.
Oliphant says, "Michelle," was originally written in another form about fifteen years ago and Greg Clarkson and I redeveloped it for the album. The song was about a time when I left being a musician and I took a day job for a short while. I was in my thirties and I had an infatuation with this nineteen year old receptionist at this place where I worked (he laughs) and whose name was Michelle. It is a song about an older guy's infatuation with a young woman and her being a bit untouchable, in a way (laughs again). Nothing happened between Michelle and me, it was more just a fantasy of what could be."
The song "Michelle," is a beautiful story of a man's struggle with the feelings he is experiencing, not because they are wrong, but because they are powerful and yet unfulfilled. The song is sweet and romantic, it is like experiencing love for the first time, when your heart beats faster, and try as you might your world is turned upside down, in a good way.
Michael Oliphant was born in Caneberra, Australia, but when his musician father Ray joined the military as a teacher, young Michael and his mother Ann joined Ray, living in places such as Singapore, Malaysia and England. Oliphant credits his father for providing the initial spark that kindled an interest in music.
"He was a big influence on me starting out and I think that I tried a number of different instruments, before settling on piano at the age of 15. At some stage and I think it was in 1974 dad took the whole family to England for a year and I basically just studied piano. I studied Classical and Jazz and it set in motion the idea of being a musician all of my life, which I pretty much have been. In England in the mid-seventies I got exposed to bands like 10cc, which was a revelation and I remember seeing Oscar Peterson in a small pub playing with Johnny Dankworth. Oscar Peterson is probably my all-time favorite piano player and I pretty much had everything he ever recorded. He was a great influence on my style as a piano player, except I never really imagined myself becoming a Jazz player, which was kind of curious. I think I liked a broader palette much too much to specialize in Jazz," he says.
One wonders how Michael Oliphant got from 10cc to Jazz even with the Oscar Peterson experience.
"To me everything is interesting, but I have always been interested in Jazz, but I have played a lot of Rock and Hard Rock. I've enjoyed playing the Hammond B3 organ and I always adored everything Stevie Wonder ever made. I have always had broad tastes for those reasons," says Oliphant.
"I did my first professional gig when I was just a bit older than 15 at the Dandenong Worker's Club in Melbourne playing in my father's Jazz band. I managed to acquit myself very well and my father was rather keen on me going out and playing whenever I could, obviously mostly on weekends, rather than school nights. I had a great grounding and it makes a big difference having musical parents and ones that really encourage you. My father plays the trumpet, clarinet and saxophone. Mom plays a bit of piano. Mom is not really a working musician. She got involved in it a little bit. Mom was tremendously supportive and she always has been," he recalls.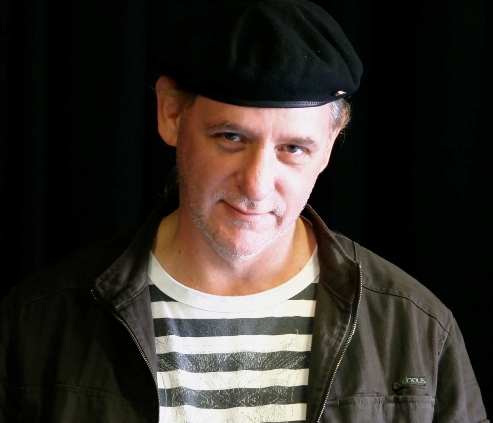 Then there was another development in his young career, "My first band was called Nahtarka, which was a mad frenetic Jazz fusion band. I was 18. It was a quartet, keys, bass, drums and saxes. We sat around and constructed these bizarre and incredibly difficult to play pieces and then we inflicted them on audiences."
Next came, "the Mike Oliphant Band when I was about twenty. With the original Mike Oliphant Band we did a lot of work around Melbourne in the early eighties. It was kind of like Doobie Brothers only with three girls singing. The Mike Oliphant Band worked basically around Melbourne and then for a year or two we broke up and I formed The Office. Probably (The Office's) main claim to fame was we did a national tour with Tina Turner. We spent a few weeks on the road with her, which was quite fun. "
The band Late For Breakfast came together after the individual musicians had known each other for many years, sometimes playing together, backing other artists and sometimes their paths simply crossed.
"I got together six or seven years ago with Greg Clarkson the sax player for Late For Breakfast and we were just talking about an idea, which eventuated into this album. It was a work that took maybe five years to formulate the idea and to get the sound together. It was definitely not an overnight thing for sure," says Oliphant.
The title track from the album The Art Of Falling, is funky, it is smooth and it is danceable. It invites you to move your shoulders, your hips and your feet. It is an up-tempo song, that gives each of the musicians a chance to shine and you catch your breath and just listen as Clarkson's horn converses with Oliphant's keyboards and it is backed by incredible drumming courtesy of Gerry Pantazis, while Roger McLachlan once again is stellar on the electric bass.
"(The song) "The Art of Falling," is about living the life. It is about a person living life to the edge and doing everything that they can with their lives and trusting in the other person. The idea of "catch me when I am falling," speaks to the idea of a relationship that has trust in the absolute. The song was written to have more of a dance feel about it. It has a bubbling synthesizer part that runs all of the way through the song (he then mimics the sound). I always think that it has more of a New York sound to it. I always imagine someone talking about his lady who is living the high life and he is wondering if she will be there for him if he ever falls," says Oliphant.
Michael Oliphant is also making his mark as a producer, but as he is quick to point out he really is not so much a producer for hire, as he is a producer who seeks out unique and quality artists and works with them to develop new projects.
"For instance, the project that I am working on at the moment is an EP for a famous Australian singer from the sixties called Bobby Bright. Bobby had a partner called Laurie (Allen), so in the early sixties they had a string of hits ("I Belong With You," "Someone," "Judy Green.") under the name Bobby and Laurie and many years later, Bobby is still a very fine singer. I had been doing some live work for him and I said why don't we put an EP together for you? He jumped at the chance. He has been working with me for the last two months. We have been working on some songs that he has and we put them into demo form. Over the next few weeks we will be recording the EP. I tend to look for interesting ideas and put them into action," says Oliphant.
He adds, "At the moment, I am mixing an album for a wonderful Australian singer called Kate Slaney and she will probably release that album in about six weeks. It is just in the final mixes."
For those who are looking to refine their vocal and songwriting skills the trio of Michael Oliphant, Kate Slaney and Roger McLachlan created some very good online material. The trio created Explore Your Voice videos on You Tube that provide practical tips and demonstrations on songwriting and vocals. Slaney and Oliphant also produced a very affordable three disc set Explore Your Voice, which is available through I-Tunes and it focuses entirely on vocals instruction.
You may not have heard of the Australian band Late For Breakfast yet, but Riveting Riffs Magazine guarantees that once you have heard them, you will soon be telling your friends about their music. You can listen to some full cuts and some lengthy samples from the band's current album The Art of Falling on their website.
Interviewed by Joe Montague
This interview is protected by copyright © and may not be reproduced in print or on the internet or through any other means without the written permission of Riveting Riffs Magazine, All Rights Reserved