Three Days Of Hamlet - Interview With Director Alex Hyde-White
Interview by Susan Dwyer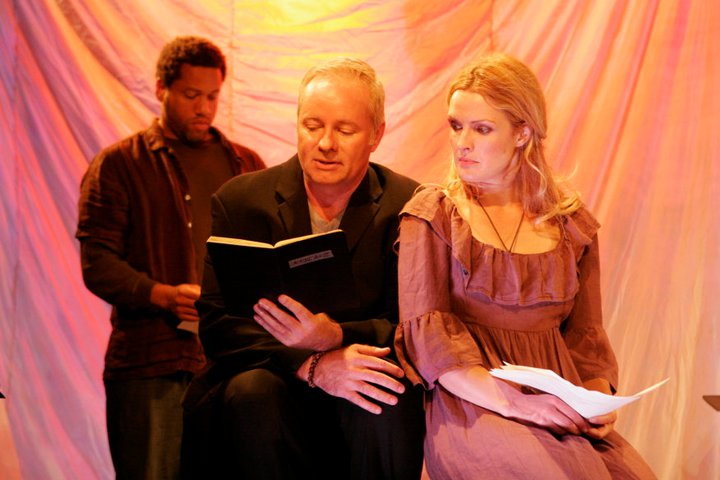 "Three Days of Hamlet" is an independent documentary film that merges a theatrical production with a behind-the-scenes, reality TV-style glimpse of what happens when you put actors in an extreme situation. In this case, it is a three day process, filmed on July 1-3, 2010, culminating in a staged reading of Shakespeare's play in front of a live audience at the Matrix Theater in Hollywood. The film is the brainchild of Alex Hyde-White, who directs and plays the part of Hamlet, along with Richard Chamberlain as Polonius, Tom Badal as Claudius, Stefanie Powers as Gertrude, and Iva Hasperger as Ophelia. He describes the primary plot as, "Actor, filmmaker Alex Hyde-White comes to terms with the legacy of his father and sets out to inspire his sons using a three day staged reading of Hamlet as the vehicle."
Mr. Hyde-White is the son of the late British comedic actor, Wilfrid Hyde-White, whom he describes as "mercurial, mischievous, challenging, but ultimately singularly special and rewarding." The film becomes a reflection on the real-life father-son relationship through the lens of the play. This is even more fitting when we learn from Shakespeare advisor and UCLA professor Michael Allen that Shakespeare had a son named Hamnet who died when he was 15.
When asked what led him to attempt Hamlet in this fashion, Mr. Hyde-White replied, "Being able to play the part was long an ambition of mine, in the right context. To be able to do it in the sense of putting together a film project, and then having the advent of reality TV, having that element to it," became the context.
A former contract player at Universal for many years, doing shows like "Quincy" and "Battlestar Galactica," Mr. Hyde-White has appeared in three Steven Spielberg movies and he is a great fan of his approach to directing. "He intuits, he will allow the inspiration of the moment."
He has also been influenced by the recent generation of actor / directors. "Growing up, I was a great fan of Warren Beatty and Clint Eastwood, and later, Kevin Costner, actors who created stories and used the technique and discipline of the film set to do this, and I have always wanted to do that."
This do-it-yourself approach is part of the history of the theatrical profession. "In the 1700's there was the actor / manager, like a small business owner with a show, and he knew all the parts. So I have always liked the idea of putting together a troupe for film and TV."
The idea for this particular project came to Alex Hyde-White following the Christmas of 2009. It was while drinking a glass of Schweppes Bitter Lemon, which he thanks in the closing credits of the film, that three elements came together as if in the effervescence. He had just performed in a staged reading of It's a Wonderful Life in Santa Monica, he was reading a book about actor John Barrymore and how he took his version of Hamlet to London in the 1920's and Mr. Hyde-White was writing about his own experiences on the sets of the three Spielberg films.
He says of that moment, "So this idea materialized. At first it was more about putting the project together, and then, it's the part that has always eluded me, that golden moment in your childhood. It stands out as a very magical, impossible to duplicate experience, and that's what Hamlet was for me."
The decision to film in just three days made it an easier fit for the actors' schedules, but the deadline also added pressure to the project. "It was very much like a workshop, like the circus coming to town," says Mr. Hyde-White, before describing the Matrix Theater as "a character in and of itself, an old building on Melrose full of memorabilia." Essentially there were two sets, the main stage and an upstairs room where each actor was asked to sit for two or three interviews with a producer / cameraman. They were encouraged to tell stories about any three days in their lives, and according to Mr. Hyde-White, this setting "illuminated people's selves, even in the choices of what they divulged."
In addition to the interviews, there are also many candid moments that capture the relationships among the actors. "We covered the whole thing, and you have this mound of footage. We are covering life, what happens." The film, he says, is not about "watching people read Hamlet from a book."
The actors responded to the challenge like consummate professionals. "Everybody got on their game". He was especially pleased with the good chemistry among the three leads, Mr. Badal, an "earthy, Method actor", and Ms. Powers, an avowed classics geek, and Mr. Chamberlain, whom he characterized as "urbane, sophisticated, gentle soul."
The film is currently in festival release. It premiered at the Palm Beach Film Festival in April to positive reviews, "Three Days of Hamlet strips away all of the showbiz bureaucracy to convey the sheer, unfettered joy of performing these beautiful words," and won the Best Documentary award at the LA Family Film Festival. It has also been received well in the university setting, and the producers have provided a curriculum guide to go along with the film. Perhaps the most meaningful response for Mr. Hyde-White has been from fellow directors. Alex Rotaru, the director of Shakespeare High told him that he had made a "mise en abyme" film, which is a French term for a dream within a dream, or "looking into a pool of infinite reflections." Mr. Hyde-White laughingly admitted that he was not aware of this when he was making the film, but said that "whatever you do reflects you, your sensibility, your style, your influences, and that will come out in your work."
Three Days of Hamlet is produced by Ron and Mara New and Chris Stevens. Please visit the Three Days Of Hamlet website
This interview is protected by copyright © and may not be reproduced in print or on the internet or through any other means without the written permission of Riveting Riffs Magazine, All Rights Reserved