Don't let the fact that actor Aaron "Quick" Nelson is a big sturdy guy who can cast a mean look with the best of them if his film role requires it, scare you off, because as witnessed in the 2016 Hallmark movie Christmas In Homestead he really is just a big teddy bear. In the movie, which starred Taylor Cole, Michael Rady and Brooklyn Rae Silzer, Nelson plays Gavin Williams the bodyguard for actress Jessica McElllis (Taylor Cole) who is filming in a small town, as Christmas approaches.
Aaron Nelson talks about his character "He seems to be this tough bodyguard, this intimidating looking guy and a very militant type, but what you start to realize is he's like a teddy bear and he cares for little Sophie who is played by Brooklyn Rae Silzer. She is a very talented and phenomenal actress. He always had advice for everyone and you start to realize that Gavin has a lot of wisdom and (you learn more) of him later in the story. With Jessica (Taylor Cole) she falls in love and she asks Gavin questions and he has answers for them. He gives her what she needs, so she can see in life what she always wanted. She is a phenomenal actress and (her character) falls in love with Matt played by Michael Rady."
There is an aww moment in the movie when child actress Silzer and Nelson have an extended scene at a pretend tea party.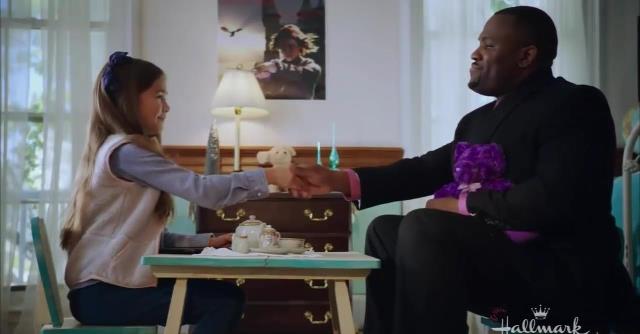 "That was a fun scene that I did with her. We had a ball. That was by far one of my favorite scenes. You start the see the big teddy bear side of Gavin in that scene as well," then we share a laugh when I point out he was even holding a teddy bear in the scene, "That's right his is holding a teddy bear! That's funny," he says.
As for how he prepared for the role of Gavin Williams he says, "I thought about who was involved in Gavin's life and I had to understand each character. For instance I looked at what Jessica McEllis was going through in her life and I then looked at what my purpose was going to be in her life. For Sophie played by Brooklyn I had to (consider) the situation that she was going through. When I started to look at it I started to compare my life with theirs and with Gavin as well. Sophie is the age of my daughter. She is eleven years old, so having that connection and that chemistry and knowing how kids look at life and the things that they have in school and the conversations that they have is pretty similar to my daughter. Brooklyn and I developed that chemistry right off the bat.
As for being Taylor's bodyguard I related it to how protective I am with my sisters. I am the oldest sibling, so I am also their bodyguard. I talk to them like I am their protector, which I am. I prepared myself for this role exactly how I (approach) life and what I go through with my daughter and with my siblings.
I remember when I first received the notice to audition and when I looked at the description and I truly did not think that I was going to get the role at all. I was reading it and I thought this isn't me, but I have the opportunity to audition, so I will audition anyway. I did the audition and I thought I did okay. I did the best that I could. I portrayed it the way that I envisioned Gavin and a few weeks later my phone was blowing up! It was my agent and he said man you booked that role for Gavin Williams! I said seriously? He said yes. That is how it happened.
Every time that I watch the film and I watch Gavin it reflects who I am and my life."
One of the things about Christmas movies that make them so special is if they are good movies they seem to live forever, being aired year after year. Christmas In Homestead is a good movie. We wondered how Aaron Nelson feels about that type of longevity and the prospect that he may someday watch this film with his grandchildren.
He says, "It feels so good and it is a blessing. It is one of those things that you work hard for. You don't realize it until you see it in front of your eyes. It motivates you to a point where you keep going. It helps to open more doors for you."
Contrast the teddy bear Gavin Williams with boxer Royce Claxton, a fictional character, which Aaron "Quick" Nelson created for the film he is co-producing Knockout: The Untold Story of Royce Claxton.
"It (the movie) is still in pre-production. The movie shows the difficulty of the things that Royce Claxton has gone through mentally. I can't give out too much information, but it follows his struggles and his professional career. They gave him the (nickname) Ruthless, because he was so ruthless in the ring. There are things that he went through that damaged him mentally and he used his strength and anger throughout his career. It led him to success, but it also led him to destruction," says Nelson.
As for writing the screenplay, acting and directing the movie he says, "It will be a very good experience, but also a challenge. I always look for challenges. I think every writer, director and producer always wants to push themselves and challenge themselves to be better in our jobs and our crafts. I am not in this industry to settle. I am in it to grow. I want to move people. For this to be my very first movie (doing all of these things) I think it will be a challenge and that is what I have been waiting for."
Nelson plans to include in his film archived footage of former world heavyweight champion Floyd Patterson.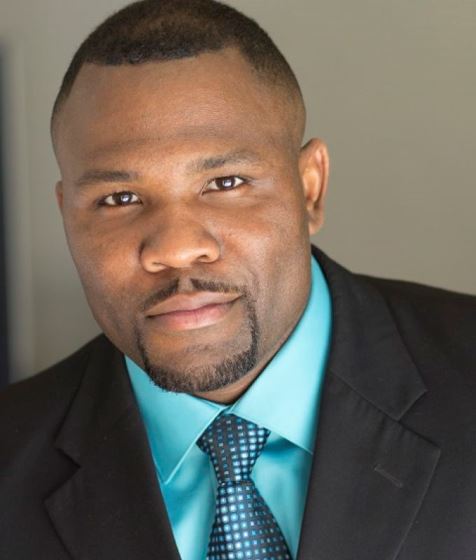 "Floyd Patterson is one of my favorite boxers and I wanted to bring a taste of history into the film. I wanted to have that organic feel in a boxing movie. It's not your ordinary type of boxing movie.
Floyd Patterson was a gentleman. The way that he carried himself there wasn't any drama. He was simple, but at the same time there was a flash here and there. If he walked into a restaurant he would get a lot of attention. There was just something about him that whether he was in or out of the ring, he would attract attention. Sugar Ray Leonard was the same way. Both of them were similar. They were good in the ring, but they were also good people. They very professionally," he says.
Life began for Aaron Nelson in Providence, Rhode Island in what he describes as "a big family."
"I loved sports and I come from a huge sports family. I have a few uncles and cousins who played professional football and I have always been very athletic. There was also something in me that drove me to acting. Every time I watched a TV show or a movie I was always intrigued by it. I remember when I was six years old I was sitting in the living room with my grandmother watching The Karate Kid and the people inside this box, the TV and I asked my grandmother how can I be a part of that? Everything that I watched on TV I thought was real. I wanted people to watch me. I wanted to be in that box.
When I was in elementary school I was part of an ensemble for a Christmas play and that is when I quickly realized and that is what I was meant to do and to be a part of was acting. I can't really remember the Christmas play. When I got on stage and the audience laughed that joy led me to a point when I loved doing it. I love moving people. I started doing school plays and local theater performances. I developed a passion (for it). I also started to write my own plays. It just reeled me in. Once I got to high school I got involved in plays and drama classes and I started off in Leon High School in Tallahassee, Florida.
In high school I also got involved in sports. I ran track, I played basketball and football and I got to a point when I was really good at it. I got a basketball scholarship and I ended up playing football and basketball. That led me into professional sports. I played minor league basketball and it was more like a developmental league to get me ready to play in the big leagues, but at the time I was getting ready for a tryout for a major team in a major league I tore my ACL (anterior cruciate ligament). I had two major knee surgeries and I went through over a year of physical therapy. When I did get back into it I just did not have that passion for playing sports anymore and I wanted to find another outlet and another passion.
I had gone to the gym every weekend and when I made the decision to stop playing basketball I remember the very first weekend I didn't have anything to do, so I was extremely bored. A friend of mine told me that he went to improv classes and he said if you would like to go you can come with me. I said I would like to do that. During the improv class there were auditions that were going on. I walked in and when they saw me they thought I was there to audition. When they asked me to audition I said (sure) I'll do it. I read the description of the character that I was going for and I got in front of the camera. I did the audition and they loved it. They asked me for a resume and a headshot and I didn't have either of them, but I ended up booking the role over sixty-nine actors (he chuckles and says it was a boost for his confidence).
It was about a team of misfits who try to win a (legal) case. I was one of the lawyers in the office and I was in a supporting role. The movie was called Attorney At Law.
(After that) a lot of my friends and family came to me and they encouraged me to get back into acting. They told me that they always believed I could do some big things in acting. I got an agent and it took off from there.
Among the other acting roles you may have seen Aaron Nelson in is his recurring role in the television show Ransom's Law, as Byron Earles, and appearances in Black Lightning, The Gifted, Sleepy Hollow and Around the Basket.
You can follow Aaron "Quick" Nelson on Twitter or you can follow him on his official Facebook page.
Top Photo: Aaron "Quick" Nelson and Taylor Cole in Christmas In Homestead ; Middle Photo: Brooklyn Rae Silzer and Aaron "Quick" Nelson in Christmas In Homestead
#AaronQuickNelson #ChristmasInHomestead #HallmarkChannel #rivetingriffs #rivetingriffsmagazine
This interview by Joe Montague published March 20th, 2018 is protected by copyright © and is the property of Riveting Riffs Magazine All Rights Reserved. Top two photos
are the property of the Hallmark Channel and Crown Media and
are
protected by copyright © All Rights Reserved. Bottom Photo is the property of Aaron "Quick" Nelson and is protected by copyright ©, All Rights Reserved.
This interview may not be reproduced in print or on the internet or through any other means without the written permission of Riveting Riffs Magazine, All Rights Reserved