Celeste Yarnall & Nazim Nazim

What happens when art meets the clothing design world? Well in the case of Nazim Nazim (first name and last name the same) and Celeste Yarnall, actress turned entrepreneur the result is wearable art in the form of the Art of Wellness collection and the Celeste Yarnall Curated Wearable Art Collection.
"Almost from the moment that I met Nazim and fell in love with his art and as our relationship progressed and we fell in love with each other, I kept thinking how magnificent his paintings would be if we could translate them to scarves, kimono style sheer wraps and especially jewelry. You know what they say, be careful what you wish for, because if you envision it, it is going to happen. The opportunity to do this kind of design work together just fell out of the heavens. I am thrilled that my dream has come to fruition," says Celeste Yarnall.
Her husband and partner in this enterprise, Nazim Nazim contributes, "As to the inspiration behind the designs, like Celeste said it is very much based on a vision that she had and the fact that she could see in my work the potential to create a unique fashion style and fashion sense. It was very much born out of our collaborative view of the world."
Celeste joins in, "As an actress I always had the ability to see what the camera sees. I have the ability to see how people see me and I can see how I see them. When I look at one of Nazim's paintings and sometimes they come from an idea that I've had, I might say darling what about this? He will immediately get his sketch pad and he will create something and I will say wow that is exactly what I had in my head. There is often a little mental telepathy going on there, when he can express in pen and ink what I am seeing. If

Read More
Jenny Jones - Coconut Cake Recipe

Jenny Jones hosted her own nationally syndicated talk show but that was just one of many jobs that Jenny has held, including waitress, bookkeeper, author, comedian, musician, singer, songwriter, caterer and chef.
Jenny Jones Easy One Bowl Coconut Cake
t's best to have all your ingredients at room temperature and I highly recommend using a cake strip so the edges don't over-bake. Be sure to aerate your flour before measuring.- Jenny Jones
Prep Time: 10 minutes
Cook Time: 30minutes
Total Time: 40 minutes
Makes: 8 servings
Ingredients:
1/2 cup sugar
2 eggs
1 teaspoon vanilla
1/3 cup oil (any vegetable oil or extra light olive oil)
1/2 cup milk (I use 1% low fat milk)
Nilla Nielsen Releases New Album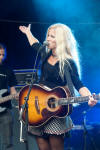 Singer, songwriter, musician and suspense novelist Nilla Nielsen may be the best kept secret outside of Sweden or at least to North American music fans. The very congenial Swede has just released a brand new album Good Day and it opens with a fabulous the fabulous title song. It starts out slowly, before hitting stride as a mid-tempo song and Nielsen's vocals are backed by strong musicians, Bengt Johnson on drums, Niklas Ekelund (electric and acoustic guitar, mandolin), Erik Urban on bass, Tomas Pettersson on Hammond organ and Nilla Nielsen also plays harmonica.
Nielsen describes "Destination Unknown," in this way, "It is about a true adventure. I was traveling around in Sweden with my best girlfriend at the time and we met so many wonderful people. When I sing this line about, "Angels in worn out shoes," it was a homeless person that we met on the street and it just moved us. We had a very special connection. The song is about us traveling around, all of the meetings, how open the feeling was, how open the world was and how it felt. We were never alone. It doesn't matter where you are, (because) it is about who you are there with."
Most of the songs on the album were both mixed and mastered by Nilla Nielsen, with the exception of a couple of them that are from older recordings, but she mastered those ones as well in her own studio. Good Day, the album, showcases Nielsen's ability to easily transcend genre boundaries.
"It (the album) is put together from different sessions in different places
Anna Danes Has Found Her Wings

Imagine if you will for a moment living in three different countries by the time you are eleven years old and having to escape the first one under the guise of a vacation. Then you achieve scholastic excellence in your new found home, begin a promising career as an attorney, give it all up for love and move to a fourth country. As a single parent you think you are giving your child a gift by providing her with singing lessons, she stubbornly refuses to take part in them and then magic, at the suggestion of the vocal coach you take the rest of the lessons and you launch a career as a Jazz singer, topped off by recording your most recent album in the very same studio where Frank Sinatra once recorded. It sounds a little farfetched I know, except all of this really happened and it could not possibly have happened to a more deserving person than the warm and gracious Jazz singer Anna Danes, who now makes her home in San Diego, California. This is only part of Anna Danes' story, read further and you will discover a courageous lady who is always looking forward, who does not dwell on the disappointments of the past and who just released her second album.
Anna Danes' story begins in Gdansk, Poland, "Life (in Poland) was certainly very, very different than it is here, especially on the economic side of things and with personal freedoms, because there were none. It was the time of the communist regime in Poland and so things were scarce and you had to fight to survive every day. You couldn't leave the country, unless the government gave you permission to leave the country. You couldn't speak your mind and if you could speak your mind it could backfire and it would affect your career, your family and life sometimes. It was living in hiding in a way. It could put great limitations on your

Read More
Katie Ferrara Takes to the Streets

Not all buskers get a big breakthrough and not all artists who play in popular clubs make a lot of money or see their stars rise, but we think that Katie Ferrara will likely soon establish herself as an artist who can write her own ticket. The bubbly twenty-something year old singer, songwriter and guitarist has performed at clubs such as the House of Blues and the now departed Key Club, but she saw an opportunity to grow her fan base and her financial reserves more quickly by taking to the streets, breaking the mold of artists who usually start with being a street performer and then graduate to something else. However, her bold moves and her good business instincts opened up opportunities to perform in places such as New Zealand and Italy. Katie Ferrara took time out recently to talk to Riveting Riffs Magazine about her new EP titled Dream Catcher.
Dream Catcher is Ferrara's third recording, being preceded by Naturally in 2013 and before that When Love Is Not Around in 2011.
"I started (putting together) Dream Catcher in March of 2015. I was looking for a producer and I was doing a lot of busking at the time. I think the song writing is a little bit more developed (than the previous two albums) and it is deeper. (In the beginning) I just wanted something to give to people. I think I am at the point in my career now when I am really starting to think about the marketing side and I (want) to be a better songwriter. I think the EP shows that progression in my artistry.
When I was starting out I didn't know
Barbara Dennerlein - DVD / CD

Barbara Dennerlein one of the world's most highly regarded organists and Jazz composers just released a brand new CD and DVD, My Moments, recorded live at Studio Acusticum in the northern Swedish town of Piteá. The original Jazz compositions are played on both the Hammond organ, for which she is more widely known and the pipe organ. The very congenial Dennerlein who has become a good friend of Riveting Riffs Magazine over the years spoke to us from her home in Germany and referred to this CD / DVD as her most personal recording so far.
She explains why, "It is so pure. It is a solo situation. I am alone with both instruments. It is so personal. I think my personal style has developed over many, many years and it is very special. When you have a solo situation you can hear it more clearly. Also you can hear the little things. Very often when you have a drummer with you no matter how good he is it is always covering details from the organ sound. I do so many little things, because I love the sound and I love the colors that you can make and little changes. I like to experiment with sound and I can do this alone with my instruments. That is why I think it is my most personal one.
(Also), there is nobody else that you can hide behind. You have your own inspiration. I play the pedals very intensely, I have a whole band in a way, as I play with my feet the bass player's work and I have both of my hands for comping and soloing. It gives me a lot of freedom and my style, which is very different from other organists, can be heard very clearly on the solo performance. It is wonderful and I just can let it go and it flows.
Gypsy Soul - 20 Years of Great Music

Gypsy Soul, the husband and wife duo of Roman Morykit and Cilette Swan, augmented by an assortment of musicians, just announced the North American release of their new album, simply titled True. It is their thirteenth recording and the songwriting, instrumentals, vocals and production capture the essence of this superbly talented and equally congenial twosome. There are no weak links with this collection of eleven songs.
When asked to reflect upon the fact that Gypsy Soul has established a musical legacy that has endured for almost twenty years, Roman Morykit says, "It is interesting, because I have never even given it a lot of thought. It is just one of the things that we do, it is like breathing. It's like it is time for another record, we have enough material. It is part of who we are and what we do. It is only when people like yourself who are friends and fans point out that we have made thirteen albums that we realize we have had a career of (almost) twenty years as Gypsy Soul. It will be twenty years next year.
Back to Cilette's earlier point, it is short and time flies by and all of a sudden you are on number thirteen. It is astonishing to us actually that we have managed to keep doing this for this long."
For the Oregon couple, the story of Gypsy Soul begins twenty-seven years ago in Edinburgh, Scotland.
That would make us twenty-nine now," says Roman.
"I know we met as toddlers right,"
Cindy Alexander and Deep Waters

Earlier this year Cindy Alexander released her album Deep Waters, a collaborative effort with Colin Devlin of The Devlins. It is Cindy Alexander's best album yet. It is a collection of songs that are original tunes, with two exceptions a cover of "Heaven's Wall," by The Devlins and Jann Arden's "Good Mother."
The new album opens with Cindy Alexander covering "Heaven's Wall," a 1990s song by the Irish band The Devlins, from their 1997 album Waiting. She has always had a good voice, but this song fits very well with Alexander's vocals and her phrasing is excellent. As the song builds to a crescendo at the 2:30 mark Cindy Alexander's connection with this song is evident as she repeats the chorus "Come on, take my hand, we'll rise above it all / Then we can meet as planned outside of heaven's wall."
"When I was going through Colin's material, before we were going to start writing together, I was listening to his music and I came across this song. It is a Devlin's song from the '90s and it hooked me. I loved the groove and I loved that the beat was relentless, but there was this slow and steady build. It kept going through my head and it was an earworm. When it came time to put the songs together I thought it would be nice to cover one of his songs. I love the guitar solo by Colin," says Alexander.
The album Deep Waters was difficult for us to get through the first time and only because each of the songs is so well presented that the