Tom Saviano - Interview Part One

In one or more of the following capacities, Tom Saviano has played live or recorded in the studio with and / or composed for or arranged music for artists and bands such as, Chicago, Juice Newton, Sheena Easton, Dolly Parton, Sweden's Björn Skifs, KISS, David Foster, Dusty Springfield, Melissa Manchester, Bill Champlin, Leo Sayer and many other iconic artists.
One might say that Tom Saviano's journey to becoming one of the most respected individuals in the music industry began with his childhood in a multi-ethnic neighborhood in Chicago. On the other hand it is far more likely that we can say that odyssey began with his father Albert who was born in 1920.
"My dad came through the depression. By the time he was fifteen they were six years (removed) from the '29 crash. There were fourteen children in the family and there was not enough money to buy each of the children instruments, so he waited until he was married to my mom and I think she helped him buy his first instrument.
(When he was growing up) he wanted to play so badly, while he watched his older brothers play (an instrument) that he would play a paper accordion. It was almost sad and funny at the same time. He was so hungry to be a musician that once he got a horn he just ate it up. That is all he did.
He found Zilner Randolph (Jazz trumpeter) when he saw Lil Armstrong, Louis Armstrong's wife coming down the steps of a hotel, the Grand Terrace in Chicago. He approached her and asked if she knew anybody who would be a good teacher and who would teach him how to arrange. She gave him Zilner Randolph's phone number.
Outside the Soiree - Erin McDougald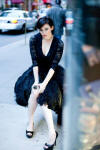 Outside the Soiree, is the name of the album by Jazz singer, arranger and songwriter Erin McDougald, a fitting title for someone who does not shy away from putting a different twist on her music and music that has been composed by others. That said McDougald is far from being a wild child or the 2018 version of in your face Punk come to set the Jazz world on its ear. She is in fact far from that. Erin McDougald is respectful of Jazz music heritage, tips her hat to lyricists and composers from yesteryear and she allows a lot of room for her musicians to showcase their talents. All of those elements are on display in abundance on Outside the Soiree.
For many years now Erin McDougald has been compared to Jazz icons such as Anita O'Day and as flattering as that may be it does a disservice to the tremendous talent that McDougald possesses. This writer would like to suggest that it is now time for Jazz journalists, reviewers and fans to start using Erin McDougald as the gold standard to which other artists should aspire.
The music from Outside the Soiree is being played on the radio from coast to coast with stations in New York City and in Los Angeles raving about Erin McDougald's vocals, her arrangements and the fabulous musicians who compliment her so well, such as, Mark Sherman (vibraphones), soprano and tenor saxophonist Dave Liebman, percussionist Chembo Corniel, pianist and guitarist Rob Block, drummer Rodney Green, Tom Harrell (trumpet and Flugelhorn), bassist Cliff Schmitt and Dan Block (flute, clarinet, alto and tenor saxophone).
The couplet of songs "Linger A-While / Avalon," will not be as well known to listeners, but that also is an Erin McDougald trademark, as she
Arrica Rose's New Album
The name of the album is Low as the Moon, but after listening to Arrica Rose's new album you will be on a high. Each album by the California singer, songwriter and musician, just seems to keep getting better. From the hypnotic, rich vocals of "All and None of These Things," featuring some scantling guitars by Rose and Marc Thomas, to the intriguing retro vibe of "Bobby," written with Dan Garcia and "X-Ray Eyes," an introspective journey from childhood through youth and beyond, there is not one weak song on this entire album. The latter song showcases Rose's rich vocals and her ability to tell a story that leaves a powerful impression on her listeners and if you have never heard Kaitlin Wolfberg play the violin then you are in for a real treat.
In describing Low as the Moon, Arrica Rose says, "I think for me the theme became reaching for the silver lining when it seems to be the most obscured and finding the brighter side when hope seems to be lost. I went through some challenging times and people around me were going through challenging times. There was a point when I did not want to be working on anything and I used this set of songs to help pull me through that place that I was in. It was cathartic. It helped me to process some of the things that I was going through at the time.
These songs are specifically written for this record. Everybody in the band and the producer that I work with everyone was going through a bit of upheaval, so it took a while to make this record. I started writing these songs around 2015. I worked on this collection of songs for about six months to a year and then we started making the record."
In her songwriting Arrica Rose likes to create word pictures with tones and shades others seldom, if ever use and it draws the listener in.
Diane Marino at Her Best!

In what may be her best album to date, Soul Serenade the Gloria Lynne Project, Nashville based pianist and Jazz singer Diane Marino brings to life the songs of Gloria Lynne whose career spanned a phenomenal six decades.
Marino talks about her decision to delve into Lynne's catalogue, "I wasn't too familiar with her, but I heard the name years ago. While I was doing a gig up in New York my drummer was Vince Ector and he was Gloria's drummer for the last fifteen years of her life. He knew all of the material very well. We were doing a tune called "I Am Glad There Is You," which I recorded on another album many years (earlier) and I didn't realize it was one of her signature songs. When we played it on the gig Vince told me that. Then he said her big song was "I Wish You Love," and that I know and I sing it too.
It got the wheels turning and I investigated her catalogue of music. I thought these are really cool tunes. I had not heard a lot of them. She also recorded a lot of standards, but the songs that we picked out for this CD I had never heard before."
As for why this particular selection of songs she says, "It is a combination of the song and how she sang them. It is great stuff. How do you put your finger on how it struck you emotionally? When I listen to her versions, I go wow. She was very dynamic and very soulful. I sang from the heart and the soul and it just went right through me. That is what brought me to these particular songs and in listening to more of her music I came to appreciate who she was and what she did."
As for this album she says, "The music is all over the place. You have Irving Berlin ("Let's Take An Old Fashioned Walk,") from a musical that he wrote so many years ago and then you have
Sass Jordan - Racine Revisited

Racine Revisited is a fabulous new album from Rock singer and songwriter Sass Jordan. The original album Racine was first recorded in 1992 and Jordan refers to it as her most successful album to date. The new album is not simply the same songs remastered or remixed, but instead the decision was made not to go back to 1992, but to record all of the songs again only this time as though they were being recorded in 1975.
"We did that on purpose, because the question that I had to the people I was working with was, why the hell would anyone want to buy a record that they already have? We wanted people to talk about 2017 is the 25 th anniversary of the release of that record. That record was a big record for me. I think it was the biggest record that I ever did. There are a lot of fans that were directly affected in some way.
I said if we record it again, let's put a twist on it. Instead of bringing it up to date and making it sound all spangly (This word is a Jordanism) fresh in 2017 why don't we make it sound as much as possible and to the best of our ability as if it was recorded in 1975. Let's record it as if we were in 1975.
There aren't any click tracks and there isn't any Auto-Tune. We adhered as much as we could to the idea that it was 1975 and not 1992 and not 2017. That is when I would love to have made this record," says Jordan.
The album opens with "Make You A Believer," a powerful, vocally driven song, backed by strong guitars from Chris Caddell and
Billy Thompson Sizzles

Billy Thompson's self-titled and current album segues easily between straight up Blues and Blues Rock. The album was recorded in seven different studios and features a cast of top rated musicians including, drummer Tony Braunagel (Coco Montoya, B.B. King, Robert Cray, Bonnie Raitt), organist Mike Finnigan (Curtis Salgado, Neal McCoy, Tracy Chapman, Steve Tyrell), James "Hutch" Hutchinson on bass (Marc Cohn, Randy Newman), keyboardist Michael Leroy Peed, bassist Daryl Johnson and several other musicians too numerous to name in this space.
As for recording the songs, "Stranger," "Hourglass," and "Phoine" at Ultratone Studio in Studio City, California where it was recorded by Johnny Lee Schell (Marcella Detroit, John Lee Hooker Jr., Bonnie Raitt, Joe Cocker) and calling up old friends Tony Braunagel, "Hutch" Hutchinson and Mike Finnigan, Billy Thompson says, "I feel the bluesier stuff always works great with those guys. I recorded four songs, but I only used three and the fourth one will be on the next album. I think those guys are the cream of the crop when it comes to Blues based playing. They are some of the best players in the world. Mike Finnigan played with Jimi Hendrix when he was twenty-two and Tony Braunagel was with Back Street Crawler, which became Free with Paul Rodgers and he played with Eric Burdon."
The album opens with the somewhat funky "Burn It Down Bernadette," cuts to the jumping "Phoine," a song on which Thompson's guitar seems energized by Finnigan's splendid organ and vice versa.
The third song on the album
Interview with Louise Goffin

Just in time for Valentine's Day singer, songwriter and musician Louise Goffin is releasing a new song this week, "Good Times Call."
Goffin says, "Releasing this song the week of Valentine's Day made sense. It's an upbeat love song. The conventions of this holiday push so many buttons. What's love? Are people supposed to feel less-than if they're not in a relationship? The cultural messages for Valentine's Day are full of myths that have nothing to say about love being a state of being. The myth is that love is a state of having. "Good Times Call," is not about roses, chocolates and chivalry. When we are open to loving ourselves as we are while loving and allowing others to be who they are, that's when the good times call."
Louise Goffin originally wrote "Good Times Call," with songwriter / producer Chris Seefried and singer / songwriter Ethan Burns, with Burns being the intended singer. Goffin's recording provides us with the perspective of an empowered woman.
"Whenever cars are involved in songs, it's 98% the man driving. It makes a nice change to hear a woman say what "Baby, drive my car means," she says.
Recently Riveting Riffs Magazine chatted with Louise Goffin and we could have covered a wide variety of subjects that relate to this very
Fanny Walked the Earth

Continuing she says, "One of the things that we brought to this record, which was different from the first four Fanny records is this record is all original. There are no covers on this record. That was a first for the Fanny women."
The self-titled album Fanny Walked the Earth boasts numerous solid songs, including one "When We Need Her," that is heralded as somewhat of an anthem for women.
The song begins with a strong downbeat on the drums, served up by Brie Howard Darling (led vocalist) and with the Millington sisters clearly demonstrating that time has not eroded their abilities as musicians, with Jean on bass and vocals and June on electric, slide guitar and vocals and in fact there is a spellbinding guitar solo. If listening to the three of them play is not enough to get you excited, they have an all-star cast of singers backing them up. How about this, three members of The Bangles, Vicki Peterson, Susanna Hoffs and Debbi Peterson? On top of that Cherie Currie, the former lead singer of the all teenage girl band The Runaways, Patti Quatro, Teresa James (also plays piano), Sherry Barnett, Alicia Velasquez, Kathy Valentine, Wendy Haas-Mull and Genya Ravan also sing background vocals.
Brie Howard Darling explains how having this all-star cast of women join Fanny Walked the Earth on the album came about, "The very first person I thought to have on as a guest was Sherry Hagler who is now Sherry Taylor and she is from the group Birtha who were our contemporaries