Actor Muscle A Professional Guide to the Business of Acting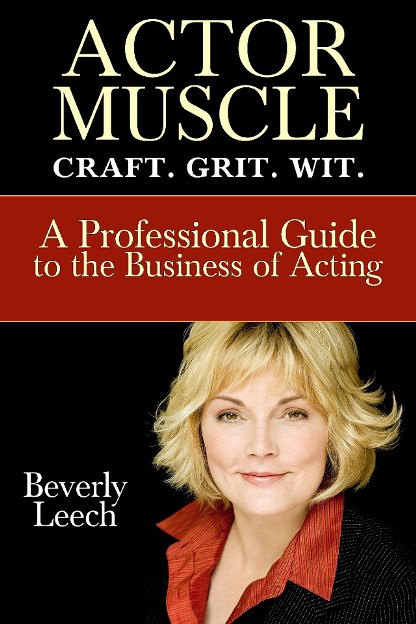 Beverly Leech is a very accomplished stage, television and film actress and she is a highly regarded acting coach, but her crowning achievement to date may end up being as the author of the book Actor Muscle A Professional Guide to the Business of Acting, a 252 page business manual that is a wise investment for anybody preparing to embark upon an acting career and in fact it could well serve as a tune-up for those who may still be struggling to establish themselves in the business. This is not a book about how to act, although there are segments of the book when Ms. Leech does teach the finer points of preparing for auditions, but this book sets out to equip actors with the tools that they require if they are going to land roles for stage, television and in films. Beverly Leech does not bill her book or herself as promising the reader a career in acting, but what she does is provide young actors with a road map how to get there and then the rest is up to you.
At first blush we thought that Ms. Leech came out a little blunt with her direction to actors, but as we moved through the book we saw them more as challenges presented to the reader…and at times still pretty blunt (we are smiling as we write this Beverly). In our soon to be published interview with Beverly Leech, it becomes apparent that her black and white way of conveying her message is not really directed so much at the listener or the reader, as it is her way of saying this is the reality of the theatre, film and television industry and if you are going to be successful then you better be prepared to make this an all-out commitment in every facet of your life or you are not going to last long in the acting profession.
The first chapter deals with Self-Awareness, Goals and The Game Plan, then the author moves to The Portfolio and provides insight concerning headshots, lists resources for marketing tools and material, creating your resume, your cover letter and finally how to present this as a package. There are some people out there reading this right now who are saying this is pretty basic stuff. We are going to echo Beverly Leech's assertion that if it is so basic, how come so many people are getting it wrong and therefore not getting invited to the dance. This writer has been successful both in the entertainment world and the corporate sector and frankly there are chapters in Ms. Leech's book that should be on the "must read" list of many in the corporate sector or for that matter in many vocations.
Beverly Leech has done a masterful job of moving the reader from the beginning of their journey as an actor to the auditions, as she talks about the role of casting directors, how to take a more objective look at the role of typecasting and how to choose your audition material for stage, television and film. Actor Muscle A Professional Guide to the Business of Acting was published in 2012, so the resources for finding auditions, resources for audition material and where to turn to for help in breaking down scripts and roles is completely up to date. Ms. Leech also addresses the importance of developing the character beyond the boundaries of what the script fleshes out and reminding the reader that although the actor knows what lies ahead for his or her character, the character does not, so it is vitally important to remain "in the moment."
In her book, Beverly Leech takes time to talk about the different nuances of preparing for and auditioning for theatre versus television and film. She discusses union membership and the roles that are available to nonunion and union actors and your pathway to joining a union, which is pretty much an essential for anyone who is serious about having a substantial and sustained acting career.
Young actors pay attention! The book closes with some very, very important chapters that offer helpful insights from Beverly Leech's own experience concerning the selection of an agent and manager and how to weed out the good ones from the ones that want to fleece you, will badly represent you and who are wannabes and not winners. Ms. Leech takes a very raw look at the scams that exist and provides tips on how you can protect yourself from them. There is a detailed breakdown of the Krekorian Talent Scam Prevention Act.
Beverly Leech's resume is impressive having appeared in leading roles and character roles with television shows such as Criminal Minds, Mad Men and Mathnet to her credit, as well as theatre roles playing Alaura Kingsley in City of Angels on Broadway. She studied under Stella Adler and continues many of those same principles with her own teaching, having taught at South Coast Rep, the Stella Adler Academy and the American Academy of Dramatic Arts.
If you are a young actor Actor Muscle A Professional Guide to the Business of Acting is not a book you should think about picking up, it is a book that you must purchase! You will not find a better resource for the business side of acting than Beverly Leech's book.
You can visit the Beverly Leech website here.
Reviewed by Joe Montague
This review is protected by copyright © and may not be reproduced in print or on the internet or through any other means without the written permission of Riveting Riffs Magazine, All Rights Reserved