Ada Rovatti's Disguise, Ghost Stories and Alone In Traffic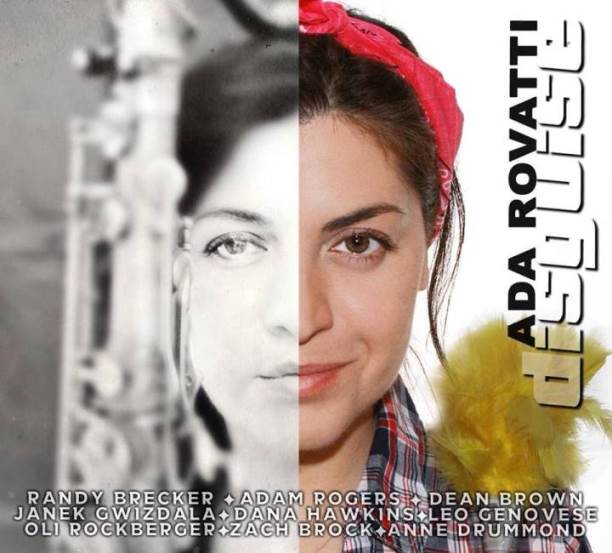 Italian / American saxophonist Ada Rovatti is a renowned saxophonist, composer and arranger and her current album Disguise also serves as a testament to her versatility in all of those areas, as eight of the ten songs are original compositions and there is a re-arranged interpretation of Charlie Chaplin's "Smile," and a funky version of Led Zeppelin's "Stairway To Heaven," with guests Adam Rogers (guitar) and Randy Brecker (trumpet).
As she did with Harold Arlen's "Somewhere Over The Rainbow," on her previous solo album The Green Factor, Ada Rovatti created a new arrangement for another classic song "Smile."
She says, "The melody is gorgeous and the lyrics are amazing. It is kind of interesting that the title is "Smile," but there is really nothing to smile about it. He's totally sad. It is one of those melodies that every time I hear it, it gives me goosebumps. It was one tune that I always thought was beautiful and I always wanted to do it. Here again I didn't wanted to use the Classical chords, the original chords and I just heard the little darkness, because the title is "Smile," but the words and the lyrics are so sad. I wanted to add a little extra on the chords. I wanted a little darker chord progression."
As for the Led Zeppelin tune, "People never expect "Stairway To Heaven." "Usually, when I play live I say the title (for other songs), but when I (introduce) "Stairyway To Heaven," I say, we will play a tune that you have probably heard a few times before and let's see if you can recognize it. As soon as Randy (Brecker) and I do our intro, you can see big smiles on almost everybody's faces, like I got it. (We joke that now she is a Rock star and she adds) too bad I don't make that money (she laughs)."
"With "Stairway To Heaven," usually everybody is on the same page. I guess deep down they know I am like an English rocker. I have this passion for Rock and Fusion Funk. At the same time, an older crowd usually appreciates "Smile." I usually do a cadenza and I decided to keep the cadenza and I played an intro over myself. I do it as a saxophone solo. I think on the CD I make everybody happy. I don't try to please everybody, but there is a (common) thread that keeps each tune attached to the other, but sometimes they are very different from each other," says Rovatti.
Ada Rovatti says sometimes when she likes a song she needs to change it somewhat to in her words "make it work." I may have to rewrite the tune and change the key and maybe stretch it a little (in places).
She takes us inside the world of an arranger for a peek, "I take an interesting song and I stretch parts that I find interesting. I alter it and maybe at a certain point I go in at 6/8. I divide every section and I go with the flow and how I hear it. It is sometimes hard to explain. There are enough chords or voicings to push me on a different direction. I work with sequencing and it is easy to put a little part and repeat it over and over when I hear it a bunch of times I think that is kind of hip when the section is repeated over and over. I might change the way that it is and I might repeat it a couple of times more and then I think if I repeat it four times in the same key that is kind of boring, so the last two times I just change the key. It is like a twist of a twist of another twist.
You take a tune, a composition and you alter some chords or you alter some rhythm in a way that you still recognize the tune, but it's not quite the same. You can take a phrase in a different key or put a different rhythm in a way that sometimes people say, I know that tune and I can sing it, but it's not really the tune. It is something that sounds familiar, but it has a twist to it."
As Ada Rovatti explained during a 2009 interview with Riveting Riffs Magazine, "The fact that I am (also) a piano player helps me a lot, because I can hear the bass and the harmony. I know this may sound bizarre, but sometimes I go to the C Minor or something like that. I am really challenged by the voicing of the chords. Sometimes if you put the C Major in a different voicing, it suddenly opens like a door. I guess because I am a saxophone player and it is a B Flat instrument, I have never written anything that wasn't good for the horn. Although I write on the piano, there is always in the back of my mind a very good register for the horn. I write melodies that are good on B Flat instruments.
When I write, I try to do things in a way that people don't expect. When you hear certain chords, you expect that they are going to go in different sections, but I always try to put a twist in, and to go where people don't think that I will go. Most of my tunes have pretty melodies so that you can remember some part of the song. I don't want to write music that only I understand and nobody else does. What's the point? We are still entertainers. A lot of people forget that. If we do music just for ourselves we should close ourselves in a room."
The Green Factor was released in 2009 and in between then and 2014 there was a touring, recording and family time. Ada Rovatti and her husband Randy Brecker became the proud parents of an adorable little girl, Stella.
"Having a child kind of slowed down everything. I just wanted to enjoy the moment of having a child. At the same time I am not one of those musicians who want to put a new CD out every year and I don't want to put out something that doesn't mean anything to me. I have to write things that are meaningful to me. If I pick a standard I have to put my own interpretation and arranging of it. Everything went so fast that after three or fours years I said I need to go into the studio and then the next thing it was one year later. I was also involved with Randy's project, Randy Brecker: The Brecker Brothers Band Reunion, so that took quite a bit of time learning the repetoire and playing. I just wanted to focus on that and also on my playing and writing. I focused a little more on my instrument instead of writing and arranging. When I had the inspiration I put down something, but this time it was a little longer, because this time there was a little kid to take care of too (she lightly laughs). It took a little longer than what I was planning to (to create a new album), but I am happy to have made something that means something to me. It is a good representation of the last six years.
The idea of the cover and the title Disguise, show the different faces that I have and I have discovered a lot of different faces in the last six years. In one of the pictures, is Stella's drawing of me, so there is the mother figure. Then there is a little more with womanly makeup and a refined and sophisticated side. Then there is more the housewife and I am holding one of those dusting objects, I don't know how you call it. I have my hair up and I am taking care of the house. The other one is more nostalgic and then another of the way that I am.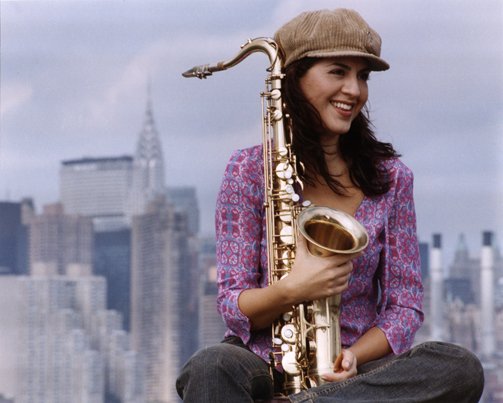 It is has been very up and down mental wise the past six years. I had to deal with some depression and some health issues. It was quite an intense six years and I discovered a different side of myself and it reflects in the way that I write. Each tune has its own personality. I told you in the last interview that I grew up listening to English Rock music. I listened to a little bit of everything and that also shaped my writing, composing and arranging. One of my favorite tunes of all time was "Stairway To Heaven," and I always thought that at some point I would want to do a rendition. The tunes reflect the diversity of my musical style and taste and also the way that I am," she says.
Flautist Anne Drummond is tremendous on the opening song "Ghost Stories," as she adds an ethereal ambience and a hint of other worldly spirits, while Ada Rovatti's saxophone solo at the midpoint as well as the introduction to the song gives some credence to the notion that the instrument is very human like in its ability to be conversational. Janek Gwizdala is superb on bass, while pianist Oli Rockberger is divine and Dana Hawkins' drumming is sublime. If Riveting Riffs Magazine has a vote, we consider Ada Rovatti's original song "Ghost Stories," to be the best tune on her album Disguise. The song is both mystical and very uplifting.
As for the theme and the idea for the song "Ghost Stories," Rovatti says, " I am a big fan of ghost shows and everything that is paranormal and sci fi. I find it highly entertaining. I am a little obssessed I guess with the afterlife and the connection with people who leave us. The tune has a little melancholic open sadness, but it is my firm conviction that there is a connection with the afterlife. It is not over, there is still the energy and the essence of the person and it is just up to us to find the sign and the connection on a daily basis. A lot of musicians are really intrigued about these things, so I thought it was a good idea to write it. I have heard so many stories about my friends who have had encounters or signs from the afterlife that I thought to write a tune called "Ghost Stories."
As for some of the other songs on the album Disguise, Ada Rovatti says, ""Halfway," talks about being in the middle of life. You are half-way through life and you start counting what you have done so far. (She laughs and says) It is kind of a sad tune. There are some happy tunes like "Tripping Step," "Gentle Giant," and "Moving Forward," but there are also melancholic tunes and that is what is reflected on all of the different faces on the cover. "Moving Forward," is about always having a positive outlook and it doesn't matter what happens you are just going with the flow and moving forward. (As for) "Alone In Traffic," I spent a lot of time stuck in traffic and that was a time when I really think about my goals and what I have to do. This is a whole new experience, because we moved out of New York City, three years ago and we live on Long Island in the middle of the woods. There is much more of a spiritual (feeling) since I moved out of the city, because I spend a lot of time alone in the middle of the woods. I drive really, in the middle of nowhere. It is much easier to grow spiritually and to look inside myself. When I was in the city there was always such a rush and to go (her cadence becomes more rapid) and you don't really have time to slow down and look inside yourself. I think the CD reflects a little darker or a little more intimate part of me. It was quite a shock and I am still dealing with it, because I realize I always ran and tried to be busy, because I didn't really like to be by myself and to talk to myself. When I slow down and I start to think about life and myself I get in trouble and I just get very dark. I had to find instead the beauty of being by myself and to not be afraid."
Ada Rovatti continues to grow as a musician and as a person. "The more experience (I have) and the more places that I visit, the more stories that I hear, I stuff everything in a bag and then at some point they are going to come out in my playing or in my composition. There is nothing like experience. When I do clinics I point out how important it is to spend time on the instruments and to practice and to be devoted to the instrument, but never forget there is a life out there. If you don't live fully you aren't going to be able to tell a story when you play or compose. There are a lot of musicians who are obsessed with the instrument and playing and everything is about Jazz and their little world of music. They completely miss out on the main things that are out there. Also, when I became a mother my eyes and ears accepted that there is something else (besides) music and it doesn't make it less important, but it enriches."
Please visit Ada Rovatti's website. Return to our Front Page
This review / interview by Joe Montague published July 1st, 2015 is protected by copyright and is the property of Riveting Riffs Magazine © All Rights Reserved. Cover art courtesy of Ada Rovatti and photo courtesy of Ada Rovatti are protected
by copyright ©, All Rights Reserved
This review may not be reproduced in print or on the internet or through any other means without the written permission of Riveting Riffs Magazine, All Rights Reserved