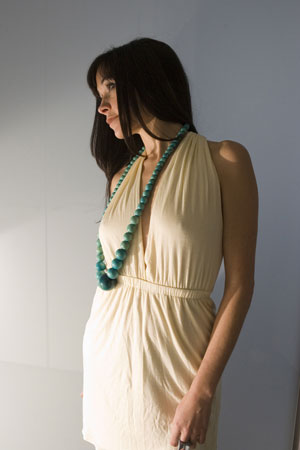 The mere suggestion that someone is living on, or near a fault line, usually conjures up images of earthquakes, chaos and uncertainty, and while it is true that some of Adrienne Pierce's songs from her CD Faultline may evoke those same images, for the most part this is a collection of songs that says, 'Hey while everything may seem a bit crazy at the moment, everything is going to work out just fine.'
The immensely talented Los Angeles based recording artist's name may not be as familiar to you as the sound of her music. Prior to signing a recording contract with Nettwerk Records, the singer/songwriter, had three of her songs, "Fools Gold," "Lost & Found," (co-written with Tim Bright), and "One Perfect Day," placed with television programs such as Gray's Anatomy and Veronica Mars. More recently, her tune "Falling Asleep," found its way onto the prime time show The L Word.
Pierce, who possesses a knack for creating vivid word pictures, which are painted on the canvass of her life, recently delighted her audience at the Red Elephant in Honolulu Hawaii. The performance came on the heels of her lengthy fall tour with Avant-garde musical icon ISSA (Jane Siberry). Pierce, a native of Horseshoe Bay, British Columbia, Canada, has received high marks for her performances at the prestigious SXSW in Austin Texas, both in 2004 and 2007. She has toured England, and won the critics' approval during her tours with Ray LaMontagne and Damien Rice.
Although Adrienne Pierce's songs will often tackle serious issues such as depression, broken relationships, or the war in Iraq, she possesses the ability to produce a more ethereal ambient melody, versus continually dragging the listener into darker moods that focus on morbid consequences.
Pierce talks about her melodic rock song, "Beautiful," the opening track from Faultline, "I wrote that song, at a time, when in Vancouver (Canada) there were a lot of protests and peace marches against the war in Iraq. The first march that I knew of went through my neighborhood, and a friend phoned me to complain that it had awakened her. I thought that maybe we should be in the peace parade, or should have done something (instead of) living in Vancouver safely, and being worried about being awakened. I started writing the song that day, and the first line is literally the first thought that I had. I co-wrote the song with Niko Friesen, and it was a song that producer Jeff Trott liked right away. It could sound a lot darker, but we have made it more of an uplifting song, than focusing on the negative side of it," says Pierce.
The singer/songwriter has an easygoing lilt to her voice, and when combined with her lighter melodies, they often belie the more serious issues that her lyrics tackle. "It is deliberate (the lighter elements), and it is not masking what is being said, but I feel very joyful when I make music. I want people to connect through the lyrics, and find different things as they listen repeatedly, but I also (hope) that they find some joyful aspect to the music, as they listen to it. It is not calculated, but it is very natural for me to go in that way. It is intentional. You make many decisions during production, and you have to consider which way you are going to with everything, what to keep in, and how bright you want it to sound when you master it. Every decision that you make affects the end result. It's not an accident that it ends up that way, but it is not a calculated decision before I start to write."
Her song "The Downside Of Love," examines the aftermath of emotional upheaval, when relationships go south. The song takes a direct shot at a medical profession that often times simply prescribes another pill, and a pharmaceutical industry all too willing to supply them in an effort to alleviate symptoms, but never addressing the underlying issues.
"I am not suggesting what people should do, but I have been alarmed by commercials on television for drugs (to help people cope), and the side effects that these so called solutions can cause. I wrote this song as a reaction to those commercials, and (to address) how these pharmaceutical drugs are often prescribed to people without a lot of consultation. I don't want people reaching for Prozac, if they can avoid it," says Pierce.
The theme of trying to find oneself in the midst of emotional distress continues with her song, "Laundry And Dishes," one of the few melancholy tunes on Faultline. Pierce demonstrates once again her artistry, as she paints a poignant picture, "I lost my phone / lost my coffee cup / make things disappear / then I make things up / I lost you / then I lost my way."
"Sometimes you don't know if people will be able to relate to a song like "Laundry And Dishes," even though it is a common theme. I have had the strongest reaction to that song, of all the songs on the album, and it's not one of the songs that we have pushed. Nothing has put it out there, other than people finding it," Pierce says, noting that there has not been much in the way of marketing support for the song.
"Laundry And Dishes," comes from deep within Pierce's own life experiences. "I was sitting in Los Angeles, and I wanted to make myself a cup of coffee, but I couldn't find the coffee cup anywhere in the apartment. I was confused, and I literally couldn't find things. It (the lyrics) just all rolled out from there."
Adrienne, what about the ominous name for the CD Faultline? "Hmmmm, I have to admit that I had a lot of trouble deciding on a name for the album. It wasn't an easy decision, and I didn't want to name it after any one song. I didn't want to draw attention to one song, and have that song represent the theme of the album, more than any other, because that's not the case. I wrote most of the songs in either Vancouver or Los Angeles, and both places are on fault lines. People kept talking about the earthquakes that they had lived through in Los Angeles. It was a topic that kept coming up. (Laughing she says) I asked, is this a coincidence? Why does this keep coming up? I had also read about the great earthquake in San Francisco and I just started writing the lyrics. Eventually, I put music to it."
Pierce explains there is a second symbolic reason for choosing Faultline as the title of her current CD. "It also felt like things were changing quickly (in her life), and I didn't have any control over it. They were just natural forces that were going to do, what they were going to do. I didn't feel that I was completely on solid ground. It was also an exciting time, as I was traveling a lot and meeting a lot of people. I was writing with a lot of different people as well. I would meet people for the first time, and then I would go and start writing a song with them. It's kind of a nerve wracking thing to do."
One of Pierce's favorite collaborators is Niko Friesen, with whom she co-wrote "Fool's Gold," "I Don't Know," and "One Perfect Day." She describes him as a major contributor to the record. Pierce and Friesen first hooked up, when he started playing drums a number of years ago for Pierce's band.
Despite being a tremendously gifted artist in all aspects of her music career, Pierce recalls being shocked (her word) that she was invited to perform at one of the 2004 SXSW showcases in Austin. The showcase also featured Snow Patrol and Polyphonic Spree.
It was while traveling to SXSW in 2004, that Pierce first met Thom Russo, who shared production credits, with Jeff Trott (has co-written with Sheryl Crow), for Faultline. Russo, who engineered all of the songs on the album, happened to be sitting beside Pierce on the plane, they exchanged information, she gave him a copy of her CD, he went to her show, and both a friendship and professional working relationship began to form. During her return engagement at SXSW in 2007, Pierce performed many of the songs which appear on Faultline.
With a record deal in her back pocket, Adrienne Pierce is thriving in Los Angeles. She confesses to being inspired by the musically stimulating environment that she finds herself in, and the numerous artists that she has encountered. This is one time when a worn out cliché truly applies, if you have not heard Adrienne Pierce's music, you have no idea what you are missing. What you are missing, is one of the most gifted songwriters in the music industry today, who also happens to be a pretty good singer.
Interview with Joe Montague October 2008, protected by copyright

© Photo by Mavreen David protected by copyright ©, All Rights Reserved Return To Our Front Page