In 2019 Riveting Riffs Magazine interviewed actress Aida Ballmann, born on El Hierro, one of the islands of the Islas Canarias (Canary Islands), of German heritage (her parents) and completely fluent in German, Spanish and English. Just a few months after that interview Spain, and much of the world was plunged into the COVID pandemic and the film, television and entertainment world came to a jolting stop. Fast forward to a few weeks ago and we caught up with Aida Ballmann again, a very busy Aida Ballmann we might add.
With recent films, and series completed in the past couple of years and more in pre-production, we decided to start with one that was filmed during COVID, a short film titled Five Minutes, written and directed by Genesis Lence.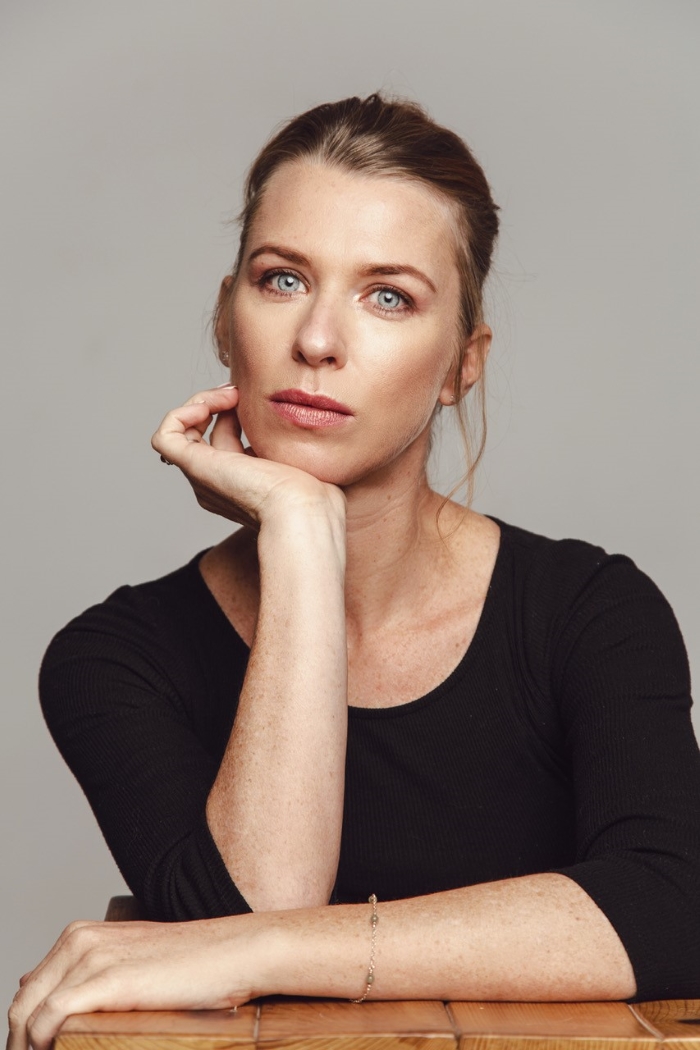 "I knew Genesis Lence from her photography and television series and then she started writing and directing. This is not her first short film. I think it is her second or third. She says she is very proud of this (film) because it represents the way she wants to talk with her art and it (reflects) her personality.
It was a very hard piece to shoot, because it was during the time of COVID and we had to cancel it twice, before we could shoot it. That also meant we had to do the rehearsals using Skype. The co-protagonist is my sister Serai and it was the first time that we acted together. That was great. She is younger than me and she has not done much (acting), but I was really surprised to find out what a great actress she is.
The special thing about this (film) is it that it is just one piece and she did not edit it by bringing together different frames. It is just one like in the theater. We did the rehearsals like that from the beginning until the end. That was very hard, because my character was in an emotional state trying to survive. She is hungry and she can't breathe and she has to fight. It was very extreme to shoot this, but it was an amazing experience at the same time," says Aida Ballmann.
The film is set in a world where the air is no longer breathable.
"Yes, and it was written before COVID. It had so much to do with what we went through. During COVID I had many thoughts about what we as human beings are doing to the earth. It is like we are killing ourselves by using the resources and not thinking about consequences or doing something about it. How can we ensure that we still have what we need in the future? In particular the theme is about how we contaminate the air. It affects our health. Human beings do things without thinking about the consequences. We want to have money very quickly, but we don't do anything to ensure that it is a safe way to act. This is just the beginning and we don't know the consequences for our health.
They say they are doing something about it (plastic), but they aren't really doing anything about it. Many times, when I go to the supermarket and I want to buy vegetables, they are already packed in plastic. I don't even have the choice to buy it differently. It is annoying," she says.
We wondered how surreal this all must have seemed when one considers the film was shot during COVID.
Aida Ballmann agrees, "Yes. I think what these two topics have (in common) is about breathing. I have had many thoughts about how it would feel if you had COVID and you couldn't breathe. I then thought about contamination, which is the same. The lungs don't work anymore and there is not enough oxygen in the air. It is what we need to be alive (you can hear a bit of frustration creep into her voice). It was so frightening to see that this could be our future. We won't be able to breathe anymore."
The film was screened at Cannes (2021) and several other film festivals, including the Vienna International Film Awards (VIFA) in 2022 where Aida Ballmann was nominated for Best Actress.
This will not be the last time that Aida Ballmann and Genesis Lence will work together, as there is a feature film in pre-production, in which her character Elena befriends a bipolar person named Vega.
"The relationship that I have with Genesis Lence, is so creative. She has many ideas and she always shares them with me and when we get into conversations, we make that story grow by talking about it and then she goes back and writes about it. We seem to have the need to talk about the same topics that are important to us. In that way we can enrich the other one," she says.
As for other film projects, "Last year I did a movie in Iran, The Metamorphosis of Narcisus. I was the main actress and it was right before the revolution in Iran. When I was there, I had to wear the hijab all of the time. At the beginning I thought it would be easy and I could adapt, but it was so hot and it was so hard to keep that scarf on my head. It was moving all of the time and I didn't understand how people would be able to (keep) it on their heads. It was difficult for me. I went there for two months, but stayed there for three, because we were not able to finish it on time. I was not allowed to go out onto the streets for safety reasons. It was difficult, because I didn't understand the language. At the same time, I got very close to the people, because Iranians are so open and funny. Many times, I used body language to communicate even though I had a translator with me all of the time.
It was hard and funny at the same time, because we were in the middle of the desert. It was so hot and I had to wear all of those clothes. I had the feeling I was living with my character. What I was feeling were similar feelings to what my character should have been feeling."
We told you she was busy, as she continues, "Also, there is another movie, in German called Gleich. It was shot in Tenerife (in the Canary Islands, where Aida Ballmann lives once again).
It was shot in July and August of 2021 and has not yet been released. My character was Ebba, a German woman who lives on El Hierro (interestingly enough for Aida Ballmann was born), with her husband. It is a film about mutism in children, due to posttraumatic stress.
The character in the film, a boy stops talking after a traumatic event. He travels with his dad to El Hierro where he meets a disabled person and they become friends. They are able to communicate without using words and little by little the boy he is able to recover.
At the same time, there is a secondary story between three adults and a love triangle develops (including her character Emma), her character's fiancé and the little boy's father."
While Riveting Riffs Magazine was in Spain in late March, Aida Ballmann was the main actress in the play Recetas Para El Alma (Receipts For The Soul), which was staged in Burgos.
Aida Ballmann talks about the play, "In Spain the way they handled the COVID situation with older people was so unfair. There was a phase when they let them die without attendants, because they didn't want to bring them to the hospitals. They wanted to make sure the younger people still had a future and that there were hospitals they could go to. That is why they did not attend to the older people. We thought we should honor those people who (are no longer here).
It (the play) is about how an old grandma who is losing her memories and her granddaughter (my character) tries to write down all of those memories and to help her, during that transition when she loses her identity and everything. We did it in that way, so people would feel the importance of those relationships and enjoy them with their families, before they are gone. We always managed to make people cry at the end of the show. It is done with so much love even though we talk about very tough things. There is a lot of poetry and a lot of music with (live) musicians. Sometimes they even played while we were acting. I loved doing that show. It is for both children and adults.
We also used puppets to recreate the moments that the grandma and the granddaughter have lived together and the stories that the grandma used to tell her. It is lovely. It is a very beautiful show.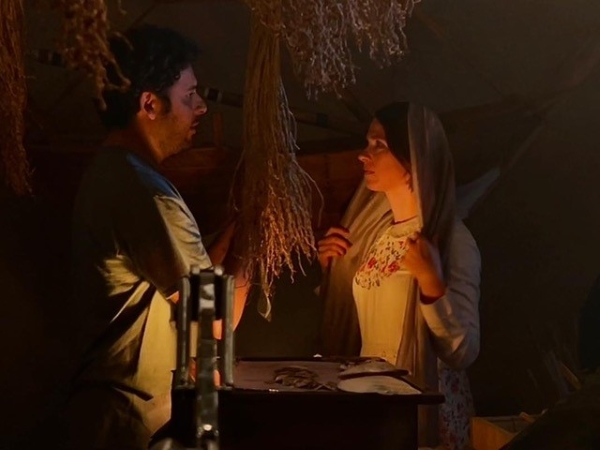 One of the things that I aim for when I do art, is I want people to feel when they go to a show or they watch a movie. When they go home from the movie or the show, I want it to be different than before they watched it. There is a transformation for the audience. Sometimes they dream of or think of or find similarities between the story they are watching and their own lives. That can help them to get (another) perspective of it in their own lives. Those are things that art should give to the audience."
Since we last talked Aida Ballmann has also appeared in the BBC series Crossfire and that was also filmed in the Canary Islands, this time in Tenerife.
She muses, "It is funny, because when I was eighteen, I left the Canary Islands to start my career. I have not done much on the Canary Islands even though they are famous for bringing big projects from Hollywood and Europe. I had the chance to be in this series for BBC. It was half an English crew and half a local crew and I met many people with whom I worked before. It was so funny how these two cultures worked together. Even though they spoke different languages it worked very well."
The Canary Islands have become a popular place for films and series to be shot and Aida Ballmann is appearing in more and more productions, as we have discussed throughout this interview, so with that comes recognition and now the film industry is seeking her out.
"I have thought about it a lot. When I left the Canary Islands, I thought I needed to know the world, because I grew up in such a tiny place, I wanted everything and to know each part of the world and their cultures. After ten or twelve years I went back to the Canary Islands and no one knew me, so I felt a little bit lost. Then some films came out and people started to know my work. Now that some years have passed, I am getting the opportunity to be in more important projects. They see how I work and they trust in my work. That is so nice, because I get so many opportunities now without even having to do the casting (audition). I have always hated the castings, because I don't like being watched and judged. It makes me nervous. Once I start shooting, I am not in the casting moment anymore, so I feel freer to give everything I have. During the casting I am normally very nervous. (She laughs) now that I have the opportunity to skip that part it is great," she says.
This is probably an appropriate time to talk about two future projects for which she has been cast.
"I am preparing for a TV series, which will be shot in the south of Spain. It is about the second war (WW II) and what was happening in Spain in relation to that war.
I am also waiting to start a film in Chile. I am the main actress. I am looking forward to it. It is about drug dealing and my character is a journalist who goes to Chile to find out about the drug dealing. As she gets deeper into it, she finds out what is behind it is bigger than drug dealing. At the end she has to fight for her life. It is interesting, because it is an action film and I have also dreamed of doing that. Right now, I am waiting to find out when we will start (filming)," she tells us.
Please visit Aida Ballmann's website here. You can also follow Aida Ballmann on Instagram.
Photo Credits: Top photo: Selu Vega ; Middle and Bottom photo: Geraldine Leloutre All photos protected by copyright ©
#AidaBallmannActriz #AidaBallmannActress #ActressTrilingual #RivetingRiffs #RivetingRiffsMagazine #ActrizEspanol #EntrevistaActriz #EntrevistaCine #WomenInFilm #WomenInTheater #ActressesToWatch #ActrizTeatro #EntrevistaTeatro #ActressInterviews
This interview by Joe Montague published May 7th, 2023 is protected by copyright © and is the property of Riveting Riffs Magazine All Rights Reserved. All photos are the the property
of Aida Ballmann
unless otherwise noted and
all are
protected by copyright © All Rights Reserved.
This interview may not be reproduced in print or on the internet or through any other means without the written permission of Riveting Riffs Magazine.