Continuing to discuss A Little Happiness, Aimee Allen says, "I figure if it is me writing all of the songs, producing them, orchestrating the musicians and doing everything, then it will be fully my expression and I won't have regrets. I will just think that was a portrait or a picture of that time in my life. There are no regrets, because that is my art, whereas I think on some of my other projects I have let producers do what they thought their vision was and ultimately it killed me. In the past, artistically, I have had a lot of regrets, as I have allowed other people to collaborate their visions with my vision. I just couldn't leave the planet without doing it one time with my vision, without any collaboration.

Assuring this journalist, that she was not planning on leaving the planet anytime soon, Allen says, "I think after my assault, I had a wakeup call with how short and how fragile life is. I thought what a tragedy if I died and I never got to do an album that I fully participated in, and instead I just let other people do what they thought was a good idea. When I had that wakeup call, it immediately inspired me to get to work right away on this project."

Songs such as "God Talks," "Change In Weather," "On Vacation," the title track "A Little Happiness," and "Crazy," provide snapshots of various aspects of Aimee Allen's life. She says, "It is pretty autobiographical; almost every single song is a picture of a time in my life, without any exaggeration or artistic license. It is pretty much my story, the story of my life. I guess it is therapy in a way to get it out and to share my story, in the hope that I can connect with other people, so they can find some hope and some peace in it. I hope they can find something in it to help them and that is why I believe that I was given the gift and why I make music. As I tell my story, I hope that it connects with others."

When the song "On Vacation," was penned, Allen says, "That was a very sad moment. I was very sarcastic. I was joking with my friend Lucian Piane who wrote the song with me. He came to my apartment and I had just got off the phone with my ex-boyfriend, who had called me, and had said, to me, 'I heard that you aren't doing very well. I just wanted to see if you are okay.' My friend Lucian was in the room and I was like, 'I am fine. I am doing really good. We are going out tonight and I (indicated) on the phone that I was doing really good. When I got off the phone, I started joking around about feeling good (she breaks into singing the lines, "Feelin' good," from the song) and just joking about it. We wrote the song in almost a few minutes, just to cheer me up and it did cheer me up. It was the opposite of what I was feeling at the time that I wrote the song."

The companion video for "On Vacation," leaves no room for doubt that Allen is delivering a message "Everything is good / Now that you are gone," as the singer indicates that she has moved on with her life, she uses words like "Nothing you can say / Could ever change my mind," and "Everything is good / Now that you are gone," in an upbeat, lighthearted fashion to get her point across, but without ever becoming bogged down in bitterness or issues. For the ladies who are into this sort of thing, there is also some nice male eye candy, but in a tasteful, not sleazy fashion.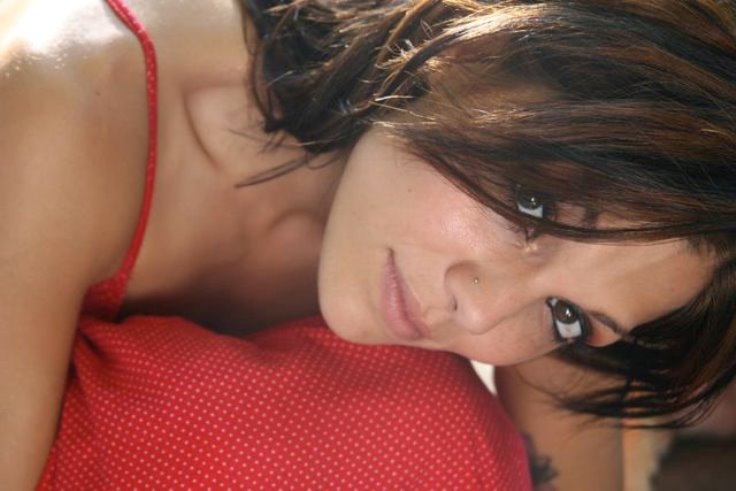 "On Vacation," possesses a reggae pop beat, over which we hear Allen's airy and cheery soprano voice, which stand in contrast to the edgier vocals that were prominent in the early part of her career. "That particular song came all at once. I was listening to a lot of Louis Prima, the guitarist and Lucian and I were just going like Louis Prima, and we used a lot of calls and responses. It is very organic. I really related to the feel and the soul of what Louis Prima had done on his album that I had. In that particular moment I was like let's do Louis Prima "Feelin' good, feelin' good," that was the origin for the inspiration for that particular part. The lyrics and the music came at once. That's very rare for that to happen, but I am very grateful that it did. I like that song," explains Allen.
Even though, A Little Happiness should once again firmly establish Aimee Allen as a premier singer / songwriter, there were still moments of uncertainty in the studio. "One of my biggest challenges (as a producer), was about halfway through, I didn't know if I could do it, because it was my first time doing it. About halfway through, I didn't know if I could and I started to second guess myself. How do I know that my views are good? I really wanted to simplify everything and make it more organic and I had never worked with anyone who wanted to do just raw, simplified, unproduced sound. I didn't know how to do it and still sound professional. I had an engineer Ryan Atkins work with me on the technical aspects of everything and he was a lot of help. When it came to ideas and when it came to wanting him to be more of a part of it, when about halfway through I started to second guess myself, he didn't and he wouldn't, because he said 'This is what you originally wanted. You want to do this and you have to do this.' For a couple of weeks, I was really frustrated to the point of tears, but I am so happy that he made me keep going on my own. He helped me with a lot of the technical things, but with the creative ideas, he was like, this is yours, you do it. For a bit it was frustrating, but it turned out to be a great gift that he gave me, allowing me to be independent," she says.
Someone, not Allen, posted a video on youtube of the singer performing the song "God Talks," the last track from A Little Happiness, and the gig was in Carmel Indiana. It is a very moving performance, as twice during the song, Allen's emotions overwhelm her, and yet it adds to her singing, rather than detracting from it. When asked about those moments, she recalled, "I was going through something at the time that was related to that song. I was involved in a church and thatchurch, broke my heart in a lot of ways. I felt very ostracized and rejected by the church in a lot of different ways. Pretty well everything that I hate about organized religion manifested itself in my life when I was involved in the church, so I left the church, and I felt very sad about it, because I had a lot of friends in the church. I decided to part ways. Everything that I wanted to say about God loving me unconditionally and God loving everyone unconditionally, and not rejecting us (was contradicted). Everything that I felt the church stood for, I felt that God didn't. I probably wrote an hour's worth of verses for that song, just to get it out and I freestyled forever on the topic. Then I went through and I picked my favorite parts of my outpouring, freestyle sessions. I just sat down with my guitar and I pressed record for about an hour, as I talked about the whole situation. It isn't just that one situation. It is really a lifetime with the Catholic school (I attended). There are a lot of things in the Catholic school that I felt didn't line up. I got kicked out of religion class a couple of times, for saying things and asking too many questions. One of the things that kills me about all churches is they continue to say that gays are going to hell. My brother is gay and I have a lot of gay friends. Part of the song "God Talks," is a combination of all of the things that the church has done to me and to my family. I just wanted to separate God from church."
Aimee Allen may have simplified her music, but she is a very complex individual and the beautiful thing is she understands that about herself. She is aware of how the painful moments in her life have impacted and shaped who she is today, but she is also intent on using those experiences as an opportunity to reach out to others, through her music, so they will know that they are not alone, and even if they never meet her just like that little girl who so many years ago, sat in a lonely room and made friends with the voices that she heard singing to her, those who are hurting today can bond with Aimee Allen through her songs.
On the inside of each of Aimee Allen's arms are tattoos. The one on the inside of her right arm simply says revolution and there are three swords that represent the Father, Son and the Holy Spirit. Of the tattoo on her left arm she says, "It is a lotus flower and I got that to inspire me and to remind me that although I come from a difficult upbringing, pain or suffering in my youth, I can grow into a beautiful flower, just like the lotus flower grows from mud and dirt and it grows into a beautiful flower. That is really my hope, that I can come from pain and that I can still make something beautiful out of it."
Aimee Allen's life is turning out beautifully and so is her music.
This interview by Joe Montague in 2009 is protected by copyright and is the property of Riveting Riffs Magazine © All Rights Reserved. All Photos courtesy of Aimee Allen and are
protected by copyright ©, All Rights Reserved
This interview may not be reproduced in print or on the internet or through any other means without the written permission of Riveting Riffs Magazine.