Al Stewart Engages You Emotionally
Interview with Joe Montague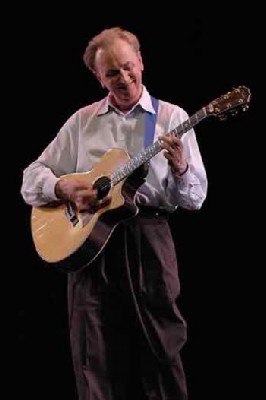 English folk artist Al Stewart was speaking to me just hours before he was to open the first of two nights in which he performed at Hugh's Room in Toronto, Canada, one of several Canadian and American appearances on his mini tour with guitar virtuoso Dave Nachmanoff. Stewart for those too young to remember soared to the top of the charts in the early to mid seventies with hit songs, "Year Of The Cat," (1976) and "Time Passages," (1978) and music fans in recent years have come to appreciate his artistic flair and ingenuity in creating the albums, A Beach Full Of Shells and Sparks of Ancient Light.
This month (September) Stewart and Nachmanoff are releasing a collaborative effort Uncorked that Stewart says, "was a chance to explore things that I hadn't played in thirty years. I hadn't played the "News From Spain," (1972) for thirty years for example. I hadn't played Warren Harding (1973) for thirty years, so I said let's make an album of obscurities and Dave thought that would be a great idea. Uncorked (consists of) all of the songs that I have neglected for thirty years and I probably shouldn't have done. We had a fine old time, because I have twenty or thirty songs that I literally never play, so we started playing them at shows. We dug up all of these things, and of course some of them didn't work at all, but some of them did (you can hear a quiet sense of satisfaction in his voice). We got a great version of "News From Spain," on this album with Dave, because he took Rick Wakeman's piano part and he covered it on the acoustic guitar and the result is pretty mind boggling. It is different from the original, but I think that it is (still) quite a powerful thing. The idea was to make an album of obscure songs that people wouldn't expect."
In a way Uncorked represents the second piece in what could become a three part chronology of Stewart's career, as he previously did a live recording with Peter White with whom he played for a good portion of his career, and that album covered Stewart's hit tunes. He has also expressed interest in getting together with Laurence Juber (formerly of Wings) to record some of the songs from the four albums that Juber produced for him.
Throughout most of his career, Stewart's signature has been his penchant for writing songs that cause the listener to think about the lyrics and his words are often informed by historical events or the reflection of cultural awakenings or transitions that took place during certain periods of history, such as his thirteen minute odyssey "Class of '58," which unfortunately the record label EMI wanted to drop from the album A Beach Full Of Shells, and only agreed to let it stay, once Stewart had literally gutted the song to make it more acceptable length wise in the eyes and ears of the talking heads at the label. Stewart later released the full thirteen minute version as a single.
Speaking about the EMI decision, Stewart says, "This is something that annoyed me, because I have made I think, nineteen albums and they all went fine, and no one at any record label has ever commented on anything that I have ever done, apart from I delivered it, they stamped it and put it out. "Class Of '58," was thirteen minutes long and it ran the whole gamut of the history of British rock and roll, from '58 to '68, how it developed out of forty year old session players doing horrible cover versions of America's greatest hits and how it eventually went through Cliff Richard's Move It, which was the seminal record of English rock and roll. Move It was the first good record ever made in England. ("Class of '58") then talks about how that turned into the iced coffee bar scene and how that led to the British invasion of the United States. I wrote this song, which explored the history, and that is also explored in great depth by Pete Frame in a book called The Restless Generation, which I think is the best book on the history of rock and roll that I have ever read. I was trying to do the same thing in song. Bits of it were pretty subtle (for instance) about a band who made a record for a label named Oreo. You may not know, but at the time there were two major record labels Decca and EMI, EMI had the Beatles and Decca had the Rolling Stones. If you didn't fall into the first division you had to go to Pye (Records) or Phillips and Pye had the Kinks and Phillips had Wayne Fontana and the Mindbenders and it went down from there. If you absolutely couldn't get a deal with anyone there was Oriole Records and they signed Rory Storm and the Hurricanes after Ringo left. Oriole didn't have any of the first tier or second tier (artists). I wrote my little throw away line, "the song came out on Oriole and it did not make the charts," and the thirteen minute version is full of these little references. If you grew up with the English record industry you would understand. I think the song went straight by EMI. I don't think that they understood what I was trying to do. They thought it was silly and they said, 'We don't want this song on the album,' so I edited it down to three minutes and thirty seconds or whatever the hell it is on the record. I kept the beginning and the ending and the whole of the middle is missing."
Al Stewart speaks rather melodically as his voice rises gently and falls softly, and his sentences seemingly flow into one another. His passion about songwriting is evident when he describes fellow artists such as Joanna Newsom as the best lyricist in the past twenty years, but his passion is never overbearing, his charm is disarming and his wit is ever present.
"If I engage you emotionally, it is accidental; it is a much more intellectual thing. Most rock and roll is visceral and emotional and I like the music to be like that. In fact, I have a personal credo which is play like Eddie Cochran and to think like Barbara Tuchman. What I am looking for is for the songs to go where they have never gone before lyrically and in terms of subject material. I am a great dust bin. In the songwriting that I have done, I will write about what no one else has written about. If someone has written about love, or all of the things that normally get written about, I don't want anything to do with any of that. If I am going to write about something, I want it to be about something that isn't in popular music. Secondly, I want to try and use lyrics that haven't been used in a popular song before. If you look at something like, "Royal Courtship," on A Beach Full Of Shells (The song is about) the Austrian empire in the early part of the nineteenth century, when the king kept sending forth different people to the object of his affection and they keep sending back different people and the whole thing gets lost in translation, so they never get together. There is language in there that is not in any other popular song, so it is not only the subject material, but the actual physical words. I try to make them different from what a normal popular song is. It is just a way to write outside of the box," says Stewart.
Stewart also likes to have fun with his music and in one of his tunes from A Beach Full Of Shells, he inserts a pun and waxes philosophical. He describes, "Katherine of Oregon," as, "probably the simplest song that I have ever written. After I had waded my way through all of these fairly intense things (earlier songs such as found on Between The Wars), I wanted to write a really simple, straightforward, easy song about growing old. "Katherine Of Oregon," says that, "When I get even more old than I am now / I will have a house overlooking the water / And I'll pile all of my suitcases up in the corner." If you are me, and what am I now, sixty-three, and I have spent literally the last forty-five years of my life going around and around the world in circles and I am still doing it. It never stops, but one day, the time will come when I actually do have to pile up my suitcases in the corner and I will read all of the books that I never got around to. Whether or not at that point in my life I am able to spend my life with someone called "Katherine of Oregon," I don't know, but it is such a nice idea. Eventually, if you spend your whole life on the road, one day you are going to sit down and you aren't going to do it anymore. Of course "Katherine of Oregon," is a play on the six wives of Henry VIII, because his first wife was Catherine of Aragon. I love the idea of just this silly little pun coming into "Katherine of Oregon." I liked it so much that I was tempted to do another song called Ann of Cleveland," he says laughing, an allusion to Henry VIII's fourth wife Anne of Cleves.
The past few years have been a renaissance of sorts in Al Stewart's career and he views his two recent solo projects, A Beach Full Of Shells and Sparks Of Ancient Light, as the long lost follow-up albums to Past, Present And Future recorded in 1973. He says he had been diverted by all the pop records that he made during the 1970's, which he confesses had both good and bad things about them. He now believes he has returned to the place that he wants to be artistically and Uncorked sees him revisit his folk rock roots.
Interviewed July, 2009
This Interview by Joe Montague is protected by copyright © and may not be reproduced in print or on the internet or through any other means without the written permission of Riveting Riffs Magazine, All Rights Reserved