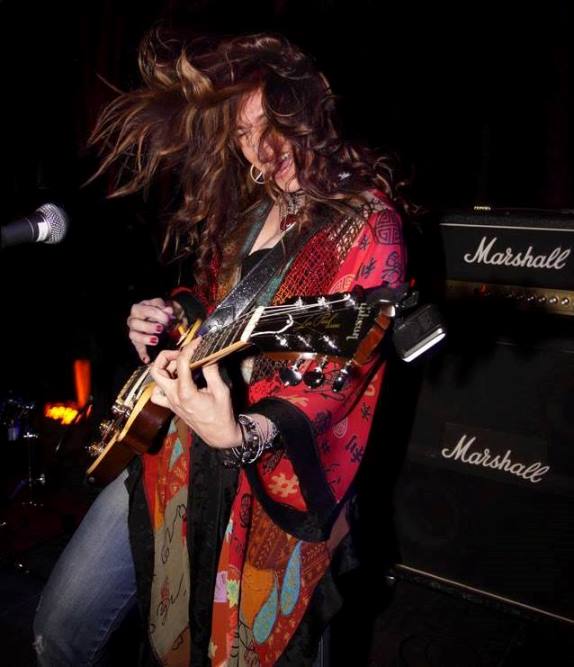 Ali Handal an American singer, songwriter and guitarist living in Los Angeles serves up gritty Rock songs that cut like a knife. She also sings tender, ethereal songs like "Last Lullaby." Handal's songwriting and her playing on acoustic songs such as "Distance," and "Sweet Scene," remind us of John Denver. If you are reading this and thinking she cannot possibly be all those things, we would say to you, yes she can and she really is that gifted and versatile as an artist. If you are looking for a reference point for Ali Handal's music we would suggest you take a big mixing bowl and put in a bit of Joan Jett, some Neil Young, a slice of John Denver and a dash of Ann and Nancy Wilson of Heart.
Ali Handal started life in Amorok, New York, the oldest of three girls. When she was twelve years old, she drove across the country with her father in a station wagon when her family moved to northern California and during that trip she became the temporary guardian of the family fern named Rhoda. Her mother and her sisters flew to their new home in the Bay Area.
"I was excited to move to California and for me it was really fun. I had relatives in San Jose, California which is south of where we went to live, but it was a very positive experience," she says.
Although she had started taking piano lessons when she was four years old she later switched to guitar and Ali Handal talks about that decision, "I heard Led Zeppelin and that is what made me really want to play guitar, because I just thought they were the coolest and I still do. At the time I didn't really appreciate John Paul Jones (the bassist, keyboardist, co-songwriter with Led Zeppelin) the way that I do now, but the guitar playing was what really stuck out to me. That was what was so special about that band and I really wanted to do what Jimmy Page did, so I switched instruments."
"The first time I performed in front of an audience would have been piano recitals, but I don't remember those and I hated those, because I would always get nervous. I remember in seventh and eighth grade we had concerts for our music class. I had the coolest, coolest music teacher in the eighth grade and I am still in touch with him today. He introduced the class to Pink Floyd, Jimi Hendrix and The Beatles, well I already knew about The Beatles. We did a lot of performing in different ensembles," Handal recalls.
While attending Acalenes High School in Lafayette, California Ali Handal participated in choirs, plus she performed in an ensemble. She also performed in musicals.
She was also a straight A student in high school and later in college dispelling the myth that some people believe that artsy individuals are not focused on academics.
"I got one B+ in college that vexed me to know end, but other than that I was a straight A student. Those preconceived notions (that artists are not academic) made me feel that I must not be meant to be an artist. Preconceived notions can be damaging to young artists if they are not feeling free to be who they are. I definitely was a good student and I cared about how I did in school. I was a metal chick (she laughs out loud). People in my classes thought I was a stoner, because I wore Metallica shirts and stuff. I was pretty innocent in that department all through high school," she says.
As for her favorite subject she says, "I loved music and I studied music theory in high school. I absolutely loved music more than anything. Then I went on to college first as a double major in music and psychology.
I was pretty depressed (when I was) a high school student and I had a lot of traumatic events happen when I was about fifteen, so I started seeing a therapist. She really helped me and I was very interested at that point in becoming a psychologist. Once I got into school I got into some of the research fields and one of my favorite classes in psychology studied the minds of psychopaths and serial killers. I am still obsessed with that to this day. I find it very fascinating as many people do.
I will back up a little bit, for the first two years of college I had a double major, but for various reasons the music program at the school was not as good as I thought it was going to be. In fact, it wasn't as good as my high school program, which was very good. My music major was as a voice major and singing Opera. That just wasn't working out. I took a year off to figure out what I wanted to do and I also found out that I had vocal nodules.
(During that) year off is when I danced with Janet Jackson on the American Music Awards and I did some very cool stuff. I got to dance with the Rhythm Nation dancers who are just amazing. That is a whole other story. (As for) the dancing that I did with Janet Jackson I was just a glorified extra who was boogying in the background. It wasn't anything that was choreographed, but they put me in a really cool costume."
The American Music Awards show was not Ali Handal's only experience with dance.
"I had dance training and when I was fifteen and that was when I started studying ballet. That is way too old to (start). You have to start dancing early in terms of ballet and that kind of thing. I just loved it and I still do.
When I took my year off of school (Occidental College) I was taking three to four hours of dance classes each day. With being in L.A. I (got to do) a few interesting things. I was a model for the Debbie Reynolds sponsored fashion shows. I would wear these costumes from old movies. It was pretty neat. They are amazing experiences and they are the kind of experiences that you can only get in Hollywood. I happened upon those experiences and it was not like I auditioned for them. I was just in the right place at the right time and with the right people. That is how those things happened. That generally happens more here in L.A. than anywhere else (she laughs) or maybe in New York."
After taking one year off Ali Handal decided to transfer to UCLA, "and the easiest way to get out quickly and finish was with one major. They wouldn't allow me to do a double major in music and psychology. Now they allow that, but at the time they wouldn't allow that. It was just a technical thing. I didn't take any music classes for two years and I just took psych classes. I was in an honors program and I did a thesis for a research project. I was all prepped to go on and get a PhD in psychology. Then I realized how miserable I was not following my passion in music, so when I graduated I decided that I would throw away my psychology training and pursue music."
Talking about the early years of her music career Handal says, "In my first couple of bands I was just the guitar player and I sang background vocals. I kicked around L.A., was in a few bands and I learned a lot. One of them was kind of a Bluesy Rock band and the other one was just a Rock band, with three women and three men. We recorded a demo at A & M studios and we had some industry interest, but ultimately nothing major happened. Towards the end of that band I started writing my own music and I started singing my own songs.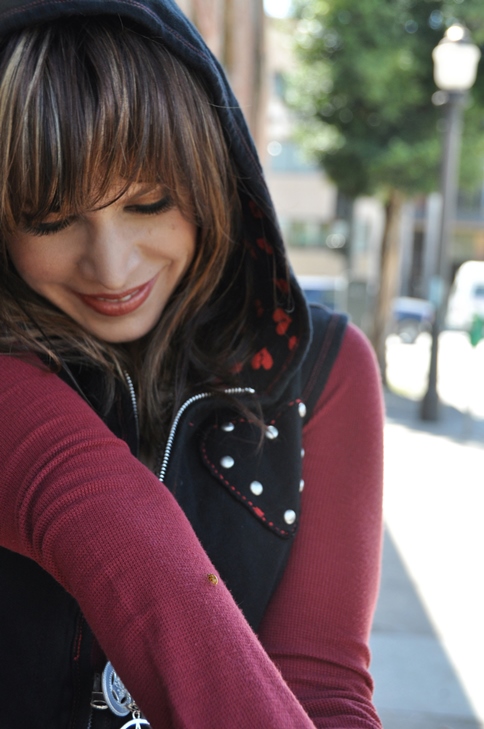 I went to open mic and I met a lot of up and coming singers and songwriters that I am still in touch with today. Then I started on my solo career. I didn't go there hoping someone would spot me. At first I went there just to get comfortable playing my own songs in front of somebody. That is terrifying when you aren't used to being the lead singer. It is a really good place to go just to get your feet wet with performing. It is also a great place to try out your songs and for networking with other artists. I always encourage people that if you see someone who you think is amazing at an open mic go up and talk to them. There are a lot of phenomenal people who perform at open mics and there are a lot of not so phenomenal people, but everybody has to start somewhere. Also there are people who are phenomenal ten years later and who might not have been so phenomenal at their first open mic. That is where you learn a lot of things about performing."
Since those open mic days Ali Handal has gone on to perform at popular Los Angeles clubs such as, The Mint, The Key Club, the Viper Room and the House of Blues, as well as maintaining a busy tour schedule.
Ali Handal also has a Dirty Little Secret, it is her first album, engineered, mixed and produced by Tim Bomba and released in the year 2000, a CD which boasts numerous gritty tunes including the title track. Kevin Guarnieri and Seth Atkins Horan (remember that name) were assistant engineers.
"That song ("Dirty Little Secret) was written about someone, another producer type of person that I had been working with previously and I had a crush on him. I don't remember if I had a boyfriend at the time or he had a girlfriend at the time, but it was something that couldn't be consummated and it wasn't. At that time I tended to write a lot about things that I couldn't do, but I wanted to do (she laughs lightly). That is what that song is about," she explains.
The lyrics are definitely provocative and the chorus is driven by razor sharp guitar riffs and booming drums that add to the sexual tension. The chorus is juxtaposed to the verses that vocally and musically are lighter. The bridge is a complete change of pace and ethereal.
Ali Handal describes the bridge for "Dirty Little Secret," as, "that weird bridge. I don't know why, but it is just something that felt right and when we did it I thought it sounded really cool. I wish I could give you a better, more reasoned out thing, but it is just what I felt was needed at that time."
Ali Handal met Tim Bomba at a local radio station where she had been volunteering for many years to help with their pledge drive.
"Tim was great, because I didn't have any experience. I had experience in the studio with recording someone else's music, but not as far as arranging my own songs. This record was cut to tape, it was not digitally cut. We went to a home studio that had reel to reel recorders and we cut twenty-four tracks. I just recently had it converted to digital, because the tapes don't last that long.
That was a really neat experience and it was really emotional. It was a big learning curve. For me it was quite stressful, because it was very expensive and I didn't have the perspective that I have now when I have done a lot of recording and I am much more comfortable in the studio. I am much more confident and I know what to expect. I know how to call the shots and at that point I didn't really. I was hoping that it would turn out great and I was very happy with the results. At first I didn't really know what to expect. It was nerve wracking, but it ended up being a great experience.
Tim also found our drummer Pete Parada and I think I found the rest of the musicians.
One of the most important things that Tim Bomba taught me was to always make instrumental mixes of all of your vocal songs, because that is often what gets placed in television shows," she says.
Handal's songs have appeared on television shows such as Sex In The City and Dawson's Creek, as well as films like Dancing at the Blue Iguana, Emmet's Mark, Pursuit of Happiness and The Assistants.
The song "Convince Me," from Dirty Little Secret is a mid-tempo Pop - Rock song with the message, show me that you deserve my love and don't take me for granted. Ali Handal leads the way with her guitar, Pete Prada backs her up on drums and Alan Kuehne played bass.
"I co-wrote "Convince Me," with my friend Ilene Bergelson who for most of her life was a professional dancer and she was on tour with Phantom of the Opera. She happened to be my upstairs neighbor and she from time to time wrote poetry. That song came out of (one of her poems) and then I re-wrote into lyrics. I put music to them. It was about a situation that she was going through with a guy that she was dating," she says.
The sixth song from Dirty Little Secret, "Distance," is a beautiful, tender, acoustic love song. The song provides an early glimpse into Ali Handal's versatility as a songwriter, singer and musician. Like a lot of her songs this one was inspired by a personal experience.
"That relationship didn't end up working out. It is like absence makes the heart grow fonder. I won't stay away too long," she says.
The song "Distance," reflects upon the freedom and independence now enjoyed, because the relationship has been severed or has it? There is a tendency for the singer to remember that "The sweet outweighs the bitter / And I won't stay away too long," and later "I kind of like the way you hold me when I cry / I'd kind of like to give us one more try."
In 2004 Ali Handal returned to the studio and created her acoustic album Breathing Under Water. Tim Bomba was back, this time as a co-producer with Handal. Joining them in the studio were bassist Wes Whemiller (Duran Duran, Lisa Loeb) and percussionist David Leach (Ben Harper).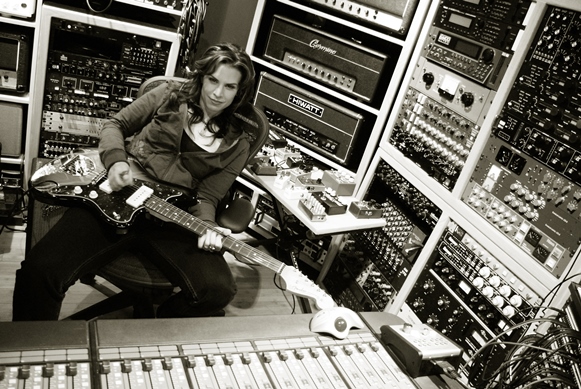 "A lot of the songs were relationship songs. The acoustic nature of it was the biggest difference (from Dirty Little Secret). I had been working on my songwriting and I did a lot more co-writing on that record, so that was my first foray into co-writing, which I absolutely like doing. On that record I co-wrote with a couple of different writers. One was actually a student of mine named Michael Ryther and he has recently come out with an incredible album of songs for kids. He was a school teacher and I met him at UCLA when I was a student at UCLA and he came to me for guitar lessons," says Handal.
"My favorite (song) is definitely "Breathing Under Water," and that is one that I still perform. I recorded a new version of it a year or so ago. It is an updated vocal approach and a little bit different acoustic guitar sound. I still perform that song pretty well at every show that I do. It started out as a sad woe is me love song, but now it really means something different to me. It really speaks to (the idea that) everybody has to go through things in life that they did not choose and that they would not have chosen, but it happens anyway. You don't get a choice. The only thing that you get a choice in is how you respond to that. My choice was to try to accept it gracefully and to keep going after what I really wanted, which I did eventually find," she says.
Earlier we told you to remember the name Seth Atkins Horan, who was an assistant engineer on Ali Handal's first album. With the 2010 release of Make Your Move, Horan returned only this time as the producer.
Handal says, "He is an amazing producer and I am working with him on my next record. My bass player at the time Orlando Sims said I have this producer friend that I think would be really good for you for your next record and his name is Seth. I met with Seth and we had realized that he had worked as a second engineer which is the lowest man on the totem pole on my first record. That was the first official recording session that he had ever done at the studio that I recorded with. It was a basic track at Mad Dog Studios. (She is laughing) He worked on my first record, which is crazy. He was just doing what he was told to do and now when I reconnected with him he had already won two Grammies. By the time we were done recording he had won four Grammy Awards for engineering.
Seth had a huge impact on Make Your Move. I had always been anti-keyboards for my whole life, ever since I was a music fan in the eighties and I hated the cheesy synth sounds that bands used. Seth introduced me to the beauty of vintage keyboards. We used the B3 and different kinds of organs and some Wurlitzer sounds on this record and it just opened things up. It was incredible. I am much more open minded to different instruments after working with him.
I started as a piano player and I have a keyboard, so I am not against it, but at the time…the cheesy eighties Pop keyboard sounds…I still hate those. These vintage keys are so incredible (she drags out the word so for emphasis). He also chose several of the musicians and every time that he introduces me to a musician they are the cream of the crop."
"Pin Me Down," vocally, lyrically and instrumentally is one of the best songs on the album Make Your Move and the changes in tempo create a surreal atmosphere. The addiction here is a lover, as depicted with the lyrics, "Your body is the best drug that I know," "Last night is the last time your poison needle sticks me," and "I need my fix and it's getting hard to breathe." Just like a junkie who knows he or she needs to quit, Handal sings "I just can't say no."
"It was more one of those songs that I had written about something that I wish I could do, but wasn't doing. In real life I did the right thing and I cut it off, but song-wise I fantasized about what I wanted to do and how I wanted it to keep going," says Handal.
On Make Your Move, Ali Handal also covered "My Sharona," by The Knack.
"Get The Knack (the album "My Sharona" was on) was one of the first albums that I ever bought and I just thought it was the sexiest song ever. I love that whole record. One day in rehearsal with Orlando (Sims) my bass player and another drummer friend of mine, we just launched into this half-time Rock version that is on the record. I thought this is so cool and we really wanted to put this on the record. It really fit in.
I like to do my cover songs very different from the original. There are people who hate that song and I have had people tell me, 'I like your version way better than the original.' I love the original. (My) version is really different, so it is hard to make a comparison," she says.
One of the most poignant songs that Ali Handal has recorded during her career is "Canned Hunt," which is the song that closes out the album Make Your Move.
Ali Handal talks about the song, "That (song) goes back many years when I used to volunteer at a big cat rescue called Shambaia. It is owned by Tippi Hedren who is an actress, most famous for being the star of the Alfred Hitchcock movie The Birds (editor's note: Tippi Hedren is also the mother of actress Melanie Griffith). I have always been a huge cat fanatic and when I started volunteering there I learned what canned hunting was and how atrocious it is. I really wanted to write something about that. My hope was to do more with that song than I was able to do. I put it out there and I always wanted to make a video for it. I reached out to some anti-canned hunting organizations particularly in South Africa. I said whatever you want to do with this song please use it and I think they did use it for some of their own video things.
Once I learned what canned hunting was I wrote this song from the perspective of an animal, say a lion or a tiger that was in one of these facilities where they just have no chance to escape. People pay $20,000 or $30,000 to go up to a cage (animals are always kept in a confined area, often a fenced area, so they cannot escape) to shoot them or however it happens in different places.
My friend Jamie Green who is the co-writer of one of the songs on my next record, she and a co-writer of mine Jay Gore wrote a song called "Cold Storage," which was the same music, but it had completely different lyrics. She had always said that she wanted me to cover one of her songs and I said I really loved this song. She said great, maybe you could make it a Pop song and we could make a whole lot of money. I thought this is not going to be a Pop song. This is an angry song. The music is way too angry for this to be a Pop song. She didn't get her Pop song, but I was really thrilled with how the song turned out.
I don't think people really understand (the song). That is not one of the songs that I get a lot of email about. I think they really like the music. It is a little bit obscure. It is not so black and white. If you know what canned hunting is then it is (black and white), but if you don't know what it is, people don't bother to take the time to find out what it is really about. That is like a lot of songs. So many songs that I heard I didn't realize what they were about. I really loved the songs, but I didn't appreciate what the songwriter was trying to get across. I think it is interesting that songs can operate on so many different levels. Some appeal just musically. It depends on the listener as well. Some people are really into the lyrics and some people aren't."
Ali Handal is working on a new album.
"I can tell you that it is going to be an acoustic record, but not in the sense of my last acoustic record. It is going to be funky and definitely Rock influenced. All of the guitars on it are going to be acoustic. We have an amazing drummer that Seth referred me to and his name is Jimmy Paxson and he is Stevie Nicks' first call, only call drummer. I think he is out with the Dixie Chicks right now. I am so excited (you can hear the excitement in her voice) and anybody who knows anything about recording knows that the drums are the most important thing.
I am very, very excited about this record, but it won't come out for a while. Unlike my previous releases I spent all of my resources, meaning money on producing it, so I had nothing left over for marketing it. For this record I am hoping to finish the tracks in a couple of months and then to take time to think about how I really want to market it and to get the word out about it. I also need to fit it into my own schedule. I want to make sure I am able to devote as much time, energy and resources as I can to the release of this next record," she says.
Early in her career Ali Handal had to give up playing the guitar for one year, because of an injury to her wrist due to using it too much. Eventually, her wrist healed and music fans everywhere should be very happy about that, because if she had been unable to continue playing we would have experienced the loss of a very good artist who one suspects still has a lot of great stories to write, including a great one of her own.
Please visit the Ali Handal website and you can listen to some of Ali Handal's music here, but make sure you purchase her albums as well.
Please visit the Ali Handal website and you can listen to some of Ali Handal's music here, but make sure you purchase her albums as well.
This interview by Joe Montague published May 1st, 2016 is protected by copyright © and is the property of Riveting Riffs Magazine All Rights Reserved. All photos are the property of Ali Handal and
are protected by copyright © All Rights Reserved.
This interview may not be reproduced in print or on the internet or through any other means without the written permission of Riveting Riffs Magazine, All Rights Reserved