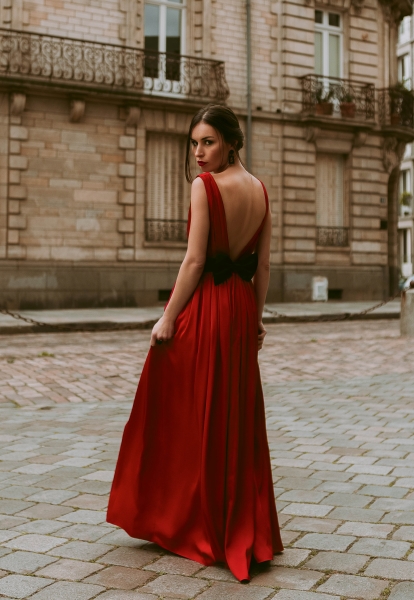 When it comes to the world of fashion, whether you are talking about couture or made to fit (custom fit) clothing for women, there are really two options trendy, cutting edge or classic designs. With the former what was in style last year is no longer fashionable this year and you have to replace those clothes, which means you need to have a big clothing budget and it contributes to the amount of waste that ends up in landfill sites and in turn that contributes to damaging our environment further. With the more classic designs, they are timeless, which means for quality you can afford to pay a bit more, because you do not have to replace your wardrobe every year or every second year. It therefore follows that those clothes are more sustainable in environmental terminology. Even if the original owner decides to one day part ways with quality classic designs, there are plenty of eager buyers in the women's consignment market.

Recently, Riveting Riffs Magazine sat down with fashion designer Alice Berry of Alice Berry Atelier from Paris, France to talk about her timeless clothing designs for women and the importance she places on her collections being sustainable.

"I think timeless dresses are a better choice, because for example in ten years my customers can always wear them. On the contrary if the dresses are on the cutting edge of fashion in one year or two, they will no longer be able to wear them. The fashion changes very quickly and I think too quickly. I would rather (create) slow fashion rather than fast fashion.

I choose sustainable fabrics and materials. Above all I (emphasize) the sewing technique. It is very important to me to do quality sewing, so the dress will last.

My clothing is custom fitted. I make one model or design and then it is custom fitted for each individual. Everything is made to order. I do not have any stock, because I want to avoid overproduction and unsold stock. All of my dresses are made to order and made to measure.

Most of the time there is also embroidery on my dresses. I love manual work.

I love making dresses with floral and flower print fabrics and that are very colorful, such as, yellow, red, blue and pink. I also have black dresses, but I really like great colors. I also like to use crepe, satin and silk fabrics and cut fabrics are my favorite. I associate these colors and fabrics with fluid shapes, femininity, elegance and beauty. Each time that I make a dress it (reflects) the mood I am in.

That reminded us of a quote on the Alice Berry Atelier website and we thought we would ask her about it, "The Alice Berry woman is elegant and sophisticated, self-confident and natural, she embodies the charm of Audrey Hepburn as well as the elegance of Grace Kelly."

She says, "I chose Audrey Hepburn and Grace Kelly, as references, because I think they were two women with charm, and they were elegant. It was innate in them. They were graceful and beautiful and one of them was a princess (Grace Kelly). Audrey Hepburn's fashion designer was Hubert de Givenchy (who was French).

Family members have been very influential in Alice Berry becoming a fashion designer.

"When I was seventeen, I made my first dress with my mother and it was for the summer. It was my mother's idea for us to make the dress together. It was at this time that I knew I wanted to become a fashion designer," and then adds, "My aunt was a textile designer, and from the time that I was little I saw her drawing and painting. I always admired her artistic talent. At the time I didn't know what I wanted to do in life, but I always knew I wanted to do something manual and that was artistic work. I started drawing when I was very little. It wasn't very good, but I always liked painting and drawing horses and flowers. I did not do fashion drawing until later," she recalls.

Alice Berry's older sister Camille, who is also a wedding and events planner, on the Spanish island of Mallorca, has also had a big influence on her career, "There was a moment that I knew I wanted to build my own company and share my designs (with the world). It was three years ago when my sister got married. She asked me to make her wedding dress. It was my first wedding dress, and I did very meticulous embroidery work on it. I loved doing it.

At the wedding I was complimented a lot and encouraged to continue, so I became more confident and I built my company.

The first person in my life to inspire me was my sister and she continues to inspire me. I would ask her opinion each time I made a new dress and each time she told me, yes, I love it and I want one. My sister Camille is my inspiration. I named one of my dresses Camille. She modelled my dresses for my first photoshoot. Because it was my first photoshoot, I did not have the budget to call a professional photographer, so I asked my sister, and I went to Palma de Mallorca to do it with my sister. It was great!" she says.

"My favorite part about being a designer is when I am fitting my customer with the dress and she is looking at me and smiling and she says I love it! This is perfect (She says this with the feeling of a woman who has found a dress that makes her feel special). It is exactly what I am looking for and I am very happy. Also, sometimes I will receive a picture of her at the event or the party and there will be a text. It says I love the dress, and everybody is telling me it is so beautiful. I feel so pretty and again I thank you so, so much. This happens often and it is very rewarding," she says.

Alice Berry hopes to open a showroom in Palma de Mallorca in the coming months where you will be able to be custom fitted, by appointment only.

Please visit the website for Alice Berry Atelier. You can also follow Alice Berry Atelier on Instagram where you will be able to view her clothing designs and on the Alice Berry Atelier official Facebook page where you can also make inquiries.

#AliceBerryAtelier #ModeFrançaise

#

CréateurDeModeFrançais

#

CréatriceDeModeFéminine #RivetingRiffs #RivetingRiffsMagazine #ModeDeParis #ModeAjustementPersonnalisé

#FrenchFashionDesigner #ParisFashion #FrenchFashion #TimelessDesigns #TimelessWomensClothing #ClassicWomensClothing #FashionComingToMallorca #MallorcaFashion

#DiseñadoraModa

#ModaMujeres

#ModaFrances #AliceBerryDiseñadoraModa

This interview by Joe Montague published October 11th, 2020 is protected by copyright © and is the property of Riveting Riffs Magazine All Rights Reserved. All photos are the the property of

Alice Berry Atelier unless otherwise noted and

all are

protected by copyright © All Rights Reserved.

This interview may not be reproduced in print or on the internet or through any other means without the written permission of Riveting Riffs Magazine.