CHILL…me some jazz, the new album from Canadian singer and songwriter Allyson Morris, is sultry, sexy and innovative. It may also very well be the best Jazz album produced in Canada in decades. The country has produced several outstanding Jazz singers and musicians, but few albums produced in Canada measure up to the quality that Allyson Morris and her producer / arranger Asher Ettinger created at Asher Music Studio in Toronto.
The album opens with an old David Frishberg song, "Peel Me a Grape," for which a sultry, mysterious, almost James Bond like companion video was filmed. The creation of the video has a hint of mystery to it with two Peters and an Allyson, during a pandemic.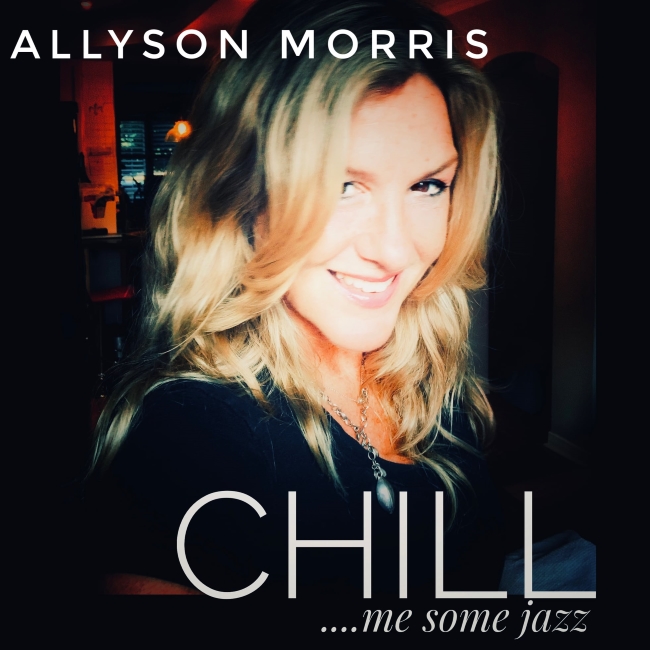 Allyson Morris recalls, "I ran into an old friend (Peter Clifford) who is in the film industry. I played the album for him and he loved "Peel Me a Grape." He said you need a video Allyson. Nobody in the film industry was working in Toronto, because of COVID. That conversation was in June of 2020.
Peter Faragher started writing out the storyboard with my friend Peter Clifford who has an old 1968 Delta 88 car, and we did that video on a Sunday afternoon when it wasn't busy, down University Avenue (Toronto) and we (fastened) cameras to the car. There was a cinematographer in the front seat, one in the back seat and there was another car following me, as we drove through the downtown core. We ended up on York Street overlooking the CN tower and all of the buildings served as a backdrop for the video. They had gone out a few weeks earlier to scout out locations. It was an incredible experience and I had never really done a video before.
Peter Clifford and I sat in his backyard (beforehand) over cocktails and discussed how we were going to (create) a video and blend it with the song. The whole album is very James Bond like. It is very sultry and sexy and that is artistically where my head is at right now. I wanted to have this smokey, sexy video to match the song. I wanted very lounge (sounding) music.
The six songs record features a selection of two originals "It Takes Two," and "Infinite Melody," three classics and one contemporary tune, with John Lennon's "Imagine," and not to make a pun, but reimagined in a beautiful way.
Some of the most outstanding singers during the past decade have sung Richard Rodgers and Oscar Hammerstein's "My Favorite Things," and this beautiful vocal performance by Allyson Morris ranks up there with any of them. At the risk of committing sacrilege and incurring the ire of Barbra Streisand fans, Allyson Morris' vocals do deserve to be mentioned in the same breath when talking about this song, which Streisand also recorded. The vocals are textured beautifully, and Asher Ettinger created a lavish arrangement with a 4 /4 drum and bass groove.
"I sing songs, because they resonate with my heart. As a singer you have to be able to sing with your voice, but also have to touch somebody's heart with your voice. You need to be so passionate about singing a song that it evokes a strong emotional response from the listener. When I choose songs, I choose them, because I love them so much and I am passionate when I sing them. When I am working with an arranger, I make sure that it sounds different, and it doesn't sound like the (renditions) previously recorded. I try not to listen to the versions by other people. I just try to put my own spin on the song," she says.
Allyson Morris' love for music began when she was a young child, growing up among horses and cornfields in rural southwestern Ontario, Canada. She has been described as having "small town charm, with big city taste."
"When I was five, I was sitting outside on my swing set and I had just watched the movie Tammy with Debbie Reynolds. I remember thinking I had a special voice. I just knew I didn't sound like a little girl, I had soul. I begged my mother to buy me a piano and by the time I was ten we had one that she put it in my room. I would sit in my room, play music and come up with songs. My mom's friends would come over and they would get me to play. They would sit at my bedroom door and listen to me," she says.
She is the middle child of three and rural legend has it that she is the most balanced of the three siblings or so she claims, but we have not had the opportunity to quiz her brother and sister. All three of them have been involved in music to some degree. She says her brother Wayne was a big influence upon her, because his musical tastes were so eclectic.
"My family immigrated here from Wales. My mom and dad were very young, and they only had sixty dollars in their pocket when they came to Canada in the 1960s. I am a first generation Canadian," says Allyson Morris and you can hear the pride in her voice.
Jacques Brel's "Ne Me Quitte Pas," is sung, as you would expect, in French and set to an elegant arrangement, as Allyson Morris' vocals segue between seductive longing and a heart that is breaking, as the lyrics inform the listener of a relationship that has ended. The instrumentals are ethereal and compliment the singer, instead of as too often happens with albums by other artists in which they compete with the vocals. We think the listener will enjoy the contemporary mood of "Ne Me Quitte Pas," and some of the instrumental effects that Ettinger instinctively and selectively uses throughout the album.
Allyson Morris remembers, "Asher said we have to go for something that is so original that people will say, wow, that is cool! (I love) the way he layered my vocals and created this dreamy (sound)."
The next two songs, "Infinite Melody," and "It Takes Two," on CHILL…me some jazz are original songs co-written by Allyson Morris and Asher Ettinger.
"The song "Infinite Melody," was inspired by a friend of mine. We were chatting over WhatsApp one day and he said he had been trying to get through these COVID times, while writing a lot of poetry. I asked him to send me some of his work. He sent me this one piece that had the two words "Infinite Melody," in it. I thought what a beautiful phrase, love is like an infinite melody. Asher and I sat down, and we wrote about the type of romance when you long for somebody, but you cannot be with them, because of COVID times. "Infinite Melody," is like, I just can't wait to be with you again," she says, while reciting some of the lines from the song.
The song "It Takes Two," is described by Allyson Morris as being a love song with an edge. The underlying message of the song is don't take love for granted.
Toronto is the most culturally diverse city in Canada and in North America, New York City is probably the only other metropolitan area that is more diverse. We wondered if that has in any way influenced Allyson Morris' musical choices.
"Definitely, I have always been very open minded when it comes to music. I don't just listen to mainstream radio. I always have my ear to the ground listening for new sounds. I love African music and Latin music. I love Jazz, because it encompasses so much, contemporary Jazz with Melody Gardot and Stacey Kent, but then there is the old Jazz, with Billie Holiday, Julie London and Ella Fitzgerald.
For this album we didn't follow a (traditional) Jazz album with the standard piano, bass and drums kind of feel. We did that with my first album, I Saw the Light. With this one we mixed in a little bit of Latin groove. I have always listened to many culturally different styles of music. Before moving to Toronto from Chatham, which is close to Detroit, I listened to Marvin Gaye, Diana Ross and the Motown sounds, when I was growing up.
Toronto is a pretty good place to create that unique sound," she says.
There was a time when recording a song, penned by a Beatle would have met with much skepticism, but during the past couple of decades the music world has instead embraced many of those wonderful songs as modern-day standards. Artists like Allyson Morris have put their own twists on the songs, while remaining true to the intent of the original. John Lennon wrote and recorded "Imagine," of course, after The Beatles had gone their separate ways, but even today that song resonates with the listener and the message is just as poignant.
Allyson Morris talks about "Imagine," and how she approached the song, "I always look at songs like they are art and I think why would you want to paint the same scene that you have seen before? Why would someone want to paint the same lines and the same shades of blue and pink, red and orange?
I sat down with Asher Ettinger, the producer for this album and I said "Imagine," is one of my favorite songs and one the greatest songs of all time. I want to approach this as though I am in a dream. I want it to be like a wave. That is the way we approached it.
I would go in the booth and he would say Allyson, just go with it, just flow with it. Scat wherever you want to scat. He laid down the arrangement, and I used my voice like a paintbrush. In parts of that song, you can hear a counter melody (and she sings a few lines). Asher took what I scatted, and he layered those vocals to create a magical, new song. I thought it was really brilliant."
What is next for Allyson Morris?
"I would like to move to Europe and get to know some top-notch musicians and producers. I know a lot of musicians in many genres in Canada, but I am drawn to European styles and I think I would be happy there. I would like to get out and perform again and move to southern France or southern Spain to work with some great artists," she replies.
Photos by: Filippo Nativo
You can follow Allyson Morris on Instagram and on her official Facebook page.
#AllysonMorrisMusic #JohnLennonImagine #CanadianJazzSinger #WomenInJazz #RivetingRiffs #RivetingRiffsMagazine #JazzInterviews #WomenInMusic #JazzMusica #MujeresEnJazz #MujeresEnMusica #TorontoJazz #CanadianMusic #CanadianJazz #RivetingRiffsRevista
This interview by Joe Montague published March 25th, 2021 is protected by copyright © and is the property of Riveting Riffs Magazine All Rights Reserved. All photos are the the property of
Allyson Morris unless otherwise noted and
all are
protected by copyright © All Rights Reserved.
This interview may not be reproduced in print or on the internet or through any other means without the written permission of Riveting Riffs Magazine.