Amelie Blake may not be a household name or at least yet, but some of the films and television shows that you watch and many of the movie trailers enticing you to watch a particular film have music created by Amelie Blake. The new mother and affable British woman, who grew up in Warrington, England is now also turning her attention to writing songs for other artists. She is very focused on her music, but also quite low key about her success, a far cry from that moment when she first learned one of her songs had been picked up.
She recalls that moment, "My husband, Mike and I created some demos and we sent them to a lot of production companies, trailer houses and publishers and eventually after hundreds of emails one got back to us. They asked if we could do music for this brief and so we did. (Next) we were introduced to several publishers. We then wrote the album Songs for the Soul, which was a collection of a few songs we had written over the years and we also wrote some new ones for the album. It was put out there for the music supervisors to pick from. It is not written for a (specific) trailer. We write them and then we do not know what is going to get chosen.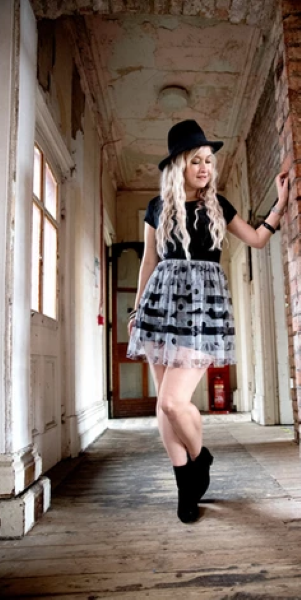 I was driving to a job interview for a teaching job, but I had wanted to get out of teaching for a few years, because I really wanted to pursue my music. The phone call came (when I was driving) and I could not answer it, so my husband answered the phone and put it on the loudspeaker. My dad said, do you know that you are on this trailer? He started playing it over the phone and that is when I started to scream (as I was driving) down the motorway, because I was so excited. I didn't care about my job interview after that."
Since this writer is a neophyte to the world of movie trailers, Amelie Blake enlightened me, "Usually, trailer music is just for trailers and it is not usually featured in the movie, because they have a different composer. There have been features and series where my songs have been featured in the series and film, but usually if it is in the trailer, it will not be in the movie."
From what we understand, it almost sounds like Amelie Blake came out of the womb creating music.
(She laughs lightly), "Yes pretty much. Even generations of my family that I haven't known were musical. When I was very young, I learned how to harmonize. My sister and I were in a talent competition. We sang ABBA's "Dancing Queen," and I remember every time that we got it wrong my mom would go no wrong and then she rewound the recording again and again until we got it right. That helped me to develop my musical ear. Then I was in the school choir and the teacher noticed that I have a musical ear as well.
From then I saved up to buy an electric guitar and I tuned it by ear. I learned some chords and then I started to write. Music became a way to escape and express my inner world and be who I wanted to be.
I grew up in Warrington. It is a town in between Manchester and Liverpool and growing up, there wasn't that much of a music scene (where I lived). (However) with being halfway between Manchester and Liverpool you didn't have to go far to get to the music scene.
I started out doing acoustic nights. There were a couple of little music venues that aren't open now, so possibly it has gotten a little bit worse. I did gigs first, but have you heard of a shadow career? The concept came from a book I read. It is when you dream of being an artist, but instead you do covers or somebody wants to be a writer, but instead they are an editor.
For about ten years I was gigging covers and I was also teaching vocals for about seven or eight years," says Amelie Blake.
In those early years, her grandmother was a great source for inspiration, "She would come to gigs with me. I did social clubs sometimes and she would get the audience up and dancing. She missed gigging when I stopped gigging. I don't gig as much anymore, because I prefer to focus on writing. That is when she (grandmother) decided to get into the ukulele, and she does gigs at old folks homes.
I enjoyed gigging, but it got really tiring and I knew I had a passion for songwriting. It was really what I wanted to do. I also wanted to be an artist. I wanted to get into production music. I did demos and sent them to some companies, trailers houses and publishers. That was with my husband, because we co-wrote them together and then we were introduced to some publishers," she says.
One of the things that becomes apparent, pretty quickly is the vast musical palette that Amelie Blake has and the quality that she maintains no matter which genre of music she is creating in or if in fact she chooses to blur the genre boundaries.
"My style has really changed over the years and I have gone through a lot of phases. I went through a Rock Metal phase when I was a teenager and then a Rap phase, Folk phase, Pop phase and what I am doing now is completely different. I wanted to do something that felt like me and something that I would choose to listen to as well. With a lot of the stuff, I wrote in the past I don't think I would sit and listen to my own music. It wasn't that I didn't like it, but I would listen to something completely different," she says.
Amelie Blake's song "Just the Way I'm Built," appears in the movie The Healing Powers of Dude, which can be viewed on Netflix. The limited series is about an eleven-year-old boy who has social anxiety disorder and the companion dog that helps him to navigate those challenges.
"It meant a lot to me. The song "Just the Way I'm Built," is about anyone who feels that they don't fit in, because I originally wrote it from my sister's point of view. I wrote this song for my sister who at the time was coming out as gay and was experiencing difficulties being accepted. I think also I was feeling misunderstood at the time of writing. I've also had difficulties with anxiety over the years and I have another sister who has social anxiety. So, the fact that this song was chosen for this series means a great deal to me, especially if it can help others too," says Amelie Blake.
The process of creating the song or any other song for that matter, is also helpful for Amelie Blake, "I think creative people might be prone to anxiety and things like that. If I have too much time to think I get anxious, but then if I put it into something creative my ideas just flow. I think I have too much of a creative mind to let it sit still."
At the time of our conversation Amelie Blake was preparing to release another song "Time Zones," and we asked her to tell us about it.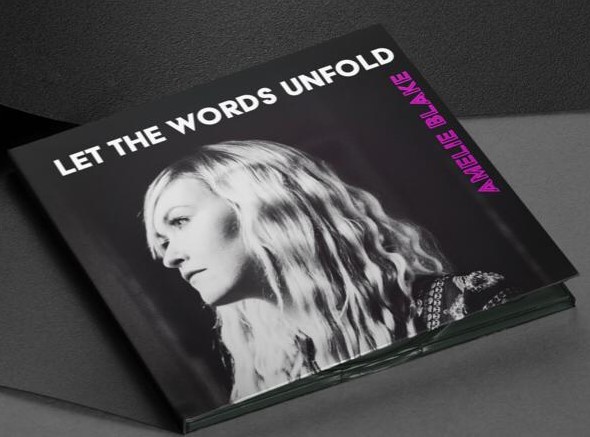 "The lyrics are really suited to lockdown, because it is about missing somebody. It was at the time when I was working away from my husband. I wrote about missing him. It is almost like a metaphor and even though we weren't in different time zones, it was like we were ships passing in the night. It inspired the lyrics for the song, because it felt like I was in a different time zone. I was working different hours and I was working at night. That one line inspired the rest of the song. There are multi-layered harmonies, and it is often how I start my writing process. I come up with the hooks first and then I come up with layers of harmonies. I go from there. Sometimes I hear a bassline underneath it. Sometimes I hear chords and then I put it altogether," she explains.
With Pop / R & B influences, lush vocals and strong musicianship the current single "Let the Words Unfold," is an incredible song that belongs on radio as a top charted song. It is also a song that gets your feet moving, your head nodding and invites you to dance. Chris Twigg's guitar playing is superb and he also played on Amelie Blake's Songs for the Soul album. Amelie Blake also produced "Let the Words Unfold."
"People told me they really like "Let the Words Unfold." My husband is a big fan of it and he said the stuff I write is not like anything he has ever heard.
These are my vocals, but I also pitched some vocals down, like an octave underneath. In the beginning when it sounds a bit spooky, I noticed in some of Lianne La Havas' songs when she is very quiet and it sounds almost eerie, she has a lower octave underneath. I have heard quite a few people do that to give it that eeriness," says Amelie Blake.
The song is one of a collection of songs from her solo album of the same name.
"I was recording all of the songs as quickly as I could, before our baby was born, because I thought once she was born, I wouldn't be able to work on my music as much and I was right. I did a lot of my recording when I was pregnant. I did some of the recordings at Futureworks in Manchester, and during lockdown I recorded at our home studio using the Isovox vocal booth," she says.
Let's stop there for a moment, how has having a baby changed the way you approach your career?
"It has changed my timing of being able to (create), because there is not much time during the day, so my husband and I have to arrange our time around each other for when we can be creative. I realized that the best time for me is in the morning, so I have to try and get some ideas down in the morning," says Amelie Blake.
We think the very romantic song "Since I Met You," will be often requested for weddings and first dances at wedding receptions.
Amelie Blake says, "It is a very romantic song about finding your soulmate and about being really connected to that person. I wrote it before I met my husband, and it was kind of like a wish. I rewrote the song so many times, it was piano, and then Chris Twigg heard it. I was inspired by a Lianne La Havas song called "Age," and I said to Chris I want guitar like that, and he played, and he brought the song to life.
As the conversation wound down, we asked Amelie Blake what she enjoys most about her music career and she said, "I like songwriting, because I like having a way to express my emotions into music. When I get music synced on things (editor's note: this means licensed for film, television or commercials), I think that is what draws people in. I write lyrics that I hope people can relate to on an emotional level. I try to put my emotion into my voice and into my music. I hope that my music will connect with people. There is a song that I wrote called "The World is Here," which I hope can lift someone from a (difficult) situation."
Check out Amelie Blake's music here.
You can also follow Amelie Blake on Instagram. Return to Our Front Page
#AmelieBlakeMusic #BritishMusic #MusicForFilm #MusicForTelevision #RivetingRiffs #RivetingRiffsMagazine #MusicForAdvertising #WomenInMusic #UKMusic
This interview by Joe Montague published April 21, 2021 is protected by copyright © and is the property of Riveting Riffs Magazine All Rights Reserved. All photos are the the property of
Amelie Blake unless otherwise noted and
all are
protected by copyright © All Rights Reserved.
This interview may not be reproduced in print or on the internet or through any other means without the written permission of Riveting Riffs Magazine.