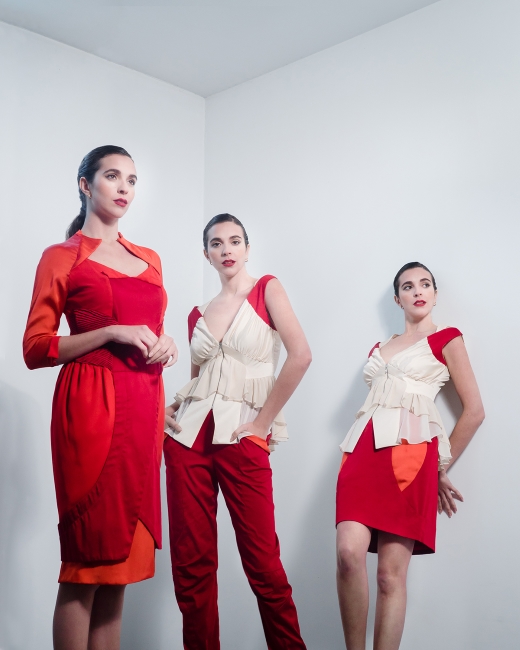 In recent years Riveting Riffs Magazine has been highlight independent fashion designers from different countries and our guest recently was Andra Cora from Valencia, Spain, an autonomous region of the country and whose three largest cities are Valencia, Alicante and Castellón and the region's population is approximately two million people.
Andra Cora talks about the influences that are reflected in the women's clothing that she designs, "I like the romantic drama of the late 19 th and early 20 th centuries and the structural silhouettes of the 1940s and '50s. The silhouettes and construction lines inspire me, but also the social (implications) within the historical context.
I incorporate the past into the present to create the future. Nowadays making an impression is increasingly complicated, especially if your work is focused more on handmade, as mine is and not focused on technology."
There is an elegant charm about Andra Cora's clothing that appeals to the feminine side of women and yet the designs also have a boldness and strength about them.
It is therefore fitting to here her describe her clothing as appealing to, "women with clear ideas who have powerful personalities. She is a woman who is curious and has professional interests in art, culture and architecture."
Her designs have a timeless quality about them rather than being trendy. They are in style this year and they will be next year as well.
"I usually work with stretch satin, organza or chiffon, because they are the fabrics that best adapt to structure and yet they are also fluid. As for colors I like monochromatic colors, while playing with different textures within the same range," she says.
Those themes are depicted in the photos above by Borja Pascual with model Claudia Moras. The hair and makeup are by Carmen Torregrosa.
In January of 2020 Andra Cora's clothing designs were featured on the catwalk at La Sala Zero Centre del Carme Cultura Contemporània de València, as she was invited to participate in Artenblanc, an exposition that featured twenty-five of Valencia's top designers. It was sponsored by la Direcció General de Cultura i Patrimoni (Directorate General of Culture and Heritage) and to promote Valencian fashion. In total there were three exhibitions, one each in the major cities of Valencia, Alicante and Castellón.
"It was to give visibility to local fashion designers, and I was invited to show one of my most identifying garments, along with the illustration of it," says Andra Cora.
It was not long after that traveling exposition that COVID-19 began to disrupt life in Spain, as it did most of the world and we wondered how that impacted the world of Andra Cora specifically as relates to her fashion brand.
"Dealing with hard times makes us stronger and in a situation like this you realize what really matters and how important it is to have empathy in relation to a client or a consumer. Technology is needed, but I think we need to humanize it and return to the original craftmanship and to the work that we are doing, while (instilling) value. Fashion companies are taking on the responsibility for quality, sustainability, fair salaries, and recycling. I believe that now we are on the way," she says.

She continues, "I have a handmade process that gives the garment emotional value and it reflects the style of the creator and the person who wears it. As my brand's slogan says, "I undress the clothes to weave the soul."

The January exposition was not the first time that Andra Cora has received significant recognition as a designer. In 2013, not long after she started her fashion brand, she was a finalist as Best Young Designer in the Valencian Community, an experience she describes as "exciting."

Until this year she had been also serving as a substitute fashion teacher for a private professional training school in Valencia. Soon she will begin teaching fulltime a course in fashion design, pattern making and sewing.

"Right now, I am focused on developing my role as a teacher. It has been said that to teach is to learn twice," says Andra Cora.

Andra Cora started her career in fashion with the help of her mother, "She helped me especially with the commercial part. She travelled around the country with the catalogue of the collection and with some prototypes. Some store owners and shopkeepers appreciated the quality and the designs. For me, every process deserves the same attention and importance and the final garment must reflect that with the fabrics that are chosen and to the last stitches.

My entire family has supported me.

In 2012, when Andra Cora started out, Spain was going through a rough patch economically. She talks about that time, "First of all entrepreneurship is never easy, no matter the situation or the time, but it was hard to balance production and to expand the business, while being aware of our limitations. I worked on demand and the shops only paid me if the garments were sold. This was my (strategy) for an unknown and emerging brand. That is why now I prefer to sell through online platforms with sales commissions. Now I also take part in showrooms (operated by) fashion experts or professional shoppers. It involves more work, but the result is worthwhile and especially with the feedback that you get.

For me it is better this way because I participate in the decisions and I talk directly with the customers or possible clients. It is better than giving all that responsibility to someone else.

My first collection was Dopaminérgica (derived from the word dopamine). It was for autumn and winter and it was the launch of my own signature as a professional fashion designer."

She describes that first collection as being, "the story of a woman who escapes from Anhedonia, a fictional place. She goes through four stages: from introspection and fear to rebelliousness and freedom. I used neutral colors, sophisticated fabrics and with subtle but powerful construction details."

A graduate of Escuela Superior de Arte y Diseño de Valencia, you can hear Andra Cora's smile across the miles, as she liked to draw all of the time as a child, "I had my own desk at home, and it was always full of colored pencils and markers.

I have always been attracted to artistic expression. I found in fashion the balance between the abstract and personal."

As for her years at Escuela Superior de Arte y Diseño de Valencia, she says, "During those years I made sacrifices, but it was worth it. For me it is not only about having talent, but education is also essential, because it gives you the knowledge and the skills that are needed. I studied subjects like drawing, painting, the theory of color, pattern making, construction, sewing, chemistry and marketing."

Andra Cora is not the designer's real name, but it is influenced by her real name, as she explains, "I find it necessary to have an alter ego who is the most authentic version of myself and a name that is hard to forget. What is more, Andra is inspired by the main character and title of a futuristic Sci-Fi novel, so it is also a conceptual statement."

Why does not that surprise us, what was it that she said earlier in our conversation, "I incorporate the past into the present to create the future."

You can see Andra Cora's fashion designs on her Instagram page, and you can contact her there, where she wants you to know that she will personally attend to you.

#AndraCoraDiseñadora #AndraCoraModa #AndraCoraInstagram

#RivetingRiffs #RivetingRiffsMagazine #RopasDiseñadora #RopasMujeres

#DiseñadoraRopasMujeres #DiseñadoraEspanola #DiseñadoraValencia

This interview by Joe Montague published September 29th, 2020 is protected by copyright © and is the property of Riveting Riffs Magazine All Rights Reserved. All photos are the the property of

Ada Cora unless otherwise noted and

all are

protected by copyright © All Rights Reserved.

This interview may not be reproduced in print or on the internet or through any other means without the written permission of Riveting Riffs Magazine.