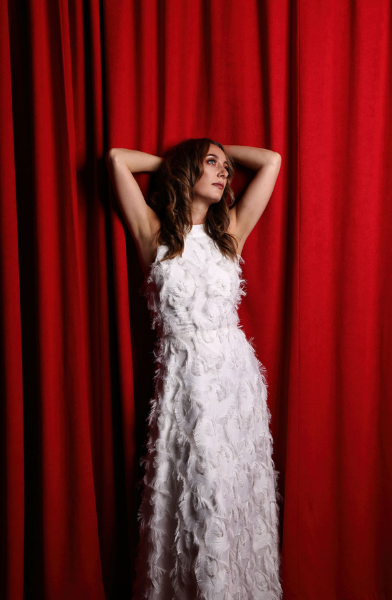 There is magic in the air and that should not come as a surprise, because the lady weaving her magic with her incredible vocals is Italy's Andrea Celeste, longtime friend of Riveting Riffs Magazine. This is the debut year for her album Christmas Wonderland, with a collection of nine classics familiar to most North Americans. In our estimation Andrea Celeste has never sounded as good as she sounds on this record and that is saying a lot considering she is very highly regarded in music circles.
"Maybe I am a bit more mature as a singer and as a person, plus I had the best musical team ever. I really love the guys who are playing with me on this album.
I have been performing live a lot during the last five years and it has also been five years since I released the album Kaleidoscope. The more you sing the more it becomes natural, even though I have been singing for twenty years now. You never stop getting better. That is why Frank Sinatra was amazing when he was older. I think it was simply incredible the way he could deliver the lyrics, the maturity, and the vocals were richer and warmer. I want to get better with the years, and I am not the kind of person who thinks when you are thirty it is all over. It has just begun for me musically," she says.
That musical team consisted of Fabio Gorlier on piano, double bassist Stefano Profeta, drummer Mattia Barbieri, producer Roberto Vigo and assistant engineer Gabriele Ruggeri. The album has been released on Analogy Records.
As for this being the first time that she has recorded a Christmas album, Andrea Celeste says, "We were in the studio recording Unconventional Standards, which is the master tape album that we just released a month ago on Analogy Records. The guys who were recording with me (noted above) were so amazing. We had a lot more time left in the studio, because we were so fast. We just had one or two takes per song. It was great. We had more time and we said what are we going to do? Let's record a new album.
The producer Roberto Vigo had the idea to come out with a Christmas album and especially for Analogy Records users. It is a seasonal album, so you can only buy it in November and December in 2020 and 2021 and so on.
I also think it was the perfect year, because it is going to be a different Christmas. I can't say that I am a big Christmas person, but I like the magic of Christmas. I like that you gather around the table with your family. This year is not going to be the same. I don't know if we will be with the family. I thought the music could bring some Christmas vibes and positive vibes to this terrible year. It was the perfect time."
Those vibes start with a swinging rendition of "Winter Wonderland," and Andrea Celeste's rich, full soprano vocals soar throughout most of the song, but near the end there is a pleasant surprise as she reaches down to mezzo-soprano, close to bordering on alto, to give her phrasing a soulful feel. Her musicians play superbly, remembering to accompany her, rather than leading or overpowering her vocals.
By the time "White Christmas," rolls out as the number two song there is no doubt that this is a Christmas Jazz album and that reflects Andrea Celeste's love affair with the genre throughout the years. Fabio Gorlier delivers a spritely piano solo.
The question that seemed obvious for this writer to ask is why an Italian singer living in Genova, who is fluent in several languages would release the album in English.
First of all, fans of Analogy Records and fans of my music are all from outside of Italy. I know I live here, but they buy the master tapes from all over the world, China, U.S.A, Canada, the U.K. and Australia. This is the main reason, because we have an international audience. I am really honored about this and it is good that they can understand what I say (she is smiling).
I also come from a Jazz background and I love Jazz music. I love Christmas Jazz music a lot. It is like a hidden dream for me and not something that I could not even (have imagined), because I am not that kind of singer and I am not famous enough to have a Christmas album. This year we decided to go with this. It was a nice idea.
Although, "The Christmas Song," has been sung, as the lyrics suggest about Merry Christmas, many times and in many ways, few have performed it as beautifully as Andrea Celeste. Her phrasing and the space that she gives her musicians allows this song to become a story that unfolds before us and captures our imaginations with images or reindeer flying and a warm fire where we roast chestnuts. The elegant playing of pianist Fabio Gorlier is golden, and drummer Mattia Barbieri makes great use of his other percussion instruments.
Like her fondness for Jazz, Andrea Celeste's attraction to American music began early in life, "It came with the Jazz interest that I had when I was a teenager, so I studied Billie Holiday and the great singers. Most of them had a Christmas album and in following their biographies I discovered all these amazing Christmas Jazz classics.
In more commercial settings I have been asked to perform Christmas Jazz classics during Christmastime. I had the pleasure to work with a beautiful string orchestra and a colleague and I had a show with Christmas classics for a few years. Yes, it was in the air."
While not purely a Christmas song, but certainly a winter song with a festive and reflective feel, "My Favorite Things," will no doubt prompt the listener's own memories to surface. The song features a double bass solo by Stefano Profeta. As she delivers the last two lines of the song, you realize Andrea Celeste has arrived and why she is so widely respected in the music community and among Jazz purists. Her vocals rival those of any of the great singers, past or present.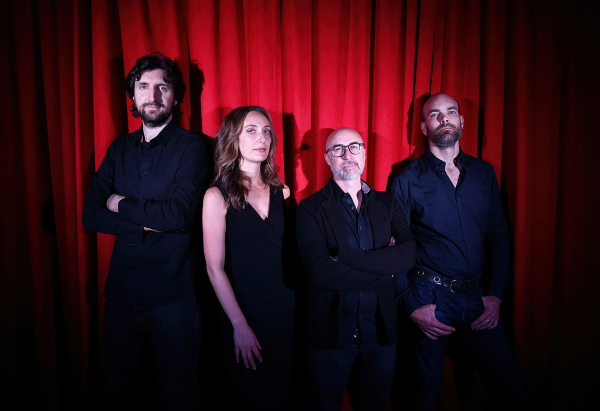 She talks about the song selection, "I pushed for a few songs that were less known here in Italy, but they are known internationally. "Christmastime Is Here," is definitely my favorite on the album. Also, "My Favorite Things," which is not a (typical) Christmas song, but it is about the little, magical things. It is about what makes Christmas special to me. "The Christmas Song," is wow. It is so elegant, and I love it. You know that you cannot have a Christmas album without "White Christmas," (she laughs lightly). "Winter Wonderland," is not known very well in Italy, but I knew it and I wanted to perform it for this album. I think it is fun and it gives a fun side of Christmas. It is about walking in the snowy streets with the person you love. It is so romantic and nice. We also had "What a Wonderful World," which is not a Christmas song, but I wanted to sing this song, because despite the crazy things that we are living and the terrible situation, with the fear, I think it is still a wonderful world. I just needed to deliver this message with this album."
Since Andrea Celeste recorded "My Favorite Things," we asked her to tell us about her favorite things, "From the past I remember my favorite thing was waiting for Santa Claus, but it was not about the gifts, because we were not a rich family, so I was not expecting great gifts, but I was expecting to see him (she laughs). I was hoping to see him. I went outside, into the countryside and I would listen to all the sounds of nature and I thought, maybe he is there, behind the branch of the tree (she is still laughing).
Gathering with the family was beautiful. We were at a very long table with my aunt and my cousins, my sisters and my sister's fiancé. They were some of the most fun moments with our family. There was also the food! At Christmas you were going to eat lasagna and all of the wonderful things my mom could do. My mom would cook everything that she could do. Afterwards on the 26th we would go to my auntie's place. It was one day at my place, the other day at your place. My auntie would cook everything that she could cook (she laughs). From the 24th until the 6th of January we would eat (a lot)."
WOW! That is the best way we can describe Andrea Celeste's rendition of the Sammy Cahn (lyricist) and Jule Styne (composer) song "Let it Snow! Let it Snow! Let it Snow!" Talk about romantic! One can easily imagine making snow angels with your sweetheart or walking down snowy streets on a moonlit night, while holding each other close. Wait a minute though, this is being sung by an Italian from Genova. Do they get snow there?
"Yes, in some parts, in the mountains and even in the south in the mountains. It can get very cold and we get a lot of snow there. Also, here in Genova a few years ago we had snow, but that was quite the miracle or a nightmare (she laughs), because people are not used to driving with the snow here. It becomes total craziness," she says.
It is interesting that at least in some parts of the world we often grumble when it snows and as the temperatures get colder and yet at Christmastime we sing warmly about the snow, getting cozy by a fireplace and cuddling warmly with the one we love. We asked Andrea Celeste for her thoughts on that.
"That is a very interesting question. From my point of view when I was lucky to witness the snow and I was a little girl and in my home in the countryside, I thought there was something magical about it, the silence, the beauty and everything was covered by this white veil. I think human souls love this phenomenon.
I know if you do not have snow or if you do and you are not in your house properly that is not a dream. I also think about the people who do not have a home and they do not know how to defend themselves. It is quite tragic.
If you are lucky (enough) to witness the magical side of the snow there is something pure about the nature," she says.
As for her producer Roberto Vigo she says, "He is quite a genius to me, because in 2015 he came out with an idea for the master tapes (to sell) and he is having a lot of success (on the Analogy Records label). I think it is nice for musicians, because the music is going to be listened to by people who really care about listening."
Please visit the website for Andrea Celeste and the website for Analogy Records.
Photos by: Francesca Ricciardi ; Makeup by: Francesca Bucci
#AndreaCelesteMusic #AndreaCelesteChristmasAlbum #ChristmasJazz #RivetingRiffs #RivetingRiffsMagazine #AnalogyRecords #ItalianJazzSinger
This interview by Joe Montague published December 7th, 2020 is protected by copyright © and is the property of Riveting Riffs Magazine All Rights Reserved. All photos are the the property of
Andrea Celeste unless otherwise noted and
all are
protected by copyright © All Rights Reserved.
This interview may not be reproduced in print or on the internet or through any other means without the written permission of Riveting Riffs Magazine.