Andrea Celeste is a singer and songwriter who makes her home in Genova, Italy, a bastion for Italian musicians, singers and songwriters and although she is still in her twenties, Andrea Celeste has been turning heads in several circles in Italy since she was a teenager and in recent years music fans and journalists in other countries have begun to take note of her talents. She is completely fluent in Italian, English and Spanish and she can somewhat navigate her way through the German and French languages, plus she is also studying Portuguese. During our conversation Andrea Celeste who is equally comfortable singing Pop, Gospel, Jazz and Soul music hinted that her next album may have more of an international flavor and it may be recorded in several different languages with a return to a Jazzier feel to the music. She is also getting close to releasing her most recent album Kaleidoscope.
"Kaleidoscope, wow! It took two years to complete this album. We were mastering it this morning and I couldn't believe this, because the album took so much time. I think it is a good production and that we have good songs. I can say this, because they are not just my songs. I wrote the songs with Massimo Trigona who is a friend of mine. He is a fretless player and he is an amazing musician. We started to write together two years ago. I had a very hard period of my life when my father died and I was a little bit confused and sad. Massimo came into my life as a friend. He is (great) musician. We said let's try to write songs together. It was like a jam session and we wrote thirty songs in two months. He also plays bass guitar and acoustic guitar. When we are together he just played a few chords and I said the melody could go like this and the lyrics could go like this. We work very fast together and we like each other. He likes the way that I sing and the way that I put down melodies and I like the chords and the harmonies that he uses. They are not so usual. We wrote all of these songs and we said maybe we should make an album.
We chose the songs that we like the most and then we had a great dream come true, because we had the chance to record some of the songs on this album with Al Schmitt (Winner of 23 Grammy Awards and some of the artists that he has worked with include, Henry Mancini, Steely Dan, Toto, Natalie Cole, Quincy Jones, George Benson). I am still excited when I am say this, because I just can't believe we did it.
It wasn't in Los Angeles; it was in France, because Al Schmitt goes every year to Provence, France and a wonderful recording studio called La Frabrique Studio. He has seminars there (on recording and mixing) and each time he has a group that he records. We were the band this year and I still can't believe it. We recorded four songs with him and they sound wonderful. He is just magic. He is the most humble and genuine person that I have met in this crazy (she comes to life on the word crazy and stretches the word out) business. He is an amazing professional and I know that everybody knows that he (worked) with the top level artists in the world. To be there to see it and to hear it with your ears is just (unbelievable). He just puts the mics and records (the music), he touches two buttons and everything is perfect. It was a great, great experience," she says.
Andrea Celeste talks about one of the reasons why there are songs on Kaleidoscope that are sung in English and Italian, "It is a little bit of both, because I did this as a tribute album to the singers and songwriters (of Italy). I discovered that entire world. I already knew it was there, because I am Italian, but I didn't think about singing those songs and making them mine. I started putting a tribute song to Umberto Bindi, which is a song that he wrote in Italian with Gino Paoli who is another great star. It is called "Il Mio Mondo," but it was an international hit. It wasn't a hit here in Italy. It became an international hit with Cilla Black and in English it is called "You're My World," (She starts to sing beautifully) "You're my world you're every step I take…" It is a beautiful song, so I just had to do it.
Cilla Black was an amazing singer and I loved her repertoire too. She used to sing Burt Bacharach songs. I love Burt Bacharach (she giggles). He is one of my favorites. I decided to do "Il Mio Mondo," because we were going to record with Al and I wanted to record something in Italian in this half Italian, half American production."
The album Kaleidoscope is scheduled to be released in December (2015).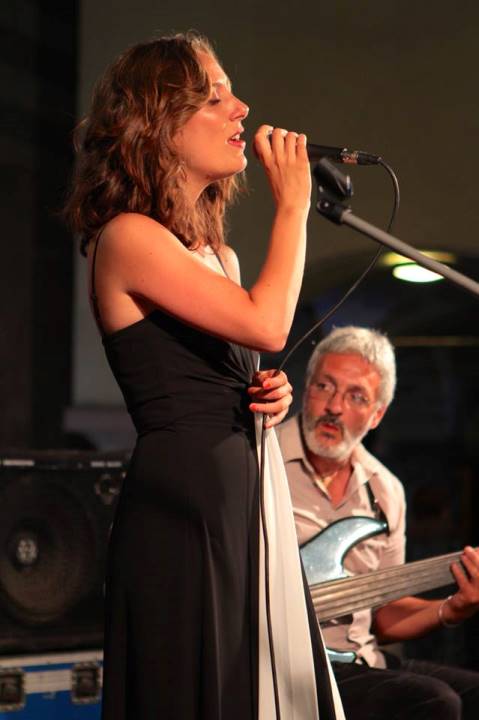 Andrea Celeste grew up in the little village of Pontedera located in Tuscany and she says, "I grew up in a country home with my family. I have two older sisters and my mom and my father are from the south of Italy. They went to Germany as immigrants and when they had the money they came back to Italy and they decided to stop in Tuscany. It is one of the most amazing places in the world and it has been (great) to grow up in such a beautiful environment. I grew up where I had the woods close to my house, so there were trees and the beautiful countryside, (beautiful) landscapes and also a lot of history."
Andrea Celeste started off by singing in a Gospel choir and she says that every Sunday they would sing in a different church.
"Musically, I was lucky, because there is nothing there. It is just a little town and a small village where I grew up. I don't know why there was a Gospel choir there (she laughs). I grew up between the Gospel choir and the Classical training. I met my singing teacher, my voice teacher when I was thirteen years old and I started studying Classical singing with him. It was wonderful training, because I had Classical training, plus the modern sound of Gospel, which blends Jazz, Blues and also Pop. We went from Mahalia Jackson to Kirk Franklin. It was wonderful.
(My teacher) was Vittoria Scali and he was amazing. We lost him when he died last year. It is a void to me, because he taught me everything that I know about the voice. He was like a father to me and it has been a hard loss. He lives in me, because he taught me so much. He also went further, because he was a very deep person and a guide to me, a spiritual guide to me. He is still with me," she says.
A discussion ensues regarding the popularity of Gospel music in Italy, "I think it is all because of that movie Sister Act (she laughs). It all started in the '90s and each Gospel choir in Italy sings the songs from the soundtrack of that movie. I think they just discovered a new sound and then they went further. There are a lot of good Gospel choirs here in Italy and they work with American Gospel choirs too. When I was fourteen I sang with Cheryl Porter, an American singer who grew up and graduated in Chicago. She moved to Italy, because she wanted to be a Classical singer. She was Classically trained too, but she discovered that Gospel music was popular here and she started teaching Gospel music. She started a choir and when I was fourteen she invited me to this seminar and she also invited a lot of Gospel singers from Chicago. It was great, because there were all of the Gospel choirs from Italy were there and I met a lot of people. Everybody was in love with Gospel music and me too of course. I loved it, because it has a wonderful sound and I love the passion that they put into this kind of music. It taught me a lot.
I also participated at the Milan Gospel Festival and in Rome at this cinema festival.
When I was sixteen I sang with a very strange group. There was an American rapper and producer and she used to write Gospel songs. I was the singer with two other singers and the pianist. We were all young and crazy and we used to record all of this stuff. It was very, very nice. In this group I had the chance to do Gospel, but also Jazz, Soul music and Rock. We experimented a lot and it gave me an open mind. I am very grateful to Gospel music for this," she says.
As for the variety of influences that can be heard in her music today, Andrea Celeste says, "I think it is good in some ways and it is bad in other ways. It is good for me, because I love to experiment. I am a musician first, so I listen to a lot of music and I fall in love with a lot of music. Each time that I have something to say and that I want to write something I can choose a color from the palette. It depends on the feeling that I have, that I want to express and that I want to write. I meet a lot of people and producers and people from the other side of the music and they say oh, but you have to choose a style. If you don't choose a style people don't know how to sell your music. I understand this and I just can't stop, but I love everything about music. Right now I am back to Classical music and I am studying piano. I am studying Chopin and Mozart and these beautiful composers. For this new album Kaleidoscope I also wrote a string arrangement, while thinking about Classical music. It is just wonderful having an open mind to all of the wonderful music that is out there. I just can't choose. It is impossible for me," she says laughing lightly and you can hear the warmth and enthusiasm in her voice, and then she continues, "Italian Pop is different than International Pop, because we are Italians and French Pop is different. It has a different road. We are more melodic, because we had opera and Classical music and so it is more about the melody sometimes than other things. We have a lot of great singers and songwriters (in Italy) too. I dedicated an entire album (Se Stasera Sono Qui) to the songwriters which were born in the city that I live in, which is Genova. They wrote such amazing songs and it is pure poetry in music. There is another generation of songwriters now who are very, very good."
In 2008 Andrea Celeste's debut album My Reflection was released and it was comprised of thirteen songs that were written by her, including the love letter "Real," sung to a lover asking him to take a chance on love and the hauntingly beautiful "The Power Of Our Love." The lyrics for "The Power Of Our Love," stir the heart, "Don't judge by the way / I look tonight / You don't know how many dreams / I've left behind me / Just close your eyes and feel / The power of our love / Listen our hearts can beat as one / Deep inside of you…You know who I am / Just close your eyes and see / The power of our love." Robert Izzo's violin and Stefano Cabera's cello make this song soar and Andrea Celeste's heartfelt phrasing is impeccable.
"I started singing with the group in Italy when I was sixteen and I was twenty when everything went wrong with them. I came home to Tuscany and I was a very sad girl. I found inspiration for writing songs. I had a lot of stories that went wrong and I had this group that went wrong and I just didn't know what to do. I came out of school and I didn't know if I had to go to university or to do music. During that period when I was so sad I wrote those songs and the crazy part is I never had an internet connection at home when I was a teenager. I didn't want a computer, because I am old fashioned. I was a very strange teenager. I used to listen to Billie Holiday, while my teenager friends were listening to Beyoncé. I didn't want an internet connection and then when I was nineteen I was broke and with four day jobs, so I started to think that I needed an internet connection. I put this internet connection at home and I opened a Myspace page for the first time in my life. I needed a friend to do that. I put on this page a demo of the songs that I wrote like "The Power Of Our Love," and "My Reflection." Then I received this friend request from Genova. and (he became) my boyfriend (He is still her boyfriend). It was crazy to me, because I never had an internet connection and I was new to this thing. I just hated those things, but this helped me. Roberto Vigo contacted me and we became Myspace friends and I had all of these musician friends on Myspace. It was wonderful. I still have those friends now. It was just about the music and that is why I liked that. He asked me (if he could produce) this album (My Reflection) with the songs that he heard on Myspace. I said okay, let's try and I came to Genova that summer in 2007 and I think that we recorded the album in three days. It was like a dream to me, because I had other people ask me to do an album when I was a teenager. I used to sing and I sounded like an idiot. The producers were like we should do an album. I didn't feel ready and I said a lot of times no. I didn't have my songs and I didn't think that I had things to say. I waited and the songs came. The producer and I thought the songs were okay for an album and we did this album and we were very happy. That is where I met Dado Moroni (Italian Jazz pianist and composer) and we did the song "Real." It is one of my favorites and I just love Dado," she says.
In 2009 the Celeste / Vigo team released another album Enter Eyes recorded with pianist Andrea Pozza and it featured covers of "Blackbird," (Lennon / McCartney), "This Masquerade," (Leon Russell), Stevie Wonder's "All In Love Is Fair," and Paul Simon's "Bridge Over Troubled Water."
Andrea Celeste describes her 2012 album Something Amazing, "Something Amazing is truly something amazing to me, because it also brought a lot of amazing connections. I have to mention the wonderful Joe Locke who is one of the greatest vibraphone players and that came through Dado Moroni. It still seems like a dream to me, because I come from a small village and to have such a wonderful artist in the studio was just a dream come true. Something Amazing was also a crazy production if I may say something like this. We didn't choose our music genre. It was more on the Jazz side when I did My Reflection and Enter Eyes. I just wrote songs (for Something Amazing) that sounded more Pop and we decided to explore more of the Pop world, but to do that in our way. We only used acoustic instruments and we didn't use drums, except for "What's Wrong?" when we used percussion that acted like drums. We tried to experiment with a few things and I just loved the sound of that album. I think it is different from the other things that we did.
We went to the studio and we took a lot of time to understand the way that we wanted to play the songs. When you put together a lot of great musicians something magic will happen. It is just about the soul of the musicians who came to play the songs. Sometimes I listen to the songs and I say it is a strange album (she laughs). I don't understand if it is Pop, Acoustic Pop or R&B. I like the stories behind the album."
Andrea Celeste's album Something Amazing is aptly named with eight of the ten songs being outstanding original songs. You will not hear many songs sung better than how Andrea Celeste sings her own song "Fascinating Fear," which opens this album and the title song "Something Amazing," is equally breathtaking.
As for covering Patrick Hernandez's song "Born To Be Alive," she says, "Everybody thought that I was totally crazy. Maybe they were right. I don't like Disco music. I love Jazz music, I love Blues and all of the other stuff, but we heard the song and it was like a challenge. The producer said to me why don't you try to reharmonize this song? You should try. I said no I won't do that and I don't like that (Andrea Celeste is quite funny, as she changes her voice and recounts the conversation). Then I said, hmm let me sit at the piano and let me see the melody. I started to play other chords, I reharmonized the song and I said, hmm I like that. I decided to put this song on the album, also because of the lyrics. They sound light, but they have some kind of wisdom. We were born to be alive and to be free. Freedom is just a religion to me. Musically speaking it is what I try to keep. I want to be free when I write my songs, so I want to be free to sing what I like. It was just like a little manifesto. It is a dance song and I said okay let's try it. I just want people to think that I am crazy, what's the problem? (She says jokingly) I didn't want to become that serious Jazz singer, I want to do this. I love music. I said no, let's play with this song and it was a good experiment. In Italy they love covers. Radio noticed this cover and it was featured on some national radio (stations).
Radio likes to play on the safe side, like okay "Volare," is famous, so let's cover "Volare." We were talking about this before, business is something else. It is not about music sometimes anymore."
In 2013 Se Stasera Sono Qui was released and the album takes its title from the song of the same name.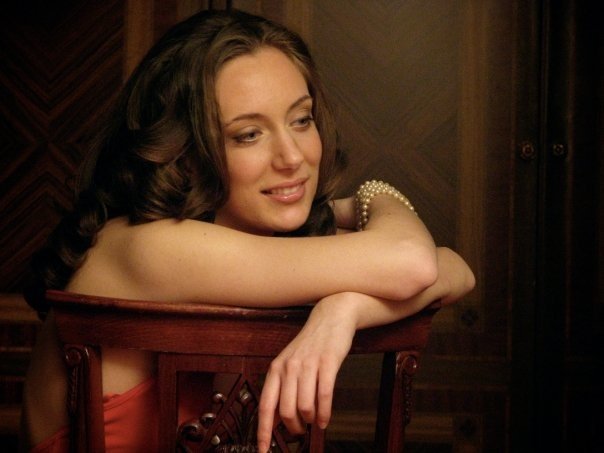 She says, "I love "Se Stasera Sono Qui," which is a song by Luigi Tenco. It is about this guy who says if tonight I'm here it is because I love you and you don't know this yet, but you will need me (she laughs). I just love the lyrics, because it is crazy that someone has the honesty to say you just don't know this yet, but you are going to need me. If tonight I'm here it is because I can forgive. It is like the other person did something that he didn't like, but he is so in love that he has to go back to this person. It is because you need me and because I can forgive you and I just don't want to throw away the love that I feel for you. To me coming here has been like climbing the highest mountain in the world. Now that I'm here I just want to forget the sad memories that I have. If tonight I am here it is just because I love you and it is because you need me, but you don't really know this yet.
Normally they do the song as a Blues ballad. It is not sad, but it is a serious ballad. When I found out about the lyrics and I truly understood what I felt about this song I decided to do this in a Jazz Manouche style because I wanted it to be ironic. I think that being ironic is something that will save the world. You don't want to be so serious. It is also because Luigi Tenco committed suicide and so he is this mysterious figure and this mysterious life also. People did not understand why he committed suicide. It is still a mystery to us. In Italy it is like he was a sad singer and songwriter. He was a sad person, but it is not just like this. If you go through all of the lyrics that he wrote he was a smart guy. You know he was just twenty-nine years old when he died. He wrote these masterpieces when he was twenty-five years old. I just wanted to bring out the ironic part of this song and of this song and also Luigi Tenco is one of my favorites. Everybody thinks about him when writing a song, because he was one of the best singers and songwriters that lived here."
The song "Se Stasera Sono Qui," is recorded as a duet with Zibba.
"Zibba, you have to know that he is one of the best singers and songwriters that we now have in Italy. He is an amazing, amazing songwriter and singer. He just came to the studio and in one take everything was perfect.
Another incredible song from the album Se Stasera Sono Qui is the upbeat Italian song "Che Cosa c'è," which Andrea Celeste explains, "is translated as What's Up? It is hard to explain this in English, but I am going to try. It is about a person who discovers that he is in love with this woman and it was written by Gino Paoli who he is a great, great star in Italy. He is from Genova. It is a male song, but a lot of female singers have sung this song. It is Che Cosa c'è, what's up? I'm in love with you and I don't care about the other people who are not you. I love you so much that the world belongs to me, a world that is you. I don't know if that is a good translation, but I'm trying. I don't know how to explain how much I love you. I don't know what I feel for you, but if you look at me and you look into my eyes for just one moment you will understand yourself. So, what's up? I'm in love with you and I feel good and I can live, because we're together. I can live if I am close to you. This is what is going on. It is a beautiful song from the sixties and Gino Paoli is one of my favorites."
Andrea Celeste is not just one of Italy's best singers and songwriters, but she is also one of the best singers and songwriters that Riveting Riffs Magazine has interviewed in our almost thirteen years of publication. Make sure you visit her website.
You can also follow Andrea Celeste on her official Facebook page.
This interview by Joe Montague published November 22, 2015 is protected by copyright and is the property of Riveting Riffs Magazine © All Rights Reserved. All photos courtesy of Andrea Celeste are
protected by copyright ©, All Rights Reserved
This inteview may not be reproduced in print or on the internet or through any other means without the written permission of Riveting Riffs Magazine, All Rights Reserved