Earlier this year for the second time in as many years singer Andrea Miller received a blow to her heart. In February of 2017 just prior to leaving for a world tour with Al Jarreau word came that he had passed away. May 2 of this year Andrea Miller was to fly to Chicago to record the George Gershwin song "I've Got a Crush on You," with longtime collaborator, producer, arranger, composer and lyricist Michael Cunningham, for a George Gershwin tribute album he planned to release. However on April 8th word came that her friend had passed away suddenly.
Andrea Miller is one of the more gifted singers of our time and although these days her preference is to sing Jazz, she has clearly demonstrated throughout the years that her vocals translate well into a number of other genres.
Andrea Miller who has become a friend of Riveting Riffs Magazine took time to talk about her three song EP she recorded with Michael Cunningham and she reflected upon their time working together and their friendship.
She says reflectively, "It puts perspective on the big picture of what I do and why I do it and what it is all supposed to be about. You never know. Every performance you do and every recording you make and every song that you sing it makes them even more meaningful. Eventually, at some point in my life it will be my last song and I don't think the people that I have lost ever knew that would be their last song that they wrote or sang. You have to enjoy and savor every second of it.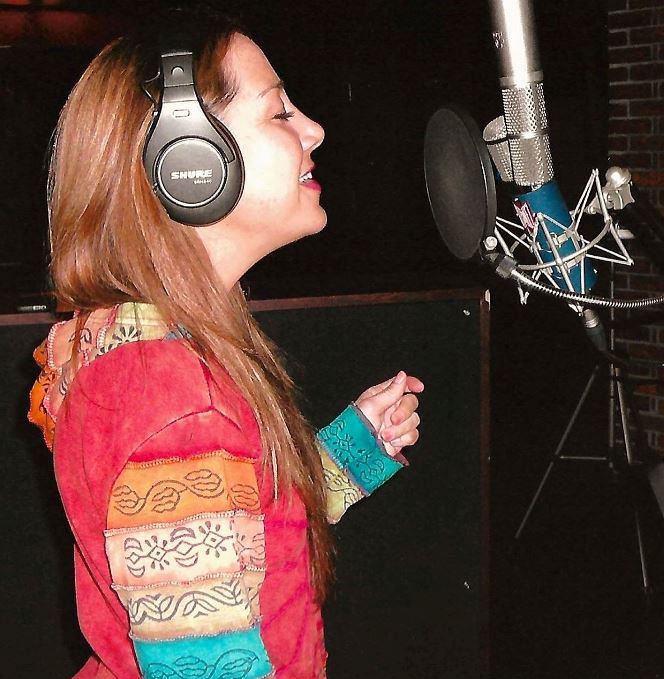 I have lost a lot of people in the last two years and especially in the last two months and it has become even more important to me for what I do, how important music is and how powerful it is. It is humbling in a way and it gives me even more purpose if that makes sense."
Our conversation shifts to talking about the new EP, "The album that we did in 2015, which was a straight ahead Jazz album, Maybe Today. When I flew to Chicago to do that, I think it was over two different trips that we finished all of the recordings. During the final trip Mike said hey I have these three songs that are unrelated to our project. They are more Pop and R&B and I am wondering if you will sing them. I will pay you for them, it will be a totally different project and it is not part of the Jazz album. I said yes, of course. There are two sides to me.
Then (the songs) were shelved, because we were mixing and mastering Maybe Today. Mike had me do a couple of songs for his Christmas album and then we were moving ahead with other projects. He was doing a concerto and all of these things got put to the side. These three songs were never mixed, mastered or really looked at, because we had bigger things on the table.
Last November Mike told me he was finally getting around to mixing and mastering the three songs with the best mixing and mastering guy that I have ever work with and his name is Rick Fritz. He is in Chicago and he mixed Maybe Today. A lot of mixers don't like the artist in the room when they are mixing. Some artists can be very, do it like this or do it like that. I am really soft-spoken and I will only say something if I think it is really important. I am very diplomatic when I am in the room. When Mike told me he was going to mix and master the project I offered to fly back to Chicago, so I could be in the room. He said really, you don't have to be there for that. I said I want to be there, so I can have my two cents.
I mixed and mastered these songs with Mike and Rick Fritz in November of 2018. Mike died on April 7, 2019 and ten days before his death he released the songs on Facebook. He never technically released it on any downloadable sites and it is not for purchase or sale yet. He mailed copies to all of his friends and to people who played on the album. He mailed me a big box of eighty CDs and then ten days later he passed. That is the background (concerning) how this EP came about. It was a long time coming.
At the same time he had a beautiful project that was going on called The Old War Poems with the Rockford Symphony. While I was back in Chicago mixing and mastering this EP I was able to accompany him to Rockford and to watch the dress rehearsal for the symphony that he was doing. We made it a fun two day adventure.
One thing that I loved about Mike so much was his songwriting. It just speaks to me and it is right up my alley. Two of these songs are his originals. The first song "Cloud Nine," is his original music and lyrics and the last song "I Need Your Love," is his song. The second song is called "Look to the Rainbow," and the music is by Burton Lane and lyrics are by E.Y. Harburg. It is a song from 1947 and Finian's Rainbow. I know Al Jarreau covered it and Aretha Franklin covered it. Mike created a beautiful arrangement for it. His interpretation of it was what he asked me to sing.
We had so much more work and so many projects that we wanted to do. It is just a shame. I am hoping to get this EP out there and to spread it around and to get as many people as I can to hear it (It is for sale from Andrea Miller's website).
"Look to the Rainbow," is such a great song. Mike plays the piano and I love his piano intro. It is so hopeful, but it is also sad and that is how Mike wrote. There was always sadness in his chords and his choice of voicings, but they were hopeful and bittersweet at the same time.
"Look to the Rainbow," is a pretty song and a lot of people covered it. This is Mike's version and his vision. He opens it with almost a minute of instrumental. When you listen to it you think when are the vocals coming in? This is Mike's vision of the song and he wanted to play most of the form, before the vocals came in. I thought that was a really interesting take on it and it is almost my favorite part of the recording, because it could have just been an eight bar intro, but he went further and he wanted to give the listener the entire form, before you heard it sung.
I would describe his piano playing at the beginning as being wistful. It is his little moment to shine and to setup what the listener is about to hear. He takes his time doing it and I thought that was neat. On a vocal song you probably wouldn't take that much time, before the vocal comes in. He did and he was adamant about that. I even said don't you think the intro is a little long? He looked at me (as if to say) Andrea, this is my decision. I knew better (she laughs), but now that he is gone and I listen to (the song) it is my favorite part.
I think this EP really captures Mike."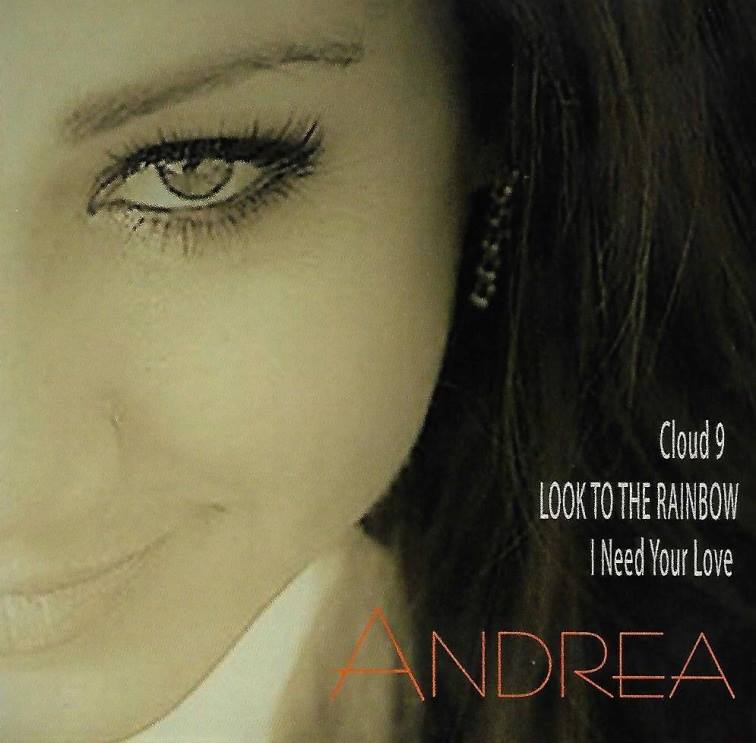 The conversation segues into talking about the other two songs on the EP, simply titled Andrea, (The song) "I Need Your Love," is about the realization that you actually do need another person and as much as you might think that you can get through life and struggles and happy times by yourself, at the end of the night you are waiting for the phone to ring. Ultimately you want a companion, someone that you know well and someone that you love and that you share love with. It is about sharing the night (together) and the next morning. It is having someone to share life with. It is better shared than it is to be (alone). The song is written from the perspective of someone who is out of that relationship, but who is looking forward to trying to get it again, because they miss that person. It is the difference between if you want love or you need it. This song is about how much you need another person's love in your life. Some of the lyrics are "I need your tender touch tonight." It is about having the person literally with you, feeling the person and sharing love. It is about how lonely you are without it and how empty you can feel when you are all alone. That is the gist of it.
The voicings of the chords and the way the song is written is like that classic slow R&B groove. He has also incorporated some really cool Jazz chords and Jazz voicings, so it goes deeper than that. I am not singing the background vocals. The background vocals are done by a wonderful singer and artist named Cheryl Wilson who lives in Chicago. She has done a lot of recording work. The background vocals are very intricate and very complex, whereas a lot of backgrounds are a triad 1 – 3 – 5 (She then illustrates her point with her vocals). He does sevenths and ninths and elevenths. Cheryl went in and did all of these thick and really complex background vocals, which gives the song another dimension and depth. I made sure I was there for the mixing of them. Background vocals can be really tricky. If they are mixed too loud they take away from the lead vocal and they confuse the listener, especially if it is not the lead vocalist who is doing the background vocals. If they are too loud, even if they are amazingly done it they are in conflict with the lead vocal. We made sure they were just in the right place and it worked really well. She supports the chorus with (Andrea Miller sings the background vocals at this point). It is like love has been lost, but the person realizes they need it back and they really miss it."
As for the song "Cloud Nine," she says, "This (song) is the opposite. It is joyful and after you have found love or just the beginning of it. It is that exciting butterfly feeling that you have when you first fall in love with somebody and the sky is the limit and you didn't expect it. You didn't see it coming and it hit you like a freight train, and she sings, "You've got me feeling like I am on cloud nine." It is funny, because Michael didn't write a whole lot of positive songs. The sound of this one is melodically happy. It is a cool song and especially near the end we modulate. We change keys a couple of times at the end and on the fadeout. "Cloud Nine," is the unexpected breezy feeling. It is like you are walking on cloud nine, because of something new and the unexpected joy that someone can bring into your life. It is the opposite of "I Need Your Love." "Cloud Nine," is the song at the beginning of the relationship and "I Need Your Love," is when it is over."
"I want to mention the players on the EP. Dale Prasco is on guitar, Ron Hall is on bass, Khari Parker is on drums, Mike Cunningham is on keyboards and Jim Gailloreto plays the sax solo for "Cloud Nine," " she says.
Andrea Miller takes a moment and recalls how she and Mike Cunningham first met, "He found me on Facebook in 2012 and our first recording session was in January of 2013. He was looking for a session singer to do a recording of "I Think It's Going to Rain Today," which later became one of the songs on our album Maybe Today. Until you got to know Mike he was a man of few words. He was reserved until you got to know him. I got this message on Facebook, can I call you? I said sure. He said, hi I am Mike Cunningham and I live in Chicago. I have a song I would like you to sing. It is a work for hire session. I would like you to record the vocals in LA. I am coming out there and we will do it with Geoff Gillette at Entourage Studios in the Valley. I said great, let's do it. The next thing I know in the mail comes large, large staff paper and it was the chart of the song in pencil. I was what the heck is this? Mike wrote everything out by pencil on staff paper. Over the next seven years of working with him these packages would come and I always knew the big packages were staff paper coming from Mike."
Mike told me he was very picky about singers, but when he heard my version of "Over the Rainbow," that is what convinced him that I was the right singer for "I Think It's Going to Rain Today."
The next session he said I have a Christmas tune and an arrangement of "Winter Wonderland," that I am going to be putting on a Christmas album and I have already recorded a seventeen piece big band doing it and he asked if I could do the vocals. I said okay. Mike was not there for that one, but again I worked with Geoff Gillette at Entourage.
The third session was one of my favorite recordings that I did with him. It was called "The Water is Wide," and later it also became a part of the album Maybe Today. I did "The Water Is Wide," with Geoff and we would send MP3s to Mike and he would approve them or he would have me do another take. I think "The Water Is Wide," is one of his best interpretations and arrangements.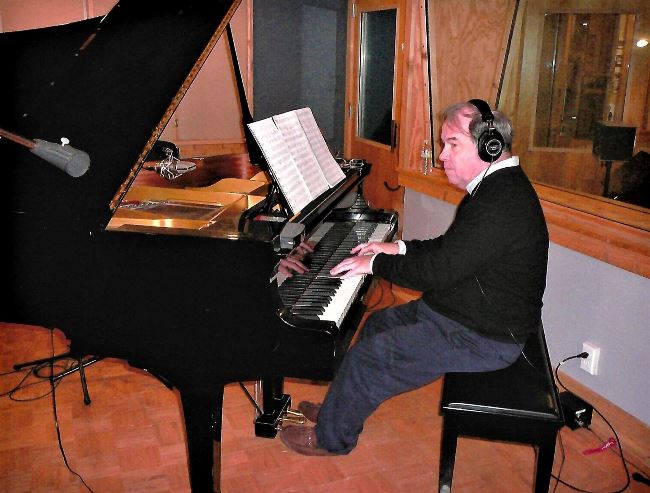 (After that) Mike had me do his arrangement of "Let's Do It, Let's Fall In Love," and it had a five part clarinet intro that was just genius. I said to him this is a keyboard patch, right? He said no I would never do that. These are five clarinet players. It sounded so perfect. By this point we had worked together for almost two years.
In 2014 I did a full album with another producer, but I thought I wish I could do a full album with Michael Cunningham. It is up my alley. I wanted to do a Jazz album with him.
Mike is probably the most prolific songwriter that I ever met. He was always writing. Around the end of 2014 he mailed me an album that he did and it was all instrumental. It was his originals and his interpretations of some Jazz standards. I was going to LA at that day and I tossed it into my CD player in my car and I listened to the entire album on my way to LA and I also listened to it on the way home. It is called There Was a Time. This was the pivotal moment in my relationship with Mike. (The album) has thirteen songs and it was all instrumental. Until then the only things I had heard him do were the things that I recorded. I just got a big dose of Mike Cunningham. This album spoke to me unlike anything that I had heard.
It was so well done and it was so beautiful I called him about midnight his time. I didn't care. There have been very few work for hire sessions that I have done when I actually want to work with the person again. Usually, you are in the door and out the door and you do your work. I told him that I had just listened to his album twice and I think it is amazing. I had taken notes on every song and I wanted to go in deep and tell him what I thought. I said I want to do a whole album with you. He said I do too, but the gods of money are not shining upon me right now. I told him I would sing for free. I said we already have three songs in the can. What if we just kept recording songs and made an album?
It was my idea and on this album he did an instrumental version of "I'm Afraid the Masquerade is Over," and "I'm a Fool to Want You," (for which) Frank Glover the clarinet player plays the melody. I said what if we did vocal versions of those two songs and you take the clarinet out and let me sing the vocal. That could be two more songs and I swear to God I could do something great with these two songs. It turned into the beginning of Maybe Today. All of the other songs on Maybe Today were his original songs that he had in the works and that he hadn't recorded yet.
He wanted to do a big band show and he had a bunch of songs that we were going to do for that. We never got to it.
Of all of the people that I have worked with and this is the part that cuts to the bone, I believed in his music and his songwriting so much and he believed in my voice. We were each other's biggest fans. With me being the voice of his music and him inspiring me with that music. He brought out the best in me and I brought out a lot of good in him. I have never worked with anybody when it just clicked like that. Every time I would go to Chicago to record, mix or master he would take me to Chinatown and we would go out for lunch. All of our trips would start with going to Dunkin' Donuts, because he loved Dunkin' Donuts.
He was very bitter against the music industry, which isn't surprising. It was like Mike and me against the world. We believed in what we were doing so much. He was my cohort in crime, my buddy and we had a really strong connection. I am going to miss that. He was such a character," then taking time to reflect upon my question as to whether or not she considered herself Mike Cunningham's muse, she continues, "I never called myself that until other people did. I know he had a lot of instrumentalists that he cared about and who really inspired him. I know that I was one of his favorite singers for sure, because he would tell me that.
The more I got to know him I realized what a crackup he was and he had a cynical sense of humor.
He loved music so much. Every day when he woke up he would go straight to the piano. He would tell me it is five in the morning and it is snowing outside. That was his time to write.
There was going to be such a wealth of his music in the future. It is my job to continue his legacy, as best as I can with everything that we have done," she says.
We wondered how Andrea Miller would describe Michael Cunningham to someone who never knew him.
"He was a kind, sweet, funny, talented musician and friend. He was very giving to others. A lot of people in Chicago talked about that. He was a dear heart. He was very, very serious about his music and that is one thing that I really enjoyed about him the most was his dedication to his craft and his belief in himself. He was unwilling to give up or settle or do it a different way. He followed his own vision for each song and he stuck to it. He wanted it done his way. It was done in a kind way.
He was an artist. A friend of mine Ron Kobayashi who is a piano player told me one time that a recording is a piece of art, much like a painting or a sculpture. When you record something it is captured in time. It is now a piece of art that now exists and it can never be changed. It can't be done again and it was captured in the moment. Mike knew that and every recording that he did he wanted it done a specific way.
He was wickedly funny and soft spoken. He wasn't a big talker, but when he did he would zing you with a one line punchline. He was a great human being and it was a terrible loss.
Yes it was a terrible loss and unexpected. That legacy has however, now been handed down to Andrea Miller and somewhere in this universe we suspect Michael Cunningham is smiling, because he knows that legacy could not be in better hands.
Please visit the website for Andrea Miller.
#AndreaMiller #MichaelCunninghamComposer #CloudNine #LookToTheRainbow #MichaelCunninghamPianist #RivetingRiffsMagazine
This interview by Joe Montague published July 4th, 2019 is protected by copyright © and is the property of Riveting Riffs Magazine All Rights Reserved. All photos are the the property of Andrea Miller unless otherwise indicated and
all are
protected by copyright © All Rights Reserved.
This interview may not be reproduced in print or on the internet or through any other means without the written permission of Riveting Riffs Magazine, All Rights Reserved