Andrea Miller, Jazz singer, by choice, but who measured up well with the best R&B and Pop singers when she delved into those genres earlier in her career, may be one of the best young singers on the music scene today. She has drawn praise from the late Al Jarreau with whom she was booked for an extensive tour, before his passing in 2017 (Editor's note: Al Jarreau passed away, before the tour took place.), from Celine Dion for whom she recorded a demo, as she worked with David Foster, as well as Alan and Marilyn Bergman and from producer, arranger, songwriter and musician Tom Saviano (Dolly Parton, Melissa Manchester (as musical director and arranger), Dusty Springfield, Sheena Easton and others).
Andrea Miller recently released her new album Maybe Today, composed and arranged by Michael Cunningham, an album that they hope to tour with full orchestral support.
She talks about the album, "They are all of Michael Cunningham's arrangements and compositions. It is almost like I am the voice of Michael Cunningham on this particular album. These are his wonderfully orchestrated string arrangements. A lot of his original material is on the album.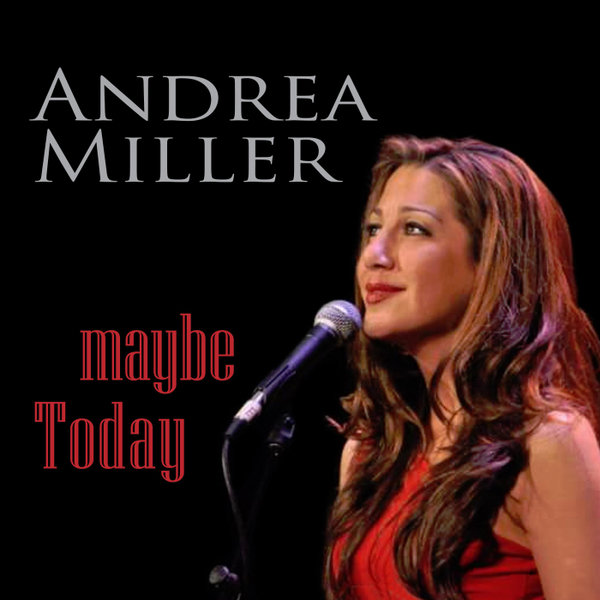 We did some covers, "It's All Right With Me," "The Water Is Wide," and "You Would Be So Nice To Come Home To." He wrote everything else on the album. I love his writing so much and he in turn likes my voice a lot, so we decided to make an album together.
Originally, we met online through Facebook and he asked me to do a couple of songs in a work for hire session work. We both really dug each other's musicality. One thing led to another and it took us about two years to finish the album. It wasn't funded by anything or anybody."
The title track is a love song elegantly performed by both the musicians and Ms. Miller. The strings section comprised of Andreanna Moravec (violin), Emi Tanabe (violin), Jennifer Lowe (violin) and Bill Cernota (cello) and with Michael Cunningham on piano provides a beautiful accompaniment. Andrea Miller's vocals are exquisite which echoes an observation that Tom Saviano made about her singing in general when he said, "Andrea (Miller) has a captivating voice that draws you in, elevating any song she touches and she seems to do it effortlessly!"
Andrea Miller talks about the song, "Maybe Today," "It is (one of Michael's songs) and I love it. It is quite complex melodically. I love a challenge. He is so old school and he writes out the charts by hand on paper with pencil. I was mailed the actual chart with his handwriting on it. That is how I learned the song. He had a rough piano recording of it.
A lot of his compositions are about longing or maybe a relationship that didn't work out. (Many) of his songs are melancholic in a way, both instrumentally and melodically, which is great, because although I am a happy camper I like singing anything sad or that tugs at your heartstrings. I think his compositions are so beautiful and that is why we decided to use (this song) as the title of the album.
Michael does a lot of Classical music as well. He is a great guy and a great musician."
When you listen to Andrea Miller sing "Think It's Gonna Rain Today," there can be no doubt that you are listening to one of the best and most elegant singers of our time. The song is introduced with beautiful strings and Dede Sampaio's percussion. It is a song of longing, the type of song for which Andrea Miller has confessed a fondness. An overcast sky, the threat of rain and changing winds become metaphors for a relationship that seems to be shifting and one that is coming to an end. The storm clouds are on the horizon.
"The song "Think It's Gonna Rain Today," is a gorgeous song. Michael had heard my recording of "Over the Rainbow," on Facebook. He was looking for a singer to demo the song "Think It's Gonna Rain Today." I got the call. I recorded the song with Geoff Gillette who is the sound engineer for the Yellow Jackets. We recorded it at the Entourage Studios in the LA area. That was just a work for hire. Then we did a couple of more songs a couple of months later and we (Michael Cunningham and her) realized we could make this into an album. That was the very first Michael Cunningham piece that I recorded. A couple of work for hire sessions turned into an album. I love the song. It is over too soon. A lot of people say I wish it was longer," she says.
We concur with Andrea Miller and other listeners the song leaves you wanting more, but then perhaps that is what Michael Cunningham was striving for.
As you listen to the songs from Maybe Today Andrea Miller leaves you wanting more as well. When the album comes to an end, despite this being a collection of eleven songs, this writer was thinking please do not tell me it is over already.
Al Jarreau was also impressed when he first heard Ms. Miller sing and he remarked, "As my countdown to stage got smaller and smaller, I started to hear some marvelous music coming from the stage, floating through my dressing room window. Our opening act was a brilliant young singer named Andrea Miller. The whole band was impressed with her song selection, with her bandmates, arrangements, and her Jazz sensibilities."
When asked if she draws upon personal experience to find that connection with a song and that gives an emotive quality to her vocals she replied, "I definitely am that kind of a singer and I have a Bachelor of Fine Arts in Acting. A lot of people don't know about that, because I didn't pursue acting. I ended up pursuing singing. My Bachelor of Fine Arts in Theater is from USC. I draw upon all of my acting training and I literally try to emote and get behind the lyric of the song.
There is a wonderful singer friend of mine named Dee Dee McNeil and about ten years ago we were talking about Jazz and how much I love Jazz, the improvisation, scatting and how you never really play the same thing twice the same way, especially the horn players. The whole point of Jazz is to improvise and not play it the same way twice. She said, do keep in mind however, as a singer you have a responsibility to sing the lyrics. When you are on the stage you have the responsibility of telling the story. Don't ever get too caught up in your riveting riffs (she chuckles) or your interpretation. Don't ever forget about the story. That was a great lesson and I have never forgotten that.
I could honestly sing heart wrenching ballads all night long (She giggles). It is my forté and I just love it, but I do realize there is an audience and so I sing swing tunes and a bossa nova to make an evening of music out of my set wherever I am. I do love ballads the best. I could sing them all night long."
Let's revisit that Al Jarreau quote for a moment and provide some proper context for it.
In 2015 Andrea Miller was doing some online networking with agents and managers in the music industry and one day she received a reply from Bob Zievers who was Al Jarreau's agent.
"He (Bob) asked if he could call me. The next thing I knew I was talking to him and he said I don't know why you haven't been discovered yet and he said I think you would be a great match with Al Jarreau whom I represent. I said oh my gosh you represent Al Jarreau. He said yes, I am going to do anything I can to help you. Keep me advised of what you are doing in your career and with any new music that you have.
I did and it was June when he called me. I was in a grocery store parking lot in my car. He asked what I was doing on October second and if I would like to open for Al Jarreau at the Newport Beach Jazz Festival? I said yes, yes, yes. He booked me again to open for Al a few months later in North Carolina. I was set to open for him on his tour throughout Europe last year (2017) and do two feature duets with him during his set, which would have been the big break that I have never had. Al passed away and none of those gigs ever happened. None of that ever happened (said wistfully). I got to work with him a number of times. I sat beside him (as we drove) and he talked my ear off and gave me some pointers. I got to see him in the hospital, before he passed away. He used to call me Miller Time. He was a sweet, sweet, sweet man. I am so grateful for the opportunity that I had to work with him and to learn from him.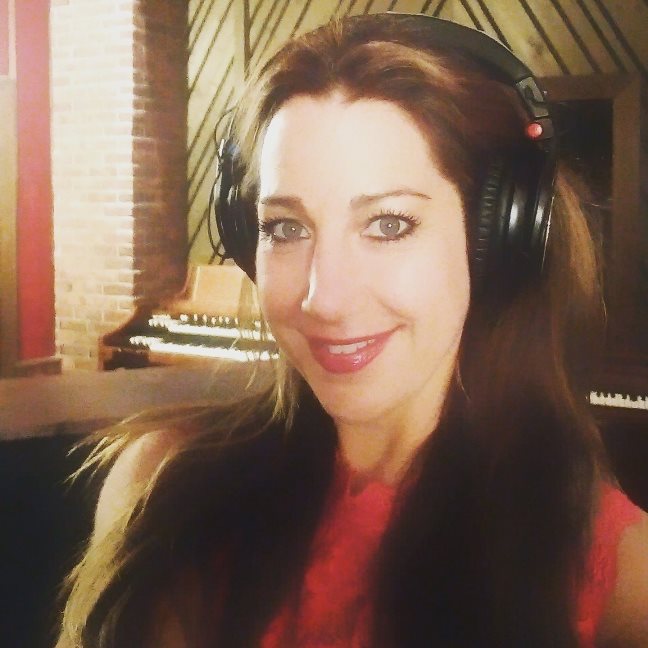 He also had a wonderful core band that had been with him for I think fifteen or seventeen years and they backed me up a couple of times. They were so effortless and they were a well-oiled machine. When you have it like that there is not a lot of preparation (needed). You just go out there and you knock it out of the park, which is what they did. It was cool to watch how it all worked on that level," she recalls.
Two of the songs on Maybe Today, "I'm Afraid the Masquerade is Over," and "I'm a Fool to Want You," were originally recorded on a previous Michael Cunningham album as instrumentals, but after hearing them Andrea Miller asked if she could sing them, so her vocals were substituted for the clarinet. As Ms. Miller says, "There is a clarinet and an Andrea version."
When you are having a conversation with this personable young lady, even as she sat in her car on a very hot day so that she could get a better cell phone signal, it is hard to imagine that she was in her own words "a very, very shy child and so shy that I would cry during my ballet lessons and gymnastic lessons."
The native of Salem, Oregon who now makes Los Angeles her home says, "The only way that I could make it through the lessons was if my mom stayed in the room. I was super, super shy, but for some reason I have been singing since I was five years old and for some reason when I sing, there is safety in it for me. There is a freedom. That sounds strange, because to a lot of people it can be intimidating or it is not a very comfortable feeling. I was so shy that it was like my own little bubble. I would start to sing and I would have a way to express myself. I wasn't nearly as shy when I was singing.
I get lost in the freedom that I feel when I sing. Everything else goes away, whatever problem, concern or stress that I might be feeling it just goes away. Then you add an element of Jazz to that freedom and you are skyrocketing into freedom land. I feel artistically trapped with Pop music. It's fun and I still enjoy singing Pop and R&B, but with Jazz there is more artistic freedom that is accepted and that is why I love singing Jazz so much."
We mentioned earlier that Andrea Miller worked with David Foster, as well as Alan and Marilyn Bergman on a demo ("I Knew I Loved You") for Celine Dion and she recalls how that came about.
"It was so exciting and it was about being in the right place at the right time and knowing the right people. Everything was aligned. You always have to be prepared. Whenever that right time comes you have to be at your best. It is just not luck; you have to be prepared when you are called upon. Ennio Morricone a wonderful Italian composer who wrote all of these movie soundtracks including, The Good, the Bad and the Ugly and Once Upon a Time in America wanted to do an album of his greatest works and with different artists covering the songs. The album is called We All Love Ennio. He wanted Celine Dion to sing the theme for Once Upon a Time in America and it is called "Deborah's Theme," but it was instrumental and it had never had lyrics put to it. He asked Alan and Marilyn Bergman to write the lyrics and meanwhile a friend of mine was somehow brokering the deal of putting this album together. He is friends with Luigi Caiola and he got called upon somehow to contact Celine Dion. She agreed to do the song, but she said she needed to hear it. She said she needed a vocal demo, because the song had never been sung and it didn't have lyrics or a melody.
(My friend) said hey would you like to do a vocal demo for Celine Dion? I said of course. The next thing I know I was at a piano player's house in Northridge and Alan and Marilyn Bergman show up. We had a small writing session. We got a demo version of the song laid out, which we took to David Foster the next week in Malibu when he still had his studio there. He really fine-tuned it and when I recorded it with him, he was playing the keyboard, I was singing and there was one take. There was no cutting or pasting or punching in. Alan and Marilyn were in front of me directing me, as I was singing it. They would say, don't come in yet or come in now. It was interesting, because there was a calm that came over me, as I was going through the process of getting into the song. This is where I am supposed to be, this is why they chose me and this is what I am supposed to do. Everything was fine.
On my way there I thought what are you doing, you are going to be working with David Foster and the Bergmans. This is crazy. They wanted me to do the next version of the demo, which was with a sixty-four piece string orchestra, but my grandma passed away and I needed to go to that funeral," she says.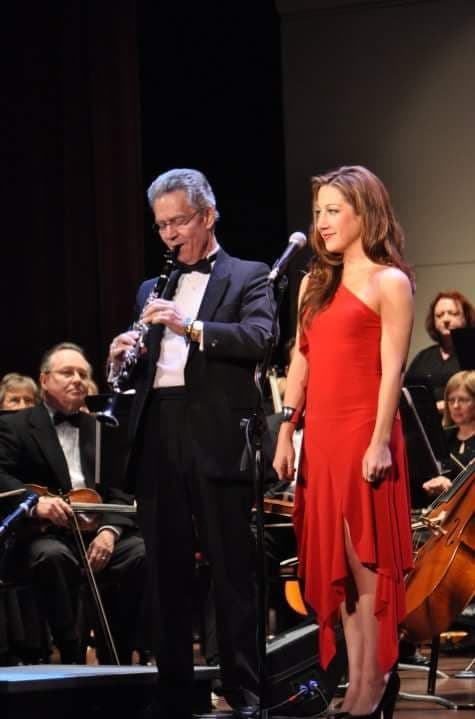 Reflecting upon recording the demo Andrea Miller says, "I was really glad that I was a trained singer in a situation like that, because it wasn't necessarily a difficult song, because it was one that was not on the Classical side, but as a singer I know how to breathe and I know how to sing properly. I was glad for that in the moment. I also learned a lot from watching three greats work (You can hear her reliving the moment with glee). We were brainstorming, with try it like this, try it like this. I would sing however they wanted me to. I remember watching Alan and Marilyn work and how meticulous they were with every single word. They are the greatest lyricists, some might argue, on the planet. I saw why they are, because they have such precision and they take such time, care and thought with each lyric. We did the whole thing in about two hours.
They shipped it off to Celine, so she could hear it. I was able to attend the recording session a week later when she was recording the song. Quincy Jones was directing that session. Afterward, Rene her (late) husband was at the recording session and he found out I was the singer who demoed the song for her, so he told her that. She turned around and she came to where I was sitting on a couch and she kneeled down and she took both of my hands and she thanked me for the demo. I thought Oh My God.
I was in Manilla a few weeks ago at a Celine Dion concert with my friend who had arranged for me to do the demo and he said Celine I don't know if you remember Andrea, she sang the demo for you of "I Knew I Loved You." Celine started singing it again, so we sang it together a little bit backstage, right before she did her soundcheck. That was like a full circle moment."
While growing up in Salem, Oregon Andrea Miller credits her father Joe Miller for cultivating an interest in music and introducing her to Jazz.
"My dad used to play clarinet and saxophone. He studied music and he was a band teacher in Prineville, Oregon for about the first two or three years of my life. He then decided to go into insurance, because he wasn't making enough money as a band teacher to support the two kids. He never gave up playing the horn. He was in the Salem Pops Orchestra.
He would play Errol Garner and Benny Goodman. My very first memory of music was when my father was playing "Raindrops Keep Falling On My Head." Whenever I was alone in the car with my dad he would always bust out whatever he was listening to like Stevie Wonder or Quincy Jones. He just had really good taste. He gave me a great introduction to music and he was very supportive of me singing and following my dream. He was very instrumental, no pun intended, in my musical journey.
I have to wedge in here my brother who is a monstrous, amazing musician. He is Aaron-Andre Miller and he lives in Bend, Oregon. He is a wonderful piano player and he teaches piano in Bend. We are really close. We grew up doing talent shows together. He would play piano and I would sing. It is cool that both my brother and I grew up and became musicians and are making a living doing it. My dad gave up his career to support his family and I feel that we carried it on for him," she says.
As a child and throughout her teenage years Andrea Miller was always doing musical theater. Later when she was accepted into the University of Southern California's Bachelor of Fine Arts program.
"I thought I was going to be an actor singer. The lightbulb went on early that I could sing. After I graduated from college and I got my acting degree I quickly realized I had no interest or passion in just being an actor. There was no singing involved. I didn't have much interest in it. I became so burnt out from musical theater, because I had been doing it for so long. I thought I am not going to be an actor and I am sick of musical theater and I know I like to sing. What would it be like to sing like Andrea? Until I was twenty-three I had always played a character in a musical or something like that, but I never knew what just Andrea Miller sounded like.
That is when the lightbulb went off and I got to discover what kind of singer I was going to be and what it is that I wanted to do. That was a turning point and realizing that it was just going to be my voice and me… and the world (she laughs lightly). I was going to see how far that was going to take me. I did a little bit of Pop and R&B in the beginning and I quickly realized that Jazz fit better and it was more fulfilling to me. I just got so boxed in and bored with singing Pop and R&B, because everybody wants to hear the hook. Even as much as I love singing "Let's Stay Together," by Al Green, you can't really deviate too much from the melody that everybody wants to hear.
As a singer I was getting burned out and bored with all of the different songs that I was singing and then I walked into a Jazz club called The Money Tree in LA. I was artistically searching for what I was going to do next and I when I walked in there was a trio playing. The next week I went back on open mic night and I had brushed up on "'Round Midnight," which is a Thelonious Monk song. It is not the easiest song to sing. A lot of people might expect a beginner singer to do "Autumn Leaves," or "Summertime," or my "Funny Valentine." I signed up and then they called out my name. I asked can I do "Around Midnight," and they said are you sure? I said yes, C Minor. It went really well and I started going there every week on open mic night and really getting my feet wet in the world of Jazz, because I had never sung it before. I realized I had listened to it my whole life, my brother is a Jazz player, my dad is a Jazz player and so I decided to see how this fits and I have never looked back.
We are glad Andrea Miller never looked back and we think somewhere out there Al Jarreau is smiling and saying Miller Time. Riveting Riffs Magazine thinks it is Miller Time. It is Andrea Miller's time to shine. Please visit the website for Andrea Miller and do yourself a favor order a copy of Maybe Today.
Bottom Photo: Andrea Miller with her father Joe Miller
#AndreaMillerSinger #MaybeTodayJazz #MichaelCunninghamComposer #AndreaMillerMaybeToday #RivetingRiffsMagazine
This interview by Joe Montague published August 26th, 2018 is protected by copyright © and is the property of Riveting Riffs Magazine All Rights Reserved. All photos and artwork are the the property of Andrea Miller
unless otherwise noted
and all are
protected by copyright © All Rights Reserved.
This interview may not be reproduced in print or on the internet or through any other means without the written permission of Riveting Riffs Magazine, All Rights Reserved