Jazz Singer and Arranger Andrea Wolper Wonders About Parallel Lives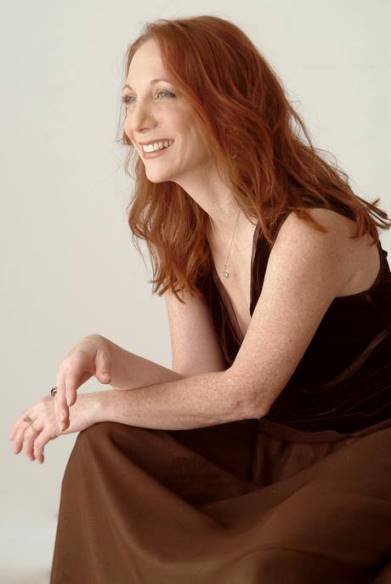 Andrea Wolper, a New York City Jazz singer, composer, lyricist and arranger is and has been many things throughout her lifetime. She authored the book The Actor's City Sourcebook and co-authored Women's Rights, Human Rights: International Feminist Perspectives, with Julie S. Peters. As you may have correctly concluded from the title of the first book, she has been an actress, as well as a poet and an activist. When it comes to Ms. Wolper's music she reminds one of a painter, using her lyrics as a palette and her vocals as brushstrokes that take the listener on a magical and vivid journey through a collection of original songs and tunes that she has covered.
She says, "I think it is one of the dilemmas for some people and maybe not for everybody, but for some people who make what is supposed to be considered a work of art, whether it is a dance or a painting or a song, is we feel it one way, we express it one way and we hear it, but we can't really know how it is going to land on anybody else. The idea of paintings is intriguing to me, because I think as a singer and it applies to musicians of any kind, but I think when you are talking about singers working with lyrics, then it is aplified. It really is a story no matter what you are doing. I have some songs in my repertoire without any lyrics and I also do some free improvising, but there is always a story being communicated, whether we know what it is or not. When there is a lyric, we might be more consciously connected to what that story is, because words communicate so directly. A painting is the painter's communication of thought and feeling. That is what it all comes down to. What I want to do when I'm singing is to sing well and I am always working to try to become a better singer and a better musician. At the same time, it is really important to me to try and express feelings through a song. The more skill that I have as a singer, the more I am able to express (them). When I teach workshops, one of the things that I tell students is, technique is in the service of expression. We need to be able to have good technique and good skills, so we have a wider palette and so we have all of the brushes available to us and all of the colors available to us. Then we can choose which to use."
She goes on to say, "When I started singing Jazz, I started (with) standards. Because I had come more from theater training and that kind of background I felt a little insecure (as the style of singing in theater is different than Jazz). I felt that I had to prove myself as a Jazz singer. I applied myself to that process and I stuck to the repertoire of standards, because I felt that was the repertoire that I needed to be doing, to learn and to grow as a Jazz singer. That was the repertoire that would establish me as a Jazz singer. I spent several years doing that. Over time I started to gain more trust and confidence and I received more feedback from people that I respected and that allowed me to think, okay, yes I'm a Jazz singer. When that started to happen, part of my ongoing evolution was to embrace the reality of a wider musical interest. I wasn't only interested in standards and I didn't come only from a background of singing standards. I loved a lot of different kinds of music. I could hear those different influences expressed in my own singing style. Rather than trying to carve out what some people would say is strictly a Jazz style, I just decided the best thing that I could do was to be myself and so I allowed all of that in. I realize there is a gold mine of material out there to work with, as long as you put your own individual stamp on it. I like to take music that I love or that I like from anywhere that I find it and see if I can make it my own, to make it work in a musical context that moves me, makes sense to me and that inspires me.
One of the things that I find appealing and that is attractive about Jazz is the idea of the individual voice. Jazz people sit around and talk ad nauseam about the difference in sound between this saxophone player and that saxophone player and how quickly they can recognize that person's sound and that person's sound. To me it is one of the really great things about Jazz is the idea that you have an individual sound, no matter what the instrument. You have an individual sound and an individual identity. People with strong, individual musical identities come together to make a fabulous group sound. That is Jazz at its best.
I teach and I get a lot of young students who come with a Pop song, which is fine. It is what they are listening to and in ways that they are not even aware of they are imitating and emulating the artist that they have heard sing it. I started thinking about myself as a teenager and whom I was listening to and what I was singing and I realized I probably did the same thing. When I was in high school I played the role of Adelaide in a production of Guys and Dolls. I learned the part by listening to the record. Of course I tried to sing exactly the way that Vivian Blaine sang the role. So many of the singers my age listened to Joni Mitchell and Carole King and when I was a teenager I tried to sing those songs like they did. I think that it is a pretty unavoidable process. I had to think about this a lot, because when I hear my students do it, I feel some alarm and then I have to think back to my own journey. I am starting to think that it is fairly unavoidable and ideally what happens is you take all of those influences and people that you listen to and unbeknownst to them they become mentors in a way. They mean something to you and you internalize their artistry. Ideally you take that influence and you filter it through your own instrument and your own emotional life and it comes out as something unique. I think that some people are able to find that more than others. That's the main thing, to let those influences in, because that is a lot of how we learn. Ultimately, you learn to find your own sound and your own style. I guess I shouldn't say that, because some people find their own sound early on, but for some it takes longer."
Reflecting upon the release of her self-titled album in 1998, a full length recording, originally only intended as a demo, she says, "I don't mean to diminish the importance of it to me at the time. I just felt it was in a very early period of when I was finding my own voice. I think some people come out of the gate with a style and an identity and I think for me it took a little longer. I'm a Capricorn, so we are supposed to be late bloomers."
By the time Andrea Wolper was ready to record her current album Parallel Lives, released in 2011, she had long since discovered her own voice. She made ample use of the colors available to her with her original song "The Girls In Their Dresses," as we see a New York City night through her eyes. More importantly, we feel what she feels, as she revisits her own youthful days, prompted by the scene she saw unfolding outside a nightclub.
"I had done a gig in Manhattan and we were driving home to Brooklyn. My husband was driving and it was a summer night. We passed by some bar or club and I remember looking out the window and seeing all the young people standing out there on a summer night in New York City. I guess that harkens back to the title (of the album) Parallel Lives and remembering (what I was like) at that age. A couple of decades had now gone by and I saw the young people standing out there and they were the age I was (back then). They were filled with possibilities," she recalls.
"Maple Sugar Boy," borrowed from Canadian singer-songwriter Buffy Sainte-Marie is the seventh song on Parallel Lives and it is introduced by a gentle piano accompaniment courtesy of Kris Davis, while Ms. Wolper coos reflectively, as she becomes the "sad little girl," in the song. Her voice is filled with longing and fond memories, while recalling the moment she shared a kiss with the "Maple Sugar Boy."
Andrea Wolper talks about the song, "I can't remember how it came to me. I had not heard it before. I knew Buffy Sainte-Marie, but I didn't know all of her music, I knew some of her music. I didn't know this song. In the months or weeks before we recorded Parallel Lives, this chart came to me. It is not really clear to me, why or how, but someone had written out this chart by hand. I fell in love with it. As with "Crazy Love," (the Van Morrison song from her album Small Hours) I decided I have to do this, so I wrote out a simple little arrangement that I tried with a few different instrumentations, and it evolved into the piano duo with Kris Davis. I think what I love about it is, it is such a simple little story. Girl meets boy, boy breaks girl's heart. That's it. That's the tory. It is simply told, yet somehow for me it is very powerfully told."
Ms. Wolper compares Parallel Lives to one of her earlier albums The Small Hours, released in 2010 (she also released a self-titled album in 1998), "Small Hours has a vibe to it and I think it is a moody collection with more ballads. I am proud of it, I think it's good and it got really good reviews. When you put a CD out it should also help you get more bookings and it did, but at the same time there were some people who responded to it and who said you know it is not a swinging album. There is not a lot of up-tempo stuff on it. I realized for some people a Jazz singer has to have a lot of up-tempo stuff. The reality is, I do a lot of different kinds of music and I wanted to do something for Parallel Lives that really represented the varied repertoire that I do and that draws from a number of sources. For me, being a Jazz singer means having a varied repertoire and not limiting myself to any kind of a narrow idea of what it means to be a Jazz singer."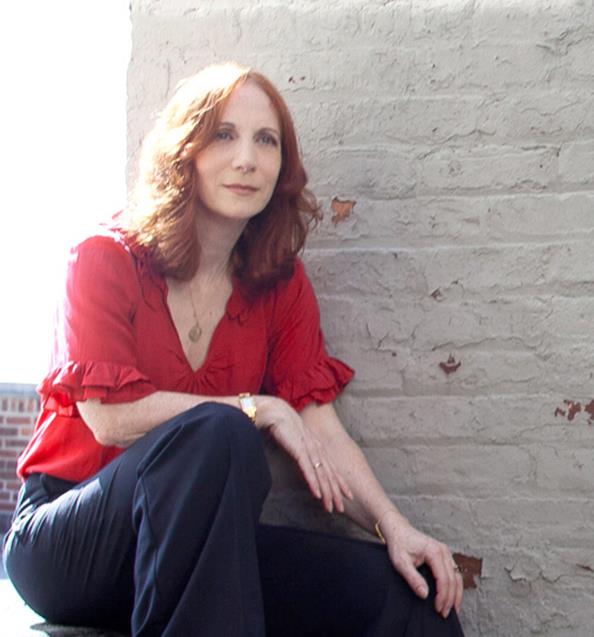 About Parallel Lives, she says, "It doesn't capture absolutely everything, but it captures, as people like to say, a moment in the artist's life. I was being reflective about the roads my own life has taken. After being a writer and after being an activist I don't seem to be able to do just one thing, which I guess is fine. I think sometimes we look at how other people look from the outside and we think oh, are they doing it better than I am? Are they doing it smarter than I am? I just tend to get a little bit obsessed with those what ifs? What if when I moved to The Village, if I had taken that apartment on the East Side that I was also looking at. How would my life have played out? What if I had crossed the street then from that corner instead of that corner? How would my life be different? I just tend to think about that stuff and I get a little obsessed by it (she laughs lightly). I think it partly came from that as well. I have a little bit of that Sliding Doors (the 1998 movie) obsession."
Andrea Wolper is also not afraid to take risks as an artist. The song "Skylark," which appears on Parallel Lives has been recorded by several iconic singers over several decades and often when an artist covers such a tune, they are subjected to merciless comparisons by critics and music fans alike.
"Oh ya' I love that song and for me that is one of the best of the standards. I think that is as close to perfection (she laughs), despite what I said about perfection being uninteresting, it is a merging of melody, harmony, lyrics, as can be. I just love it. I love singing it and I decided to record it knowing that it is one of those songs about which it can be said, it's been done, it's been done, it's been done, by people far better and far more famous than (me). I decided to go ahead and record it, because I love it. If nothing else, it was just for me. When it came to making the final decisions about the album, the sequencing and deciding on the order of the tracks at different points along the way, there were two songs I seriously considered taking off and that was one of them and for that very reason. It is an iconic song that has been recorded by iconic singers. Is this special enough? I didn't really do an arrangement. It is a simple, pretty straightforward version. I didn't re-harmonize it or do anything interesting to it. Was this special enough to keep it on? I asked my husband, Ken Filiano who has also been the bass player on my last two CDs, because he knows the music pretty intimately. I said, I think maybe I should take this off. He said no, it has a place, keep it on. I just had to trust him, because I really wasn't sure and that is what happened. I kept it on and it ended up getting the second most airplay of anything on the CD."
The seeds for music were sown very early in Andrea Wolper's life, although it took many years for them to completely blossom.
"My parents had a stereo and records and I grew up listening to what they listened to, because that's how it works usually. The popular singers that they were interested in, which I guess now would be called classic Pop, were singers like, Barbra Streisand, Nancy Wilson and Frank Sinatra. (There was) some Jazz as well. As I became a little person in my own right, I was listening to Rock 'n' Roll, Folk and Soul music and things more from my generation. My parents also had Broadway musical records, so I was also hearing a lot of the songs that would end up becoming Jazz standards, but in that original context."
Her parents also left her with some lifelong impressions about how to live her life, "Neither one of my parents ever said you have to share what you have, you have to be generous. I just saw by example and by how I grew up. As you lived your life you also gave to others. I was sent to Sunday School and each week you brought a quarter to put into the charity box or as you got a little older, a little more money. It was just a regular part of life to share."
As far as going to college, "It was a given in my family that…I have one sister who is a few years older than I am and it was just a given that we would go to college. It was like I was saying about participating in the world, giving to others and also having an awareness of the wider world and not just our own private world. It was a given. It was understood that we would be going to college. I went to the University of California Davis and then I transferred to the University of California Berkeley, where I was a theater major, but I left after three years."
It was however, while at college that Andrea Wolper's interest in Jazz once again began to take hold. A couple of borrowed records from her parents' collection when she went away to college further piqued her interest in Jazz. The records were Ella Fitzgerald Sings the Cole Porter Songbook and the album Getz/Gilberto, featuring Stan Getz, João Gilberto and Carlos Jobim (the album won four Grammy Awards in 1965, including Record of the Year). Although, borrowed from her parents, she confesses, seems somewhat inaccurate, as the records never did find their way back into her mother and father's collection.
"There seems to always be a story when you talk to musicians about the records they listened to until they wore them out. They are still playable, but I wore myself out. I had to stop listening to those records for about ten years, because I had listened to them pretty well non-stop.
I don't remember how I went from high school to that particular interest. It was there and it must have snuck up on me somehow. I do remember when I was in college I was listening to those records all of the time. I started listening to Anita O'Day. I was listening to this and my interest was getting activated, but I wasn't doing anything about it. I wasn't pursuing it at all, because I was still on the path of theater. I wasn't trying to sing Jazz, I just loved it. I remember going to hear Anita O'Day and some other concerts. I don't know, I think I saw it as a fantasy and not as something that I could actually do," Andrea Wolper recalls.
After leaving college in California, "I went overseas and travelled around for a year, before I came back and I had this desire to move to New York. I didn't really know what it was about or why. It was again, just something that was there. I noticed a year before I moved, every week somebody would say to me, 'Are you from New York?' (she laughs) I don't know where that was coming from, but it felt like some kind of message, this is what you are supposed to do. I moved to New York and I went to the Neighborhood Playhouse, which is a very old and established theater school. I spent a year there and then I did what actors do, auditioned and worked occasionally, waited on tables, typed and did whatever I could do to make a living, while pursuing the love of acting.
I lived in Greenwich Village for four years. That was in the mid-eighties and it was pretty cool. Where I lived has changed so much. I lived on the far west and the north part of the village near what was always the meat market area, but now it is filled with designer clothing, showrooms, boutiques and very high end restaurants. It was just a different world then. There were a lot of transvestite prostitutes walking around. It was the eighties and it was a whole other scene. (she laughs) It was really something, but it was great. I was just living my life and enjoying being there. I wasn't very much into eighties music though. Most of eighties music kind of passed me by. I really didn't dig it very much," says Ms. Wolper.
"I was a college dropout for many years and then I went back to school when I was in New York. I enrolled at Empire State College, which is part of the state of New York's university system, but you can design your own program. It is often attended by people who are already in careers and who need to make a degree fit within the reality of their lives.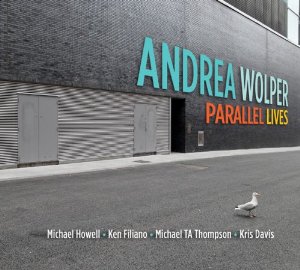 At that point I had left acting and I was starting to explore singing Jazz, but I had already been doing a lot of freelance writing and a lot of activism.
Another of Andrea Wolper's albums that is well worth checking out is The Small Hours, which was released in 2005. The album is a collection of twelve songs, nine of which were composed by others and three original songs by Andrea Wolper. The album opens with Ms. Wolper's outstanding vocal rendition of Lorenz Hart and Richard Rodgers' "Dancing On The Ceiling," and she is accompanied by Ron Affif's elegant guitar and Ken Filiano's upright bass. Todd Barkan was at the helm, as the producer for this record and the sound is exquisite and well balanced, with lots of texture.
"I was thinking about it several years before (2005) and the process of getting it made and getting it out, took a couple of years. I started working on it about 2003 or 2004. The groups that I had been working with had been evolving and at that point I had been working primarily in a trio situation with guitarist Ron Affif and bassist Ken Filiano. We had been doing a lot of gigs together for a while. We developed a nice chemistry and interaction, (as well as), getting to know the material and each other. I wanted The Small Hours to be based around that trio and the work that we had been doing. I also started to write some songs at that point. We had Victor Lewis on drums in the first session and I asked Frank London to play trumpet and flugelhorn on a couple of tunes. The second session was the trio plus Jamey Haddad on drums. I think even those musicians who had not been playing with us fit in really seamlessly and beautifully. One of the things that I value about Jazz is you have people with strong musical identities of their own and they can come together to make something new, that sounds very complete and with people that they haven't played with before. We had these wonderful guest artists and then we had this trio of Ron and Ken and I who had been working together for a long time and we had a sound. That is pretty much what it is about," she says.
Other highlights from The Small Hours include, Blossom Dearie's meandering ballad, "I Like You, You're Nice," and Andrea Wolper's soulful rendition of Van Morrison's "Crazy Love."
Talking about the Van Morrison tune, Andrea Wolper says, "It is funny, that is not a song that we had been doing and one day I had the TV on and I heard somebody's cover of it, not even the whole thing, I had heard a bit of it. Somehow it just grabbed me. I went and started writing an arrangement of it. We had a rehearsal, I think before the first recording session and I said guys, I just wrote this chart, can we try? We tried it and it stuck and that's what happened (she laughs lightly).
Andrea Wolper is a talented artist in so many ways and in so many art forms. She possesses the extraordinary gift of being able to draw the listener into her world, so they can experience her feelings, to see what she sees and to hear what she hears when the music starts to play. Long after the song is over, whether it is one of her original songs or one that she has lent her voice to, you are still left in awe of what you just experienced.
Please visit the Andrea Wolper website where you can also listen to some of her music. You can also visit Andrea Wolper's official Facebook page.
All text protected by copyright and is the property of Riveting Riffs Magazine © All Rights Reserved. Photos are courtesy of Andrea Wolper and they are protected by copyright ©, All Rights Reserved
This interview, published February 5, 2014 by Joe Montague is protected by copyright © and may not be reproduced in print or on the internet or through any other means without the written permission of Riveting Riffs Magazine, All Rights Reserved