Angela Parrish A Small Town Girl Is A Hit In The Big City!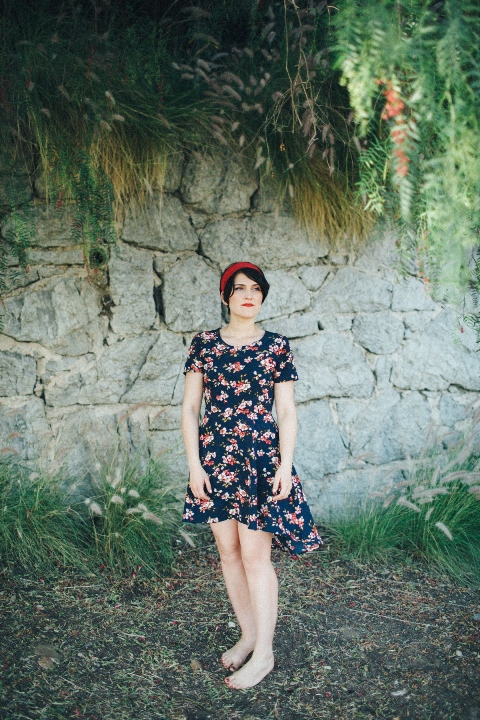 The first thing you notice about Los Angeles based, Kansas born and raised, singer-songwriter-musician Angela Parrish is her vocals. Her vocals to the casual listener sound effortless as she masters Jazz, Americana and lighter Pop songs, but to the trained ear, one realizes right away that this is an artist who has invested a lot of time in honing her craft. The second thing that jumps out at you as you listen to songs such as, "Higher," "The Couple Down The Hall," "Hand Me Down," and "Noon In Denver," is Angela Parrish is a skilled songwriter. In the autumn of 2015 Parrish will be releasing a new EP and she collaborated with producer Jamie Candiloro who has worked with artists such as Courtney Love and R.E.M. and who regularly composes and produces for television and film.
Life began for Angela Parrish in the small town of Newton, Kansas and she has one sibbling, a younger sister Abbey.
She says, "Newton is a small town and it has a small town feel and I like everything about that.
I come from a family of music appreciators. They participated in choirs or lessons growing up, but I am the only professional musician in my family. I am the only one in my family, who went into it, but everyone in my family is supportive and they have a strong appreciation for music.
My parents had me late in life. They were in their mid-forties when I was born and the music of their generation was always playing. There was Carole King and a lot of James Taylor, hits from the sixties, Rock from the seventies, Linda Ronstadt, Peter, Paul and Mary and a lot of folk. My dad listens to a lot of traditional Country artists such as Kenny Rogers, the Oak Ridge Boys and good groups with harmony.
My musical path has been really twisty. I had a longer path finding my voice as an artist and writer, but I wouldn't trade it, as I have had so many wonderful influences. I have tried so many different things and been exposed to so many different sounds. I went to college for Jazz piano and at one point I thought I might go in that direction and then more of a straight ahead Jazz artist, but I wound up as a songwriter. I discovered this part of me that was influenced by Folk, Country and Americana music and what I listened to as a child. It has helped me to come full circle. It is absolutely true for me that way."
Angela Parrish's parents inspired her in another way. Her song, "The Couple Down The Hall," is both a beautiful love letter and a tribute to her parents' relationship.
"I was sitting around and it kind of dawned on me that I wanted the kind of love my parents have. I used to make fun of them for being so lovey dovey, but and as I get older I realize that is exactly what I want. I want a guy who will treat me like my dad treats my mom and I have that with my boyfriend Dave. He is wonderful. Sometimes you seek out your example of what strong love is and my parents this year will have been married (she pauses to count) forty-seven years. They got married in 1968. My dad has Parkinson's disease, but he has a great attitude about it and we get through it together as a family. My mom has gone through some heart surgery and they have been there for each other through everything for nearly fifty years. It is really incredible."
The song, "The Couple Down The Hall," also demonstrates Angela Parrish's ability as a lyricist to create vivid word pictures, while infusing those same words with heartfelt tenderness.
Music began at an early age for Parrish, as she started with piano lessons when she was seven years old, studied the viola at age nine (she still plays) and then she sang in a community children's chorus from age nine to thirteen. The chorus was directed by Norma Preheim, the same person who was her elementary school music teacher.
Angela Parrish has fond memories of those days, "It was incredible. We would go and tour other mid-western states and we would do festivals. We met once a week, every week for the whole school year. We sang in four-part harmony. My mom had said, you should audtion for this. I did and I loved it, but I think it was a much bigger part of making me who I am than I realized at the time. I know it gave me a strong ear. I started when I was so little and I was singing with other kids that were elementary and middle school age. It was a ton of fun. It was a blast. It was hard work, but we had such a good time and the concerts were great. They were so moving. Newton, Kansas is a pretty incredible community. Six of the people that I graduated from high school with are professional musicians. Newton is a town of 18,000 people so it is (amazing) the number of musicians that it has turned out."
These days Angela Parrish has expanded her strings repetoire to include the violin and she is learning the guitar, to aid her as a songwriter.
Parrish remained in Kansas for the first part of her university education, attending Whichita State University where she obtained degrees in special music education and Jazz piano and performance. She then moved to the University of Northern Colorado where received a Master degree of Jazz piano.
She says about her experience at the University of Northern Colorado, "It was probably the best decision that I have ever made was to attend there. That is why I am here in Los Angeles. I wouldn't be here if I hadn't gone there. The people who run that school are amazing.
I wouldn't be able to (have) the career that I have in LA without being taught that discipline (through education). When I was in graduate school that was all I did. It was all you could do. I was a teacher's assistant and I helped run the Jazz festival there. There wasn't time (for anything else), but that and being immersed in music, something that I love is like food for me. I am not a very well rounded person and people say that you need balance to lead a happy life. All I do is work on my career and it is all that I want. I can't think of anything else. Music is hard and sometimes I go gosh what else would I do? There are things I could do and things that I like, but there is no other option than music. It is like eating and it is like sustenance. It is the best thing in the world."
Parrish offers up an interesting perspective of growing up in a small mid-west town and the experiences that have followed, "Newton is a small town and it has a small town feel and I like everything about that. It took leaving home for me to appreciate all of the great things that a small town has to offer. There are kind people and everything is pretty much face value. What you see is what you get. People are warm and they are helpful and really supportive of one another. It is a typical mid-western town in every way."
While Parrish's move to Los Angeles was influenced by musicians she met along the way, it was an epiphany of sorts that really got the ball rolling.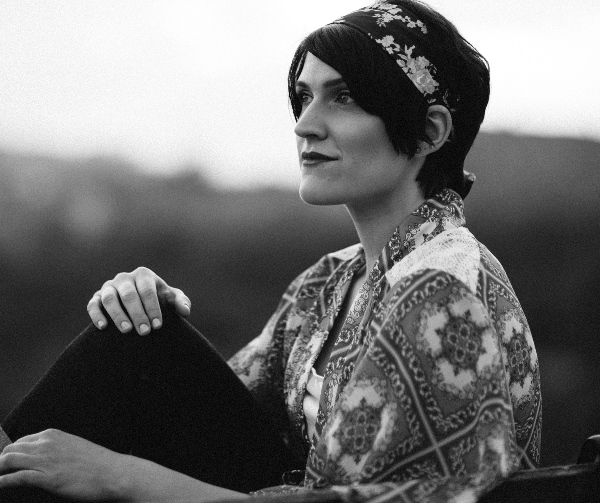 She elaborates, "I always wanted to live somewhere warm and one day I woke up in Colorado when it was negative forty in the morning. I was like uggh I have to move somewhere warm (she laughs). It was so cold. At the time I thought my style suited Los Angeles more than New York and I never really considered New York very seriously. I knew more people out here and I knew more musicians. I always wanted to live here and I just felt like it called to me. I only had seven hundred dollars and I just went. I lived in my car for a while. It's warm here so you can and I slept on some friends' couches, so I couch hopped. I alternated (between couches and the car), but I didn't have to do it for very long. My gosh, what have you got to lose?"
There has been a change in Angela Parrish's musical direction in the past year or so.
"I would say my style is best described as Americana or alternative Country. I am somewhere in that wheelhouse. I sometimes feel it is hard to categorize what I do, because I have different influences. It doesn't sound like straightup Bluegrass and it doesn't sound like straight Country, but Americana is probably the best label for it," she says.
The ballad "Hand Me Down," is a moving song and it is not a fable, because there are a lot of people out there who have had difficult lives and some of them have happy endings, but not all of them. Parrish is blessed with beautiful vocals that invite the listener to sing along and we are pretty sure that is just what people do when they hear her sing this song.
"I have an EP that is coming out in the fall and I have some really exciting things that I am working on with that and in the meantime I wanted to offer fans and friends just a little taste of the direction that I am going in. I took a few of my favorite tunes that I have played out and that I have done with other musicians and that didn't wind up on my record this time around. I played some really great demos with a guy named Ben Burget and some of my band members. I made some new recordings, just to give people some taste of the direction that I am going in. I may record them on an album at some point, but they are just demos now.
"Hand-Me-Down," is a tune that I wrote about a girl whose entire life is "used goods." She feels hopeless and used-up herself, but finds the courage to turn her situation around after being inspired by her first new love. I created the song character based on the title, but I really wrote it as an ode to the moment someone else shows you how to love yourself and believe in yourself for the first time."
One song that is on her new EP is "Fire Walker," and she says, "I have a video of it that I did for NPR. "Fire Walker," is about finding your worth and about your ability to trust people. I don't know why the world works the way it does, but sometimes people have an unfair share of difficulty. Sometimes they are the happiest and most fulfilled and most amazing human beings on the planet. Their beauty is in their strength and in their incredible attitude. I wrote Fire Walker for my friends and family members who are like that. They are just tough as nails and I want to be like that and I want to be that kind of person. I want to be a Fire Walker and I guess it is a wish that I can be a Fire Walker too."
About her new EP, Angela Parrish says, "I wrote all of the songs myself, with the exception of a song called "Second Hand Love," which I co-wrote with Tom Rizzo. He is a guitarist here in LA and he was in the Tonight Show band, for a while and he wrote the music for In Living Color. I received a lot of mentoring from Mark Winkler (with) my songwriting (Editor's note: Mark Winker is an award winning lyricist and singer has had more than 200 of his songs recorded and performed by artists such as, Liza Minnelli, Dianne Reeves, Dee Dee Bridgewater and Claire Martin. He has also collaborated with Dexter Gordon, Wayne Shorter and David Benoit). Mark is probably the reason I came full circle as a writer, because I remembered that part of me that just came from home and that I hadn't accessed for a while. It is my true self as an artist. If anybody in LA wants to learn about songwriting, they should just go to Mark. He's the best."
Angela Parrish is for the most part at the beginning of her career as an artist and it is very obvious that she embraces that and all that potentially awaits her.
She says, "I feel that everyday I learn something new being in LA. I feel so green all of the time and everyday feels like a revelation. (I have learned) there is room at the table for everybody, for every artist. I spent so many years of my musical development trying to sound like other people or trying to be the next blankety blank or somebody else. I felt really infererior for a long time, because I wasn't somebody else. There is a place at the table for me, what I have to offer and who I am. The only way to have a career like the people that you idolize is to fully accept and embrace who you are and that there is room for you. There is so much fear, and mistrust, negativity and competition sometimes among people who are trying to come up together. I think it can create this tentative, emotional and uncomfortable kind of setting. I struggle with that, because I want everybody to work together and to love each other and to be successful together. There is room for you, because you are a unique artist and that is the only way it works. You don't even have to worry about if somebody says that you don't sound like Diana Krall or Ray Charles and you just sound like you and you don't worry about what everyone else sounds like. You just must be your pure self and that is your meal ticket.
All the rules in the world are just made up. Some dude just made them up, so if you are good to others and you do good, why can't you make your own rules?"
Let's hope that Angela Parrish keeps making up her own rules, keeps bending existing rules and keeps pushing the envelope, because as Mark Winkler said about her recently, "the sky is the limit."
Oh and if you happen to see a young woman sticking googly eyes on a ketchup bottle in a restaurant or on a bag of potato chips or who knows maybe even on a toothbrush in a pharmacy, take a closer look, because it just might be Angela Parrish, enjoying one of the things she likes to do for fun.
Please visit the Angela Parrish website. Return to our Front Page
This interview by Joe Montague published May 5th, 2015 is protected by copyright and is the property of Riveting Riffs Magazine © All Rights Reserved. All Photos courtesy of Angela Parrish and are
protected by copyright ©, All Rights Reserved
This interview may not be reproduced in print or on the internet or through any other means without the written permission of Riveting Riffs Magazine, All Rights Reserved