Ann Claire is a Honkytonk Princess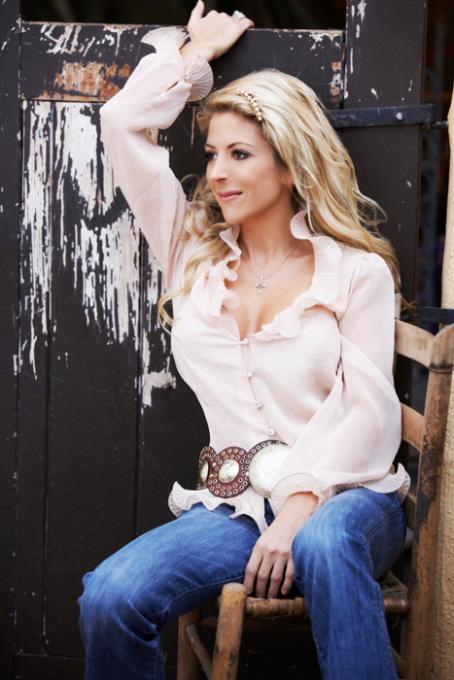 Ann Claire is a terrific Country Music singer and songwriter whose songs such as "Better Girl," which she wrote with Greg Crowe, are sung with an earthiness and straight from her heart.
"Greg Crowe is a great friend and he has had numerous hits including a # 1 with Montgomery Gentry, called "The House On the Corner of Lonely and Gone" (co-written with Dave Gibson and Bill McCorvey). Greg is from Mississippi and was one of my first friends in Nashville. He is someone who took me under his wing. He has been a tremendous friend and support to me for many years. I wrote "Better Girl," also with another guy, Chris Caminiti, who won the NSAI songwriter of the year contest. Usually, I just write a song and it just comes from me then I take it to Travis Howard (producer, songwriting collaborator and singer). It is usually half me and half him, but this song was different. I sat around and talked to both of them about what I was trying to say and we just talked around the subject for a long time, which is how the process sometimes goes, if you are lucky.
They asked me what I wanted to say, because I came up with "six o'clock in the morning." It is all true. I was living in L.A. and I had a boyfriend who was from Dallas. I loved him a lot. He is a dear friend, but it didn't work out. I loved him very much and he is a wonderful person, but it just did not work out for me. This is what happened. We were living together and he took me to the airport for an early flight to Nashville. It was six o'clock in the morning and I remember he gave the porter who took my luggage, ten dollars and I just thought it was the sweetest thing ever. I don't know why, it really touched my heart and I thought, not that I wouldn't do it, but he did it in a way that wasn't like my father would do it, like this is ten bucks. He did it in a way, as in take care of this woman. I was sitting on the plane and I thought, I had just been through so much and at the time I thought, love makes us better. You see things in people that make you better and I thought this is something that is going to make me better for the rest of my life, knowing him, seeing the generosity and the goodness and the ethics of this person and feeling loved. I really truly believe that true love is stronger than both of us or all of us and (I believe in) it might work this time. That is an attitude that we all have to have in relationships, it might even work this time. I think that we are always freefalling and we don't have a net. We always need to (make sure) we don't have regrets.
The thought behind the song is, I am just a better person for you. Because of you, I'm better. That is true today and I feel that is true about everybody that I have loved. I think that it is true about everybody that you love, not just romantically, but in general, people that you know as friends, people that you work with or whatever, they make you better and this is what relationships are about. I love the song. I love the chorus. I love singing it and it is so positive to me. It is such a joyful song. I love having joy in my work and spreading that joy. When I sing "Better Girl," live people really get a kick out of it and women especially.
Ann Claire's journey to a career in music and television, began long before she was born, when her grandmother, who was born into a Persian royal family, eloped with a musician and eventually settled in southern California during the 1930s.
"My grandmother was a rebel, very much like me. She fell in love with a musician, my grandfather, and a person from a very different background. It seemed like the wise thing to do was to go somewhere else and to make a new life. Because of that my father, my aunt and my uncle were all born in California and my grandparents got to know actors, actresses, singers and songwriters from the golden age of Hollywood and from the golden age of music, everybody from Loretta Young (Academy Award for Best Actress in the 1947 film The Farmer's Daughter) who was my father's godmother. I always called her Auntie Loretta, as in my great-aunt. I still cherish all of the presents she gave me. I am Catholic, so she was there for my confirmation and she gave me all sorts of beautiful presents and I should probably frame. There were many other artists, Glen Campbell, Kenny Rogers, Hermes Pan who was (the choreographer and collaborated) for and with Fred Astaire, Ginger Rogers, Bing Crosby and a huge amount of other artists and writers of that genre and of that time. I guess the late seventies, eighties and early nineties. My first memory is of my father playing Helen Reddy (Pop), Dolly Parton and Kenny Rogers and that is what I knew.
My father is a very, very gifted pianist and composer. He is Classically trained, but he has written Pop and he writes mainly R&B now. He was trained by Geoffrey Saba who is a very famous Australian concert pianist. Music was in him, because of my grandfather, his dad, the person that my grandmother ran away with. He would make a lot of mixed tapes of Country Music for all of us girls and cousins. Every summer he would play mainly Country, but a little bit of Michael Jackson with Phil Collins mixed in, Earth, Wind & Fire, some great R&B acts. That was my education in music and he was the person who first taught me piano and who taught me about the structure of the commercial song and he had my sisters and me writing songs for him in his home studio. My dad was friends with Stewart Copeland (drummer and backing vocalist) of The Police. He was very much into the Brit Pop and Rock thing in the eighties and nineties, but he always had more of a Country vibe and he was always more lyrically oriented. He tried to teach us about saying something meaningful and even when I was a very small child. He would play for me a song like Helen Reddy "I Am Woman," or whatever it was and he would tape me singing it back and he would talk to me about the story and about what everything meant. Neil Diamond as well was a big influence on us. Dolly was a big influence and we would talk for hours about "Coat of Many Colors," or what it all meant and so the idea of songs being stories was ingrained in me since I was born. When I started writing songs I just couldn't even understand a song without a story. My dad was very concerned that we understood the meaning of the story. It was fascinating and he also gave each one of us the chance to hear our own voices, not only with singing, but with our lives today. I think of my father and the joy that it has brought to my life and I really feel that I have a right to express myself and that is because of him," says Ann Claire.
Ann Claire has moved grown men to tears with her song "Good Enough," a ballad about the relationship between a father and his son. It is about learning to say I love you to your son and about letting him know how proud of him you are. The song is more than just a story, "This song is my favorite song that I have ever written in my life. If I die today "Good Enough," will be what I leave to this world. I would be happy if more people would hear that. It has touched so many people and it has touched so many men that I know. Travis and I talked for many years about his father who was always putting him down and he was not supportive of his music. It has been something that, knowing him the way that I do, I know it left him with wounds and while we were making the record I thought about it and it is really difficult to explain, because you have a personal relationship with someone and it bleeds into the work. One day I thought about my mother and she is a person who speaks eight or nine languages, she has a degree from Oxford University and she is a critical thinker. She is not in the realm of Country or Folk and she is not a creative writer. Whenever she heard anything that I wrote, whether it was poetry or music she would pick it apart and that was my thing to go to as a child when I was not feeling great or when I was trying to express myself, so that was a wound for me that really resonated. Originally I had written a song about being good enough for your parents. The first verse was about a young man who wasn't good enough for his dad and the second verse was about a young woman who wasn't good enough for her mom. I took the song to Travis on a Tuesday afternoon and I was wearing a nightie from Walmart, no makeup and I was hung-over quite frankly (she laughs). I called him and I said, I am ready to write this. I am warning you, I am wearing a nightie from Walmart, I have no makeup on and I am hung-over. He said perfect, come on over! I went over there and I lay down on the couch, while he listened to the little demo that I had written. He got out his guitar and we just wrote the song. (she starts to sing) 'You need to know I love you,' that was me, because he was very, very resistant to that. He wanted to say something like, he wanted to something, something, something and I said no Travis, it is 'You need to know I love you.' He was very resistant and I think it is because it is still a wound that resonated in some way with him. I said that's it, A it rhymes and B it's truth. He was okay fine and we did that. We wrote the first verse and the chorus and I said what about the second part of the story, this guy grows up and what does he do? He said go home and write the second verse, so I did. I went home and I wrote about how he walked into the house where he grew up and he saw all of the toys and the little fire truck and the cycle went on and he looked at his own son and he said it is time for me to change and I am not going to let this go on anymore. I am going to break this and I am not going to be this person who is a hateful person that doesn't have the courage to tell the truth and to be kind. I sent it to him and he was like, well you did it, good job (she laughs). It just turned out to be a marvelous song and we are both very proud of it.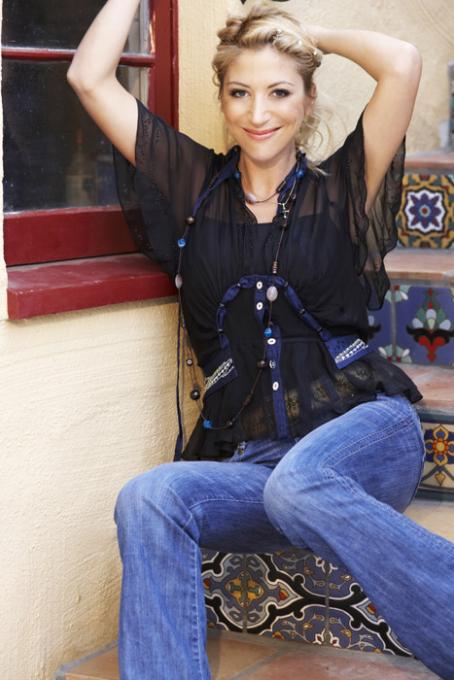 We are planning to write some more in the next few months and I don't know if the no makeup Walmart nightie thing will (happen again), but Travis is such a down to earth person that he definitely feels more comfortable with people being themselves," she says.
Earlier in her career Ann Claire twice turned down record deals and once a television program that would have gained her considerable notoriety and made her very financially secure, but as she says, "but it wasn't what I felt would take me to where I needed to be."
For a while, when she was younger, it did not appear that Ann Claire was destined for a career in music, as she was accepted to Yale University's drama program and neither of her parents was supportive of her pursuing a career in the entertainment industry. Her father had seen enough people he knew in the arts who struggled and had their hearts broken and he did not want to see the same thing happen to his daughter.
"My grandparents were living in Southern California and I was accepted to the film program (at the University of Southern California). I love film and I am very, very grateful that I was able to get a liberal arts education through the lens of film and through the history of film, which I think pretty much is the history of the world. I have a minor in sociology, which taught me so much about women's studies and which has helped in me in life. Everybody who was in that program had to volunteer and to get involved in the community. I was teaching in the joint education program in south central (Los Angeles). I got to teach drama in very low income, disadvantaged neighborhoods and that exposed me to people that I would never have met or have known if it had not been for that. I am very grateful for my education. I graduated with (honors) and I was on the dean's list. I was in the theatre program before I switched. My minor was in theatre and I switched to sociology. I think I was just curious about the world at that age. I wrote a play that got an A Plus and it was produced at school. That was great and it confirmed that I have an ear for dialogue and art and in knowing that I went ahead with getting an education. I went up to San Francisco and I studied at the American Conservatory of Theatre, which also involved singing and fencing and other kinds of things to develop on stage confidence and voice. It was a tremendous experience for me. I really credit that program for giving me the confidence to do what I do today," says Ann Claire.
The current album Honkytonk Princess took a long time to finally arrive on the music scene. "Yes it was very long and arduous and I definitely pissed a lot of people off, because I pulled a Barbra Streisand on that. She (Streisand) said in this interview before there was auto tune and all of this, if I didn't like one note on a record, I just wouldn't put it out. That is how I felt and it wasn't ego for me, I just wanted to give the best to the people who had supported me. The first iteration of this record it was Travis who produced it and he is an amazing writer and a great support. He is a really talented creative producer. Maybe I simply wasn't up to the job at that time or maybe I had confidence issues. I brought in another producer who is very close to me and like a brother to me, Max Abrams. He is a Princeton graduate from a very different background. He has been in The MuzikMafia and he still works for John Rich (Big & Rich). He is a very gentle soul who really coached me along in another kind of a way and so what I got from the mixture of Travis and Max was the beauty of the songs that I wrote with Travis and the confidence to sing them like I meant what I was saying. Yes, it took much, much longer than it should have and I have gotten a lot of flak from people. The record came out in February (2012) and according to everybody that I know, I should have already put out another record.
I am going to (release another record) in March and it is called Plan A. This is the first time I have ever told anybody about this record, but it talks about never giving up on Plan A. I'm not going to Plan B. It's not happening. It is about rising to the occasion and being the best that you can be whereas this one has some fun songs, party songs on it, but it is just a little bit stronger. Some of the songs on Honkytonk Princess, as much as I loved them, they are very sad songs and they reflect the past more than (the new record)," she says.
Ann Claire and Travis Howard decided to cover Canadian singer and songwriter Amanda Marshall's hit song "Dark Horse," and recorded it as a Country duet. They trade verses and harmonize on some lines. Seldom do covers of hit songs fare well when panned by the critics, because the listener is already biased, but this writer is a huge fan of Amanda Marshall and of this song and the duet by Ann Claire and Travis Howard is spectacular. Howard's vocals are gravelly and Claire sounds like she should be wearing a cowboy hat. What grabs you about this song is the dynamic between Ann Claire and Travis Howard and is a similar dynamic that existed between Kenny Rogers and Dolly Parton on stage.
Perhaps what you need to know most about singer and songwriter Ann Claire is what she said at the end of our conversation, "I think the goal is to stay really grounded and really connected to the work and to the people around you and remain humble and grateful for that opportunity."
Please visit Ann Claire's website.
Interviewed by Joe Montague
Photos courtesy of Ann Claire, protected by copyright © All Rights Reserved
This interview is protected by copyright © and may not be reproduced in print or on the internet or through any other means without the written permission of Riveting Riffs Magazine, All Rights Reserved