The name of the album is Low as the Moon, but after listening to Arrica Rose's new album you will be on a high. Each album by the California singer, songwriter and musician, just seems to keep getting better. From the hypnotic, rich vocals of "All and None of These Things," featuring some scantling guitars by Rose and Marc Thomas, to the intriguing retro vibe of "Bobby," written with Dan Garcia and "X-Ray Eyes," an introspective journey from childhood through youth and beyond, there is not one weak song on this entire album. The latter song showcases Rose's rich vocals and her ability to tell a story that leaves a powerful impression on her listeners and if you have never heard Kaitlin Wolfberg play the violin then you are in for a real treat.
In describing Low as the Moon, Arrica Rose says, "I think for me the theme became reaching for the silver lining when it seems to be the most obscured and finding the brighter side when hope seems to be lost. I went through some challenging times and people around me were going through challenging times. There was a point when I did not want to be working on anything and I used this set of songs to help pull me through that place that I was in. It was cathartic. It helped me to process some of the things that I was going through at the time.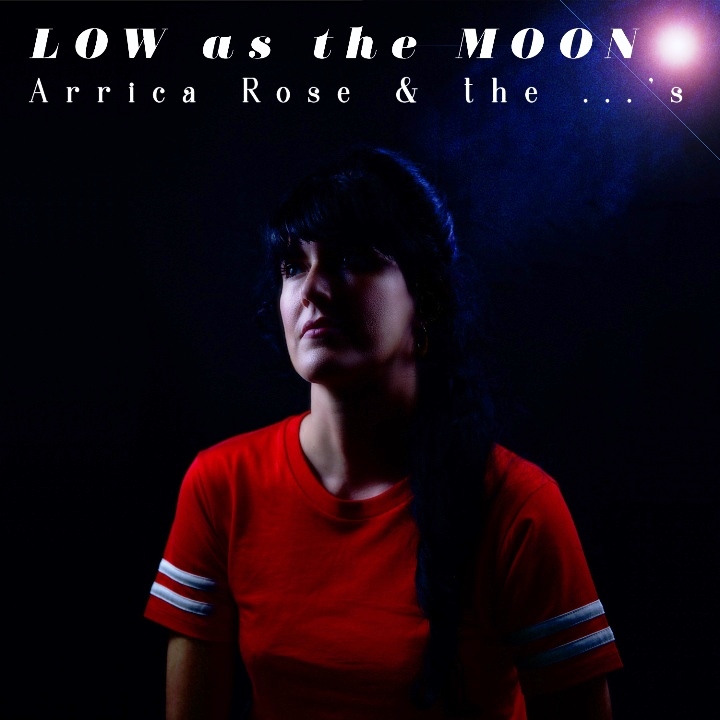 These songs are specifically written for this record. Everybody in the band and the producer that I work with everyone was going through a bit of upheaval, so it took a while to make this record. I started writing these songs around 2015. I worked on this collection of songs for about six months to a year and then we started making the record."
In her songwriting Arrica Rose likes to create word pictures with tones and shades others seldom, if ever use and it draws the listener in.
"I am trying to provoke a feeling. I am not trying to be so precise in my wording in an actual scenario, but I am trying to describe said scenario that will capture the most feeling for my listeners. I utilize that in songs," she says.
Arrica Rose talks about one of her songs, "Whole Lot of Lows," from the new album, and the companion video featuring a dark haired little girl whom one can easily imagine being Rose when she was a child.
"(The little girl in the video) is one of my best friends' daughters. The idea started with thinking about how much freedom you have as a kid. With me or with others as well you get lost in a song and when you feel carefree. She has an amazing personality and she is the sweetest little girl. She loves to perform and when I had this idea brewing I thought oh my goodness she is going to be the perfect little girl to be in this. My friend was all for it, as long as her daughter wanted to do it. Sure enough she was so excited about the idea. That is how it call came to pass.
What is funny is, people before have thought my best friend and I were related, because we are about the same height, we both have dark hair and dark eyes. There is a similarity and her daughter and I have some resemblance, which worked out more perfectly that I could have asked for.
I had a blast (directing the video). I have some background in film production, but I don't always utilize the skills.
I went to film school for college and one of the ways that I transitioned into doing more music is by doing music for everyone's films. Directing and writing is something that I went to USC film school for, but then I made this transition more into music. I really enjoy going back now and then (to film) and that is something I am exploring more these days," she says.
The song "Whole Lot of Lows," is built upon a very strong, but not overpowering instrumental foundation over which Arrica Rose's ethereal, dreamy vocals are laid.
Rose says, "That is very much what we were going for, that driving rhythmic quality that comes from the percussion and the bass and this other dreamy aspect that comes from the synth, guitars and the vocals as well."
Rose continues to talk about "Whole Lot of Lows," saying, "The song started out as a poem that I had written. I often keep notes in my journal and on my phone. There are so many places where I write down different ideas. I had written the beginning of the song, light flowers, long winded and clearly using long winded in a way that one would ever use when talking about flowers. I had written this poem and it is about trying to find you in a set of completely different circumstances. You are going to somewhere completely new and blossoming all over again.
It is like when you are having one of those days when you are wondering about flowers and leaves blowing around in the front yard. You think about how something that looks dead is blowing to maybe down the street to be planted and start anew, just when we thought this thing was over with. It is very much about cycles in life. It is a visual that I am trying to create with the perspective things do not necessarily end, but it is potentially the beginning of something else.
(As for the words) "Whole Lot of Lows," I had been at a local pub and there was this woman talking about a "Whole Lotta' Love," and she was excited about that song and she said it many, many times in a row. I had recently been going through a lot and the phrase whole lot of lows came into my head while I was having this conversation. I went home and I wrote it down on the same page with that poem that I had initially started. Instantly, it made sense that it should all go together. I started to come up with a melody that suited the juxtaposition of these two pieces. I put it all together and hence the song "Whole Lot of Lows."
The song "Bobby," written by Arrica Rose and Dan Garcia may be the most intriguing song on the album with its fifties / sixties vibe and "Bobby's" obscure sexual orientation. We are never certain if Bobby is a man, a woman, transgendered, gay or straight. All we know for sure is that "Bobby" is headed out the door for a night of fun.
"It has a Phil Spector girl group quality. That was definitely something that we wanted to capture with the song. It started off as part of a melody that Dan sang to me and he gave me a few chord ideas that he was putting together with it. It evolved from there. I wanted to create a sugary, sweet, fifties style of song. If you get in there further, you go wait a second, who exactly is Bobby? Is Bobby a man or a woman? Is Bobby both? I wanted it to be more complicated than the simplicity of the song, but that simplicity is brilliant and I am a huge fan of it. I thought it could be a fun way to put a spin on that genre.
I would hate to say this is what the song means, because I want it to mean many different things," explains Rose.
"Glitter Gold," is stunning in its elegance and beauty and it is also deep.
"It was one of those songs that I wrote to try to pull myself through when I was forgetting how to have a good day and to be in a positive place. I wrote that song as a reminder to let go of all the negativity and to find something to pull me through and to stop focusing on the things that I don't have, but to focus on the things that I do have," she says.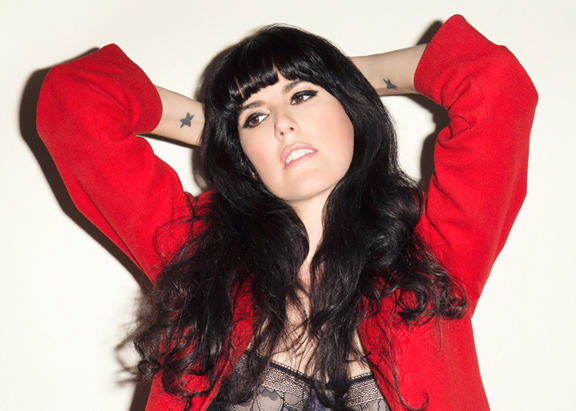 One can easily envision the eighth track on the album, "When You're Gone," sending the mosh pit at Arrica Rose's concerts into a dance frenzy. The musicians on this album take their playing yet another level and in a surreal fashion Rose manages to retain an element of ethereal with her vocals while rocking out this tune.
Arrica Rose takes time to talk about the people who contributed to Low as the Moon, "Dan Garcia is a very instrumental part of the project. We have worked together for many albums now and the reason we continue to work together is because it works so well for us.
Harry Kim (trumpet) is so great and I have Dan to thank for Harry playing on my record. Dan has been making records for a while and he has a connection to a lot of these musicians, to these pros who have been around for many moons. He has worked with Harry Kim and he was the one who was able to bring him into a session to play on this record," she says.
Violinist Kaitlin Wolfberg has established herself as a virtuoso musician has performed with Arrica Rose live, as well as on previous records and Rose describes her as, "an amazing musician and a sweet human. I am so grateful to have the opportunity to work with her."
The other member of the superb horns duo on the album is trombonist Arturo Velasco, who along with Harry Kim has been playing on Arrica Rose's albums for the past five years.
"Steve Giles who plays bass on this record has also been involved on several albums. He is comfortable playing something incredibly simple, but he will also show up with a pedal board and all of these other ideas and textures. He will try different things. He is such an asset to have in the studio.
"Tripp Beam (drummer) is great and prior to Tripp, Ryan Brown who was the very first dot ever played on all of my records. Ryan's now playing and touring with Dweezil Zappa. Tripp kindly was able to step in, without skipping a beat (she laughs at the unintended pun).
Marc Thomas has been the lead guitar player and he has been playing with me for about seven years. His style and sound is a big part of what I do as well.
In addition to her vocals, Arrica Rose plays keyboards and omnichord on her album.
"The omnichord is a thing that has become a big part of our sound. It is such a fun instrument. It is like an electric autoharp. The one that I have is a mid '80s model. With one finger you press down a key and you are playing a chord and there is a little track pad with all of the individual notes. There is an ethereal, dreamy quality with all of those little notes when you play them. You can run your finger down and it makes this magical sound with the notes running into each other. If you very carefully play it you can also select individual notes. It is on a lot of the songs on the record. It has been on my albums since I acquired it, which was about six or seven years ago," she says.
What's up next for Arrica Rose?
"I just got back from LA (she now lives in Oakland, California), as I am mixing an album for my other project (Deer County). We are finishing up a record.
Please take time to visit Arrica Rose's website here. Bottom Photo by Brooke Nipar
#ArricaRose #LowAsTheMoon #rivetingriffs #RivetingRiffsMagazine
This interview by Joe Montague published April 14th, 2018 is protected by copyright © and is the property of Riveting Riffs Magazine All Rights Reserved. All photos and artwork are the the property of Arrica Rose
unless otherwise noted
and all are
protected by copyright © All Rights Reserved.
This interview may not be reproduced in print or on the internet or through any other means without the written permission of Riveting Riffs Magazine, All Rights Reserved