German Blues Organist Barbara Dennerlein Dips Her Foot Into Latin Jazz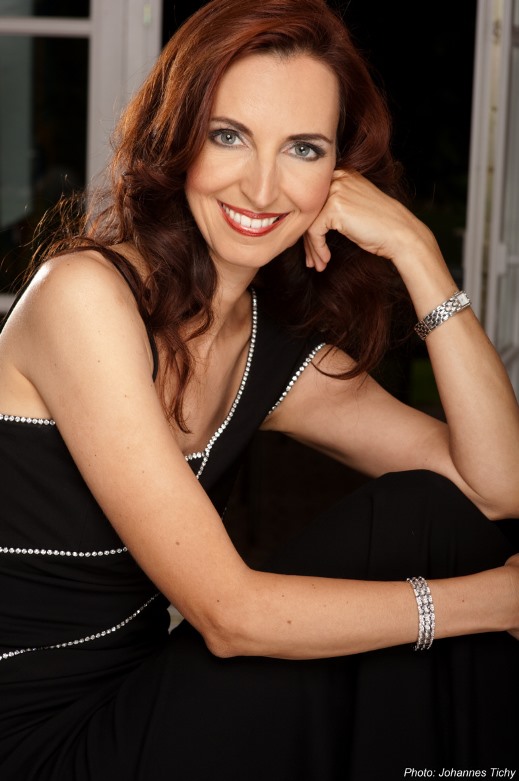 Keeping up with German Hammond B3 and pipe organist Barbara Dennerlein is a lot like watching a dog chase its own tail. The dog will never catch its tail and you will never catch up with Barbara Dennerlein, so do not even try. In the six years or so that I have known her she seems to barely complete one project when she is onto the next or she is hopping on a plane as part of her tour schedule. Our recent chat with Barbara revealed that her activity level is just as high as ever. She had just finished making more of her music available through sheet music, she had a virtual pipe organ custom made and installed in her home and she was getting ready to return to Sweden to record a DVD (April 2014).

Barbara Dennerlein talks about her DVD project, "Last year I gave a concert in Sweden and it was at a very small place in northern Sweden at Piteå (in Norbotten County) and it is called Studio Acusticum. This is unique as well, because they have a big concert hall beside another concert place. In this particular concert Hall Gerald Woehl who is a famous organ builder has built a huge pipe organ with an incredible modern design. It looks so good and the pipe organ is also something special. They have a lot of possibilities in this concert hall. They have a ceiling that can be moved downward to make the reverb like you need it for the concert. They put the ceiling up when you have a pipe organ concert and they want to have more reverb and they put it down for a concert where they don't want to have so much reverb. It is a very modern concert hall and I had this concert, which was a great success. It was on the new pipe organ. We said that we wanted to collaborate more, so (we got) the idea to make a DVD, because they have everything there. They have the studio there and they have all of the technical means. The idea was that the Hammond organ meets the pipe organ at Studio Acusticum. This was the idea for the whole project and I thought about putting my favorite songs together for that concert. (the DVD will be released later this year) I have so many things (on the go) at the moment and I don't know which will be ready first. It depends. I took some time to write a lot of new music. You need time when you can concentrate on composing, but you also need time when you are busy again when you are doing concerts and you are recording."

When you listen to Barbara Dennerlein describe her music career, the artists that she sometimes collaborates with and her various projects you can hear the excitement in her voice and that excitement is contagious.

As for her Blues and Latin Jazz project, Barbara describes it as, "an experiment. Some years ago I played in Lithuania at a Jazz festival and one of the times an Argentinian Flamenco guitarist Romero (he goes by one name) was playing with his band. We got to play together and we were really excited about our music. I loved his music and he loved mine and we loved our performances. That was the start of our connection and I really like his playing very much. It is totally different from what I do, but somehow the idea was to do a project together. A friend of mine in Switzerland is organizing the concerts and she said why don't you do a project with Romero (Al di Meola, Paco de Lucia) now? We were both enthusiastic about this project and we will also have a drummer / percussionist from Columbia, Rodrigo Rodrigues (Carlos Santana, George Benson). The music will be a wide mixture of Blues and Latin and everything in between. Romero is living in New York and the percussionist / drummer is in Switzerland. We are playing everywhere in the world. It starts with Italy in May and in the summer we will be in Israel for a big festival. This is really exciting for me, because it is not easy to combine the playing technique of the Flamenco acoustic guitar with the organ, which is a totally different instrument. Romero will play my music and I will play his music. This will be really interesting and we will challenge each other. I am curious about how it will develop."

Your writer asks about yet another project, Spiritual Movement No. 3. Too late! Barbara Dennerlein has already moved on to Spiritual Movement No. 4, she explains, while laughing.

"Actually, I am already working on Spiritual Movement No. 4. No. 3 was my last one and it was on pipe organ and it was a recording of a live concert. It is very beautiful and very special. It is a Rieger organ, which is the name of the organ builder in Austria. They build beautiful organs. It is not a huge organ. It is a middle size organ, but it has a beautiful and nice sound. The atmosphere in the concert was fantastic. This was a very easy concert to arrange, because it was a duo with an Austrian guitar player, a very good guitar player, Edi Köhldorfer. He played acoustic guitar and electric guitar in the concert. Some people might think; how does that work together? This is really an interesting combination and I think it has become a very special recording. I like the result very much. The sound of the guitar with the organ fits very well. It sounds wonderful. This is my first recording with the guitar and the pipe organ.

For other musicians it presents some unique challenges adjusting to the timing of a pipe organ and Barbara Dennerlein explains why, "It is really different and it differs from pipe organ to pipe organ. It depends on how the organ is built and how long the distance is from the console where you play to the pipes. This organ was rather direct, but not as direct as the Hammond organ. It is typical of pipe organs that it takes some time until you can hear the tone and the air is through the pipes. It is always a question of how another musician can feel the heart of a pipe organ or the breathing of a pipe organ. He did very well and we had a really nice rehearsal before that. He was sitting next to the console and we were very close. I also used a little bit of synthesizer on that recording, but it is only the two of us."

As for Spiritual Movement No. 4 she says, "I am working with a sampled organ sound, which is very nice and I have a lot of sound possibilities. An organ builder has built a console for me. It is a real pipe organ console, so it has wooden keys. I did not like the boring consoles (she laughs), which are on the market. I wanted to have an instrument that gives me the feeling of playing a real pipe organ. This is what I have, I have weighted keys, wooden keys, with resistance when I press them down, so they are not as easy to play as the Hammond organ. They are more like when you play a mechanical pipe organ. This is one thing that I wanted to have, the feeling of playing a real pipe organ and then the possibilities of having nice sounds. I was looking for someone to build it and I wanted a design that was something new and something special. It was built especially for me in cooperation with the organ builder who is not far from where I live. He designed this console and I told him my ideas, what I wanted, colors and design and this new console was made. This is something really unique and nobody has the same, it was just made for me, which is really nice. It has the same feel as when you play at a real pipe organ.

My virtual organ is connected to a computer and sound expanders and things like that. This is the logical development from what I did with my Hammond organ. I midified my Hammond organ many years ago. I have a midi system in the Hammond organ and I am combining other sounds with the Hammond organ. This is kind of doing the same things with the virtual pipe organ. I am also using an overdrive to make the pipe organ sound like an electric guitar (she laughs). I was writing a lot of new compositions and it is also unusual, because I have written an opus, Opus No 1 and the whole thing is exactly thirty minutes long. It is a musical idea that I have worked on in different grooves and different variations. It is really something new with this type of instrument and the music that I was writing."

What motivated you to have a virtual organ built?

"First of all, I wanted to be able to practice at home (she laughs) and I didn't want to go to the church and sit in the cold church every day to practice the pipe organ (more laughter). It is very cold sometimes. I was checking what kind of organ I could have and at first I thought of getting a real pipe organ at home, but of course I don't have a church. The room is only so big, so I could only have a pipe organ with a few sounds. This is not a really good solution and it is boring after a while if you don't have variations in the song. At the same time, I found out there are a lot of digital organs, but most of them I didn't like. They sounded artificial just like a lot of clones of the Hammond organ, which never really sound like a real Hammond organ. Then I discovered the digital organ sound, which were sampled in a really high quality and the sound was totally different. The idea was to have a digital console, where I can just use a computer and different sounds with the midi console. I can connect anything that I want with the midi system. I found these wonderful sounds and I am so flexible, because whenever there is a new sampled organ sound, I can get it and I can play it on my organ. I can do anything and I even thought of combining it with the Hammond organ. I am still testing, so I can't tell you the whole thing at the moment. I am learning by doing, because technically it is quite complicated how all of the components work together.

It was designed and built especially for me in cooperation with the organ builder Markus Harder-Völkmann who is not far from where I live," she says.

In the past twenty years or so, my audience was becoming more diverse. I have a lot of Classical influences in the music and it doesn't mean that I play Classical music, but I have the inspiration and I have parts in my music, where the way of playing implements the Classical style. I try to write special compositions for the pipe organ. It is such a different instrument from the Hammond organ and of course there are pieces that I play on both instruments, but I don't play it the same way. I am always challenging myself and going in new ways and trying new things. Not only do I compose Blues or simple songs, this is also part of my music, because I love the simple groove (as well). This is part of my music and what I am, playing more complex songs and compositions," she says.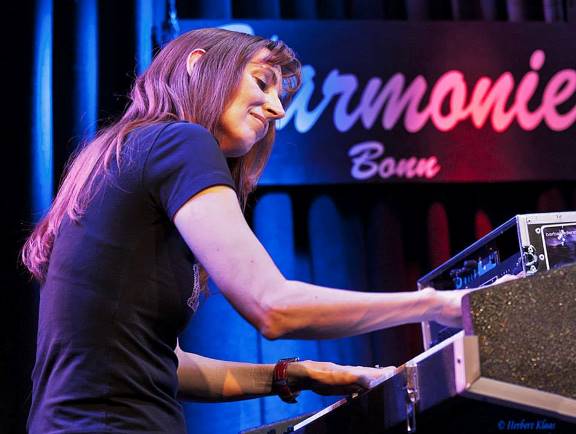 During our conversation Barbara Dennerlein mused about creating a composition involving both the Hammond B3 organ and a pipe organ. She on occasion will play both the Hammond B3 and the pipe organ during the same concert.
She talks about the challenges of switching back and forth between the two types of organs during the same concert. "At the moment, I am used to doing this, because I play fifty percent Hammond and fifty percent pipe organ. I am used to switching between both instruments, but actually it is a challenge, because these are two absolutely different instruments. I play the bass lines with my foot. With the Hammond organ I have to play mainly with one foot because I have to play staccato to hit the note shortly, before the next one comes. I need my right foot for the volume pedal to make the dynamic of the Hammond organ.
The bass pedal keyboard at the pipe organ is totally different from the one at the Hammond organ. At the pipe organ the distance is different at the single notes and the pedals are bigger. The pipe organ has two and one-half octaves. The Hammond organ has only two octaves. For the Hammond organ I had developed these sampled bass sounds, which is like a string bass and I play with one foot, so when I release the notes then the sound is disappearing like when you hit the string. At the pipe organ it is an absolutely different sound, when I release the key then the tone is immediately gone. It is nothing like a string. Because of this and because of the bigger differences between the single keys (on the pipe organ) I have to play with two feet all of the time on the pipe organ. With the Hammond organ I play with mainly one foot."
As for her combining styles and instruments she says, "When I think of the background of the pipe organ it is a logical progression for me, because I have a CD with a symphonic orchestra and Change of Pace (2006) is the title. It was another project that I did, because my dream has always been to work with a symphonic orchestra and to do something that is in between Jazz and Classical. I had the chance to do this with a very good orchestra in Germany. I had some concerts and I produced a CD for my label. Musically this is something very special and nothing exists that is comparable. There are a couple of compositions that I wrote and that I arranged for the big orchestra. There are a lot of Classical parts, but there is also room for a lot of improvisation, which is a very nice combination.
Do you know the Classical piano player Friedrich Gulda (Austrian pianist and composer)? Friedrich Gulda was a genius and he unfortunately died years ago, but he was really famous in the Classics and the Jazz field. He was a real innovator and he was the first person to make it possible for Jazz music to be played in Classical venues. We worked together for some years and it was a very creative time. For me he was a big master and a genius who really loved my playing. Now there is a DVD out from when we did a concert in duo with the Munich Philharmonic Orchestra and he called this concert I Love Mozart, I Love Barbara (she laughs). Now they have produced a DVD from that concert. He plays the piano and I play the Hammond organ. The DVD has the same title (as the concert). It says everything about how he liked my music. He was really famous. He played concerts with Herbie Hancock and Chick Corea. He was a wonderful musician and he had a lot of success. He did something very special for the combination of Classical and Jazz music. They said Friedrich Gulda was one of the best Mozart interpreters," she says.
Anyone who has seen Barbara Dennerlein in concert or watched videos of her performances knows that she puts an incredible amount of energy and passion into her playing. What does she do to keep herself energized when she is not onstage and what does she do to just relax?
"I get my power back from nature. For me nature is very important and over the years quietness became more and more important. I like to be really alone and to be quiet and to relax. I do yoga and I have a little dog, which I love. She is a mixture of Chihuahua and something else. She is twelve years old now and with my dog I am forced to go out every day. I go jogging every morning for one-half hour with my dog and I walk her another one-half hour during the day. These are the two things that I do for my bodily energy. I need to do yoga, because playing the organ is very hard on your back and it is such a one sided thing. I have to hold your arms in the air all of the time and my feet are hanging in the air (she laughs). This is something that is really hard on my body and my back and therefore it is very important that I do yoga, so I don't get hurt. This is really a big problem. When I am not on tour I go for a massage and for a body treatment for my back and for all of my muscles (she laughs). This is very important otherwise I would start to have big aches in my back," she explains.
Sheet music for Barbara Dennerlein's compositions can now be purchased through her website. She has published two books to date, one for the pipe organ and one for any C instrument. "When I started playing the Hammond organ I was using the Real book very much. It is almost like a Bible, because it contains so many Jazz standards and we decided to publish my compositions as a Real book as well," she says
Please visit the Barbara Dennerlein website.
Interview Published April 27th, 2014, All photos property of Barbara Dennerlein and are protected by copyright © All Rights Reserved Top Photo by Johannes Tichy
All text protected by copyright and is the property of Riveting Riffs Magazine © All Rights Reserved. All images are protected by copyright © and belong to the artists and producers, All Rights Reserved