Barbara Dennerlein has long been considered one of the world's foremost Blues and Jazz Hammond B3 organists and composers and in more recent years has added to her musical palette by playing the same music on pipe organs. The affable artist who lives in Germany took time out from her busy schedule to chat with Riveting Riffs Magazine about her first ever compilation album Best of Blues: Through the Years.
"There are two things that came together, one is I love Blues and my roots are Blues. For a long time I wanted to do something with the Blues, because I have a lot of contact with the audience when I play concerts. Over the years many people have asked me on which of your CDs are the most Blues compositions? I realized that one day I should do some kind of a Blues compilation (album). This has been in my mind for many years and I have thirty-three years of Bebab Records, which is my own label. I thought it would be nice to do it now. I have been in the business for long enough now to do a compilation from my label," she says, laughing lightly.
Because it is a compilation album, it is important to note that the songs were all recorded at different times throughout the years and then remastered recently.
Barbara Dennerlein says, "First I had to pick the songs I wanted on the album. There were many Blues compositions (that I recorded) over the years. The difficult part was to pick the ones that I want on the compilation. There are so many that I like. There are a lot of different albums with different songs and some of them were recorded live and some of them were recorded in the studio. Naturally the sound and the lineups are very different. I have solo recordings and band recordings. You have to make one kind of sound for a compilation and everything has to connect. It has to work together. I did not want (to leave) the impression that one song sounds different than the others. That was one of the reasons we had to remaster them. The second reason was I tried to make them even better than the originals.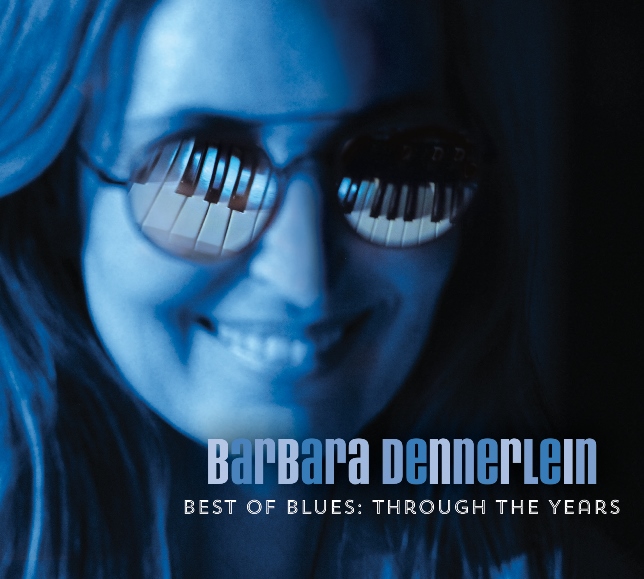 I have worked with a technician Hartmut Welz for many years. He was on tour with me and he knows my organ by heart. We have a great understanding and the same kind of ears, so it is very easy to work with him. He has a mastering studio and mastering is very important to me.
Dennerlein's compilation album consists of nine songs, all of which were composed by her. Our conversation segues nicely into talking about some of the songs.
"Organ Boogie," is one of the hits in my concerts. So far it is the only boogie that I have composed and people really love it. It was recorded live in a trio, with two musicians who have been in my band for many years and who are my touring band in Germany. There is a great (tenor) saxophone player called Peter Lehel and a very swinging, funky and everything together drummer Marcel Gustke. There was a concert that was recorded live and one of the songs was "Organ Boogie." It was recorded in 2009. This is the opener for the album (Best of Blues: Through the Years)," she says.
The third song on the album is "Tribute to Charlie," as you may have guessed, this lively tune from her album of the same name, is a nod to Charlie Parker. The album, which was released in 2002 featured the stunning horn section of the Peter Herbolzheimer Big Band, which backed up Barbara Dennerlein. She created a lot of space that allowed the other musicians to be showcased, including several solos during the song "Tribute to Charlie." The saxophonists were Heinz Von Hermann, James Towsey, John Ruocco, Karl Drewo, Bubi Aderhold, while the trumpet section boasted Ack Van Rooyen, Allan Botschinsky, Andreas Haderer, Derek Watkins, Gregg Bowen, Jan Oosthof, with trombonists Bart Van Lier, Eric Van Lier, Jiggs Whigham, Joe Gallardo, Sepp Romeis.
Dennerlein says, "Tribute to Charlie," is a very old recording. The recordings on the album are from a very large period of time, nearly thirty-three years. This recording was done in 1985. I think it is quite amazing how I played at that time. I am already astonished to hear that. I listened to it, because I had to pick the songs, but usually I don't listen to my own recordings. It is a Bebop live recording from Munich, which is my hometown and was recorded at Allotria one of the most famous Jazz clubs in Munich, but it doesn't exist anymore.
It was a really great night. It was the first recording on my own label and it was very exciting. I founded my label, because I was not that well-known yet and there weren't any labels that were interested in making a recording with me. I had just founded my label and the funny thing is (the album) won a German Record Critics' Award.
It sold very well and so the big labels came and asked me to record with American musicians. This was a very important time for me. It is a nice recording. There is a lot of Bebop and of course one of my heroes at that time was Charlie Parker. I started Hammond Organ playing with swing music and with the Great American Songbook and standards. Then I studied Bebop and I loved Dizzy Gillespie, Charlie Parker and all of those musicians. I did this recording and I dedicated this song to Charlie Parker," she says and then adds, "By the way I started very early to compose my songs, so the early compositions on the compilation album were written by me."
We asked Barbara Dennerlein to reflect upon the approach she may have taken to some of these songs earlier in her career versus now, "Of course they change, because when you are an artist you are continually developing yourself. When you are young you have a lot of fire and energy and later you work on your style and I think that your playing changes in some ways. Maybe it gets deeper and it has other qualities.
In the beginning your skills are not as developed and you are not as experienced, as when you have played for decades, but you have a lot of energy and fire, because you are discovering so many things. You are compensating for the lack of technique that you have in the beginning. You are always learning. My goal was to always get better and to play more and more different kinds of music. I started with swing music and then Bebop came and then I started playing funky. In later years I worked with the famous Classical piano player Friedrich Gulda and I have done a mixture of Classical music. Nowadays I play many pipe organ concerts and I compose for that kind of instrument. My songs (are comprised of) a lot of different styles of music. It has Classical elements, swinging, it is groovy and I play some open improvisation. I like to open up very much and this has been my goal.
At the moment I am practicing boogie woogie, because I really like it (she laughs). I work with two musicians and one of them is a famous boogie pianist in Germany, Thomas Scheytt and the other one is a Blues guitar player and singer named Ignaz Netzer. There was a German TV show called 24 Hours Jazz on 3SAT on New Year's Eve. It was twenty-four hours of Jazz music with a lot of live music and music from video. I presented that show with another person and I also played. Those two musicians in 2000 were part of that TV show and that is how we came to know each other. We spontaneously jammed together and that was (the beginning) of our collaboration.
I like to play some modern music, but it is also nice to play some boogie woogie. On the organ it is a challenge and my technique with the bass pedals is very unique. I do a lot of things with my feet.
The main thing of the boogie woogie is the left hand of the pianist and that makes the groove. The Hammond organ is not like the piano it has a totally different sound and it has a steady tone. You have to play it differently. When I played with my left hand on the keyboard of the Hammond organ it would not make the groove like it does on the piano. That's why I experimented with playing it on the foot pedals. On the organ boogie I play the accompaniment with my foot pedal. Because I play the bass pedals it leaves my left hand free to play some rhythmic things. That makes a special groove."
Fighting off the urge to jump straight to talking about interesting song called, "Frog Dance," we ask Barbara Dennerlein about two other songs on the compilation album, "This Old Fairy Tale," and "Funkish."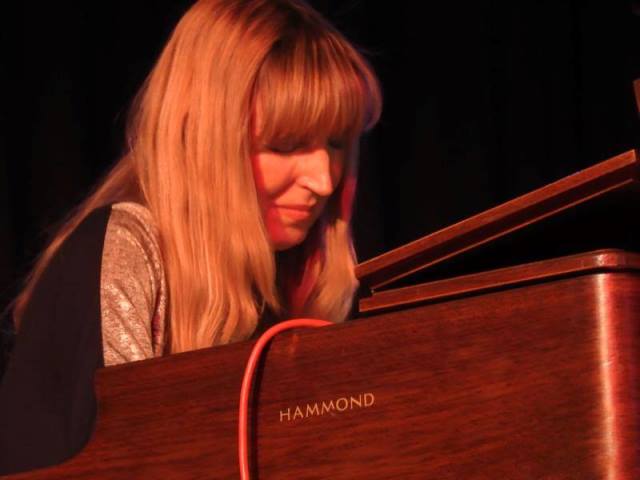 "This is also a very old song (light laughter). It was recorded in 1988 and it is in trio. It was a studio recording. I had a working band at that time with two German musicians, a wonderful drummer, Andreas Witte and Christoph Widmoser a great Blues guitar player. We really had a lot of fun. "This Old Fairy Tale," is a groovy, Blues medium tempo kind of shuffle thing. It has a lot of energy and I really like it," she says.
As for the song "Funkish," Dennerlein says, "This is also a song that I like very much. As the title says it is a funky song. It is also a recording I did with the Argentinian drummer Daniel Messina with whom I worked for more than ten years. This is a studio recording, but we had a lot of energy in the studio. This is a very groovy song and it was recorded in 2001. Hartmut Welz who remastered this compilation for me also did the (original) recording of this song."
Okay Barbara tells us about this song "Frog Dance," and is there a dance called the Frog Dance?
"Yes (there is such a thing as a Frog Dance). My intention was to show the different kind of Blues on the album, not only the traditional Blues, but all of the colors of Blues and all of the stylistic possibilities of what you can do with Blues. It ranges from boogie, Bebop, traditional Blues, funky Blues to even some free improvisation and to some minor Blues. I chose "Frog Dance," because I wanted to show the range of the Hammond organ. With my playing I to experiment a lot with sounds and percussion. On "Frog Dance," I do an intro and I create space and sound. It is like a sound bath. "Frog Dance," was not played on my own Hammond organ, but all of the other songs were played on my organ. "Frog Dance," was recorded at Studio Acusticum in Piteá, Sweden. "Frog Dance," was released on my album My Moments. In a wonderful concert hall they have a big pipe organ with more than two hundred registers. I did a double solo concert. I started playing the pipe organ and the second half of the concert was played on a Hammond B3 organ. Every Hammond organ has a different sound. I did not have the mid system in the keyboards that I have on my organ (that allows me) to combine synthesizer sounds with my Hammond organ. Since I did not have this possibility I had to create the sounds only on the Hammond organ," she says.
That's very nice, but you still have not told us about the unusual title of the song.
"At my parents' house there is a swimming pool in the garden and for Christmas I gave my parents a bronze statue of a dancing frog couple, a male and a female frog.
I have a song on another album called Love Letters and there is a composition called "Frogs In Space," (we both laugh). I love frogs. That song had percussion and some synthesizer sounds and organ sounds. It is "Frogs In Space," sounds," says Dennerlein.
"One thing I have been thankful for is I have always had an audience that is very excited about following me on my musical way. I have always had that and afterwards they are happy and enthusiastic. I had it in the first concert when I started playing and I have it now. It is hard to keep it on that level all of the time, because the expectation of the audience grows over the years and they expect even more. This can be pressure for the artist. It takes a lot of your energy and power to fulfill this, because somehow you have to always put (your performance) on a higher level. You can never stop. You always have to practice and work on your skills, on your expression, on your style and on your sound, because you want to fulfill the high expectations of your audience. You do not want people to say they liked the concert before better. You want them to say this time it was even better than the last time. You also have to fulfill your own expectations, because if you are an artist you want to be better and you want to satisfy your audience," she says, and that just about tells you all you need to know about why Barbara Dennerlein is held in such high esteem by the music community worldwide.
Barbara Dennerlein's album Best of Blues: Through the Years is a musical masterpiece that you should add to your collection. It took Barbara Dennerlein thirty-three years to release a compilation album, so you don't want to wait for the next one to come along. Please visit the website for Barbara Dennerlein.
Photos by Martin Schmitz
#BarbaraDennerlein #BestOfBluesThroughTheYears #BarbaraDennerleinComplilationAlbum #HammondB3Organ #BluesOrgan #RivetingRiffsMagazine
This interview by Joe Montague published April 20th, 2019 is protected by copyright © and is the property of Riveting Riffs Magazine All Rights Reserved. All photos are the the property of Barbara Dennerlein unless otherwise indicated and
all are
protected by copyright © All Rights Reserved.
This interview may not be reproduced in print or on the internet or through any other means without the written permission of Riveting Riffs Magazine, All Rights Reserved