Interview by Joe Montague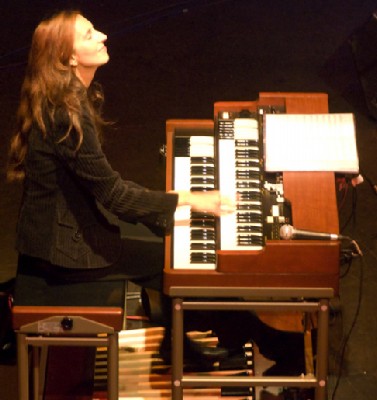 Recently, Barbara Dennerlein, one of the funkiest jazz organists you will ever hear, took a few minutes out from her performances at MusicFest Vancouver, a world class annual two week celebration of classical, jazz and world music, to talk to Riveting Riffs Magazine about her music. The German virtuoso who first appeared on the music scene in 1975 as a fifteen year old who amazed audiences in Germany, with her unique approach to the Hammond B3 organ, has since drawn high praise in international circles and is often mentioned in the same breath as legendary organists such as Jimmy Smith.
"It was a big attraction in Munich. Many people came to look at this, because it is a big instrument and I am not a big person, so I was kind of a sensation. For me it was a very important time, because I played there for about ten days in a row and every night we played four sets until in the morning. A lot of jazz musicians came by and jammed with me. It was a good time for me to learn and to get contacts and all of that. I am happy that I had this chance," Dennerlein says, recalling her first major gig in a Munich jazz club.
Although generally speaking, the origins for jazz and blues are credited to the southern United States and Latin American countries, such as Brazil, Cuba and Puerto Rico and in some cases have deeper roots within Afro beats, Dennerlein grew up with jazz music in her parents' home in Munich.
Laughing, Dennerlein says, "It must be in my blood. I think you are influenced by what your parents listen to and how you grow up. My parents have always been jazz fans and especially my father who loved the Hammond organ. In our home there was always a lot of jazz music around, and I think that it just came to me by listening to it. When I was eleven years old, I was presented with a small organ at Christmas and I was fascinated. Before that I had never had the idea that I could play an instrument and suddenly there was this instrument that fascinated me. I had a teacher for one and one half years, who had a B3 organ and he played jazz music, swing music on that instrument. It was not just by chance, but I really was aware of it (jazz). I immediately fell in love with that music. I listened to my father's old recordings and I was (surprised) at how fast I learned how to play jazz music. It was really incredible and that is how it was (she laughs again)."
In those formative days of her informal music education and development, Dennerlein tapped into organ players like Jimmy Smith and Larry Young by buying their records, but as she says, "I didn't just listen to organ players, but I also listened to other instruments. Charlie Parker was one of my heroes at that time and I loved bebop. It was a natural development and I never copied someone on the organ, and I don't know why, but I always had my own ideas about playing. I started writing music quite early and my goal was to be as good as possible technically, to be able to play a lot of different kinds of music, and to be able to play what I have inside. I just have to have the technical skills to do it. A lot of people who are starting in jazz today are copying note for note from their heroes and I did that too, but I wasn't very intense (about it). I always preferred to just play. You can hear in my early recordings that there was already a style and my own way of playing things. This was not a forced process, it just happened naturally. This is how I feel and how I hear music. The most important thing about a musician, not only a jazz musician, is to have your own style. People will recognize you and say, 'Oh this is Barbara Dennerlein. Jimmy Smith was the first to play in his own style. When you listened you knew that it was Jimmy Smith." she says.
Barbara Dennerlein has indeed developed her own signature sound and approach to the Hammond B3 organ, whereas most organ ensembles include a bassist to lay down the bassline, or use their left hand to play the bassline on the keyboard, Dennerlein uses the foot pedals to play the bassline and she also incorporates the use of Midi technology to further enhance the listener's experience.
She explains why it is an advantage to free up her left hand, "If you use your left hand to play the bass sound, your right hand has to play both solo and comp, which is a little bit difficult with one hand, and that's why (some organists) have guitar players who comp their playing."
What prompted Dennerlein to use her feet to play the bassline? "My first organ that I was presented with had just one keyboard and there were no pedals. My teacher and I went into the first lesson and for the first time in my life I saw someone play the organ with his foot and of course I wanted to do that, so I went home to my parents and said, 'You have to play with your foot too, to play the organ, and I can't practice that on just one keyboard, so I need a new organ (she laughs).' Very soon my father took my small organ back to the shop and he paid more for the bigger one which had bass pedals. After one and one half years I went away from that teacher and I started working on my bass lines. It was my intention to replace the bass player. That is how I got started and now it is a very important piece for my playing. I have an old Hammond B3 with a midi system which means there are new key contacts built into the keyboards and also in the foot pedals, so I can trigger a synthesizer and a sampler. Before that there was an electronic bass system. The original bass sound for the B3 doesn't make sense for my kind of playing, because I need a sound like a string. When you release the tone it should go on and not stop immediately. When the sampler came out, I sampled a real contra bass sound and now when I have the possibility to substitute a bass sound, I have it. I connect the sampler to the Hammond organ and I build a contra bass sound from my pedal playing, which gives me a very nice bass sound," Dennerlein explains.
Some years ago, when Dennerlein was in the studio working on a recording, a well known trumpeter came in, a later in the session and after listening to one of the tracks, he complimented the contra bass player on his section, but the bassist had to confess that in fact it was not him playing, and the trumpet player had in fact been listening to the bassline that Dennerlein had created on her organ. It is just one of the fine compliments that she has been paid over the years by her peers.
Dennerlein's experimentation and creativity with her own compositions, however, goes beyond her innovations with the bassline, for she is considered to be an artist who blurs the lines between jazz and the blues and the various sub-genres of jazz music. In fact over the years, she has become just as comfortable playing a pipe organ in more classically oriented concerts. On the Hammond B3 she can play a strident up-tempo piece or she can find a deep funky groove, and at other times she treats her fans to a mellower jazz tune. She also confesses a fondness for bebop, while she appears to be equally at home in a more contemporary jazz setting.
It is easy to detect Barbara Dennerlein's love for her craft and the warmth that she exudes as she talks to you, make her instantly likeable. "It is important to be open to music in general. As you may know I write my own pieces and I play my original music that I write and that I arrange. I am open to a lot of different rhythms and styles and all of that. I don't want to limit myself. For me it is important that the music has nice harmonies. I like to play simple blues, but I also have pieces that are quite complex with a lot of arranged parts and with a lot of complex harmonies. On the other hand I like the simple groovy stuff. I am open and for me it is very important that there is tension and it is interesting. I like to have variety. For me a concert is like a film as there must be tension. I don't want my audience to be bored, I just want to take them on a musical journey through my concerts and I try to reach a lot of people, not necessarily only the jazz audience, but any people who are open to that kind of music. If you go in several directions, but still stay yourself and you play your own style, then of course you reach a lot of different people and maybe you can build bridges. For instance someone may come because they like my swing music and then if in the same concert I play something more complex, then suddenly they listen to that type of music and they find it interesting."
On her next CD music fans will really find an interesting and very special treat as Dennerlein composed the song "Organ Boogie," which you can preview at this website.
Even though Barbara Dennerlein had her own radio show in Germany, had a documentary made about her life and is continual demand for concerts, she continues to have a clear vision of what it means to be an artist, as evidenced by a comment that she made during our conversation, "I want to touch the people with my music, and if that works, and they are happy and they feel it, then that is heaven for me. This is what I really want, to make people happy and help them to enjoy themselves."
Interview by Joe Montague, all rights reserved, protected by copyright © August 2009 Return to Our Front Page