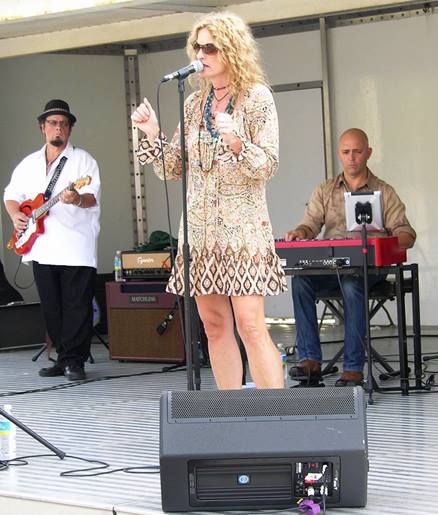 Some singers and musicians rely on gimmicks or prancing around the stage in a fashion that in no way connects with their music and they do so to cover up deficiencies in their performance. Detroit singer and songwriter Barbara Payton simply let her outstanding and soulful vocals tell the story when she performed at the Saline, Michigan SummerFest on August 10th. Backed by her band The Instigators, consisting of drummer Ron Pangborn and guitarists Bobby Murray, Roscoe and Dale Grisa (who played keys for this concert), Payton opened her concert with "Muddy Water Blues," written by Paul Rodgers (Free, Bad Company). The intro has a swampy Blues flavor to it and featured an incredible solo by Bobby Murray, demonstrating that he was very deserving of the honor bestowed upon him in 2011 when the Detroit Blues Society granted him a Lifetime Achievement Award. Murray's solo was followed by a riveting soulful vocal performance by Payton.
Dressed in a taupe and earth tones patterned dress, cut fashionably above her knees, wearing open toe sandals and sunglasses, with her curly red hair cascading over her shoulders, Barbara Payton accomplished a difficult feat by capturing and holding her audience's attention throughout her ninety minute performance in an open air environment with other distractions. She did it, because she is an outstanding singer who connects with the listener on a deep emotional level with her phrasing on lines such as, "One kiss in the morning, it brightens up my day / And when you smile it lightens up my way," and "When you rock my soul, it does my heart so true," from the song "Rock My Soul." Think of Bill Medley at the peak of his career and now think of him in a woman's body and that is how rich and soulful Barbara Payton is. We are not sure who inspired Bobby Murray to pen these lyrics, but we hope this beautiful song took that individual's breath away. It is easy to imagine couples slow dancing melting into one another and getting lost in the moment, claiming the words as their own. The song featured very good solos by Murray and Roscoe.
Pangborn, Roscoe, Grisa and Murray are masters of their instruments and nothing is forced, nothing contrived and they are always incredibly emotive. They have the ability to subtly alter the listener's moods with playing that although spectacular never overshadows the evocative vocals of Barbara Payton. They understand what it is to accompany and in turn the songs often allow plenty of space for the musicians to solo and momentarily be in their own spotlight.
Barbara Payton covered the Allman Brothers quick paced Rock tune "Southbound," which featured blistering guitar riffs, a solid drum solo by Ron Pangborn and several opportunities for all the musicians to shine. She also performed Canadian singer-songwriter Sass Jordan's "You Don't Have To Remind Me," a mid-tempo song about a painful heartbreak. Her phrasing was poignant on "You don't have to remind me / 'Cause every night I sleep alone." Barbara Payton turned to Janis Joplin for an inspired, gritty and soulful rendition of "Maybe."
Barbara Payton was absolutely amazing as she performed one of her signature songs, an original, "Enjoy The View." Her range, her soulfulness and her powerful vocals were on full display during a song that encourages, perhaps a lover to "enjoy the view of you, through my eyes." The Blues influenced Rock song is a spectacular demonstration of songwriting at its finest and a passionate singer who possesses tremendous vocals.
The only downer of the afternoon came when the concert ended. Barbara Payton and the Instigators served up a fabulous performance. Please visit the Barbara Payton website. You can also listen to some of Barbara Payton's music at reverbnation.
Reviewed by Joe Montague, August 10th, 2013, protected by copyright © All Rights Reserved. Photo by Joe Montague, protected by copyright © All Rights Reserved.
This review is protected by copyright © and may not be reproduced in print or on the internet or through any other means without the written permission of Riveting Riffs Magazine, All Rights Reserved