While on her way from Munich, Germany to play a gig in Frankfurt, uber-talented saxophonist Beatrix Löw-Beer, whose performances have taken her to England, the United States, the Netherlands, Spain, Ibiza, Mallorca, Italy, Luxemburg, France, Austria, Switzerland, numerous other European countries, Jordan, Egypt, Lebanon, Dubai and some parts of Asia, took time to talk to Riveting Riffs Magazine about her career and her life. The very congenial Beatrix Löw-Beer, while setting a high standard for herself, is as nice a musician as you will meet. She has been compared to her contemporaries, celebrity violinists such as Vanessa-Mae from England via Singapore and American violinist Lindsey Stirling. Beatrix Löw-Beer has performed with such stars as Rod Stewart, Dutch singer Caro Emerald, award winning Pop singer Sarah Connor, the first German performer to ever have four consecutive #1 hits on the German charts. Beatrix Löw-Beer's music ranges from Classical to Rock to House, Pop, Jazz and everything in between.
Artists such as Beatrix Löw-Beer are the reason why people are discovering the saxophone for the first time. When you watch her concert performances or videos to promotional videos everything from her movement to her attitude and her costumes exhibits an exuberance for performing music. One is never left with the impression that you are watching someone playing an instrument, because her saxophone becomes an extension of her persona.
Take us back to where this all began.
"I grew up in Augsburg, which is one hour from Munich, which is the capital of Bavaria. It is in the south of Germany, very close to Austria. Augsburg is the third largest city in Bavaria and I think it has 300,000 residents. There are two rivers in my city, the Lech and Wertach, (which flow into the Singold River) and there are also small lakes.
I have one sister and one brother, and I am the youngest child. Our family came from the Czech Republic and most of them left for other continents. My mother was an Opera singer and everyone was into music and played an instrument," she says.
We had read that Beatrix Löw-Beer began to play the violin when she was three years of age and we tried to get our heads wrapped around the image of a little child playing an instrument of that size.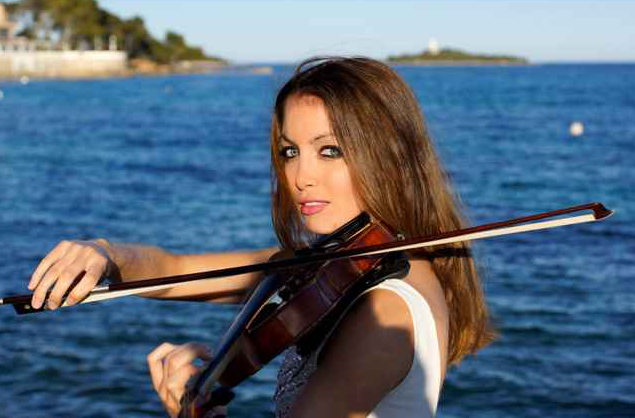 Laughing good naturedly, she says, "No they were very small violins, it was 1 / 16th of the dimension of the large one.

My sister is a violinist and she is one year older. The only thing I really remember is since she wanted to start (playing) and I also wanted to start. It was a competition. I just always wanted to be better."

Well Beatrix Löw-Beer did get better.

"In Germany I attended a music high school and it is only for people who play their instruments well. You can do your (academic) degrees there, but you can also start early on your Bachelor's music degree. The focus is on music, but I also had other major subjects. I had a professor from the music conservatory. It was really cool, because I could practice all day and meet many other musicians that were my own age. I would go to master classes for violin and chamber music and there were orchestra tours.

I was in youth choirs and also the concertmaster (editor's note: the first violinist who in collaboration with the conductor leads the orchestra).

I was admitted to the conservatory (Nümberg-Augsburg) when I was sixteen and I felt really honored. I was a little bit worried, because I heard the conservatory was not accepting anybody new. My professor, Lydia Dubrovskaya was from Moscow and she is one of the most famous violinists ever. I learned a lot from her. The bow technique that she taught me is perfect, because it is so relaxed. Many violinists have a lot of tension in their entire bodies, because they are not relaxed. The Russian technique is easygoing, relaxed and without any pressure. You really need to be relaxed or else you cannot do moves or anything else," explains Beatrix Löw-Beer.

She adds that the more relaxed playing technique also helps prevent injuries, "Before I went to the music conservatory, I had problems with my left hand, carpal tunnel syndrome. If I had the technique (I now use) and learned at the conservatory I would not have had this problem."

As for when she decided that she wanted to pursue a career in music, she says, "I decided this when I was really small. When everybody asked me what I wanted to be, I said I wanted to be a violinist. I never had another plan or a plan B. That was always my plan. I really love it and I have never found anything that was is so much fun."

Beatrix Löw-Beer

's

education and her career as a violinist took a new direction when she was an exchange student in the United States for one year.

"There was a partnership between Munich and Cincinnati, Ohio through the conservatory of music. Every year they give one student a scholarship to study there, so I applied. This was one of the best years ever, for sure (light laughter). It was easygoing and I wasn't only playing Classical music. For the first time in my life I listened to music other than Classical music. Before that I only listened to Classical music and that was all that I practiced. It (going to Cincinnati) changed everything and I became more open minded. I was twenty-three at the time.

Since there were not any Germans, I had to speak English all of the time," she recalls, while laughing and we might add she is completely fluent in English now, with almost no trace of an accent.

Beatrix Löw-Beer talks about the adjustments she needed to make while in America, "It was starting to improvise and to play without sheets and in playing my own music. The professor was really cool. He said you don't need sheets, just play what is in your mind. As a Classically trained musician you don't do this. When you play Tchaikovsky you read the sheets, you remember them, but you still play Tchaikovsky. You don't do your own thing. That was really, really cool. The year was amazing, because most of it we were traveling around the U.S. and Canada. There were people from all around the world who were studying there."

As we mentioned in the beginning, Beatrix Löw-Beer musical repertoire is vast, "I think it is so cool that I have a chance to play everything on my instrument. It is so flexible and you can have different techniques and can give every style of music something special. It is a chance to show people that violinists don't need to be boring and they don't need to play only Classical music. You can show them combinations and make it a little more exciting. Sometimes they really love it and they say oh I thought violinists were always boring and just Classical. They say it sounds so nice when you play a Rock ballad. Many people get access who never would have listened to violin music. Young violinists will hear that and say it is cool and I want to keep on doing this. In every type of music now they use strings."

Beatrix you have performed all over the world and with some of the biggest stars and you are now considered to be an elite musician, do you feel like you have arrived?

"I don't know if you ever say you arrived. My career was never planned to be like this. I wanted to be in an orchestra and touring. It was kind of an accident actually. In Munich they have a photo competition and you send one of your pictures and then you can go on to other rounds if you win. I just did it for fun and I sent a holiday picture in. It was through this that I met some photographers and they took me to a party. At the party the owner of the venue asked me what I did and she said bring your violin here next week and play with the DJ. Then there were many photographs posted of me doing it and I got jobs, jobs, jobs. It was crazy and not planned. After a few months I started to play," she recalls.

To date Beatrix Löw-Beer has recorded one solo album, which you can still purchase. It was released through Universal Publishing in Germany. The album is also available through various streaming services. She did tease us a bit with this tidbit though, saying that she plans on recording another album soon.

Perhaps you

are reading this and you are one of those people who have never given the violin a serious listen. We invite you to take a few minutes to listen to Beatrix Löw-Beer and we guarantee you will be hooked.

Please take time to visit the website for Beatrix Löw-Beer here, where you can watch her music videos, see concert photos and as more music venues start to open up around the world, you can keep track of her concert dates. You can also follow Beatrix Löw-Beer on her official Instagram page.

#Be

atrix Löw-Beer

#ViolinistGermany #ViolinContemporary #RivetingRiffs #RivetingRiffsMagazine #ViolinStars #LindseySterling #CaroEmerald #SarahConnorMusic #MusicInterviews #MusicInterviewsGermany #GermanMusicians

This interview by Joe Montague published February 20th, 2022 is protected by copyright © and is the property of Riveting Riffs Magazine All Rights Reserved. All photos are the the property of

the producers of

Beatrix Löw-Beer

unless otherwise noted and

all are

protected by copyright © All Rights Reserved.

This interview may not be reproduced in print or on the internet or through any other means without the written permission of Riveting Riffs Magazine.