Ben Brown from Austin, Texas is a deep thinker, who also happens to be a terrific songwriter and musician. King of Air is his second solo album following Sayonara Sorrow. Although at one time it was considered risky for an artist to release an album that cannot easily be pigeonholed into a specific genre, that may be more a thing of the past than it is an absolute today. Certainly, Brown's new record, King Of Air, a collection of eclectic songs does a lot to dispel that myth and when combined with today's purchasing habits of music fans who tend to listen more to single songs that they like versus buying an entire album King Of Air has arrived on the scene at the right time. In fact, those who regulate the radio airwaves are themselves almost a thing of the past, with listeners and artists alike enjoying numerous ways to access and distribute music that simply did not exist thirty years ago.
Ben Brown, an excellent guitarist, bassist and keyboardist is joined on King Of Air, by saxophonist Tim Cappello (Tina Turner – "We Don't Need Another Hero," Carly Simon, David Bowie and Peter Gabriel), Mick Flowers who doubles as the drummer and producer, Matt Hubbard who also plays keyboards, as well as the theremin and vocalists, Sally Allen and Bianca Lugo. Jared Wenkman who also sound engineered Sayonara Sorrow, is at the controls once again.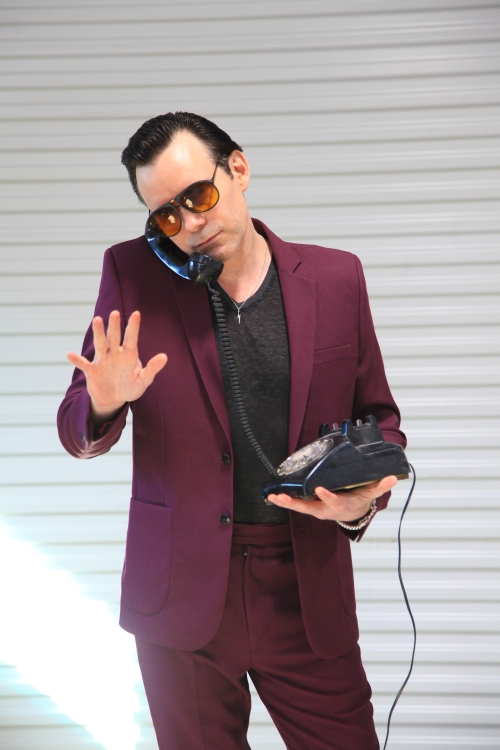 While the title song opens the album, it is the sixth track "Dancing With the Village Girls," that really grabbed our attention with an almost Bowie like feel to it.
Ben Brown says of the song, "Dancing With the Village Girls" has been well-received in a live setting and I assume for several reasons. First, the song is arranged around a slinky, pulsating groove, which is tailor-made for dancing. Second, the verses and choruses are in a minor key, but the bridge is in a major key, which functions like a crescendo, or a release of slowly building tension. Third, the lyrics of the song are about choosing pleasure over meaning, and choosing pleasure is fun! Beauty may only be skin-deep, but skin makes the world go around and keeps the population growing. Every sinner in history plans to repent for their sins, but not until tomorrow, which is the notion and the nature of "Dancing With the Village Girls."
The song is introduced by Tim Cappello's saxophone, features strong drumbeats by Flowers and of course excellent guitars. There is a special treat however later in the song with some excellent background vocalists.
Brown talks about the singers, "On the chorus section, I am joined by my partner, a singer named Bianca Lugo, and on the bridge section, I am joined by another Austin artist named Sally Allen. For inspiration in the chorus sections, there is a singer who I am very partial to named Julee Cruise, who is most well-known for her work with David Lynch and Angelo Badamlenti, who together did the music for the TV series, Twin Peaks. Julee Cruise has a soft, angelic, soprano voice and a straight delivery, which is what I asked Bianca Lugo to emulate in the chorus sections. In the bridge section, I asked Sally Allen to evoke the spirit of singers like Anjani Thomas and Sharon Robinson, who support Leonard Cohen on songs like "First We Take Manhattan," on his album, I'm Your Man, which is a favorite of mine."
Borrowing from Bob Dylan, Ben Brown is inspired by what Dylan wrote in his book The Philosophy of Modern Song, '…it is less important to understand what artists are thinking and what they are going through in their lives (when) they make art, and it is more important how a song makes the listener feel..'
Having said that, I am going to talk about ideas I was thinking about when I wrote the songs.
Viktor Frankl said, when people can't find real meaning in their lives they will settle for pleasure. The image of Dancing With the Village Girls, encapsulates that quote. When we turn on the television, when we look at the internet and we look at social media, I see a whole lot of people "Dancing With the Village Girls." The song uses imagery to comment on culture that is distracted by BS. "Dancing With the Village Girls," is about looking for diamonds in the trash. There is value in seeking pleasure, it is just not deep value."
In the third verse of "Dancing With the Village Girls," Ben Brown addresses the earth heating up, forests on fire, rising oceans and the very poignant line, "Our crimes against nature are on display."
"There is a device in the craft of songwriting when you can't be serious all of the time. Sometimes, specifically in popular music, you have to let things breathe. You can't hit people over the head with things for an entire album. Believe me, I have tried and it doesn't work. That third verse where those things are referenced is when you sort of slip in some more substantial ideas.
One tool that I have found success using is you can put the ideas in the verse and then have a chorus that is just fun or vice versa. The verse can be benign and then you can have a big idea in the chorus. There needs to be an ebb and flow as the lyricist otherwise it feels like you are proselytizing and that doesn't work," he says.
We have already talked about a small portion of Tim Cappello's music credits, but please tell us more about him.
"I met Tim Cappello when he was doing a solo tour and he came through Austin in 2018. I was a fan and I shook his hand. I had such a good time that I asked him if he wanted to work together on some original stuff. It took some time for him to respond, but he agreed to work on a song. That started a relationship and we have now done two records together.
His instrument is so flamboyant and aggressive and over the top, that it would probably raise a lot of eyebrows for a lot of singer songwriters and Rock 'n Roll bands. What he brings to the table is not the kind of thing that you blend in textually. It demands attention. Something about his playing I feel is appropriate for the time that we are living in," he explains.
Talking about the seventh song on the album, "The Great Beyond," Ben Brown says, "Our time on earth is short and so there has to be a higher human aspiration that accumulating wealth or drinking mint juleps at the country club. It certainly seems that what we celebrate in this country is wealth and it is that age-old adage, you can't take it with you, so you had better make good choices, while you are here. If there is another place, you are going to have to answer for the time that you spent, (and if it was on) more meaningful activities in life than just counting dollars.
There is a verse in the song that if you are of a certain vintage may jump out at you, "The grease in the hair of the 50's / Gave way to the swinging 60's / The hippies are yuppies now / Finance is their sacred cow."
It sounds a bit counterculture like to this writer, but Ben Brown says, not necessarily so, "I think the line in that verse about the hippies becoming yuppies, is a bit simplistic. I know some dyed in the wool hippies who are still on the front lines today. I think it was more that big money and corporate money figured out how to market to people and get around the counterculture.
When you write lyrics, sometimes you paint with a broad brush. I do think there are some people in the culture who get hijacked by material things, but I think by and large that generation, the momentum of the sixties was co-opted by the corporations."
Two of the songs that appear on King Of Air were written during the same time period, as Sayonara Sorrow and Brown explains the rest were written during the last year to eighteen months.
"One thing that makes this different than Sayanora Sorrow, like other relationships in a person's life you get these windows of opportunity. I approached Mick Flowers and the time wasn't right and then (later) he approached me and he said bring me your ten best songs. I didn't personally feel ready. I hadn't demoed the material, but like I said you have to strike, while the iron is hot and walk through the open door. I had ten pieces that were in various forms of completion. I had lyrics for all of the songs and I had Rock music ideas. We went into the studio and essentially painted on a blank canvas. Mick and I layered the instruments on the songs. You never know when you go to make an album how it is going to come out. It always comes out different than you think it would, even if you do pre-production work. This record was a milestone for me. I hadn't recorded or done any of the material, before we went into the studio. It was a liberating process to know I could go in and paint directly onto the canvas like a director storyboarding or like I was demoing. It was exciting to learn I could make an album that way and it would hold up.
I have worked with other artists who will not give you the song in advance. You will go into the studio and they will play it for you and they will give you a couple of passes, but you don't get to sit at home and compose. That can be really, really scary for a musician. You learn that if you are prepared you can be successful that way and you can improvise."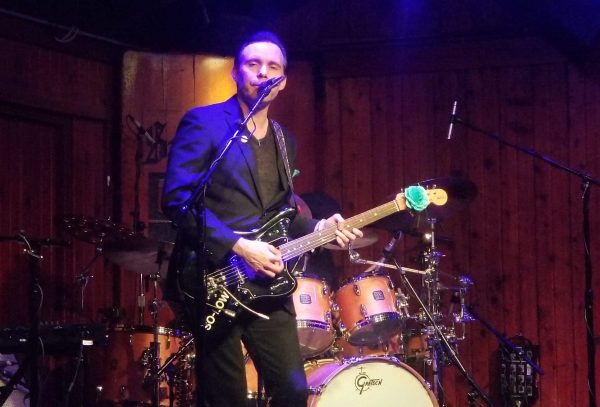 There are several reasons to purchase King of Air, the album, but if you need only one reason, then the very pretty song, "Don't Be Afraid," is the reason.

"The song, "Don't Be Afraid," is as close to a prayer or an invocation as somebody like me is capable of. That song came to be, because of my brother Jeff Brown, who passed away in 2021. We were in bands for a number of years. We always struggled to articulate the purpose of our music or the essence of our music. We argued about it for years. Artists don't want to be pinned down to an elevator pitch. I do remember him saying several years ago that he hoped that his songs would help other people learn that they didn't have to be afraid to live their lives in accordance with whatever their beliefs. He said I want people to hear my songs and to not be afraid to live the life that they want to live.

I was reflecting on that. I like to do a lot of walking late at night and the song came to me when I was walking in the woods. It came pretty much fully formed. It is a simple song that is sort of paying homage to my brother, and the idea that art at its best can inspire other people to live a life in accordance with their own choosing," he says.

With the song "How Long Have You Been Gone?" he says, "For those who know me the artist, it would be easy for them to draw conclusions that I am singing about my brother. I will let you make up your own mind about that. There are some allusions that would make it hard for me to deny that, but when I was writing the song, I was thinking about a person having a conversation with god. The person was looking at the problems in the world and however that dialogue goes down feeling that god had disappeared or deserted.

There is a song from a U2 album of the late nineties, which by the way is my favorite period for that band. The album is called Pop, which was not very well reviewed. At the end of the album there is a song called "Wake Up Dead Man," and I feel that "How Long Have You Been Gone?" is along (that same theme). When things are dark people like to think there is some sort of higher order or higher power and to me that was the general image of the idea that sparked the song. Ultimately it is up to the reader to (interpret) this, but it could be about losing a loved one. The image I had is where is god, when all of this bad shit is happening on the planet?"

One of the reasons I like artists like Bowie and Morrisey is you get the sense that they are on a journey and they have been lucky enough to find favor with an audience that is willing to go on that journey with them.

When I go to hear an artist in a club and I hear three songs and they all sound the same I'm bored. Even if it is a great sound, I generally like an artist who has more than one color on the palette.

One thing that I reflected up when completing this album is I obviously have my own personal tastes and biases when it comes to music, as all artists do, but when you finish a record, which is a collaborative process that takes a lot of time and personal capital in order to get it out into the world, it really makes me appreciate anyone who has put something out into the world. The process of making this album has made me want to bow to any creative person who puts their art into the world. It isn't an easy thing to do."

Please take time to visit Ben Brown's website and you can follow him on Instagram here.

#BenBrownMusic #KingOfAir #AustinMusic

#SingerSongwriter #RivetingRiffs #RivetingRiffsMagazine #MusicInterview

This interview by Joe Montague published July 17th, 2023 is protected by copyright © and is the property of Riveting Riffs Magazine All Rights Reserved. All photos are the the property

of Ben Brown

unless otherwise noted and

all are

protected by copyright © All Rights Reserved.

This interview may not be reproduced in print or on the internet or through any other means without the written permission of Riveting Riffs Magazine.