We do not often think of the word Evergreen, as summer is winding down, but Christmas came early this year with a delicious album from Beth Bombara that bears that title. The dual first tracks, which for the music video merge into one another, "I Only Cry When I'm Alone," and "Upside Down," are well worth investing in the album, so the listener can discover some other treasures.
Beth Bombara talks about those first two songs, "Social media has changed how we interact socially and what I was really thinking about is how it has enabled us to hide behind this curtain, minus emotion. If you don't want somebody to know that you're sad you don't have to post a picture of you looking sad on the internet. Nobody has to know that you are sad or upset. It is this idea of not letting people behind your emotional curtain. That is what I was thinking about when I started writing," the she adds that you can also convey your true emotions, "I have cried in front of other people before. It is capturing the idea that it is a lot easier now than ever to let people see when you are feeling sad."
Although, the song does not focus specifically on the period of her life when Beth Bombara was dealing with depression, she says, "I was not thinking about that, but generally speaking yes. Part of my battle with depression during that time period was the aspect of feeling stuck and not feeling like I had any power to do anything. There is an aspect of "Upside Down," that alludes to that. It is the feeling of being stuck and not having the power to do anything and then just flipping your whole perspective upside down. If you think you are at a place in your life where everything is terrible there is always perspective and there is always another side of that. You can always flip it on its head and see it in a different light and a more positive light. It is not directly related, but loosely. I wanted the feel of the song, the musical vibe of it to portray that. It is an upbeat song and when I play it on the guitar I want to dance to it. I was intending it to be positive encouragement and a reminder to myself that things aren't always as bad as they seem. There is always a different perspective."
The band sounds really good and there is a live feel to this album. Samuel Gregg plays electric guitar, Beth Bombara plays electric and acoustic guitars, Kit Hamon, her husband plays bass guitar, Mike Schurk keeps the beat on drums and percussion and longtime friend John Calvin Abney plays piano and organ.
"My goal was to take the band that I tour with and go in and make an album with them, with the addition of John Calvin Abney. He doesn't come on the road with us, because he is playing with more famous people than me.
John Calvin Abney has been a friend of ours for a few years and we just keep running into him. He has stayed at our house when he has been on tour with his other projects. We have gotten to know him over the years and I really wanted him to be involved," says Bombara.
Today's band is a long way from the first band that Beth Bombara was in, "I met these girls who really wanted to be in a band and I had never been in a band before. They knew I played an instrument and they said we don't know how to play anything yet, but we are getting instruments for Christmas this year and we are going to learn (She laughs). I said that sounds like an adventure, sure I'm in. I started playing with these girls and I wasn't a very good guitarist at the time, but I was learning how to write songs and how to put words to a melody and chord progressions and all of that. I thought this sounds like a great adventure, so let's do it. I started a band with them and we started getting offers to do gigs around Grand Rapids (Michigan) where I lived and where I grew up. We just kept getting asked to play and further and further away from home. I had recently gotten a driver's license and before we knew it we were driving all over the state of Michigan to play shows. I have super fond memories of my first band. I was about seventeen and I played in that band until I was twenty-one. It was like a Punk band. The band was called The Green Means Go.
Thinking back on it now I don't think I ever had a clear moment when I thought I am going to pursue this (music) as a career. I had been in that band for four years and I ended up moving away. Since I was seventeen there has not been a time when I have not been playing in a band. I really enjoyed doing it and I met other musicians who wanted to collaborate. It never stopped and it reached a point when I thought I am always going to be in a band. I (realized) it was something that I really enjoyed doing and that I could do it as a career," she says.
As for the album Evergreen she says, "I hadn't written anything for a while and I was in this weird space after the last album (Map & No Direction) – 2017). It was a downer subject wise and I guess it was me working through this depressive point in my life and then I wrote my way out of that. I felt I was in a much more positive headspace. I needed to take a break, because we were out on the road a lot, so I said I need to get away and I am going to go up into the mountains for a week and clear my head. I wasn't thinking about writing a new album I was just thinking about getting away from things. While I was out there I started to get some ideas for songs. "Evergreen," was one of the songs that I started working on when I was there. It wasn't an intentional thing and I realized this is always going to be a part of my life. Whether I am pursuing it professionally or not I am always going to pursue songs. That is when I started working on the material for this album."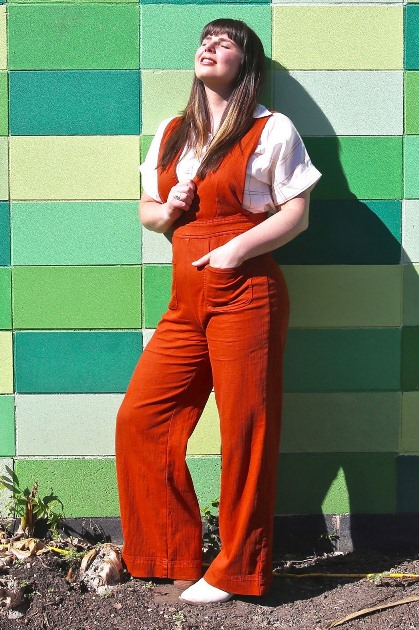 One of the songs that Beth Bombara wrote for Evergreen is the fourth song on the album, "Tenderhearted," which can best be described as an Americana Rock tune.
She says, The song "Tenderhearted," is one of those rare songs for me when I actually sat down and wrote the music and the lyrics at the same time. I was getting out of the house and finding random places to write. I have a friend who has a record store a couple of blocks from my house and I snuck in there one night after it was closed. I told my friend that I had broken into his store the night before and I hoped it was okay. I thought I am going to try this. It will be an interesting place to try and write. I sat in the record store and I ended up writing the whole song "Tenderhearted." I brought it home and showed it to Kit and I said I wanted his feedback. I played it for him and he (her voice softens) said did you write a song about me? I said yes this is about our relationship in a lot of ways. I haven't written a lot of songs like that, which were so pointed."
Beth Bombara takes a few moments to talk about how she and Kit met, "I had just turned twenty-one and we met in an artist residency program at Martha's Vineyard. We were in this residency program together and working on music. We were forced to work together. At first I thought I don't think we really get along, but once I got to know him better and deeper than surface level it became clear to me that we are extremely different people musically. However, once we learned how to work with that it is a really good compliment. It is a really good thing."
As for working so closely with the man she loves, she says, "I think (it helps). You can certainly show up to write with somebody that you have never met before and write a song, but I think that it does help, because he can see things from my perspective and we can throw out ideas.
"There are absolutely challenges," she says in response to our question, "because we are working so closely together on such a personal thing and for me it helps to separate those things. He has said to me things like, I am speaking to you right now as your collaborative partner and then we have had times when he has said to me, I am talking to you as your husband and your life partner. Having that separation has really helped to say this is work and to say this is personal. We both had to be very mindful of making time for ourselves, alone time and making sure that we get that, because we do work together so often. It is a challenge, but I think finding that balance has been very positive."
The pace slows down for the pretty "Does It Echo," a song that boasts some incredible
"The music totally came first for "Does It Echo." Generally speaking that is how I write. There is no rule for me with songwriting. I might try something that works and then it doesn't work the next time that I try it. "Does It Echo," started off with just the music. I recorded a demo at home that is just the guitar riff and I started to get an idea of the melody in my head. With the band we worked it out and I said what do you think the second guitar should sound like? We worked (those things) out together. Then I ran into a wall and I was how does this end? I need another part. We brought John Calvin Abney on board and he produced the end of that song. I am not known for big instrumental sections or jam outs. I am more focused on where is the melody. It was really cool to have John and the rest of the band go you can totally do this. This is cool. They worked with me to finish the end of the song."
Evergreen was recorded and mastered at Jettison Studios by Dan Mehrmann, mixed by Jason Cupp, produced by John Calvin Abney and Kit Hamon and co-produced by Beth Bombara, Samuel Gregg and Mike Schurk.
"I have always respected Dan's engineering and his studio is a very comfortable space. He is very easy to work with, he is very professional and I respect his views. We recorded one previous album with him. I had a really good experience. His studio works very well for us to go in with the whole band and track it live. I really wanted to get back to doing an album that way. A lot had to do with me putting together a band that I felt really clicked with each other. This group of musicians, the newer band had never recorded an album together. We tracked everything live," explains Bombara.
As for who the album will appeal to she says, "I am a fan of gleaning my favorite parts from older music and people whom I think have done great work in the past (such as), Neil Young and Tom Petty who put out a great album in the nineties. I take those sorts of musical vibes and make them a little more modern. I am hoping that people who are super into music from the sixties and seventies go there is no good music anymore. I don't listen to the radio. I am hoping it appeals to people in that camp, as well as younger people. I hadn't thought of it that way until I met somebody at a show and they came up to me and said those exact things to me. I used to go to shows in the seventies and I enjoyed them. Now there isn't anything on the radio that is original anymore and there isn't anything good. I don't think that is true, you just have to know where to find it. There is so much music that people don't know about."
Please visit the website for Beth Bombara.
Top Photo: Screen Capture from the music video for "I Only Cry When I'm Alone / Upside Down." Second and Third Photos by: Nate Burrell
#BethBombara #BethBombaraEvergreen #AmericanaRock #RivetingRiffsMagazine #RivetingRiffs
This interview by Joe Montague published August 12th, 2019 is protected by copyright © and is the property of Riveting Riffs Magazine All Rights Reserved. All photos and artwork are the the property of Beth Bombara unless otherwise noted and
all are
protected by copyright © All Rights Reserved.
This interview may not be reproduced in print or on the internet or through any other means without the written permission of Riveting Riffs Magazine, All Rights Reserved