Actor, Author and Acting Coach Beverly Leech Flexes Her Actor Muscle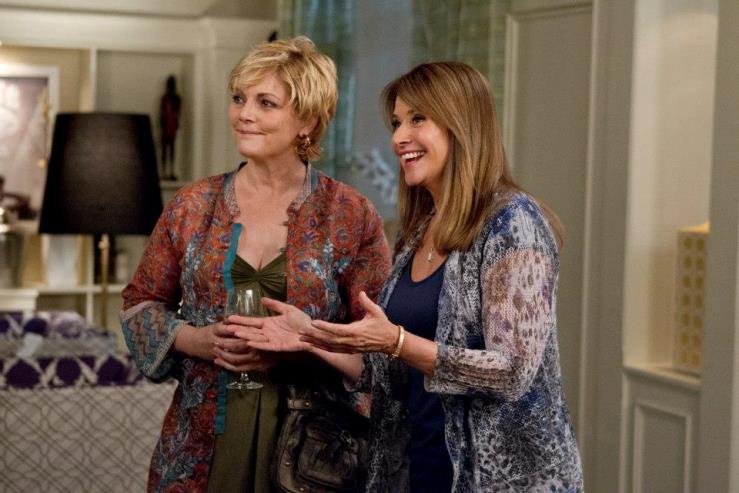 "At the root of everything that I do is passion for my profession. I am a real lifer," actress Beverly Leech laughs and continues, "All of my friends refer to me as a lifer. You would have to pry it from my cold dead fingers. I am I am very passionate about my craft, my profession and the business. I always try to present a very streamlined and professional approach. In addition, to the mail service (she laughs referencing the attempt to mail this writer her book) there are other things that have deteriorated with time. The business has morphed and it has changed so much the past few years that I can see young actors really struggling. What inspired me to write the book is my own sense of passion. My mother died recently and I was her caretaker for a number of years off and on. Writing a book had always been on my bucket list of things that I wanted to do before I died, so when my mother finally passed I had to take a very clear look at myself and say it's time to honor yourself with these things that you always wanted to do," she says, talking about her book Actor Muscle A Professional Guide to the Business of Acting.
Beverly Leech has an impressive stage and television acting resume having appeared as Alaura Kingsley in the Broadway production of City of Angels, as well as being cast in numerous plum roles at award winning regional theaters. A small and we emphasize small sampling of Ms. Leech's vast television experience includes appearances on, The Rockford Files, Columbo, EZ Streets, Frazier, Modern Family, Rizzoli & Isles, Mad Men and Judging Amy. She was Sargent Kate Monday on Mathnet a segment of Square One Television produced by Children's Television Workshop for PBS. She played opposite Joe Howard on a show that often featured guest stars such as, James Earl Jones, who had a recurring role, Jayne Meadows (films: Lady In The Lake, Song of the Thin Man, Undercurrent), Weird Al Yankovic , Betty Buckley (Tony Award Winner, twice nominated for a Grammy), Marcia Wallace (Bob Newhart Show, The Simpsons), Dick Sargent (Bewitched), McLean Stevenson (M*A*S*H, Doris Day Show) and numerous other high profile guests.
About her book, Beverly Leech says that it really encapsulates what she taught privately beginning in the year 2000. At the same time she was also teaching at the Stella Adler Studio of Acting, but they did not have a business of acting class.
"They would release all of these incredible actors into the marketplace and they would fall into the cracks. They had all of this training, but they didn't know how to do a resume and (the actors) didn't know how to get an agent, so I have been teaching actors how to put together a professional portfolio for a long time. I was constantly peppered with new actors from the Adler and (others) in Los Angeles and New York who came to me and said, I know you work, how do you do this?
Then there was a writers strike, SAG had difficulties solidifying a contract with the producers, so there was a big job stoppage and when coupled with the stock market crash, there was a big job shortage. It gave me a lot of time to hone my materials and lucky for me I got picked up by the American Academy of Dramatic Arts and the South Coast Repertory Theater to teach this very thing. I had already taught a number of acting classes, script breakdown classes and the craft of acting, but it was a nice way to work and to hone my materials into the book that I wanted to write. There was a silver lining around that dark economic time.
I was also provoked into writing this, because of the other shysters who are out there. There are a lot of really good and legitimate teachers out there and there are a lot of shysters out there in New York, Los Angeles and Chicago that have a very flashy front and they claim (she laughs) to have the secrets to the industry. They also claim to have credits and they don't have the experience that they are claiming. For instance I came across an ad recently by a woman who was advertising a very extensive business of acting class and I thought I have never heard of her. Who is this woman? I've worked a lot and I know a lot of producers and casting directors, but I had never heard of this woman. She was claiming to sell the secrets of the industry. It is very easy to do the background check on a lot of these people. All you have to do is go on IMDB Pro and look up their credits. She only had one or two self-produced shorts, which told me she was not able…and she was also not represented by an agent. She wasn't able to get into the room, so I'm not sure what she was able to teach these people about how to get into the rooms. Does that make sense?" she asks.
Ms. Leech says that the scam artists use well put together and flashy websites and high powered marketing plans to lure unsuspecting young actors and take advantage of them. She also notes that it "is very expensive." With her own career Beverly Leech has always done background checks to ensure that she is going to receive the proper value for her time and money.
She says, "The proverbial big bad wolves and the casting couch legends continue on and on and one."
"The other thing that inspired me is I have a lot of empathy for young actors who are starting out in the first five to ten years of their career. Most of them are broke, really broke, like I was. I was always working two or three jobs in the beginning for years to make ends meet and to put my money towards good portfolio material, for my head shots and to make sure I was getting the packages right, to get agent representation and things like that. With the things like the shyster seminars they are very expensive and you can really bleed an actor dry from these kinds of things, so I wanted to make an affordable guide. Not only are they (actors) overwhelmed by much too much information without any filters, they are also wandering around in the wilderness without a map or a compass," she says.
When and how did this passion for acting first imbue Beverly Leech? Well probably not the way that you think. She took a rather circuitous route to acting. Life began for Beverly Leech in the small town of Paris, Texas. Her mom was originally from that town and her father hailed from Dallas. She was the oldest child, with two younger brothers.
"My dad was in radio. He was a radio DJ and a standup comic and he segued into radio. He had his own show and we travelled around a lot. Eventually, we ended up in Houston, but I spent every single summer and every single Christmas in Paris, Texas. It is a very small town and I absolutely adore the area. It is a very beautiful part of Texas, rolling ranch land, green and very lush and it has the most brilliant lightning storms that I have ever seen. They come in from Oklahoma and you sit on the porch. It is the biggest show in town," she says.
Beverly Leech's acting future did not begin with an epiphany on stage as a child in a school play or community event. When Beverly Leech was growing up it was quite the contrary.
"I was shy. I was very, very shy. I danced. I was a ballet dancer. I didn't speak at all. I was shy in a crippling kind of a way. I remember when I was in college and I was with the dance department, one of the classes that we had to take was in theater production. It was a mandatory class and this was in the early years. They gave me a line from A Funny Thing Happened on The Way To The Forum. I stuttered and blushed. I looked at the floor and one time I went offstage and I just shouted my lines offstage. I was so bad. It was so bad that they took the line away from me and I went whew, I narrowly escaped that one. Then I got the scholarship to go to Florida State as a dancer. They had a great program there. I was a ballet dancer and a modern dancer. I was classically trained at the Houston Ballet. I was very serious about becoming a dancer. It wasn't a sideline. It was full out one hundred and ten percent.
(Another time) I had to pick an elective and I looked for the easiest class I could find and it was introduction to acting. They talked about acting and you listened to someone else tell you what stage left and stage right is. It was a phone it in kind of a class. He did have us do some improvs and scenes and our final exam for that class was to pick a monologue. This is such a terrible story, I don't know if I should tell you this (she laughs). It all worked out in the end, but…It was to pick a monologue and to go to the general auditions for the theater department at Florida State. Florida State had a big theater department. They had big names behind the theater department. It was just general auditions for the theater. I didn't know what I was doing, as I had never read a play. I went to an actor who was in the theater department and I asked him if he would help me with it and he said sure. He said don't worry about doing any plays, just do this monologue. He thought it would be hilarious if I did one of the monologues from Bent. It is about two homosexual prisoners in a Nazi prison camp. It was a dirty trick and he thought it would be really, really funny if I did it. I was so green. See how young actors are snookered. He even worked with me on it to get it to the right emotional peak. Here I was playing something that was not my gender and nothing that I would ever have been cast in to begin with. I showed up at the theater auditions and I remember the dance instructor saying, this is the girl that I was telling you about. My teacher from the introduction to theater was in the front row and he was going this is the girl I was telling you about. He was making signs to the people at the back that you are going to just love her, she is great. I began this monologue to Bent and about four lines in this big director from New York started screaming get out of here, get out. I was mortified. I was absolutely mortified. (she laughs). The choreographer calmed him down and said this isn't Beverly that we have in the dance department. Something is wrong. She found out the story about this other guy getting this monologue and she told what the dirty trick was. They agreed to see me for the rest of the audition, but they just gave me some pages to cold read from the script. I did that, I sang my sixteen bars and I went home. The next thing that I know they had cast Peter Pan, which was a huge production (and she was cast in it). They brought in a big director from New York and I said, you don't understand, I don't speak. You made a terrible mistake. The director refused to let me out of the production. That was my introduction to acting. It is a shaggy dog story. Isn't it terrible? It is a terrible story, but knowing how crippling shy I was, it is a miracle that I got through it. I began to see things differently about acting and about what I was actually capable of doing. I was too shy to pursue it as a career, but it forced me to see the world differently. Eventually, I started to segue out of dancing and I applied the same kind of self-discipline as I had my ballet training. I didn't mess around. I went to Russian ballet masters and the Houston Ballet to get my training. I went to masters in acting and that is eventually how I found Stella (Adler). I didn't mess around with that and I knew I was going to have to get good critical training to be a good actress," Beverly Leech recalls.
Ms. Leech acknowledges that Stella Adler played an important role in her life and she often quotes her or alludes to lessons learned through her association with and studying under Stella Adler.
She remembers, "She was a force of nature. She disliked Hollywood actresses, especially blond Hollywood actresses and I was one (she laughs). I really knew her technique before I met her. I worked my brains out. I made sure that I didn't make the mistakes that other actors made, because she could really burn you to the ground, men and women alike, if you weren't prepared in the proper way. I really pulled out all of the stops to prepare, research and breakdown the script and to do exploratory work before I got up there. Most actors made the mistake of just learning their lines and tried to play it emotionally. She was not about that. I escaped a lot of her hardcore searing comments for a long time and she did help me quite a bit. There was one time (she starts to laugh) where it was simply my turn. I had put in weeks of work on this character, building the character from scratch, reading the author's biography and I really put in the extra time. It didn't matter, it was my turn. She began to tear me apart and most actors would leave the stage humiliated, but I refused to leave the stage. I refused to cry, I refused to crumble. If she said she didn't like my hat, I took off my hat. If she said she didn't like my hair color I said I will be back in twenty minutes, I have a rinse at home…and that dress and I began to unzip my dress and I was prepared to stand naked in front of her, because she just really hated what I was doing, every single second of it. When she saw that I was prepared to stand naked in front of her she said (she imitates Adler) 'Oh stop! I guess I will have to direct you' (she laughs again). She gave me some really good insight into Arthur Miller After The Fall. I threw everything out the window, I went off stage and I re-entered. I played the scene completely different and she said I don't know how you got there from where you were, but bravo. What she liked was moxy. She liked grit. She liked smart and intelligent people. I can't always claim that I am smart and intelligent, but there is one thing that I always am, I have a pioneer heart and a willingness to absorb, to learn and to grow. I think for that reason, she respected me quite a bit."
Watch for Part II of our interview with actress, author and acting coach Beverly Leech to appear in two weeks in Riveting Riffs Magazine. In Part II Beverly Leech discusses her transition from being a dancer to acting on Broadway and appearing on many high profile television shows. She serves up some acting tips and offers some final advice about avoiding scams.
Please visit the Beverly Leech

website

Return to our Front Page
Interviewed by Joe Montague April 2013, All photos courtesy of Beverly Leech, protected by copyright ©, All Rights Reserved
This interview is protected by copyright © and may not be reproduced in print or on the internet or through any other means without the written permission of Riveting Riffs Magazine, All Rights Reserved