Recently, Pittsburgh singer, songwriter and musician Bill Toms returned to playing before audiences with his band Hard Rain, as North America slowly starts to emerge from the COVID-19 pandemic. These were also the first times that he had to perform in a concert setting, songs from his new album Movin' On, so we asked him how all that felt.
"There was quite a bit of nerves. The fact that we had not played in front of an audience for over a year, and we were playing some songs we've never played before made for some uneasiness. But that first show in Columbus (Ohio) was amazing and soothed the soul. It also seemed to do the same for the audience. We are (now) certainly rebooted and ready to go. The new songs are being received well. It is always nice to have fresh bait in the box.
We started rehearsing in mid-April, and it felt good to start up those engines and to feel that band behind me. It was an unbelievable feeling. You have to remember too, that I started playing in bars in 1980, so for forty years I always had a gig and a calendar with gigs in front of me. For the first time it was all gone. That was quite a shock. Making this record was therapeutic and saved my sanity," he says.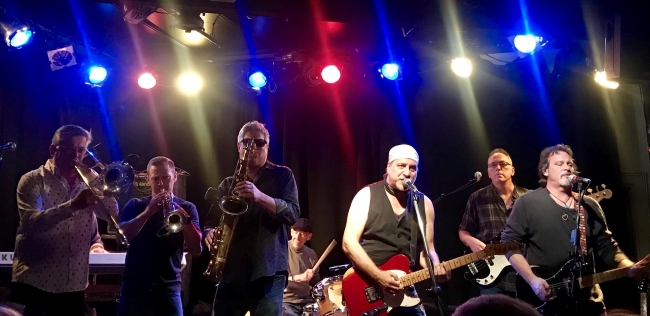 Movin' On is a musical novella, not so much because there is exists a common theme between the songs, but rather, because they are a collection of stories set to music.
Always thoughtfully and reflectively, as Bill Toms shares his views, he says, "I think sometimes storytelling is a lost art. I love to do storytelling types of concerts. I do a lot of shows, with just an acoustic guitar and me and when I can gather up songs that I really like to break down. I talk about the stories that surround the songs and the environment that they are in. I enjoy that and I think it is something that people don't do too much anymore."
One of those songs is the song, "I Keep Moving On," which was inspired by a conversation between Bill Toms and a friend of his who is a lawyer.
"I had dinner or lunch with a friend of mine, a year and one-half or two years ago and he is a lawyer and I'm an artist. He was trying to give me some ideas about financial planning and some business opportunities. I don't think that way, I am an artist. He is going through all his stuff, and he said tell me about the music business, so I started to explain to him how we get paid, about the gigs and how the bookings are done. After about a half-hour of this he put his pen down and he looked me right in the eye and he said you tell me why you do this. He said, the hours suck, the money stinks and you are sleeping in terrible hotels. To be honest with you, I couldn't explain it to him. He would never have understood. That was the start of the song, "I Keep Moving One." No matter what I do I can never explain to somebody who doesn't understand the creative process what would drive somebody to do what I do. Why do you live this life? It is because this is how I was born," he says.
One more thought about this, before we continue, Bill did you choose music or did music choose you?
"Music chose me," he says without any hesitation.
The fifth song on the album may be called "Ain't No Walking Back," but the rhythm, the groove and the melody take us for a ride in a musical time machine back to the 1960s and early seventies. The horn section comprised of Phil Brontz (saxophone), George Arner on trumpet and trombonist Stephen Graham, further enhance that mood. Producer Rick Witkowski who also plays on Movin' On engages in a call and response with Bill Toms, which adds another layer to a fine song. The lyrics to Toms' song tell a completely different story, but musically "Ain't No Walking Back," one ups Joe Cocker's "You Can Leave Your Hat On."
"I think "Ain't No Walking Back," was my interpretation of what I would be if I was a songwriter in Memphis. That song (takes) me back to Eddie Floyd and Wilson Pickett, "Ninety-Nine and a Half (Won't Do)." I had that rhythm and I just started writing. My daughter had just come out of a relationship, so those words came from what I thought her experience was," explains Bill Toms.
If you want us to give you a reason to buy this album through your favorite online store or purchase a CD after a Bill Toms and Hard Rain concert, "Ain't No Walking Back," is the only reason you need.
As for his love for horns and the players on the album, Bill Toms says, "I have always wanted to use horns and I have always had a saxophone player in the band. The saxophone to me is a great Rock and Roll instrument. Stax (Records) is a great example with the Memphis Horns and Albert King used horns. They weren't using horns like Tower of Power. They were just part of the fabric of the songs, and I always loved that. I had in the back of my head that I would do a record like that (someday).
They (Owens, Arner and Graham) all play an interesting role, and they are interesting individual characters that makeup part of the personality of the band. They are very animated on stage, and they are very talented people."
A nod also goes to producer Rick Witkowski (co-founder of the Rock band Crack the Sky), who was the sound engineer and along with Stephen Graham mixed the tracks at Studio L in West Virginia, plus Jesse Naus who mastered the album in Red Caiman Studios in Pittsburgh, for creating a very live feel for a record, that in fact was not recorded live due to the pandemic.
For a musician who is accustomed to being in the studio at the same time with the other musicians during recording sessions, you might expect a different answer than the one that Bill Toms gave us when asked about how he adapted.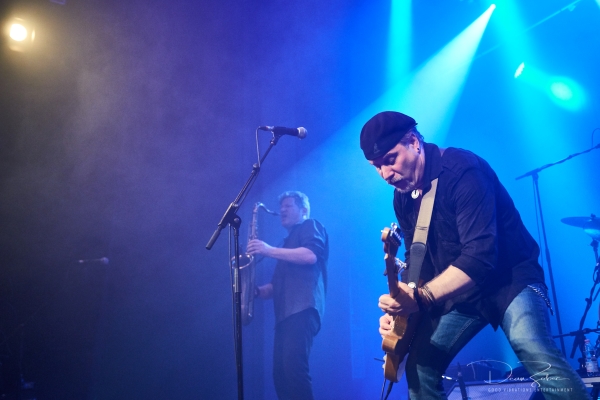 "It was a good experience. The pandemic itself wasn't good, but it forced me to record differently. I was always more of a traditionalist, so when we would record, we would all get into the same room and record rhythm tracks. In other words, there would always be a drummer, a bass player and one or two guitar players and maybe a keyboard player all in the same room. We would be just laying down rhythm tracks. With this record, we realized right away we couldn't do that. We couldn't be in the same room, so I started to record my guitar parts at home with a drum loop and then I sent them to Rick who would begin to create drum parts. The people who had access to studios would then send their parts in. We built it that way. I think most bands nowadays do it this way. They (record) by layering parts, but I never did it that way. Most of the time we were in the room playing together.
It forced me to look at (a new way) and to present the music differently. It became a real fresh way of doing things for me. Now I could sit at home in my own studio and create parts. I could arrange the songs at my own speed. I didn't have to worry about being on the clock in the studio with seven other guys there. It was a different way for me to do things and I found it refreshing.
Rick Witkowski mixed it with the idea to make it sound like we were playing a concert. I think we came pretty close to that," he says.
There is a little bit of everything on Movin' On for the listener, from the Blues Rock / R & B flavored "Everybody's Talking," on which keyboardist and Steve Binsberger and the horn section take center stage, to Bill Toms' growling vocals on "Walk in My Shoes," and the Soulful "Business On a Higher Ground."
He talks about that vast musical palette, "I think, it all starts with Blues music, Gospel music, Rock and Roll music, Soul music and all of those things, that when I was growing up that is what I heard. Even as I got older and into the seventies, I listened to bands like the J Geils Band. I always liked the combination of Soul music, Rock and Roll and even Folk music. The North American sound is what I call it. Look at The Band and what they did. Nobody called The Band a Blues band or a Soul band or a Rock and Roll band. It was what it was. It is a combination of all of those things."
Other musical influences happened much earlier in his life, "I was the first to take music professionally, but I have two older sisters, who both played piano, my mother played piano, my grandfather played piano and my father played the trumpet. There was always music. My father didn't play the trumpet at home, but I do remember him at church playing. My excitement for music came from my older sisters, especially the one sister who was ten years older than me. This was back in the mid and late sixties. She would listen to a lot of Motown and a lot of Soul music. In Pittsburgh there was a garage band type sound and Blue Eyed Soul I guess you could say as well.
I would listen to all these 45s that she had. She would go to the dances and that is where she got all her music from. That is where I started. Those were my first influences," he remembers.
Segueing back to the songs on the album, we talk about "Walk in My Shoes," and he says, "Without understanding what it is like for other people, how can we create laws and have compassion, if we don't understand what it is like to walk in someone else's shoes?
I like the song, because I think it combines a Rock and Roll feel with Soul music. I like combing those two elements."
Bill Toms takes a moment to acknowledge two other musicians who played on this album, "Will Kimbrough from Nashville, helped produce my last three studio albums and he came in with a couple of bass guitar parts, one on "I Keep Moving On," when he does some great work and the other on "American Dreamer."
The bass player Simone Masina is from Bologna, Italy and he is a fantastic player. He plays a great fretless bass, and he is just amazing."
Other musicians to appear on this album include, Bernie Herr (drums), Jim Spears (bass), Tom Breiding (strings), Steeve Wellons and Bubs McKeg, both on background vocals for "American Dreamer."
One of the most poignant songs on the album "Business on a Higher Ground," was inspired by a historical event that Bill Toms read about.
"I am a big history buff. I do a lot of reading. This incident happened during the American Civil War when the northern army was routing up through Georgia and they crossed this large creek called Ebenezer Creek. They put pontoon boats out and they marched across. There were maybe six hundred to a thousand African American slaves that were following them, because they thought they were leading them to the promised land. Well, when the last soldier crossed, they ordered them to take the pontoon boats down. These African American slaves who had been freed, because of the Emancipation Proclamation, they panicked. They started jumping into the icy water and a lot of people (including) women and children drowned. The ones who didn't drown were picked up from behind by the southern army and they were put back into bondage.
The song "Business on a Higher Ground," is really this march to freedom and it is seen through the eyes of a freed slave. No matter what happens there is a higher power in their minds. I don't know if that makes any sense, but I wanted to create a song that had this marching feel to it. It has a very moody, dark feel to it."
The last question we posed to Bill Toms, was to ask him to describe himself. We did not agreement with his self-assessment, because we do not think he gave himself enough credit, so permit us to describe the man we got to know during our conversation and our research leading up to this interview. We would describe Bill Toms as a deeply caring individual who writes songs from his heart, about subjects and themes he is passionate about. He was particularly kind to this writer, and we owe him a debt of gratitude for his patience as he waited for this story to be published, due to this writer's injured hand.
Please check out the tour dates for Bill Toms and Hard Rain on his website.
#BillTomsMusic #BillTomsHardRain #PittsburghMusic #AmericanSongwriter #RivetingRiffsMagazine #RivetingRiffs #MusicInterviews #BillTomsMovinOn #PennsylvaniaMusic #BlueEyedSoul #MusicaAmericana #EntrevistaMusica #MusicaRockAmericana
This interview by Joe Montague published June 10h, 2021 is protected by copyright © and is the property of Riveting Riffs Magazine All Rights Reserved. All photos are the the property of
Bill Toms unless otherwise noted and
all are
protected by copyright © All Rights Reserved.
This interview may not be reproduced in print or on the internet or through any other means without the written permission of Riveting Riffs Magazine.