Billy Crain Is An Outlaw Who Feels Comfortable In Creole Shoes
Songwriters, such as Billy Crain, often do not get the recognition they deserve, but when you write hits like "I'll Give You All My Love Tonight," written with David Bellamy in 1988 (went to # 5 - Billboard) and Poco's "Call It Love," (#2 – Billboard AC, # 15 Billboard Hot 100), which gave Billy Crain his first gold record, and then you roll in a tune such as the Dixie Chicks "Let'er Rip," from their debut album, which sold thirteen million copies, people start to pay attention. Billy Crain also wrote the song "Baby Needs New Shoes," for Restless Heart, a song that also charted in the top forty and he co-wrote "It's My Time," recorded by Martina McBride and that charted at # 11 on Billboard's Hot Country Singles. Equally impressive throughout his career has been Billy Crain's scintillating guitar playing, performing as the founding member and band leader and / or member with the Flat Creek Band, The Outlaws, the Henry Paul Band and now, simultaneous to his career with The Outlaws, Billy Crain has established himself as a fine solo artist, who is writing songs for his third album.
Billy Crain's current album, Creole Shoes, the follow-up to his debut, Skeletons In The Closet, opens with the love letter "Was It Enough," an Americana flavored song, introduced to us with a harmonica and the singer asks, "Was it enough to make a memory? / leave a mark on your heart like names carved in a tree." Crain who in the past has mostly been a background singer, has a nice, easy flowing vocal style and he stays within his comfort range, making this a very good listening experience.
Crain says, "I come from a Southern Rock background, but I would say that my solo records are not as much Southern Rock (noting that they are mellower). I kind of toe the line with The Outlaws' fans, because they wish it was a little more Southern Rock. My music spreads between Americana, Alternative Country and a little bit of everything.
Songs such as the banjo infused title track "Creole Shoes," have a very downhome, concert feel to them and that is not by accident. "There are tons of flaws and skeletons on those things that I could have perfected, whereas for years here in Nashville we would get the "A" team studio guys and we would go in there and make everything polished perfect that it almost takes the soul and the feel out of everything," he says.
One of the things that impresses about Billy Crain's solo body of work is he has not allowed the songs to take a backstage to his virtuoso guitar playing. With his song "Skeletons In The Closet," from the album of the same name, although he introduces the song with some scintillating guitar licks, this is a well-balanced tune, with a great melody, lyrics that evidence why he is regarded as a stellar songwriter and the music engages the listener. The eighteen second guitar bridge feeds the appetite of those salivating for six-string pyrotechnics.
As for the song, Crain says, "It is an older song. Jay Willoughby, out of Birmingham, and I had a band back in the early nineties called the Willbillies and we came close to having a really good Country record deal. It was like a Tom Petty kind of a thing. Right towards the end we went a little bit more Alternative and he and I wrote that song "Skeletons In The Closet." It is about somebody who has secrets that they are trying to keep in the closet and they are always going to get out."
His longtime friend Henry Paul with whom he has been in the Henry Paul Band and The Outlaws once described Billy Crain as being the type of songwriter who is a social commentator.
Crain laughs and says, "It is, because the songs that I wrote "Skeletons In The Closet," "John Lennon," and "Creole Shoes," are social commentaries. I will pick a subject and I will go out there and make a little commentary. I love writing songs like that and I am not really big on writing love songs and ballads. Henry said I am the social commentator of the songwriting community.
"You can (make a difference) as a songwriter. I think songwriting speaks huge volumes, if you think back in the sixties about all of the songs, the war protest songs, Hair and all of that stuff and all of the messages that were coming out of it. That is what I brought out through the song "John Lennon." It is based on the way that the music business has gotten now, compared to the way that it used to be. I think about The Beatles going and cutting on four tracks, and now everything is beat to death and the vocals are tuned. It's just a whole different beast."
The song "John Lennon," opens with the assassination of John Lennon, but wonders out loud what he would think of the state of the music industry and Billy Crain takes a direct shot, and in our opinion an accurate shot at the over produced, hookish and formula songs that are auto-tuned. Image makers have sucked the creativity out of much of the music industry, as the talking heads at what remains of music labels continue to overhype less talented individuals and bands, at the expense of really good, often independent artists, such as Billy Crain who in many cases are overlooked by commercial radio that is nationally programmed and no longer listens to its local constituents.
The third song on the album Creole Shoes, "Wildman," is dedicated to Billy Crain's brother Tommy, who for many years played in Charlie Daniels band.
"Someone asked me last year, if I would do an instrumental and after Tommy passed away (there is a pause), Tommy loved instrumentals. He was just waiting to do it. I did it for him. I have tons of Celtic music on my iPod that I listen to all of the time. I love Celtic music," he says.
"Wildman," is a very spirited, quick moving song that embraces the best elements of both Rock and Celtic music. It would be difficult to imagine anyone sitting or standing completely still while listening to this very good song.
Billy Crain's solo albums are so good it begs the question why did it take so long for him to release one? "I don't know. I've always been a guitar player and I have never thought of myself as a singer. I always sang backgrounds and stuff, so I never really pursued it, until I did Skeletons (In The Closet) and a lot of people went wow, I really like your voice a lot. At that point, it finally clicked and Henry (Paul) said you're a great singer. The song "Last Ghost Town," was going to be on Skeletons, but Henry liked it so much, we ended up putting it on The Outlaws record. I just decided that I wanted to sing and to pursue this. I am having so much fun that I decided to stick with it," he says.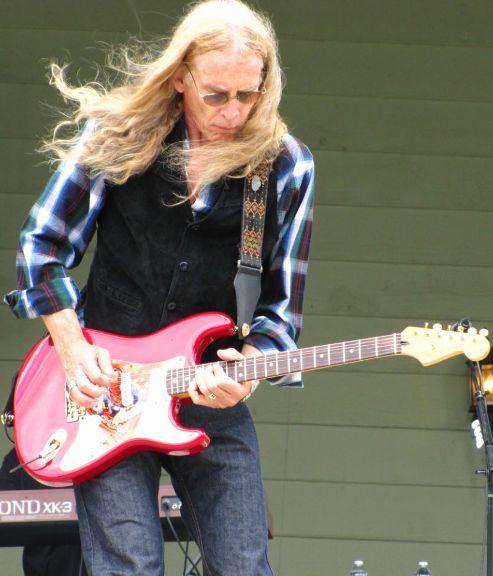 Billy Crain does not have to go far when he is looking to collaborate on a song, "My wife Sandy is a great writer. She wrote one song on Creole Shoes and one or two on Skeletons. She has a really fresh perspective on things and she's not jaded like the songwriting community here in Nashville. A lot of times you get together with people and they have to do it a certain way. Sandy is really fresh and she challenges me to write a better lyric. There is a song on Skeletons called "Daisy Chain," which is about foster kids and the abuse that they go through and stopping it, by breaking the daisy chain. Sandy is probably the only person that I write with anymore for my records (he laughs)."
The talk about "Daisy Chain," naturally segues into a more personal part of Billy Crain and Sandy's lives. "My children from my first marriage are now grown, John is about 28 and Sarah is 22 and about three years ago Sandy said we have this nice house and all of this room, why don't we give back to God some of what he has been so gracious to us about. She talked me into it and I love it. I would never think that at my age I would start a family again, but I can't think of it any other way now. It is an amazing, amazing gift. We have a 3 ½ year old and a six month old baby right now and the six month old was born addicted to heroin, so what they have been through is just…(his voice trails off). They do more for me than I do for them."
Billy Crain is not a musician, singer – songwriter who moved to Nashville to pursue his career. "I was born in Nashville, Tennessee. There's not many of us…noooo. I grew up in West Nashville. My dad had a construction company and both my mom and dad played the piano. My dad played the boogie woogie and my mom was more of a Classical pianist. They both really loved music and we always had music playing on the radio in the house and stuff. My older brother Tommy was in the Charlie Daniels band for years and years. When I was seven years old he was ten and he started playing guitar, so he taught me how to play. I just kind of stuck with it.
My first guitar was a Kent guitar that my mom got with 60 Top Value stamp books. The first thing I ever learned was kind of a Spanish deal (he imitates the guitar). You know the old E Major A Minor thing. He taught me how to do that and then we were both big Kingston Trio fans. I think, "Tom Dooley," might have been one of the first songs that we learned how to play. Of course we liked Chubby Checker and all of the Rock and Roll stuff that was coming out.
In the third grade I got up and I played "The Tijuana Jail," which was a Kingston Trio song on banjo for the talent show in my elementary school. I got in front of the third grade class and I played it by myself. The teacher felt like I needed some more people, so she had another kid come up and play the guitar and three other guys came up and sang harmonies. We played in the talent show and we won third place. It was really neat.
When I first saw The Beatles movie A Hard Day's Night and I saw the girls and the fans chasing them around, I thought wow, that's what I want to do. I just loved playing the guitar so much, that from the first time that I picked it up, I just fell in love with it.
My first band was B.C. and the Cavemen (he starts laughing). You remember the cartoon B.C. and when I was in the fourth grade I had a little band called B.C. and the Cavemen."
Both the professional relationship and the friendship between Billy Crain and Henry Paul go back to the beginning of their careers. "We met in 1973 up in Knoxville, Tennessee. My brother Tommy and I had the Flat Creek Band. It had a pretty large following here in the south and The Outlaws were just starting to take off. I remember we were playing up in bar in Knoxville and the bar owner said, we have this band called The Outlaws coming down and they have the night off. They want to hang out with you guys, so Hughie (Thomasson), Monte (Yoho) and Henry (Paul) and all of them came down and we hung out. We got to be friends after that.
Flat Creek was probably the first serious band that I was ever in. Tommy was three years older and it was all older guys and me. I was in high school then. Flat Creek came in '71 and lasted through '73. When Flat Creek broke up, Tommy and I were in a band called Yankee Grey Band and then we split up and he started the band Buckeye. In 1974 when he started playing with Charlie Daniels, I stepped in to fill in his shoes in Buckeye."
Billy Crain's songwriting started to take off. "In 1989 Poco cut a song of mine, a song called "Call It Love." Tommy and I were big Poco fans growing up and it turned out to be a big international comeback hit for those guys. That song was so special to me to have guys that I looked up to cut something like that. It opened up the whole songwriting community to me and I was able to move back to Nashville from Florida at that point and to come off of the road. It has always been one of my favorites."
There are also times, when even if a song turns out well for an artist who records it, that the songwriter may not be completely happy. "It has happened quite a bit, when the artist has cut it and I wasn't real happy with it. A fine example, and she was a big artist, was Martina McBride had a song on her record and it was a pretty good hit. The demo that I sent in was cut really fast here at the house and it was really stripped down. When they went in and did it, they kind of did it like the demo and I was expecting a little bit more out of it. It was a song called, "It's My Time," he says.
Then there are times when you collaborate with another artist who records the song and as a songwriter you feel really good about it, such as the collaborative songwriting with Jesse Bellamy of the Country / Americana band Jesse and Noah for the love song "Waiting On An Echo." "He came in with that title and I just fell in love with it. I thought what a great title! It is a really good song and it has kind of a Tom Petty feel to it. We wrote it together. I had the music and Jesse came up with the melody, then we started writing the lyrics, "…waiting on an echo to come back to me," and I just thought that it was really super cool."
It is a lot easier today producing a record as an independent artist than it was even as recently as a few years ago and the decreased cost is one of the most significant reasons why. "It has helped a ton. Back in the Henry Paul Band days in the late seventies and in the early eighties and even up until ten or fifteen years ago, I mean you're talking about spending $150,000 on making a record, whereas now you can go out and make a great record for $15,000 or $20,000, especially if you can engineer yourself. On mine I can do it for dirt cheap and then you go and get a thousand pressed up for $1 a CD, it's pretty amazing what you can do," he says.
Crain says, "Yesterday I wrote a song for the third Billy Crain CD. It is actually a quote from the book, Conversations With Tom Petty, that someone gave me three or four years ago and they were asking Tom what he thought of Country Music. He said today's Country Music is just bad Rock with a fiddle, so I wrote a song yesterday called "Bad Rock," and it is about that. I've got tidbits and ideas here and there and I like to stay on top of it. That was the bad thing about the Henry Paul Band or even with The Outlaws when you are a touring act, you get painted into a corner when you are trying to come up with songs for your next record and you just don't have enough time to do it. I try to stay ahead of the game. I had all of the songs for Creole Shoes pretty well cut and done by the fall of last year, so I am just going to try and keep popping out these records and play them with The Outlaws too."
Please visit the Billy Crain website.
Interviewed by Joe Montague
This interview is protected by copyright © and may not be reproduced in print or on the internet or through any other means without the written permission of Riveting Riffs Magazine, All Rights Reserved