Texas Outlaw Billy Joe Shaver Is Still Slinging Great Tunes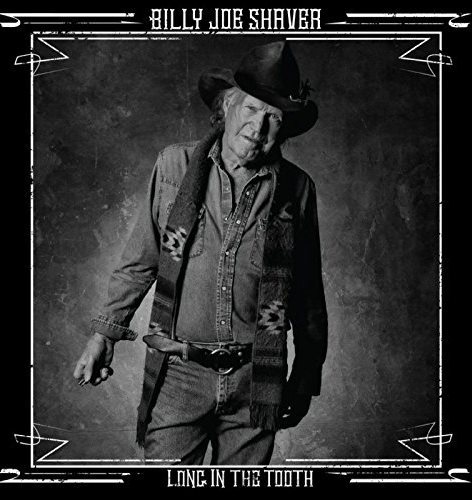 Country music singer-songwriter-guitarist Billy Joe Shaver, a native Texan called his new album Long In The Tooth, but we caution you do not suggest to this outlaw that he is past his prime or you just might get an ornery response from a fellow who believes he is singing better now than he ever has. It is bad enough that his birthday which is on August 16th, has been widely circulated as sometime in September and that in some reports it has been suggested that there will be a big birthday concert, which Billy Joe Shaver knows nothing about. There are a couple of lines in the title song that do however a tease at that what he used to spend all night doing, now it takes him all night to do.
Shaver has long been regarded as one of Country music's top songwriters and he collaborates with another top writer, musician and singer, his lifelong friend Willie Nelson to form a duet on the song "Hard To Be An Outlaw," a song that talks as much about the changes that have occurred in Country music as it does about the character of…of these two characters. Shaver and Nelson sing "It's hard to be an outlaw who ain't wanted anymore," and then they take a shot at some of today's Country music "superstars nowadays" who are "singing 'bout the backroads they never have been down."
"Willie felt a while back that way (about wanting to do a duet). Willie is hot and everybody comes to see him, maybe they think it is going to be his last show. It happens with me now (he laughs). Willie identified with this song. When I first pitched it to him, I pitched the title and he said, man you had better write that. I went and wrote it and once in a while he would say, that's great. He was familiar with it and when I went over there and played it for him he recorded it before I did. He also recorded another song of mine "The Git Go." To me the greatest compliment in the world is Willie Nelson doing your songs, because as far as I'm concerned he is the greatest writer. I don't know how in the world you could beat "Crazy," (the song) it's just perfect," says Shaver.
As for some of the lines in the song "Hard To Be An Outlaw," such as "They call it Country, but that's not how it sounds / It's enough to make a renegade terrorize the town," Shaver says, "It's not all of them, but there are a couple of them that could be called cowboys. Hell I could be called that myself. There are some people who are singing other people's songs that knew about it (about being an outlaw, but they didn't), just a few of them and they get a little bit off the ground by singing this or that and it don't sound right to me. Then again, I may have just been judgmental. I shouldn't be that way, but that's what happened, I judged them a little bit. Willie felt the same way too. (he chuckles) That is the direction things go sometimes. They go off into weird places where they shouldn't be. It just ain't Country. It ain't nothing really. They are calling it Country and they are putting it in that bag. That's the only reason they call things different names. It is so they can bag it up and sell it. That's what it is all about really. He and I (Willie) both felt some of this (music) ain't Country and it ain't good either. For some reason they buy it. I can't begrudge anybody who is trying to make a living doing the best they can. I shouldn't be judging people like that, but it sounded good in the song."
The rapidly moving song "Sunbeam Special," is taken right from the pages of Billy Joe Shaver's childhood and Shaver takes us back to the time when he was a boy watching that train come around the bend and down the tracks, "Where a country boy stands with a smile on his face / Watching all the people in the passenger car / Wondering if he'll ever get a chance to go that far."
"That really happened. That dog would chase his tail when he knew that Sunbeam Special was coming around the bend. It was a beautiful train too. It would rattle the windows and stuff. It had these passenger cars and it was a big deal back then (he puts emphasis on the words big deal). We lived right on the railroad tracks almost, with my grandma, she raised me until I was twelve. I was fascinated with trains and I wrote "Georgia Fast Train." Songs about trains just seem like they write themselves. When you hear that old lonesome whistle, man! It would have lights that would go from one side of the track to the other. You could see the train coming and I would run out to see the train. When you are a kid when that whistle pulled you couldn't even pay attention. It was during the forties when everybody was at war and all of that stuff. I was born in '39, so to see a train was a big deal," he recalls fondly.
"I'm singing better than I ever have. I just finally grew into it. I have been concentrating on writing so much. Kris Kristofferson once told me if you sing them too well, nobody will ever record them (he laughs lightly). I knew I could sing well, but different people had me do it different ways. They were trying to build me into something, but it took away from what I was doing and it has taken me this long to get back," he says in his laid back Texas drawl.
As for the guest appearances of Willie Nelson, Tony Joe White and Leon Russell on the album Long In The Tooth, Billy Joe Shaver says, "Willie offered. Willie always offers to help. He offered and I took him up on it. Leon Russell was suggested to me and I was tickled to death, because I know Leon and I have known him for a long time. Everybody that was on the album with me was just great."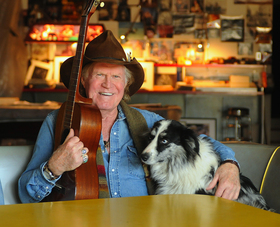 In 1973, Country music legend Waylon Jennings released the record Honky Tonk Heroes, to critical acclaim and all the songs on the album except one were written by Billy Joe Shaver. "You Asked Me To," one of Shaver's songs went all the way to # 8 on Billboard's Country music charts and the album charted at # 14. It was a watershed moment for Billy Joe Shaver in terms of gaining recognition as one of Country music's top songwriters.
Shaver says, "I first met Waylon at a fourth of July celebration, and they were passing a guitar around. They passed it to me and I started playing "Willie The Wandering Gypsy and Me," and I heard a commotion in the back. Waylon and Billy Ray Reynolds came out from the back area and he said whose songs are these? I said that's mine, I just wrote it. He said man I want to do this and he said have you got anymore of those cowboy songs? I said ya' I've got a whole sack full of them here. He said come up to Nashville and I'll do a whole album of them. I believed him, he seemed honest and sincere, so I went up there (to Nashville) and he didn't know, but I had already been up there to Nashville in '62. I was going back and forth. He dodged me when I got up there for about six months when I tried to get him to do it. I would call his office and they only had one line and the girl would always say, 'He's on the other line.' He really was dodging me. I took him for his word. Waylon's a Texan and I'm a Texan and it always works out that if one Texan gives his word to another Texan it's supposed to take place.
One night, I finally got into a recording session of his. A really popular disc jockey in town got me in. It was at that big RCA recording studio where Elvis recorded. It was in the big studio and in this big hall there were groupies and all kinds of people, motorcycle people hanging out there and people that didn't really belong. He was in the control room recording and he got wind that I was down there. He folded up a one hundred dollar bill and (gave it to someone to give to me). He said to take that and to get out of there and not to come back. I said, what? You tell him to take his one hundred dollar bill and stick it up his ass and to twist it. He went back to Waylon and oh, Waylon came busting out of that control room mad. He wanted to have a showdown. He had a couple of bikers on each side of him. It was kind of like a shootout really. I didn't have a pistol or anything. I just walked up toward him and he said, what in the hell do you want? I said, I will tell you what is going to happen here is you are going to listen to the rest of these songs or I'm going to whip your ass in front of everybody. He looked at me so funny and then the bikers started towards me and he stopped them.
He grabbed me on the funny bone and he took me into another room and he said you could get killed doing stuff like that. I said well I was going to do or die. You said you were going to listen to these songs and he said, I'll tell you what I'm going to do, I'm going to do more than I think I ought to do. He said, you play me the songs and if I hear it and it don't sound good to me about halfway through or something, I am going to tell you get out of here and you are going to leave and you aren't ever going to come back. I said, that's fair enough and so I sang "Ain't No God In Mexico," and he looked at me real funny and he said well alright next and I did "Old Five and Dimers and Me." He said next. Then I did "Black Rose," and then I got into "Honky Tonk Heroes," he slapped his leg and he said damn it I know what I gotta' do now and he got up and he went in and they started recording my songs.
Chet Atkins had a fit, because he was sure these kinds of songs were a little rough and Chet didn't want it to happen. He tried his best to bust it up. He thought it was going to ruin everything. Sure enough when it was finished he changed his mind about it. Writing like that was a good foundation, because I think Country music was on its way out kind of. Maybe not, but it was really sluggish. It put a real good foundation on it and I'm not saying that I was the only one who did it. Willie Nelson is the one who opened the door to contemporary music with "Hello Walls," and stuff like that (first recorded by Faron Young). This was a whole album and Waylon was the hottest thing in town. He got 'er done and I'll always be grateful that he did that. I thought he was the greatest thing and I still think that he is. The songs were just too big for me and I couldn't sing them like they should be sung. I didn't have the experience that he had and he did them as close to the way I would want them (done) as he possibly could. That thrilled me. Later on Chet became a good friend of mine and he thanked me for everything that I had done."
The album Honky Tonk Heroes was inspired by the song of the same name, which in turn drew its inspiration from a dancehall Billy Joe Shaver's mother owned when he was a boy.
"That started out when I was about eight years old I guess. My mother came straight out of the cotton fields and she went straight into the honky tonks. She left my daddy, because he beat her up and when I was born she said if it is a boy, I'm gone. Sure enough it was and the next day she took off and she went to work with this gal named Blanche Williams in Waco, Texas. When I was about six or seven years old it was a big thrill for me when I would go down there and I got to stay with this black lady named Imogen. We would go fishing and once in a while I would get a chance to go over and listen (at the honky tonk). A juke box was all that they had. I don't remember any bands coming in there. It was the biggest dance hall around. They had spittoons and the old bar underneath the bar where you would put your boots. When you are a kid you get to see all of that and you see all the bootlegging and that stuff. They had to bring their own bottle in and they had to drive way down to Paris or somewhere to buy liquor, because Waco was dry. All that stuff soaked in and when you are a kid you've got room for all of that stuff. Later on you have so much stuff in your head. The important things for me were songs. That's what I did and to this day I don't forget any of the words to my songs," he says.
Billy Joe Shaver's friendship with Robert Duvall and his wife Luciana Pedraza resulted in a documentary being made about his life, A Portrait of Billy Joe, released in 2004.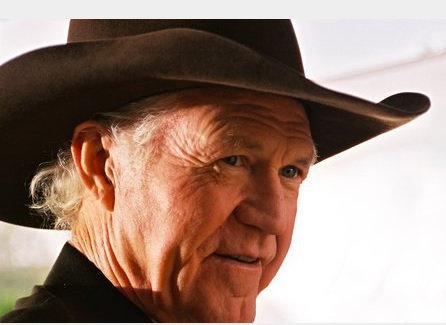 "I was living in Austin at the time and Robert came to SXSW when were scheduled to play over at Antone's. When Clifford Antone saw that I was playing there he said, I don't want that cowboy on my stage. The guy who booked me called me up and he said, Billy I'm sorry but you can't play tonight. Clifford called in and he said ya'll too Country. I said oh man. I really wanted to play. Then I got a call back and he said get your boys together, ya'll playing tonight. I said really? He said you have to be there at eleven sharp. Robert Duvall had called over there, because my name was listed. He had been turned on to Waylon, because of Honky Tonk Heroes and he knew that I had written all of those songs. He called up Clifford, because they happened to be friends and Clifford said that I wasn't playing there and he told Clifford yes he is. They were really good friends. He said if you put him on at eleven o'clock I will show up. He said make sure that you have room in the middle for all of my people. He was filming part of the Lonesome Dove thing and he brought his whole entourage.
We were there at eleven and he met me out there in the middle of the floor and he said, I just really love your writing and I told him I really love your acting. (Duvall said he knew that Billy had written the songs for Honky Tonk Heroes) and I said Waylon is great and he said no man, he said Waylon's good, but you're the man, you're the man. It made me feel good. I got back up there and we played. They were happy and everybody was happy.
Luciana Pedraza (director) was the reason for the (documentary). She was his girlfriend at the time, but they finally wound up getting married. She didn't know how to play the guitar, but she was so thrilled with "Live Forever," (from his album Tramp On Your Street released in 1993) that she wanted to learn how to play that song and it is a hard one. It seems like it would be easy, but it's not. There are a lot of chords and things that you have to have long fingers to get.
Robert put me in the movie, The Apostle. Then I met Luciana and she was thrilled with my music the same as Robert was. He actually pushed me into writing this Honky Tonk Heroes book, which the University of Texas Press published it and I think it is on its third or fourth print. We went all over Texas and they did a wonderful video of me."
Billy Joe Shaver is still passionate about creating good music, "I just enjoy it so much in the studio, because it is a joy to go into a studio and to lay down all of these tunes that you wrote and that you want to share with people. I am kind of hot doggin' it a little bit and that's alright too, as long as you really have something to hot dog with."
This interview by Joe Montague published July 12th, 2014 is protected by copyright and is the property of Riveting Riffs Magazine © All Rights Reserved. All photos the exclusive property of Billy Joe Shaver and are protected
by copyright ©, All Rights Reserved
This inteview may not be reproduced in print or on the internet or through any other means without the written permission of Riveting Riffs Magazine, All Rights Reserved, protected by copyright ©