Billy Thompson's Blues Fill the Grist Mill On Sleepy Creek, West Virginia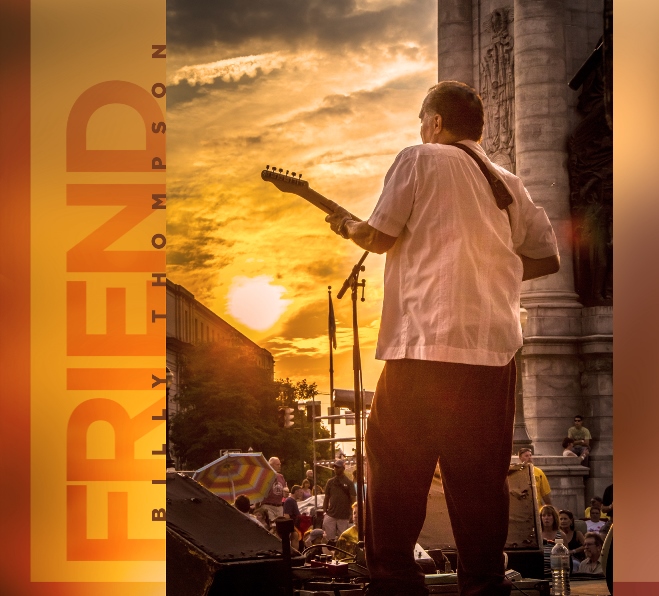 The things you have to like about Blues slide guitarist, singer and songwriter Billy Thompson, born in North Carolina, lived in San Diego and Louisiana and who now makes his home in West Virginia is are his down to earth sense of humor combined with his honesty and his candor when answering a question. We are going to break with traditional journalistic style here and not refer to him as Mr. Thompson or Thompson, because he would want you to call him Billy.
When asked recently why he recorded his new album Friend in a grist mill Billy replied, "It is actually where I live in West Virginia. We brought in an engineer and some equipment. I live in a converted grist mill, with a hardwood floor and it is by a pond on Sleepy Creek. We did our best and we got a decent sound," and when asked why he wanted to capture that sound, "to save money. That was one and the other one was, I have a friend Rob Coward who felt that he could capture it and I said okay we will give it a shot. Had that not worked, we would have gone a different route. My plan was to record seventeen songs and then choose the best. We recorded seventeen tunes in three days. We had two full days and then we captured another three tunes on the third morning and we said that's enough, enough for now," Billy recalls.
If you like head nodding, foot tapping, hip swaying blues that invite you to get up on your feet then songs like Billy Thompson's "Farmer Kenny," will hook you on his music. He says his songs are a hybrid of Chicago, Louisiana and Memphis Blues.
"The guys that I was more influenced by were Albert King and Little Milton. Albert King is from Lovejoy, Indiana, but it is closer to Memphis. Everybody went up to Chicago and in Albert King's case he went to Memphis. It is a cross between Memphis to Chicago to Louisiana for sure. All of those guys, Pee Wee Crayton and Lowell Fulson," says Billy.
"Wes Lanich uses a Nord through a Leslie and emulates a B3 (organ) on "Farmer Kenny." He's a local D.C. player that we use whenever we can. He doesn't tour with us, but he is a fine organist. He is a pretty young guy, in his thirties and one of his first loves, as a guitar player was hearing the music of Clapton. I think he went from the Unplugged album to Layla and when he heard that he went oh man! Then he started playing keys and he is phenomenal. Wes is on "Farmer Kenny," and "Many Faces," and Mike Finnigan plays the Hammond B3 on "All My Love," and "Ain't But One," because he played with Jim Hendrix when he was twenty-two, so I had to have him on "Ain't But One," to capture that," he says.
As for the lyric "farmer Kenny bought the farm," Billy explains that the song "is a true story about our neighbor to the north and he is no longer a neighbor to the north, he is extremely north." In other words, he has passed away. He also says that he had heard that the phrase "bought the farm" referred to years ago if the U.S. Postal Service had a plane crash into a farmer's field they had to buy the farm. Upon further research that is one of many explanations, but all of them seem to be related to planes crashing in farmers' fields and having to pay enormous amounts of money to compensate for lost crops, resulting in the phrase "bought the farm," which usually implied the pilot had died as well.
The basic tracks for the album Friend were recorded in West Virginia and the overdubs were recorded at Johnny Lee Schell's Ultratone Studios in Los Angeles. Schell made his mark as a musician, playing guitar for Bonnie Raitt on her albums Green Light (1982) and Nick Of Time (1989), as well as Australian singer Renee Geyer's album So Lucky (1981). Schell also toured with Raitt. He has played on Memphis singer Barbara Blue's albums, as well serving as her sound engineer. He sat in the producer's chair for two of Eric Burdon's albums.
"We had the same few guys playing on the basics with Eric Selby on drums and Gene Monroe (bass) and then I replaced tracks. I would have a skeleton and I would say just play the basic pulse of this and then I will paint in or I will explain what I want later with an overdub. I just want to capture the basic feel of the song. Then we placed or embellished whatever needed to be.
I remember when they used to talk about how you could use the reverb from Capitol studios in Los Angeles or New York and you could do it through your phone line and I thought, what's that all about? Here we are twenty years later or more and we can do so many more things. You can send somebody a file via Dropbox, they track to it and send it back to you. I sent one to Bill Payne in Montana where he lives and then he sent back to me a couple of tracks. With Kenny Gradney it was the same thing. I sent to Johnny Lee Schell who is a great Blues guitar player and a great engineer. At his house is where Little Feat recorded Rooster Rag (2012), and I met Patrick Simmons of the Doobie Brothers there. Taj Mahal has recorded there. Ultratone Studios is basically his converted garage and we did the A Better Man album there in totality. It is kind of like the way they did things at Muscle Shoals or maybe a bit smaller.
Johnny Lee's Ultratone Studios is laid out similar to Muscle Shoals, a little smaller but the same idea. I think the Muscle Shoals room was maybe thirty feet square and this is maybe twenty-two feet square. You record in the same room as the engineer, with the drums in a separate room. He gets a great sound. Johnny Lee has Richard Manuel's old piano from Big Pink (an album by The Band). It lived at Leon Russell's "Plantation" in Los Angeles, which was where Johnny Lee bought it. I know Bill Payne (keyboards on Friend) raves about it. He's a huge fan of The Band.
Johnny Lee was responsible for Mike Finnigan (organ), Kenny Gradney (bass) and James Hutchinson's (bass) overdubs. They all went to Johnny Lee's to do their overdubs.
When it came to writing the songs for the current album, there were only two songs that were covered and on the rest of them Billy Thompson collaborated with his best friend and partner in life Kirsten Trump. One of those songs is "Many Faces," is introduced by a child's voice saying "a sea of many faces." When it is suggested to Billy that it sounds like Pete Seeger gone funky (with a Gospel influence) he laughs and starts to sing "Come on people now smile on your brother, everybody get together," by the Youngbloods.
"How old is this theme, can we all just get along? I am not really writing protest tunes, but it is like going back to being a young hippie in the seventies and revisiting that mindset. I think one of the jobs of a musician is not necessarily to educate, but you certainly want to touch on things that do some positive things and try to pull people together. To remind people that it is possible to lose prejudice. Don't judge until you have a chance to sit down with somebody," he says.
Billy talks about his reasons for including the saxophone on the song "Many Faces."
"Kirsten and I were guests of Kenny Gradney about three years ago for a New Year's gig at the Recher Theatre in Towson, Maryland. Little Feat was playing and they were doing a lot of the tunes from Waiting For Columbus. It is one of the greatest live albums in the history of Rock and this horn player comes out. It is Ron Holloway. I was hearing the sax section kind of. He was playing all of the right notes and I just went wow! The harmonic content was so great that I wasn't missing other horns. He was the only horn and he was just sitting in. He had played on the Waiting For Columbus album and he knew all of the tunes, as he should have. I thought, I should call Ron and see if he wants to overdub. He said sure. He is the kind of guy who plays all of the time. You might see him with Derek Trucks and Susan Tedeschi or you might see him with the Allman Brothers. Right now his main gig is working with Warren Haynes. Ron played on "Many Faces," and he killed it and he also played on "Farmer Kenny." He is a great saxophone player. Now I use him a lot on live gigs. He will be with us every couple of months.
"The song "Half A Man," was the idea of my friend and Tony winning playwright Keith Glover. He had the initial idea, but he never finished it as a song. He said we want to finish this song and dedicate it to the soldiers. Kirsten came with me and we played for the Walter Reed National Military Center and with what we saw that day, we cried all the way home. It was really, really touching and we just felt like we should do a piece. Some of our soldiers return, not as when they had left and in hopes that things would be, as they were before they went into battle.
"A half a man longing for a sweeter tomorrow," (he quotes a line from the song) The guy is injured in battle and he leaves in love and he returns in love, with the hope, even though he is missing parts or it could even be the end of it (love) and you just know what. (Billy's voice has become noticeably quieter, more thoughtful and you can hear in his voice how moved he was by the experience). What these kids go through, and I say kids, but they are all ages. We saw double amputees and they are seventeen or eighteen years old. I thought holy crap! A guy trying to put on his jacket and he couldn't even get it around his shoulder. (We agree it is a dose of reality). It would be good if everybody could see that," he says thoughtfully and respectfully.
As for covering Bill Withers' song "Ain't No Sunshine," he says, "I think that Bill Withers is just a great songwriter. His songs are very simple and they always touch people. He is a brilliant singer. What can I say? I certainly took that tune and moved it up tempo wise to another place. Aaron Neville had recorded it before and that is kind of what I was thinking about, how Aaron Neville did it. I wanted to do it a little rockier and to put a little more juice into it. I live in West Virginia and Bill Withers was born in West Virginia. I thought I would honor Bill Withers, since I have come to live here.
Billy Thompson talks about what and who attracted him to playing slide guitar early in his career. "I listened to the Allman Brothers and Jeff Beck, going back to the beginning and discovering Lowell George in the seventies. It was hearing Elmore James, even though I didn't spend a lot of time with Elmore James it was more with Duane Allman. The Live At The Filmore album and Eat A Peach and some Jeff Beck like Truth and the Orange album and certainly Layla with Eric (Clapton). Years later in 1999 I booked myself on a festival in Wyoming, because Sonny Landreth was playing at the festival. I wanted to hear him play and I wanted to see it up close. We finished our sound check before Sonny and I said to him, hey man, how do you do that? You dedicate the guitar, you raise the action up and a lot of guys don't do this, they just play the guitar as they have the guitar set up to play regular guitar and you will hear a lot of fret noise and stuff that you don't want to hear. Sonny showed me if you dedicate the guitar and you raise the action and specifically with the difference between raising it at the nut or raising it at the bridge then you can put your fingers down behind the bar and chord behind the bar. It just opened up doors to other ways of slide playing. Now I use all of their influences. He is a great guy, a great musician and a great person. Sonny Landreth is certainly a major influence."
Please visit the Billy Thompson website.
Interview Published April 14, 2014, All photos property of Billy Thompson and are protected by copyright © All Rights Reserved
All text protected by copyright and is the property of Riveting Riffs Magazine © All Rights Reserved. All images are protected by copyright © and belong to the artists and producers, All Rights Reserved