Billy Thompson's self-titled and current album segues easily between straight up Blues and Blues Rock. The album was recorded in seven different studios and features a cast of top rated musicians including, drummer Tony Braunagel (Coco Montoya, B.B. King, Robert Cray, Bonnie Raitt), organist Mike Finnigan (Curtis Salgado, Neal McCoy, Tracy Chapman, Steve Tyrell), James "Hutch" Hutchinson on bass (Marc Cohn, Randy Newman), keyboardist Michael Leroy Peed, bassist Daryl Johnson and several other musicians too numerous to name in this space.
As for recording the songs, "Stranger," "Hourglass," and "Phoine" at Ultratone Studio in Studio City, California where it was recorded by Johnny Lee Schell (Marcella Detroit, John Lee Hooker Jr., Bonnie Raitt, Joe Cocker) and calling up old friends Tony Braunagel, "Hutch" Hutchinson and Mike Finnigan, Billy Thompson says, "I feel the bluesier stuff always works great with those guys. I recorded four songs, but I only used three and the fourth one will be on the next album. I think those guys are the cream of the crop when it comes to Blues based playing. They are some of the best players in the world. Mike Finnigan played with Jimi Hendrix when he was twenty-two and Tony Braunagel was with Back Street Crawler, which became Free with Paul Rodgers and he played with Eric Burdon."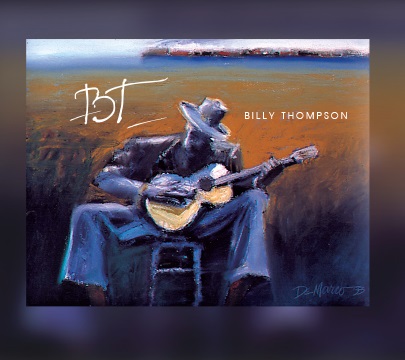 The album opens with the somewhat funky "Burn It Down Bernadette," cuts to the jumping "Phoine," a song on which Thompson's guitar seems energized by Finnigan's splendid organ and vice versa.
The third song on the album "Black Rain," is poignant in its social commentary, Thompson explains, "Black Rain was inspired by all of the shootings that have been happening for a good long while. I was thinking about Ferguson when Ferguson first happened. Then I got thinking about Virginia Tech and some of these other instances, which were not police oriented shootings, such as San Bernardino with the terrorists. It is making me ill. If you think about these schools it just keeps getting worse and worse with the copycat scenario. It is just too much and I felt like I needed to write something. I just want to say how can we stop this? People need to think about it.
Changing gun laws won't stop it all, but some sort of background checks and making it harder to obtain a weapon would be very wise. I don't have anything good to say about the NRA.
The song is a funky, minor oriented, bluesy, some might think like a "Forever Man," by Clapton without being melodic. It is pretty forceful. It has a harmonica on it, but it also has a double cross harp that I overdubbed. I am pretty happy about it. It acts almost like an organ. It is a very moody, dark, but well played piece.
Typically when you hear Blues you will hear cross harp, which is when the guitars are in D Major and then the harp would be a G harp. If it was a Country Blues or a Delta sounding Blues or a Jimmy Reed sounding Blues then the harp would be in the same key as the instrumentation. If the guitar is in D the harp will be in D. In this case I played the song in D Minor and I played a C harp, which is a full step down from the key. That gives you this very minor harmonic content and it is really moody and very special. It is the minor sound against the major sound is the best way to explain it."
One of the prettiest songs on this album is "Children of the Sun," co-written by Thompson and his partner in life Kirsten Trump (the couple wants to be clear there is absolutely no relation to the controversial person with the same surname).
I will listen to what Kirsten has and I will find a rhythm that I like, otherwise it wouldn't be me. If I can't find a way to make it feel good for me then I won't bother. I am a child of the sixties, well really the fifties and I am a baby boomer who grew up listening to all kinds of Doo Wop and Rock and Roll. Of course we had Chuck Berry, Roy Orbison and any number of people leading to Hendrix, Savoy Brown and Cream, which led to Clapton's solo stuff. I learned a ton from listening to The Allman Brothers Band and copying solos.
I felt in this case (with "Children of the Sun") it leaned toward a harmony lead line and then there was a duo tempo, which put it almost into a bit of a Santana mode. It is a beautiful lyric about hanging on and believing in something good that can happen for all. You try to write more positive tunes than negative and for Kirsten and I that is really important. Our lives are positive, because of our love, but that is not to say that we can't look at current events and write any number of dark pieces.
I remember when I was a rookie songwriter (his voice drops down an octave or two as he says) my baby left me and all of that stuff. It is easier to write something negative than something positive. I try to minimalize that. Kirsten always writes something beautiful. It is just whether or not I can put it into something that I like. She has plenty of other lyrics that we have not found a way for them to work for me. Maybe in time (we will).
There were times (early in his career) when I would only write when I was not in such a great mood. Then there were times when I felt okay, but I would ask why I was writing about something that wasn't even happening and it was not positive."
As for the keyboardist Michael Leroy Peed's playing on "Children of the Sun," he says, "Michael Leroy is a great piano player Classically and Jazz trained and well-studied. He is my west coast keyboardist. He does play organ as well.
Mike Finnigan is a true organist. He is an organist first and he is a piano player second and in this case I believe that Michael Leroy is a pianist first and Rhodes and all of the rest are secondary. Piano is his forte. That is a smoking play out. He can flat out play."
There is always a bit of a risk associated with covering a hit song such as The Dobbie Brothers "Long Train Running," written by Tom Johnston. There will always be a segment of music fans that will compare the cover to the original song. The original recording by The Doobie Brothers charted at # 8 in America. Few other bands covered the song and none with any degree of success…until now.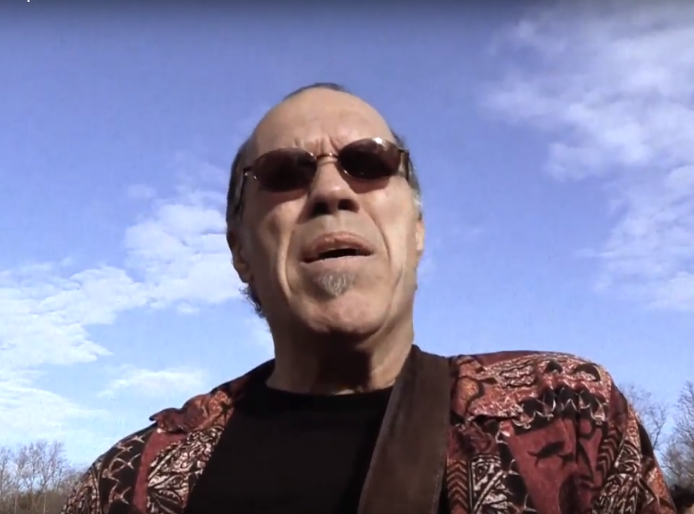 "If you are going to cover it I don't know if you are going to do a better job than the original (Doobie Brothers), so (it may not be wise) to fool with it (Thompson chuckles)
I followed the guidelines of the basic form of the tune, but I put it to a papa legba groove. The groove named for the Eurbian god. (He imitates the rhythm) It is 1 – 5 – 5 – 1 It is a baseline that is pretty famous to New Orleans grooves. New Orleans musicians all employ it. It is in a minor key. I played the slide guitar in a drop D tuning, which is typically what I use, as you can get a great D Minor tone. I slowed the groove down a little bit and I made it a little funkier. Again, I did the same thing I did on "Black Rain," when I used the double cross harp, as a pad behind the slide. It came out pretty cool.
Those guys (Doobie Brothers) liked it. I talked to Pat Simmons about it and his exact words were "a great take on that tune." He said Tommy (Johnston) really digs it. I am happy about it and that they approved of it."
We talked about how it has been forty-five years since "Long Train Running," was first released and that Billy Thompson may be playing the song to audiences who are hearing it for the very first time.
"You've got a point. I am probably reaching some of these younger college folks who are listening to college radio programs when they play Blues or Americana. I could be touching some younger folks than normal," he says.
Billy Thompson's slide guitar leads the way for the eighth song "In the Back of Beyond," which he describes as, "a Gospel Rock piece similar to a Jeff Beck approach, maybe a little "People Get Ready," like, but maybe not.
I have a friend who became a fan of my music and we were talking and I felt like I had known her forever. You meet those people to whom you feel somehow connected and you have known that person for (only) a few conversations worth. Then all of a sudden it is like you have just known them forever. I started entertaining thoughts of could we possibly ever have met before?
It is like Sonny Landreth says about his writing, 'I don't know who that guy is who writes those tunes, because the day to day Sonny Landreth is not that guy.' If you get yourself in a meditative place and let yourself go somewhere new then I believe that just about anything is possible. I try to stay in that place, but it is not who I am day to day, thinking about reincarnation. In this case, I let myself go there and I wrote this for my friend. She is German and I saw this word on her Facebook page and that is the place where either in Aesop (Fables) or in Hans Christian Anderson's writings where the kids go out to the woods and there is this enchanted place. It translates into the "back of beyond." It can mean that you are basically nowhere in a sad sense or you are someplace beautiful. I tried to make it something soothing to think about. We are all still related and part of this whole thing. I think of someone like Jimi Hendrix and you can't tell me that his presence is not still here daily. There are any numbers of folks who have left their mark, so why can't we leave our mark on a close personal level.
Look at all of your family members and you think of them often and it is not like they are totally gone.
That is how I got there on that tune and it is what it is. It is a unique thing for me to do a tune like that."
Billy Thompson's self-titled album is Blues based, but not all of the songs are straight up Blues songs, they run the gamut from nods to the vibes of John Mayall & the Bluesbreakers, to bordering on Cream and of course the aforementioned cover of "Long Train Running," to the pretty and more melodic "Children of the Sun."
This is an album that Riveting Riffs Magazine hopes does well, because Billy Thompson deserves that kind of success with this collection of songs. You will be hard-pressed to find songs that are played any better than this stellar cast of musicians.
Please visit the website for Billy Thompson here. Return to Our Front Page
#BillyThompson #LongTrainRunning #rivetingriffs #RivetingRiffsMagazine
This interview by Joe Montague published June 15th, 2018 is protected by copyright © and is the property of Riveting Riffs Magazine All Rights Reserved. All photos and artwork are the the property of Billy Thompson
unless otherwise noted
and all are
protected by copyright © All Rights Reserved.
This interview may not be reproduced in print or on the internet or through any other means without the written permission of Riveting Riffs Magazine, All Rights Reserved