Interview by Joe Montague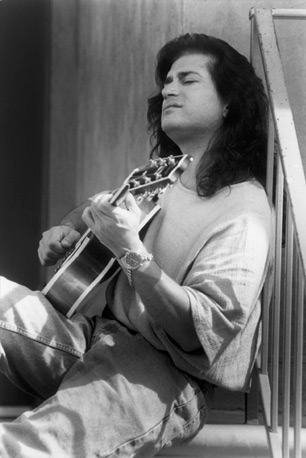 To say that guitarist Blake Aaron is a funky guy would be a gross understatement, and to try to apply just one label to his special brand of music would not be accurate either, as his new CD Desire clearly demonstrates. The album has received rave reviews, including in this publication, and has been charting spectacularly since it was released earlier this year. Currently Desire sits in the number one spot on the Indie Charts, a position that it has occupied for five straight weeks. Aaron's versatility as an artist appears to be paying off.
"I have never been a musician who pigeonholes himself, or a musician who has always been into just one kind of music. I have always been into many different things at the same time," says Aaron.
Admitting that his diversity of musical styles can be somewhat of a double-edged sword, Aaron says, "It has been both an asset and a bit of a hindrance in a way, because I have not been focused on one exact type of music. It can therefore take longer to become successful."
While still in college the guitar maestro learned the art of getting down and funky with a band called Positive Source. "I was the only white guy in the band, so I had to learn how to groove real quick. (That's where) I really got the idea of how to play within a pocket. That is just something that you (can only) learn through experience," he says.
Realizing that this journalist is a neophyte in the world of funk guitar, Aaron takes time to explain, "In the pocket, is a musician's slang that has been used for years. There is a special feel that rhythm guitar players such as Wa Wa Watson and Paul Jackson Jr., have. They have a certain groove and feel to their playing, that goes beyond just being correct. There is correct, and then there is in the pocket. Correct can sound stiff. As the beats go by in music, there is a certain clock and every beat has a pocket to it. You can hit it towards the beginning of the pocket, or the end of the pocket, then there is just plain wrong, and that occurs when you are playing outside the pocket. Every player's feel is different depending on where in the pocket they decide to play. That pocket is only a split second in time. Depending on whether a musician decides to play in the pocket, just ahead of the pocket or perhaps on the backside of the pocket, can really change the feel (of the music)."
Continuing my music lesson on playing in the pocket, Aaron further explains, "You can tell when a guitar player, drummer, or bass player is playing very laid back, because it has a different feel than when they are pushing a little bit. A lot of the older school guys would tend to lay back a lot, and it had a certain feel to it, like the guys who played for James Brown. Some of the pop guys in the eighties such as Paul Jackson Jr., had a way of playing a little bit on top (of the music), but it was really cool because it pushed the energy forward."
Pushing the energy forward is just what Aaron does with his funky opening track from Desire, "Bumpin' On The Wes Side," and his song "Harmonious Funk," is aptly named. His cover of the already funky and spectacular Billy Preston tune, "Will It Go 'Round In Circles," almost didn't make it onto the album. It was a last minute addition that originated from a conversation that Aaron had with one of the individuals who was working on the production side of things for Desire. They had already recorded all the songs that they thought were going to be on the CD, had the project mixed, and were just two weeks from sending it off to be mastered. The two men happened to be checking into a hotel when "Will It Go 'Round In Circles," started playing over the house speakers.
Aaron picks up the story, "He said to me, 'It's too bad that you have finished your record, because that would be a great tune for you.' I stopped, thought about it and said, 'Well…it's not too late, we could throw it in there.' My thinking being, that I didn't have a funky cover. I had "Fragile," but it is more of a Latin thing and mellower. We put it (the cover of the song) together in one week from (the time) we cut the tracks until it was on the mastering table."
It would be doing a disservice to both the artist and his project, however to only talk about the funk side of Desire. The album has much more to offer. For instance the song "Run Away With You," carries a strong Afro Cuban flavor. "It is a song that I wrote way back in '95, and it was on my first CD, an EP that I did at my house. It was back in the day when Carl Griffin was the Vice-President at GRP Records. The label was really interested in me, but I didn't have any tunes to give them, so I quickly put together a six song EP for them. "Runaway," was one of the songs on that EP. It became a song that we would play live all of the time, however we thought that it was pushing the envelope a little too much for a smooth jazz record. It was a little too Latin, or a little too eclectic. We got such a great reaction from in on the first record, that I said let's go ahead and put it on this one. It turned out great."
Aaron says, "I envisioned it ("Run Away With You") as having an African Cuban beat, and (during the course of the song), we went back and forth between a samba and a songo. I had guys playing on the record who know those grooves much better than I do, and they made that song really come alive. Jimmy Branley played drums for the song. He is actually from Cuba, so he helped find the groove for "Run Away With You." Hussain Jiffry, the bass player has a great understanding of Afro Cuban grooves. He also produced quite a few of the songs on the record.
Aaron describes his music as having lots of depth and passion. It is, he says, music that can become very romantic and captivating. He certainly achieves that end with songs such as "If You Were Mine," and "In Her Own Sweet Way,"
Blake Aaron continues to grow as an artist and that can be attributed in part to his desire for achieving excellence in his compositions and playing, combined with the fact that he has enjoyed a long tenure contributing to the music for major television productions, including a fifteen-year stint with MAD TV, the Ben Stiller Show and The Jamie Kennedy Experiment.
"The television work keeps me as current as possible with all of the styles of music that are out there, because with MAD TV, you have to do every style of music that you can imagine. It keeps me current with that the other guitar players are doing. It keeps me inspired and gives me fresh ideas," says Aaron.
Comparing the two facets of his career, Aaron observes, "It is like being an artist. There are artists who will take hours and hours to sculpt something, and then there are performance artists who may paint something in a matter of minutes. There is something to be said for both of them. When I do studio work, it allows me to go into depth concerning the details of my planning, and the parts that I am putting down. It allows me to become a perfectionist. The downside of that is you can get so caught up with it that you can take the life out of your music by becoming too much of a perfectionist. If you aren't careful you can wind up sounding a bit stiff. My live performing allows me to keep my studio playing a little fresher sounding. It has a little bit more passion, and off the cuff spontaneity.
Spontaneous, fresh and passionate are three words that easily can be used to describe the fifteen tracks that comprise Blake Aaron's current CD Desire.
Interview by Joe Montague, all rights reserved, protected by copyright © 2007 Return to Our Front Page