Interview by Joe Montague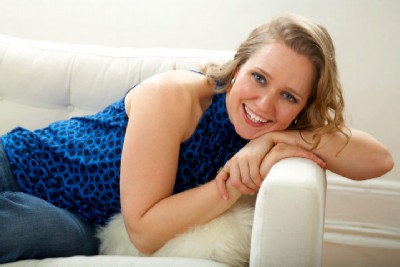 "The whole premise of the album Songs For A New Day is a very accurate description of the last three years (of my life), since the last record. There are a lot of things that I have walked through and the song "All These Questions," came out of an experience that many people have when you meet someone, you feel a connection and then you end up having to go home with your thoughts. The song isn't written about anybody in particular, but is just the idea that at the end of the day it is just us and our own thoughts. It is about the thoughts that come into our minds and it is about being vulnerable. It is about being available and not knowing how things are going to turn out," says pianist / vocalist and composer Brenda Earle, as she discusses her new jazz release.
Earle is an incredibly gifted artist, whose creative instincts continue to blur the lines between jazz, rock and pop music. The Canadian artist who originally hails from the border city of Sarnia Ontario, has called New York City her home for over seven years now and she has been warmly embraced by American music fans, leading her to become a regular member of the faculty at the prestigious New York Summer Music Festival where she teaches jazz piano and voice, in addition to numerous other responsibilities. She has worked with and performed with artists such as; Wycliffe Gordon and the Diva Jazz Orchestra, while finding time to tour throughout the United States, Canada and New Zealand. The critics in all three countries have eagerly endorsed her music.
Songs For A New Day is the fifth album which Brenda Earle has self produced and is a follow-up to her highly praised Happening CD released in 2006. During the three years between the two albums, Earle continued to explore new dimensions with her music.
"I have spent a lot of time listening to different kinds of music, for instance a lot of alternative rock stuff and I have been listening to a lot of Brazilian music, so my influences have really shifted a lot since the last record. When I did Happening I was more interested in straight up Brazilian and contemporary jazz, but my tastes have kind of shifted again, so I would say that is one of the biggest differences in my songwriting . From a vocal perspective I found this amazing voice teacher in New York and her name is Jeanie LoVetri. Studying with her really changed (my approach) and I think you can hear (the difference) from the last record to the new one. There has been a real shift in the way that I produce sound and there are parts of the registration that are a lot stronger, so I was able to approach much more complicated music and from a range perspective I was able to go for different colors than I was able to before," says Earle.
Donning her producer's hat, Earle says having her fingerprints on the production side of Songs For A New Day, "was exhilarating. In New York I have produced a lot of records and demos for other people. I have been pretty active in other people's processes. I feel that for the first time this process (with her new record) wasn't daunting, because I knew a lot more about what I was doing. My preparation to be in the studio was a lot different and I came in with elaborate notes and a band that was really well rehearsed. I had spoken beforehand with my engineer about the kinds of things that we were going for. I lucked out, I picked somebody, Mike Marciano who was really in alignment with what I was trying to go for. He is somebody that I trusted and so I could go into the studio with the band and I was able to say that I need this and this and this. In a way I feel that I came into my own on this particular project, knowing what it was that I wanted and how I was going to execute it."
Earle believes that other aspects of her music career also better prepared her as a producer, "I have done four or five projects for other people in the last couple of years. I do a lot of vocal coaching. I had the pleasure of having a lot of people ask me to come in and help them with various things. I have been the pianist and music director for a couple of really great emerging singers who are kind of working their way in. It has been nice for me to be able to go in and help them through that process. I have also recorded as a side (musician) with a couple of amazing artists and I have been able to watch their processes as well. I went into this project (the new CD) with my eyes wide open and knowing what I was doing, whereas with Happening I think that I was feeling a little more anxious about it or nervous."
Brenda Earle's collection of songs on Songs For A New Day consists of a combination of cover tunes and her own compositions. One of the more poignant songs on the album is her original work "A Few Lines," on which she plays the Fender Rhodes. She chose the Fender Rhodes, because it contributed to, "the groove of the song and the sentiment of it, which is about someone who is trying to kick an addiction. We were experimenting with different colors for it and the Fender Rhodes has that really dark sound. The mellowness of it also lent itself to the song."
Getting to that place where she settled on using the Fender Rhodes was not as straightforward as it might first appear and Earle explains why, "The bass player and I did a couple of takes of the song, when he was playing electric bass and what was interesting is the sound of the Rhodes was canceling out the sound of the bass, so it didn't quite work. I think that was the song on which we did the most takes. We did it in different configurations with him playing electric and with me playing Rhodes and me playing acoustic and we finally settled on him playing acoustic and my playing Rhodes. I think it worked."
"I was poking around a lot on I-Tunes during the last year, because I wanted to be more current and I was listening to The Killers, Keane, Franz Ferdinand and Pete Yorn and some of the contemporary rock bands that were coming out. I got into The Strokes a bit and some of those types of bands. This one song by Keane "Is It Any Wonder?" kept resonating with me over and over again. The sentiment was really in alignment with a lot of the things that I was thinking about, with the whole idea of the record being about moving through something. That is a song that I think has a lot to do with moving through pain, fear and anxiety, and trying to figure out how you are going to work through all of that stuff. I changed the harmony and I changed the form and I immediately had to put some cello (Lauren Riley-Rigby) on there, because the cello's haunting sound seemed so fitting. "Is It Any Wonder?" was a no brainer to put on the CD with all of the sentiments that went behind it," says Earle, as she explains how the second track came to be.
Earle also covered Crowded House's "Don't Dream It's Over," a song that she originally began to perform while on tour in New Zealand. "I was doing the very first tour for the Happening CD and the first stop was New Zealand. It was a twenty-eight hour flight on four planes and I got off the plane in a completely different time zone. I told the man who picked me up that I really wanted to be by myself with a piano for a few hours He dropped me off at the home of a friend of his at in the afternoon. These people who had never met me before were so generous, as they let me into their home. They had this really nice piano in the corner, so I actually got off the plane and I practiced for four hours. At the end of practicing, I started noodling around with "Don't Dream It's Over," and within twenty minutes I had this arrangement of it. As you know Crowded House is from New Zealand so I decided that was my tribute to the New Zealand tour and I closed every set with that song. It is like doing a Bryan Adams song in Canada, it is that instant familiarity. People had lighters over their heads and everyone would sing along. It was a moving experience. I have always loved that song and the sentiment of it. It is my tribute to the people that I played with when I was in New Zealand."
Earle credits her longtime guitarist Jesse Lewis with adding the backbeat and more of an R&B feel to her rendition of "Don't Dream It's Over."
"Song For A New Day," from which the album derives its name, was a collaborative effort between Brenda Earle and Joel Frahm who plays saxophone on the tune and who also played on her CD Happening.
"I sat down and I was fooling around with the idea of joy and what would happen in a new day. A lot of "Song For A New Day," was inspired by many conversations with Joel (and talking about) a lot of stuff that he and I have been through together. We were talking about things that we were moving through and how we were coming to a point where we were just ready to be done with it. We were ready to get on with the joy. That's what inspired the song and I wrote the lyrics with Joel in mind.," she explains.
Brenda Earle says of this project as well as her other records that "I let the muse take care of all of that stuff (the direction that the music takes) any premeditated ideas, because I think the creative spirit is a lot bigger than I am and I try to stay out of its way."
Interview by Joe Montague, all rights reserved, protected by copyright © 2009 Return to Our Front Page