Bria Skonberg and John Pizzarelli Team Up for a Spectacular Duet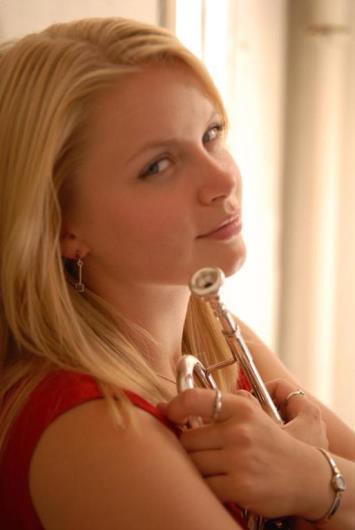 So Is The Day the 2012 album release by Jazz trumpeter, singer, lyricist and composer Bria Skonberg signified that the still twenty something music dynamo who has already toured numerous Jazz festivals worldwide, as well as performed at prestigious Jazz venues in America, is the complete package who is just as comfortable covering Joni Mitchell's "Big Yellow Taxi," as she is in presenting her sensational original song "Keep Me In The Back of Your Mind."
"I wrote "Keep Me In The Back Of Your Mind," at a time when I was feeling particularly single and sassy, which is exactly what it is. I was in a place where I wasn't looking for any kind of commitment and (the words) just came to me, "I love you forever / Just keep me in the back of your mind." I riffed on that and then I built a story around it and it is fun the way that it builds. It is really fun to let loose in front of an audience. Nowadays I have the guys in the band to do (a response and call) (she sings it is what it is and then sings the band's response "It is what it is.") and it gets people to sing along. Now I live a little more vicariously through it and I invite people to do the same," says Bria Skonberg.
The sassy attitude is evidenced in lyrics like, "If you want my attention, walk on by / Make me work to even catch your eye / Ain't ya' been listening honey, prove me wrong / And I'll be chasing you before too long." Skonberg is backed with some fabulous and high energy performances by Wycliffe Gordon (trombone), Kelly Friesen (bass) and Ulysses Owens, Jr. (drums). Her performance gets the listener moving and grooving to the music. She uses a plunger on her trumpet about halfway through the song. This is one of the best original Jazz songs this publication has heard in a long time and we would suggest that Bria Skonberg has a bright future and a long career ahead of her.
During her performances, Bria Skonberg sings, plays her trumpet and also plays the flugelhorn. One would think that would come with its own set of challenges.
"I learned a little trick from Louis Armstrong's recordings. It definitely comes down to the arrangements. If you are going to play then leave a little bit of space, so you have time to go grab your horn and then play. I wanted a lot of the music from this album to be especially transferable to a live performance, so I have left that kind of room in this recording. This album is fairly transferable to a live setting.
I don't have to do both (singing and playing trumpet) at the same time, but I always have to be two steps ahead. Ultimately it comes down to whether or not you can take a big enough breath and to get enough air. It is something that I feel comfortable with at this point. I don't think of it as taxing," she says.
When it came to recording "Big Yellow Taxi," Skonberg says she did so at the suggestion of the album's producer Scott Elias, the co-owner (with his wife Anna) of Random Acts Records.
"I said maybe it would work as a Samba, a Brazilian, a Latin thing. We ended up slowing it down and it is somewhat of a Calypso (rhythm and beat). It is a wonderful song and Joni Mitchell is a Canadian artist. She is one of the few artists able to transcend Jazz and maintain a widespread audience," she says.
It is refreshing to have an artist like Bria Skonberg arrive on the scene, one that is attracted to the sounds of Dixieland Jazz and more generally traditional Jazz and the big band sound and yet who creates, performs and records a lot of original material that is true to the genre.
"I was introduced to that music about the time I was fourteen or so and when I was starting to learn how to improvise. It has such wonderful building blocks for learning how to do that, because there are fun melodies and there is a lot of emphasis on ensemble playing. The melodies are beautiful, but also the rhythms. It is kind of funky. It is very danceable and it is very accessible to anybody, especially kids. It is easy to learn the basics of Jazz. It has good rhythm and it has great energy. It is inclusive. There are a lot of songs that people like to sing along with. I found it rewarding on so many levels, because I enjoy playing and people seem to feel included," says Bria Skonberg.
"The album has a lot of original material that I have been writing probably since 2010 or so and of course I wanted to record the next album, but I was busy moving to another country (the United States from Canada) in the meanwhile (she laughs), so a couple of things had to fall into place before I could do that. I had just moved into New York City and I wanted to check out all of the options and to shop the material around. I found that I really fit well with these people at Random Act Records, not just because of the people, but because they give ten percent of the proceeds from each of their albums they release to a charity chosen by the artists. Those are CDs that they sell off of their website (not that the artist sells on their own). I chose the Jazz Foundation of America. It seemed to be the logical choice at the time. They do educational outreach and the Jazz Foundation of America also helps out our older musicians who maybe haven't made plans for this part of their life, so they have support. Across the board (the Foundation) is an excellent group of people," she says.
The more you listen to the music from So Is The Day, the more you like this album and the more you realize Bria Skonberg is a very special artist. Her duet with John Pizzarelli The romantic tune "I Wish I Hadn't Forgotten," invites you to the dance floor, as the two of them trade verses. John Pizzarelli, one of our favorite people is truly a treasured crooner on a Jazz scene often dominated by excellent female singers. As for Ms. Skonberg this her best vocal performance of the album and this original song swings. We can easily envision this song becoming a favorite of music supervisors for their feature films. It is not syrupy. You have two people simply reminiscing and wishing to be back together again.
"I met John through a Jazz festival in Victoria (Canada) and he was headlining that night. He struck up a conversation with my bass player. The bass player said if you want to come on over and sit in on a song feel free. John Pizzarelli did. He came to our set in the hotel lounge and he played for at least an hour. It just shows the kind of character that he is. He likes making music without pretense. He's a cool guy.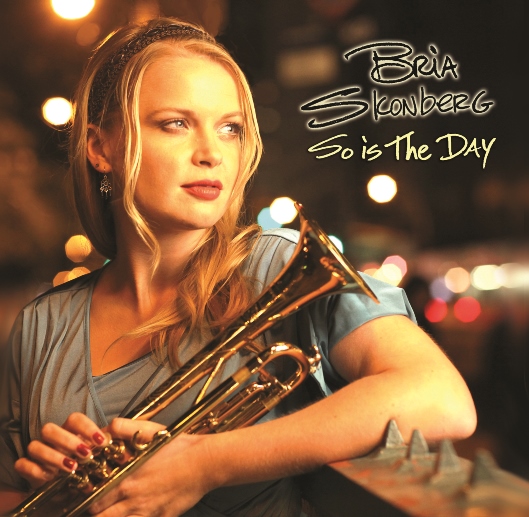 I wrote that song in about 2010 I guess when I spent a lot of time in Europe. We were thinking about duets and it wasn't until the recording came up that I wrote the male counterpart. That was an interesting situation trying to create a story around something that I had already written. It was fun. He (John Pizzarelli) just came into the studio and we knocked it off.
I am getting more into duets. The bassist that I have now does some singing. We do some duets and it is fun. Jazz is adding variables, so you can't have control over everything. That is the fun part," she says.
Bria Skonberg moved from Chilliwack, British Columbia on Canada's west coast because, "New York is the mecca of so much great Jazz activity. Between 2006 and 2010 I did a lot of traveling and I played over fifty Jazz festivals all over the world. I spent a lot of time in Europe, some for music and some for love, but music is love. I did a lot of traveling and figuring out where my next move would be. Would it be Los Angeles and of course New Orleans felt a little too good. I wanted to be challenged, so New York was probably the hardest thing that I could do," explains Skonberg.
Bria Skonberg who has been playing the trumpet since she was in grade seven and had her first professional gig when she was sixteen years old, refers to the trumpet as a humbling instrument.
"Playing the trumpet is an extremely athletic thing to do. It takes years of training muscles to get a good consistent sound and to try to get the dexterity in your fingers, so you can articulate. It has a lot of levels as an instrument and you try to play every day, so you can have some consistency. There are days when the instrument doesn't respond or the lip vibrations don't happen as easily as they did the day before. It is difficult. A lot of instruments are difficult, but I find the trumpet is fairly well known in the music community as being a bit finicky, but it is not as bad as the French horn, which is even more finicky. I work really hard at it and I still take lessons regularly from this wonderful man Warren Vaché (trumpeter, flugelhornist and cornetist who has been a band leader with Houston Person and Brian Lemon and played with Benny Goodman, Howard Alden and George Wein) even though at this point I have been playing for seventeen or eighteen years. If I put the horn down for a couple of days and I don't play, it leaves you," she says.
Bria Skonberg will be teaching at the Sacramento Traditional Jazz Camp (the Youth Camp) August 5th to the 11th. As a teenager she attended as a camper and then graduated to being a counselor before joining the camp's faculty.
"I feel pretty happy with a lot of things that are going on right now. I get a lot of variety. I'm going to record another album in the fall. I have found a core group of people with whom I can play here in New York. We get together at least once a week for a session or to write some material and I hadn't had that since I moved. I am looking forward to creating with them and experimenting with sound and taking the traditional Jazz thing to a new level. I don't know if you have seen the clip online where I use the guitar pedal effects on my trumpet and a traditional Jazz song. I am pushing boundaries. I like to push boundaries within the traditional Jazz style. I would like to do more writing. With all of this stuff that has been happening in Boston (the bombings) I want to create music for good, like Louis Armstrong and Stevie Wonder who are my inspiration. They are (immense) musicians, but humanitarians. That is the kind of effort I would like to move towards in the years ahead. I would just like to bring attention to things that I care about, like the environment," she says.
Please visit the Bria Skonberg website.
Top Photo by Wendy D, protected by copyright ©, All Rights Reserved Interview by Joe Montague, protected by copyright © All Rights Reserved
This interview (March 2013) is protected by copyright © and may not be reproduced in print or on the internet or through any other means without the written permission of Riveting Riffs Magazine, All Rights Reserved