When Riveting Riffs Magazine spoke to the Austin, Texas singer-songwriter-musician duo and husband and wife Bruce Robison and Kelly Willis at the beginning of July (2014) they had just returned from a tour of the mid-west United States in support of their new duet album Our Year, which was released on May 27th. It is the second album they have released together, the follow-up to Cheater's Game which hit the airwaves in 2013.
Robison says, "We have been going to some of these cities for a long, long time and we have a real background with these cities. We don't travel all of the time, we just travel selectively and so we try and make it to good spots, to good clubs and with good people. We were definitely able to do that on the last couple of trips. It has been a great summer so far.
Honestly it has been a process (working out tour arrangements when you have four children) which encapsulates these two records. Maybe three years ago when we were just starting to think about working together, we decided the way that we needed to travel, mostly for financial sake was just Kelly and me and just a standup base and a steel guitar (as the only other musicians). That was really out of necessity. Then this odd thing happened when we were playing those shows it took the music back so much and our vocals so much to the forefront that it brought the crowd way more into the show, because the band wasn't loud. The whole thing really set the tone and we were like man this is fun. When we were going out there we were, we can't afford to bring the drummer and the keys, but it was amazing. It brought the music and the songs back right to this harmonizing and telling a story, which is really where I think the best part of our music lives and listening to Kelly sing. That has made all of this a lot easier and very pleasant. It ended up being the thread that we followed for the recordings on both of these albums."
The album Our Year opens with the sublime "Departing Louisiana," written by Bruce Robison's sister Robyn Ludwick and it describes life in Lake Charles, Louisiana and the question is posed, 'How did we ever stay so long?' The singer moves to Texas for a nine to five job, but the call of Louisiana beckons to him and soon he will return home. McLaughlin's fiddle, John Ludwick's baritone guitar, Geoff Queen's dobro, Robison's acoustic guitar, Fred Eltringham's percussion and Brad Jones' harmonium combine with Kelly Willis and Bruce Robison's vocals create an ambience of two people sitting around comparing life in Texas to life in Lake Charles. It is not quite what the singer thought it would be and there are some matters to attend to back home in Lake Charles.
"It was written by my sister and when I first started listening to and going crazy over music, the records that I was listening to, the guys were always playing other songwriters and that is how I discovered people. There was Willie Nelson, Don Williams, Emmylou Harris, Linda Ronstadt and Jerry Jeff Walker. There were tons of outside songs. Those were the guys that I was immersed in when I was a kid and so when I put together a record I always have that in my mind. I never think that I need to write every song and this time even more so Kelly and I just let the music guide the way.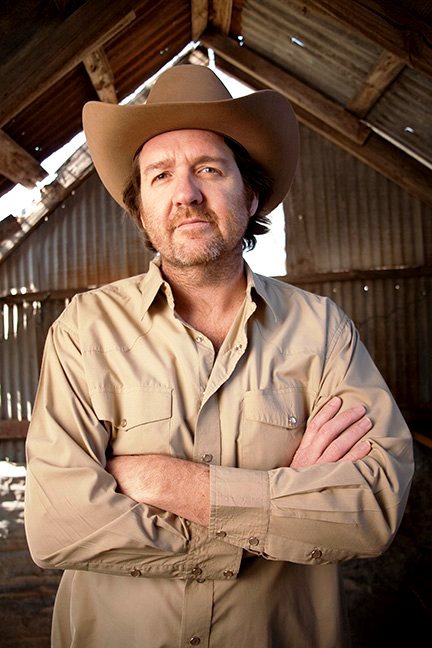 The reason I tend to take other songs is if there is a feeling that I don't think I can really do myself. It has a groove and it has a melody that is outside of my thing, so then you have something that you love and you have something that maybe other people haven't heard. You have a song that you feel that you can bring something new to it. "Departing Louisiana," was all of those things. We brought that song in and (our producer) said I don't really think so. You guys, this is like a Louisiana thing and I don't see…You aren't like Louisiana people. It is funny, because my family came directly from Louisiana and that is how we ended up in Texas and all of the Robisons are still in Louisiana. I think that influence is completely in there, but it might be hidden in a way, but it is definitely there. I love that about music and it is a cool thing. In some ways we (the music community) have gotten away from when the regional music was so defined. You can sometimes lose the pure side of things," he says.
We wondered if some crowd favorites from the album have already emerged.
Robison says, "That always happens and it is really fun. It has happened throughout my career. That is part of the thing that I miss when you scale back the travel. It is like a comedian going out there and you have no idea what is going to be funny or not. It's never what I think. There are songs and you rehearse them, but you have to play them for people to see how they are going to react. Definitely on this record, "Motor City Man," (written by Walter Hyatt) and "Hanging On," (written by Ira Allen and Buddy Mize, recorded by Vern Gosdin and Emmylou Harris) are a couple (that are crowd favorites). Those songs are the ones that really seemed to make a connection and it is amazing you never can tell what that is going to be.
One of the prettiest songs on Our Year is "Carousel," written by Bruce Robison and Darden Smith and although Kelly Willis harmonizes with Robison, the song really showcases some very rich vocals by Robison as he takes the lead. The musicians beautifully envelope the vocals, as Robison accompanies himself on acoustic guitar, while Eamon McLaughlin is on fiddle, John Ludwick on bass fiddle, the drummer and percussionist is Fred Eltringham and Geoff Queen plays exquisitely on steel guitar. The song is reflective and talks about the carousel of life and how sometimes it is time to step off of the carousel of relationships and to say goodbye.
"I love the song "Carousel." Gardner Smith was a big hero of mine when I moved to town. He was making records and when we started in on that song and it reminded me of a Merle Haggard song, not like a sixties Merle Haggard song, but later on or something. That's a tune that I really didn't have at the forefront, but every time that I would play it with musicians, with the band that I was with before and then with the Kelly band it was so easy to play. It fell out of everybody's fingers. It is a song that we all understood and it is pleasant to sing. It is hard to put your finger on why that is. I love singing it and playing it live. It is so easy. Some of the songs you have to work on them and plough on them, but that one was so easy," Bruce Robison says.
There is always a risk attached to recording a hit song, especially one like "Harper Valley PTA," which in 1968 went all the way to # 1 on both the Country music charts and the Billboard Hot 100 charts. The Tom T. Hall song, recorded by Jeannie C. Riley was a reflection of the sixties where social norms were challenged and being politically correct was being cast by the wayside. The song, told through the eyes of the daughter of Stella Johnson, the main subject of the song, was a more in your face tune that sold more than six million copies as a single. The Willis / Robison rendition is more laid back and Kelly Willis' vocal inflection and her demeanor particularly in the accompanying music video are superb and very much "in the moment." If you ever wondered what Stella Johnson was like when she took on the Harper Valley PTA, watch this video. We do not know if the music video is packaged with the hard copy CD or sold separately or sold at all, because Riveting Riffs Magazine has a digital copy of Our Year, but if it is we would buy the album just to get the video.
"Harper Valley PTA," is interesting as a cover because people everywhere love it. It seems like everyone has a positive connection to it, so it always goes over big. It's a challenge, because it is a long story with very little melody change to work with. You really have to engage in the telling of that story and the music is so important in moving the energy along. We wanted the music to be exciting and all of that finger picking sounds so cool to me," says Kelly Willis.
After Bruce Robison agree that we do not think the song "Harper Valley PTA," has been covered that often, he says, "…and probably for good reason. I ask what can you bring to a certain situation? It is harder. It is like covering The Beatles. How are you going to do it? That was really a weird situation. We were tuning up for Cheaters Game and we had done a few shows in a row, these little off the grid things and we were just tuning up the band and one night somebody hollered out "Me and Bobby McGee," so I just played it. I have a background playing honky tonks and four hour gigs and stuff and so I just sang the song. Kelly really hates it when I do that. She likes the set list and she can't just join in and play "Me and Bobby McGee." She knows that I don't look at Twitter, so she went and asked the people on Twitter what the thing was that she could surprise me with and flummox me on stage. They came up with the wordiest weird song "Harper Valley PTA." It modulates twice. She planted somebody in the audience for her to do it the next week. That is the only reason we would ever have done that, but then it shows this crazy gear that Kelly has and where she came from as a Rockabilly chick singer. She sells that song so amazingly. That was the reason we recorded it, because I feel she brings something fresh to it. People just seem to love it.
I am playing acoustic guitar and I am playing "Ode To Billy Joe," (alluding to the striking similarities in the music). Our (version) is something different and fresh I think. I hope Kelly doesn't mind me saying this, but she really fought against it, but people love it. They love seeing her tell that story and it is just an amazing song. It is really cool how these great songs can morph with time."
While Cheater's Game and the current album Our Year mark the first time that Kelly Willis and Bruce Robison released albums as a duo, it is far from the first time they have collaborated, while enjoying stellar solo careers.
Robison says, "I always felt that we were collaborating. We didn't really need to take it to another level. Kelly recorded my songs and she would sing on my records and she would always be involved. One of us would also be in control. She would run the show with her stuff and I would run the show with my stuff. We felt like we were collaborating. Then there was that moment when neither one of us knew what we were going to do next. Management suggested that (duo album) and then when we started thinking about it. We made that leap to say, if we are going to do this, let's do it great. Let's get a budget together, let's find a producer, let's find great songs and let's try to make this the greatest record that we can. It made me feel like it was 1991 again. I didn't feel like I had been phoning it in, but at the same time, it is really tough out there to get people to listen to any project. It was really energizing once we decided to do it."
Highlights from Cheater's Game include, the pretty Hayes Carll song "Long Way Home," the song "Leaving," and the Razzy Bailey song "9,999,999 Tears," which became a hit on the Country and Pop charts for Dickey Lee in 1976.
About the Hayes Carll song, Robison says, "Somebody gave me that song years ago and I don't think I had listened to Hayes play until I listened to the song. I'm always a fan of songs. I have been my whole life, of songs and songwriters. I think I pitched that to Kelly before her last record or something and I thought she should sing it. I am also an ugly songwriter, so when I hear a song, I am always thinking thank goodness there's some amazing, beautiful and incredible singers like Ella Fitzgerald or Linda Ronstadt or Emmylou Harris or Kelly Willis or Lee Ann Womack who are going to sing these great songs. I knew that not a lot of people had heard that song. We do this process when we sit down with the guitar and we sing the song and we trade the vocals off, the lead vocal and surround with the harmonies and it either works or it doesn't. It just took off."
As for the song "Leaving," he says, "That came from a guitar lick, which really doesn't happen for me very often. It is not a super linear story like "Travelin' Soldier," or something like that (Bruce wrote "Travelin' Soldier," recorded by the Dixie Chicks.) I like that type of a song, but I don't write them that often. I had probably eighty percent of it and the other thing that doesn't happen that often to me is (this time) it didn't happen fast. Normally things happen fast for me. Months had gone by and I had just mostly the verses done. Kelly had heard it and she would bring it up and say you need to finish that song. I always had it messing around and then I did this movie called When Angels Sing and they had a lot of different musicians in it. Kris Kristofferson played the father of the main character (played by) Harry Connick. For three weeks we were all there together every day. I started listening to Kristofferson's songs secretly in my headphones while I was hanging out. I felt that affected me. I knew big hits that I was listening to like the The Silver Tongued Devil and I record and Jesus Was A Capricorn and that era. I heard all of these other songs that I didn't know. I was in the trailer and I had my guitar and after three weeks of doing that it was really seeped into my brain. Then I picked up that song ("Leaving") and I finished it in thirty seconds. I always associate the song with that experience."
Willis talks about Razzy Bailey's "9,999,999 Tears," I felt the song was the perfect blend of Bruce's '70s honky tonk influences and my '60s Rockabilly Country influences. It id kind of a Gary Stuart meets Rockpile thing going on there."
After pausing to mention how well he thinks Kelly Willis sings Razzy Bailey's "9,999,999 Tears," Robison says, "As I recall we let the music show which way we were going to go and it really does and you can't really argue with it. We came to this point after a couple of sessions when we were attempting to finish up the record and we only had Kelly singing lead on about two songs and I was going this is insane. I wish she was singing lead on every one of them. I heard "9,999,999 Tears," on the radio by Dickey Lee when I was a kid. It was (played on) AM Country stations. There were two out of San Antonio and I don't know if it was a nationwide hit, but it was sure a hit coming out of San Antonio ("9,999,999 Tears," went to # 3 on the Country charts for Dickey Lee) and I heard it a bunch. I bought that LP years ago. I love that song and again it is the same old story on both of these records that we had a big pile of songs and I brought them in and heard Kelly sing them. It is such a great groove and it is an up-tempo song. It is fun to play and it is singing about how heartbroken the guy is."
Kelly Willis had told a story in an interview with another publication about how she was having a difficult time one day with some a particular style of music that was playing in a clothing store when she was with her daughter and she felt like she just needed to get out of there, so we felt it was fair to pose the question to Kelly what do you your children think of you and Bruce recording this song that has so much repetition in it?
"My kids actually love that song and whenever any kids come to our shows that song is usually the reason they are there!" she replies.
Kelly Willis has a new solo album in the works and Bruce Robison is working on some new projects as well.
"I am working on my songs right now and I need to record some little demos and then start putting the puzzle together. Hopefully it will be out next winter. I'm eager to do some solo stuff after all this "sharing and playing nice" with Bruce!" she says smiling.
Kelly Willis and Bruce Robison breathe fresh life into a very old cliché, "making good music together," and their fans are grateful.
You can visit the website for Bruce Robsion here and you can visit the website for Kelly Willis here. You can also watch their music video for "Harper Valley PTA," here.
Top Photo by Chad Wadsworth, bottom photo courtesy of Kelly Willis and Bruce Robison. All photos are protected by copyright ©, All Rights Reserved
This Interview published July 16, 2014 by Joe Montague is protected by copyright ©

and is the property of Riveting Riffs Magazine All Rights Reserved.
This interview may not be reproduced in print or on the internet or through any other means without the written permission of Riveting Riffs Magazine, All Rights Reserved